How do Infinity Reels (Infinireels) slots work?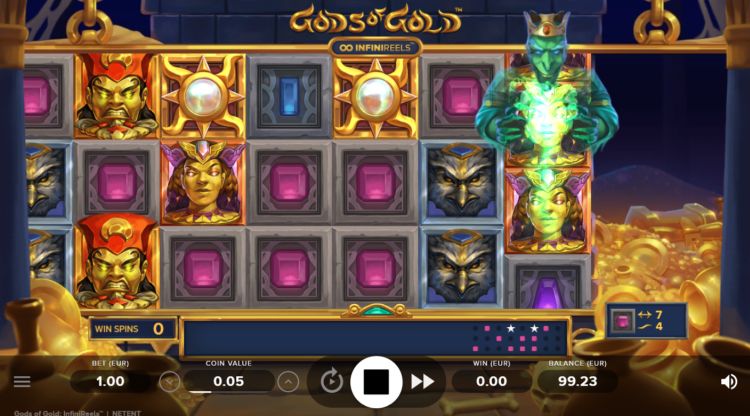 ReelPlay and Netent invented the Infinity Reels (or: Infinireels)
Netent must have been devastated, looking at the recent Big Time Gaming successes, where they turned the gambling world upside down with their brilliant Megaways concept. And to make things worse, Big Time Gaming also trademarked the revolutionary Megaclusters slots concept.
Netent had no other options but to come up with a great new concept of their own. The result? The Infinity Reels.
The idea? You start with a basic, three-reels setup. That's not the innovative part. But what is new and unique, is the increasing number of reels.
The number of reels expands by one reel, after each winning combo (and with each respin). As long as you keep on making winning combos, the number of reels increases.
In theory, this process can go on forever, until infinity. Now you know, where the name comes from!
By the way, Netent needs to share the credits with the Australian slot provider ReelPlay. Coincidence or not, but both providers invented this game concept simultaneously. Now, both companies share the patent (trademark) of this concept.
The ReelPlay slots carry the name: Infinity Reels. The Netent slots have the name: Infinity Reels.
To avoid any confusion: the concept is exactly the same.
More detailed explanations of Infinity Reels with illustrations
Below I explain this game concept in more detail, with some illustrations.
I have based my explanation on the four slots,  we have seen so far with these infinity reels.
Giza Infinity Reels (ReelPlay)
El Dorado Infinity Reels (ReelPlay)
Odin Infinity Reels featuring Megaways (ReelPlay)
Gods of Gold: Infinireels (Netent)
As a starting position, all slots have three reels.
On Giza Infinity Reels and El Dorado Infinity Reels, the reels have four symbols each. On Gods of Gold, the reels have three symbols.
Odin is a whole different beast: it combines Infinity Reels with the Megaways concept. Every reel has between two and five symbols.
Let's work with four symbols per reel, in our example.
Example of Infinity Reels
In the illustration below, you see the three reels at the start. If you don't get a winning combo, the next spin is with three reels again. If you make a winning combo, you get a free respin, with an additional 4th reel.
You have two winning combos of 3 symbols (yellow stars), according to the win-all-ways principle. You have, with three active reels of 4 symbols each, making 64 (4x4x4=64) ways to win.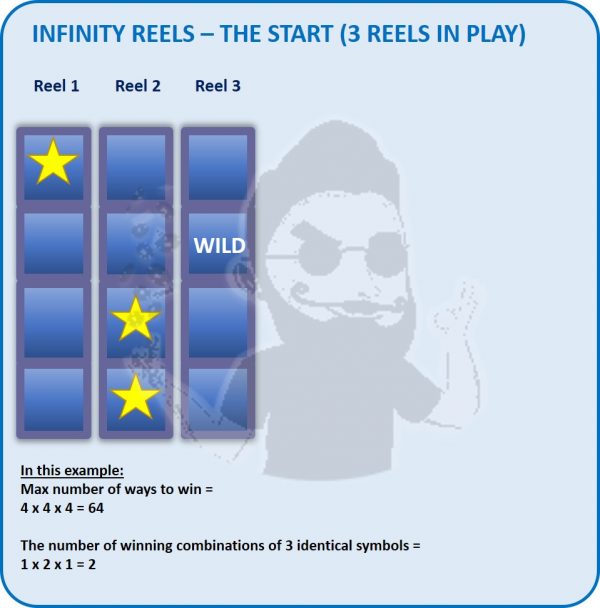 As you spin a winning combo (in this example, even two), a free re-spin follows with a 4th reel.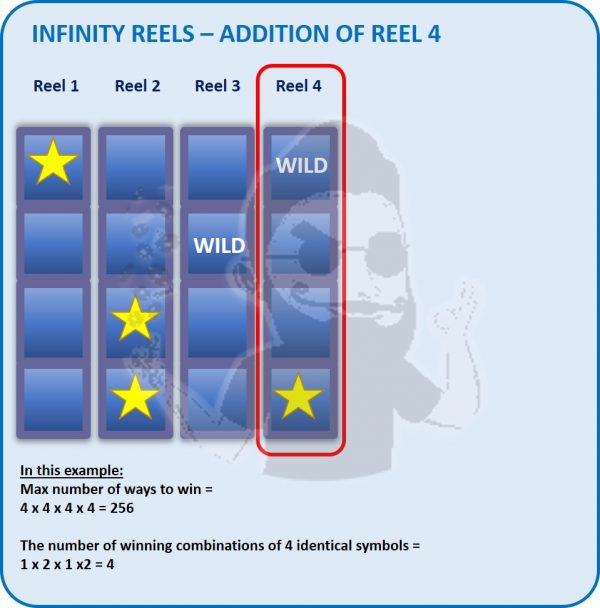 You are lucky, as the same symbol (the star) appears, as well as a Wild symbol. Now you have four winning combos of 4 symbols. Indeed, there are 256 ways to win, thanks to the 4th reel.
Now the next free re-spin follows, and you'll see reel 5 appear on the screen.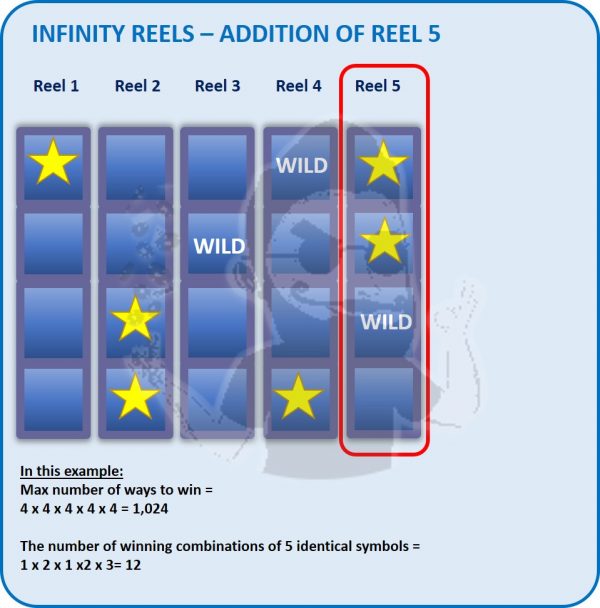 Now you've spun three identical symbols on the 5th reel: 2 stars and a Wild. It gets you no no less than 12 winning combos of 5-of-a-kind. Besides the fact that you get a lovely payout, the party continues with another re-spin and an extra 6th reel.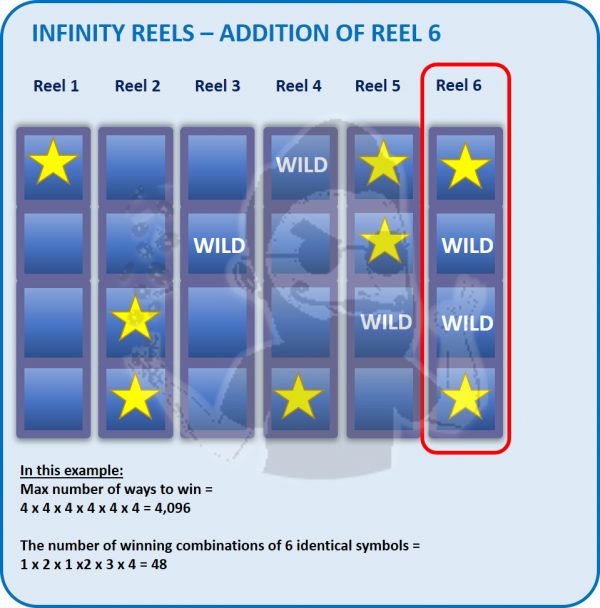 Wow. You are on fire!
You land two Wilds AND two stars on reel 6, getting you a fantastic 48 winning combos of 6-of-a-kind. And, again, you get a free re-spin with a 7th reel!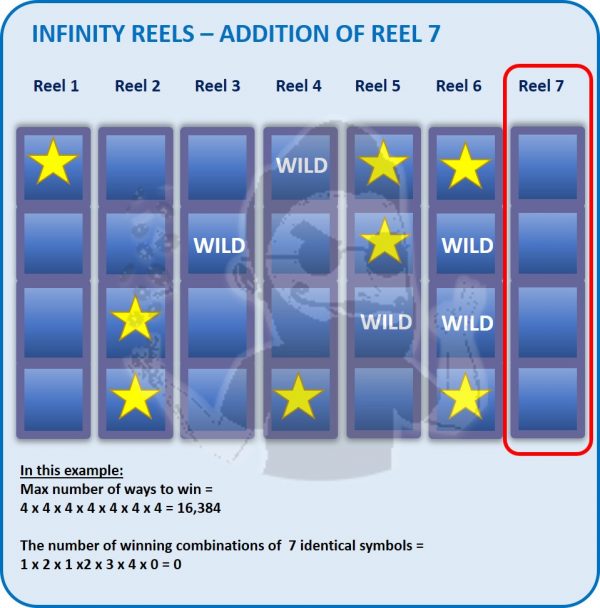 Sadly, all good things must come to an end. In the final spin, there were no matching symbols or wilds on reel 7. As you failed to create new combos, it was the last respin.
On the next spin, you return to the 3-reel starting position.
How do free spins work with the Infinity Reels (Infinireels) concept?
It's indeed possible to win the free spins. The principle is the same. You get free respins, with an additional reel, after each winning combo.
You'll see that some Infinity Reels slots also work with increasing multipliers in the free spins, as is the case with most Megaways slots.
How many paylines do Infinity Reels slots have?
The example already showed that with seven reels, it goes pretty fast. If you get ten reels, you're already talking about more than 1 million ways to win.
In the table below, I've listed how many ways to win you get, with Infinity Reel slots with both three symbols per reel or with four symbols per reel.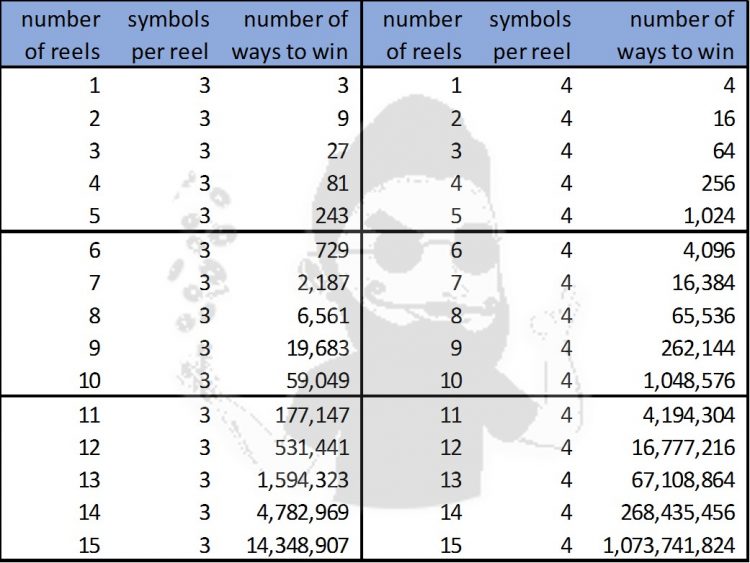 For example, if you have ten reels with three symbols each, you have 59,049 ways to win. If the ten reels have four symbols each, you are talking about a massive 1,048,576 ways to win.
If you have 15 reels with four symbols each, you have more than an insane 1 billion ways to win. In that case, you're indeed heading towards infinity.
Relevant news