Today, I will talk about the game at some length in my dedicated Deal or No Deal Live review.
Now, you are probably wondering – why would you want to play this at a casino? Well, from what experience I have with the title, this is an excellent choice for anyone looking for excitement, an alternative play, and an opportunity to pursue decent profits.
Deal or No Deal RTP
First things first. The game comes with a decent 95% return and a 4.58% house edge. Once again, Evolution Gaming has made sure that you don't have to bet too much to get started. €0.10 is quite enough to make a qualifying bet.
That gives players quite a bit of leeway to play around any budget they have. If you want to pursue slightly higher-risk gameplay, you can just bet the maximum €10 on your turn.
Either way, you will find the game to give you sufficient control over your funds, and that's important.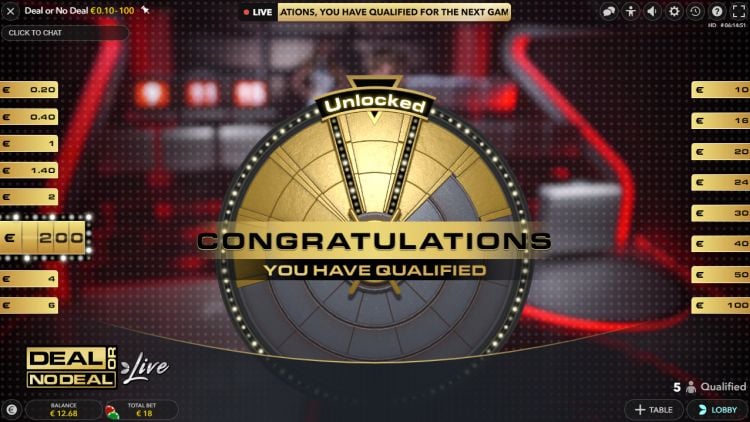 Best Deal or No Deal Live Casinos in 2023
I am sure that we are all excited about having access to some of the best opportunities to play our favorite games on the market. And so, Deal or No Deal Live is available at all Evolution Gaming casinos out there.
But, to save you the hassle of researching too long for yourself, I have decided to put together a quick list that you can use as a reference. Here are some of the top Deal or No Deal Live casinos you will want to visit yourself:

Available in your country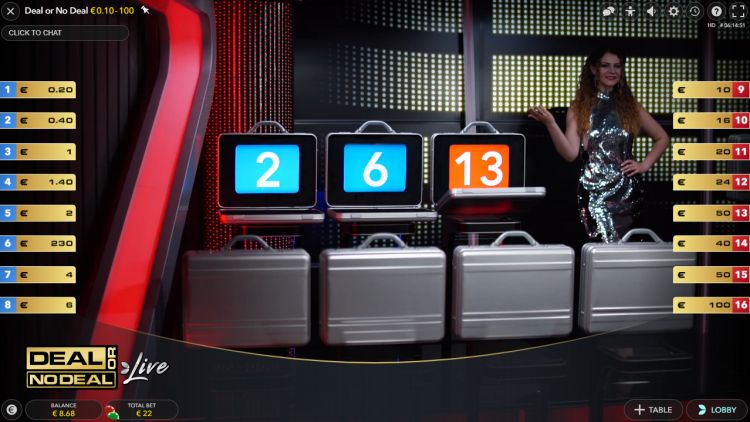 How to play Deal or No Deal Live?
The game feels and plays in much the same way as the TV format of the game. Put another way, you will have a host guiding you through the gameplay, and every once in a while, he will receive a call from the Banker, a mysterious behind-the-scenes entity who decides how much to offer you. Before you can enter the actual Deal or No Deal Live setting, you will have to jump a few hoops. To a new player, this may look a little confusing, but it will quickly become second nature. Here is what you need to do:
Step 1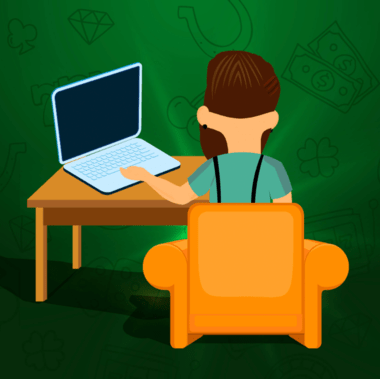 The Qualification Process
To qualify for and enter the game, you need to spin a wheel-of-fortune and align three identical segments to unlock the next step. There is a limited time during which you can qualify, but if you fail, you can just start over.
Step 2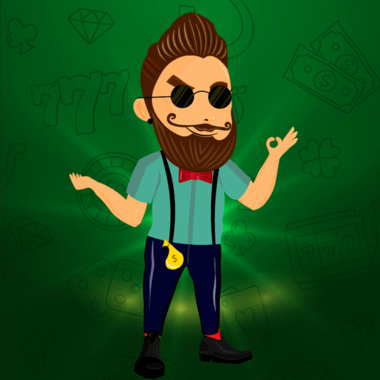 Topping Up the Suitcases
Once you qualify, you will be offered a chance to add more money to the 16 suitcases. Basically, in this round, you can pick any of the suitcases, place a bet, and then spin the wheel to add to the prize amount.
Step 3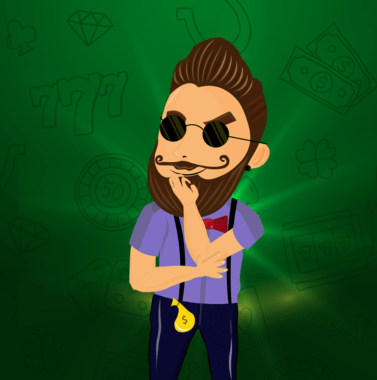 The Real Deal or No Deal Live Game Round
The presenter will open three suitcases, and each suitcase will contain a number corresponding to a prize, which will then be removed from the pool. Once this is done, the Banker will call to make his first offer. The next two rounds will each open four suitcases, and the fourth round will come with three suitcases opened.
Step 4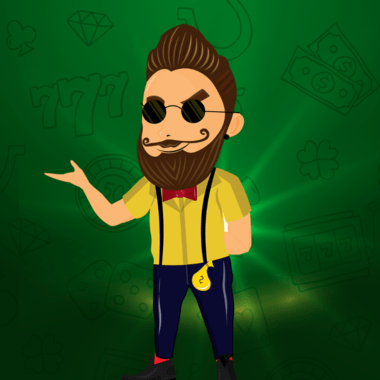 The Final Deal
This is the moment the Banker will make his final deal before you open one of the two remaining suitcases. Meanwhile, the sooner you open up the smaller amounts, the faster the Banker will start making more significant offers. However, you always run the risk of actually hitting the big amounts before you hit the small ones.
Deal or No Deal Live Strategy
While Deal or No Deal Live is a fantastic game, there is no strategy you can reliably follow to guarantee yourself consistent results. That shouldn't discourage you in the slightest, though. The essence of the game is still there — you still have a chance to win a decent amount if you are just lucky enough.
Remember when you wanted to be drafted and have a chance to play on the real Deal or No Deal TV show? Well, there is no need for that now, because you can simply join the game at any time that works for you.
Deal or No Deal Live Payouts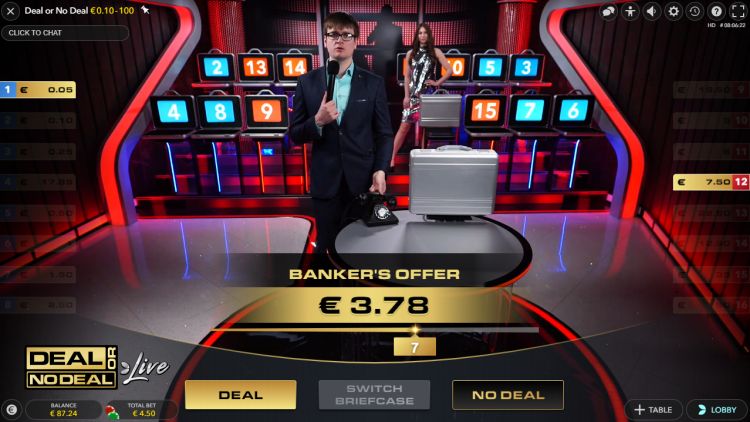 When it comes to payouts in this game show casino game, you need to know that the minimum and maximum bets may vary from one operator to another.
Moreover, the money in the briefcases will be shown on the left and right sides of your screen, so you will have all the necessary information. During the game show itself, the host's assistant will open all briefcases that have a certain cash amount. Of course, once the briefcase prize has been shown and opened, it no longer participates in the Live Deal game.
At the end of each phase of the briefcase openings in this thrilling game, the Banker will call to make a Deal or no Deal offer specific to the player participating in the game show. You will see the offer relayed on your screen.
Now, if you choose the Deal option, then the amount of money you have won here will be displayed in the winning message and it will be added to your balance. Of course, if you choose the No Deal option, then you continue to play the game.
The second opening here will see you open four more briefcases, with the Banker making another Deal or No Deal offer and waiting for your decision. If you play on, the third opening and offer come after four more briefcases are opened, with the fourth offer being the Banker's final offer.
Here, three more briefcases will open, and you will be left with just yours and another one. Now, you can choose to:
Deal
Switch Briefcases – you win the prize of the other briefcase
No Deal
Endemol Shine IP B.V. has ensured that the script is very nicely done, so you will enjoy a thrilling gaming experience whenever you load the Deal or No Deal Live game show.
Finally, when it comes to payouts on each briefcase in the game, they range depending on which one you have opened. So, the biggest prize briefcase contains a payout ranging from 65x-500x your stake, while the smallest one has a payout of 0.1x your stake. It is important for you to note that the payouts will range if you use the top-up wheel.
Qualification and Top-up Round in Deal or No Deal Live
Deal or No Deal Live is a very unique and thrilling title by Evolution Gaming and Endemol Shine. The gameplay is something that cannot be found in other online casino games in any iGaming operator.
This is a game that takes the live casino gaming experience to a whole different level, meaning that you will be on the edge of your seat the whole time. A multi-tier setup structure allows an infinite number of punters to participate simultaneously. Finally, there are three levels of gameplay that make the main game much more loved by punters.
First off, I need to mention the Qualification Round. The logic here is very simple—to start playing the main game and aim for the biggest prizes, you need to go through the qualification round. In this part of the game, you will spin a wheel where you need to get at least three gold segments within a designated area to qualify for the rest of the game.
Once you do so, the bank vault door will be opened and you can enter the game. Remember that you will be able to choose three different modes for spinning the wheel that will help you qualify:
Normal: With the Normal mode; you will spin at face value and you won't have any specific advantage.
Easy: The Easy Mode will lock one of the three segments at a prize of 3x your stake.
Very Easy: With the Very Easy Mode locking two out of three segments for a prize of 9x your bet.
Next in this game comes the optional Top-Up mode. This is a good option for high rollers enjoying this game show. If you wish to increase the number of briefcases in this game, this is your chance. All you need to do is choose the briefcase that you want to increase, and then select your bet amount.
Once you have done so, spin the game wheel and you will see the amount that will be added to the briefcase. The good news here is that you can repeat this feature as many times as you want.
Now, we get to the fun part—the main event in this thrilling casino game. Here, your goal should be to win the money in the biggest prized briefcase or to take the Banker's offer. As mentioned above, briefcases will be opened to disclose the numbers. All briefcases that correspond to those numbers will be removed and the Banker will make an offer.
Should you decide to take the offer, you will get the money instantly added to your account. If you don't accept the offer, you continue playing the game. When the final opening comes and you are left with two briefcases, the Banker will make the final offer.
Once you decide on your choice, you will stop playing, but you can instantly reload the game and start from the qualification round.
Pros and Cons of Deal or No Deal Live
This Deal Live game overview wouldn't be complete if I didn't mention some of the benefits and disadvantages of playing the game. As you would expect, the good news is that the pros way outnumber the cons.

Pros
A very unique and interesting adaptation of a popular TV show
Entertainment while playing
You have control over prizes
Big winning potential

Cons
Less social game
House edge is more
There is no doubt about one thing in this game show—you will be entertained as long as you play. This is a game of chance, of course, but you can have control over the prizes in the briefcases after the qualifying round.
Finally, the most important thing about the game is that you can win handsome prizes, as the biggest prize briefcase contains a payout of 65x–500x your stake.
You won't have too much time or the possibility to chat with other participants or the dealer, unlike other live casino games. Moreover, with an RTP of 95.42%, Deal or No Deal Live is lower than the average for slots.
Deal or No Deal Live Bonus
Well, there may be no strategies to follow when playing Deal or No Deal Live by Evolution Gaming. But guess what? You can still find a nice bonus. That might take some looking around at first, but once you do find the casinos that offer proper bonuses, you will be in for a real treat.
Thankfully, I have the experience to always guide you to the places that offer these delightful Deal or No Deal Live bonuses myself.
Yet, I must warn you that bonuses like those aren't too common. Nevertheless, as you might suspect, they are definitely worth your while. Once you find them, you will see how much easier it is to take on more exciting bets.
Deal or No Deal Live FAQ
How to win at Deal or No Deal?
Deal or No Deal is a real delight to play, there is little doubt about that. Yet, there is no one strategy that can guarantee you wins. However, what you can do is benefit from the low betting limits that start at as little as €0.10, giving you quite a bit of flexibility to hit that massive 500x multiplier and turn a decent win.
Is Deal or No Deal rigged?
Absolutely not. Evolution Gaming is one of the world's most trusted developers of live games and for a good reason. The Random Number Generator (RNG) used in the game makes it impossible for any unfair outcomes to occur.
Where to play Deal or No Deal?
Deal or No Deal is available only at licensed casinos that have been vetted by regulators and allowed to operate as online gaming sites. That adds to the level of security you can expect from Evolution Gaming casinos.
How does Deal or No Deal work?
Deal or No Deal works very similarly to the TV show. First, you must qualify, and once you do – you will get to battle your wits and test your luck on the Banker's territory.