Zodiac Infinity Reels slot review (ReelPlay)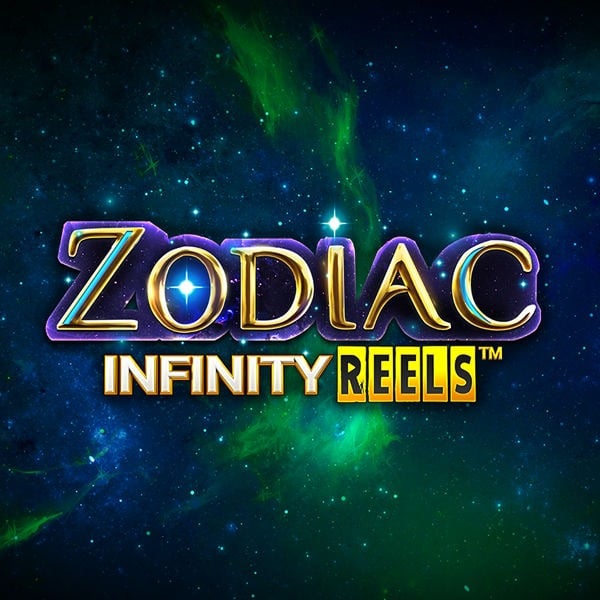 Zodiac Infinity Reels is ReelPlay's 6th Infinity Reels slot, but this is not my favourite one. It's a bit more of the same, and the RTP of this slot is much lower than that of the other Infinity Reels slots. Whilst I always like to see more Infinity Reels slots (the concept is excellent), you need to avoid being too repetitive.
Play Now
Game Provider:

Zodiac Infinity Reels – The sixth ReelPlay Infinity Reels slot, but this one is not as good as the others
The gameplay and setup must differ substantially; otherwise, it's more of the same.
And if the RTP is as low as 95.57%, you wonder why on earth you'd want to play this slot. There are many other (and better) Infinity Reels slots, such as Giza Infinity Reels, Thor Infinity Reels, or Tiki Infinity Reels Megaways.
Gameplay and Features
Zodiac Infinity Reels starts with 3 reels with 4 symbols each and works with the Infinity reels mechanic.
After each win, you gain a free re-spin. Now you'll see an additional reel on the right-hand side and an increased win multiplier (goes up by +1).
If, for example, you win three consecutive times, you end up with 6 reels and a win multiplier of x4.
In Western astrology, the zodiac has signs: Aries, Taurus, Gemini, Cancer, Leo, Virgo, Libra, Scorpio, Sagittarius, Capricorn, Aquarius, and Pisces. And in this slot, you get to select which of these 12 signs will act as a Wild symbol.
The high-paying symbols are a Guardian and three females. The lows are signs representing earth, air, fire, water, the moon, and the sun.
The WHEEL symbols are the scatters.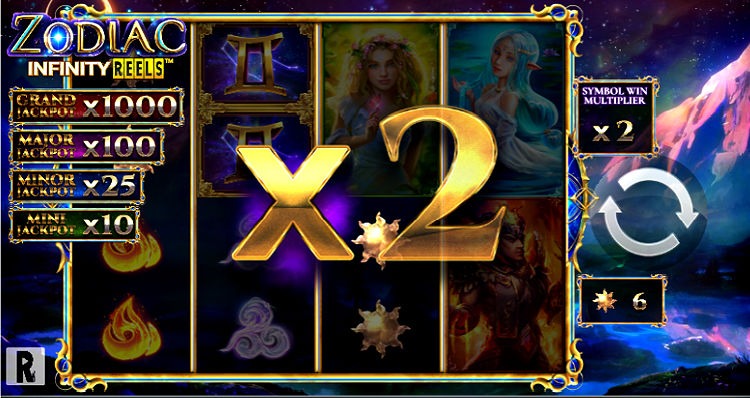 How does ReelPlay's payout table work?
The payout structure is somewhat confusing if you're not yet familiar with the other ReelPlay Infinity Reel slots.
You need at least five identical symbols for a win. Take, for example, the blue-coloured female with a value of 3. If you manage to land six blue females, you win 18 coins. Divide this amount by 25, and the win is 0.72x.
If you get 7 of these, your win amounts to 21 coins, equivalent to 0.84x the bet, and so forth.
These wins are not too spectacular, but fortunately, we have the win multipliers. These increase by +1 after a re-spin (and reel addition).
As with the other ReelPlay Infinity Reel slots, you gain a tremendous 888x multiplier if 12 or more reels are added. That's serious business!
The Wheel feature
You need to land at least 5 WHEEL symbols to gain the wheel feature.
You get to spin up to five times, as long as you don't get a cash prize. Once you get to the fifth and final spin, you have a chance to land one of four Jackpots (1000x, 1000x, 25x, and 10x).
You can also grab a higher win multiplier increment as well as additional free spins.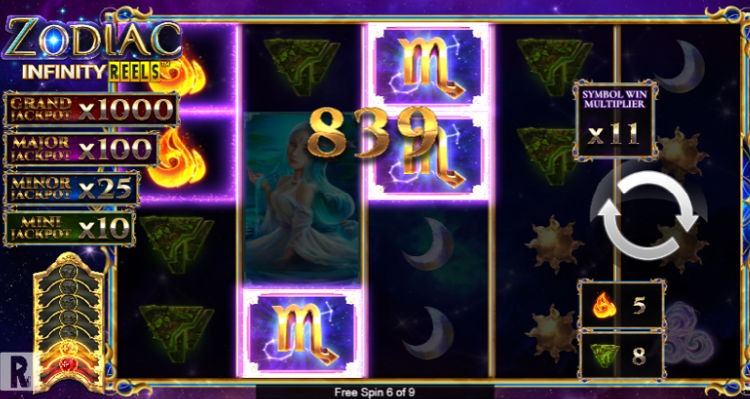 The Free spins
The main advantage is that the win multiplier is sticky (it does not reset after a loss).
If you manage to win many times in the beginning and land a great combination at the end, you benefit from a sizeable win multiplier.
Zodiac Infinity Reels slot: the payout rate (RTP) is 95.57%
The RTP of the main game is 95.57% and, as said earlier, is way below par.
Zodiac Infinity Reels slot: the variance (volatility) is medium to high
Zodiac Infinity Reels has a medium to high variance, and the max win is almost 4000x.
Given the 888x multiplier and given the 1000x Jackpot, it's more than realistic to see wins of a couple of thousands of times the bet.
Zodiac Infinity Reels – Pros and Cons

Pros
The Infinity Reels concept, in combination with the Wheel feature, brings something new to the game.

Cons
The RTP is disappointing.
The slot doesn't add much compared to the earlier Infinity Reel slots.
Our verdict on the Zodiac Infinity Reels
We rate this slot 3.5 out of 5 stars.