The Emirate slot review (Endorphina)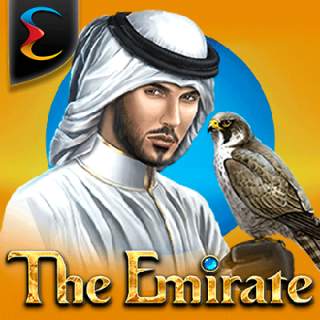 With all that money burning in your pocket, you can, as an oil sheikh, do a lot of cool, exciting things in a sand-pit. A favourite hobby there is cruising through the desert with costly 4x4 cars. And when such a vehicle breaks down or gets stuck, you buy a new one, right? Or build yourself the most luxurious hotel and highest skyscraper in the world? Are you still bored? Create some human-made Palm islands (1, 2 and... 3) in the Persian Gulf.
Play Now
Game Provider: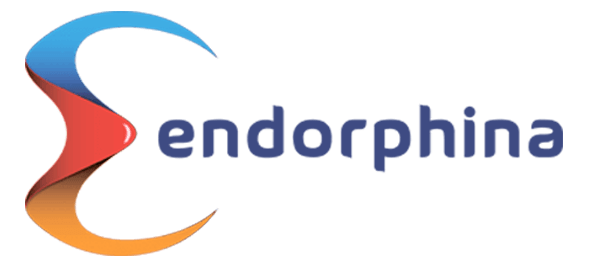 Release date:
January 2015
Table of contents
Best of The Month

100% up to

€500 Bonus

+ 200 Free Spins
Join
Best Bonus
Latest Casino News
The Emirate video slot is all about wealth, beautiful cars and filthy rich oil sheikhs
The United Arab Emirates, sometimes referred to as The Emirates for short, is tremendously wealthy. That has everything to do with the immense oil reserves in the ground.
Endorphina has never been very politically correct and has made a slot about exactly this tiny oil empire with uber-rich people… that got bored in the sand-pit: The Emirate.
It's not a very elaborate slot game: for example, there is no bonus feature.
But it's not a boring slot: you can win a ton of money with it. The grand prize is $€ 50,000 if you play the maximum bet. That's not too shabby, at least by Western standards. But more about that later when we come to speak of one of the world's most expensive hotels.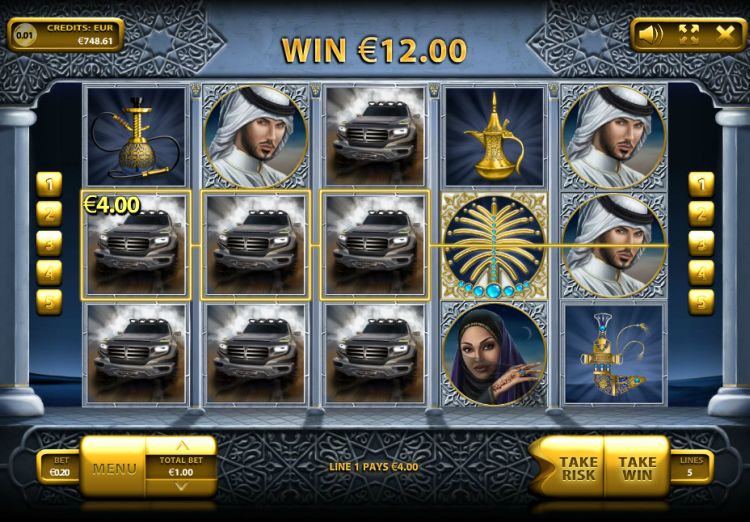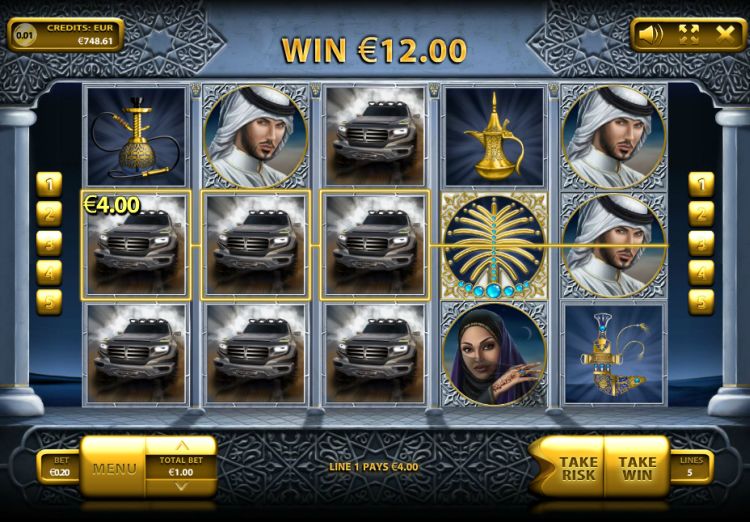 The Emirate gameplay and features
The Emirate has a 5 x 3 setup with five fixed paylines.
Betting starts at 5 cents per spin and runs up to $€ 50 per spin.
The most you can make is up to 1,000 x the total bet. The variance is medium to high.
The theoretical payout rate is 96%, which is quite acceptable.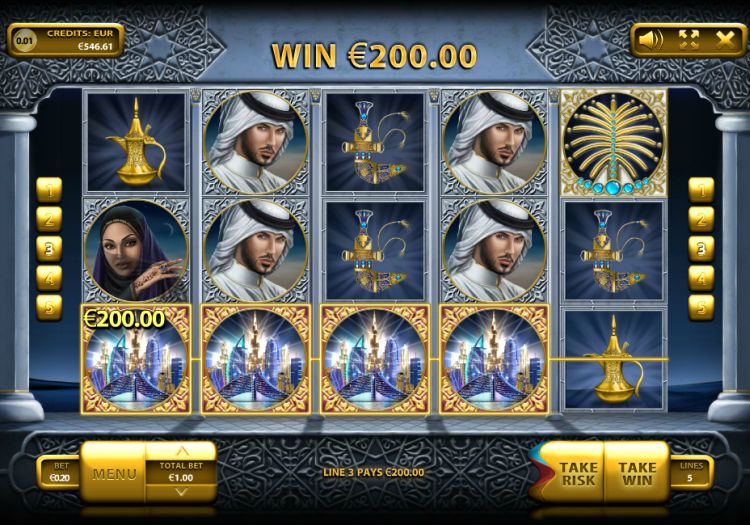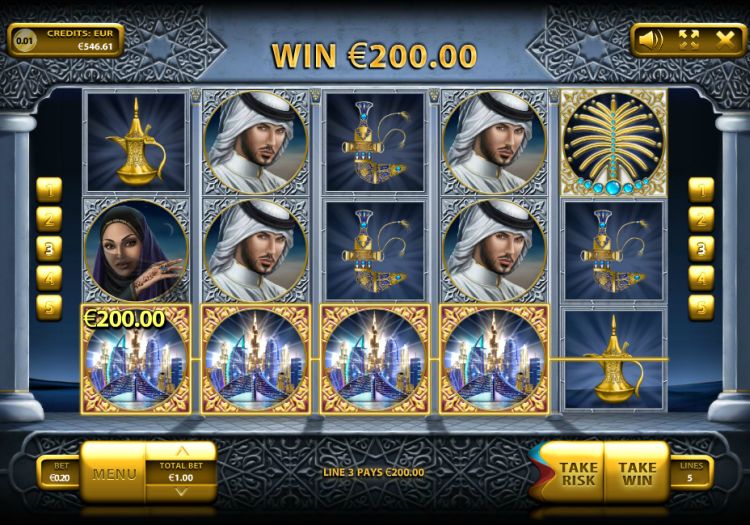 Symbols and payouts
As we mentioned before, The Emirate has no bonus features. Free spins bonuses, mystery wins, expanding wilds, they are nowhere to be seen.
Even regular wilds are absent.
So the only way to keep things mildly exciting is to aim for those big payouts.
With the famous Burj al Arab hotel (the only 7-star hotel in the world) and the Burj Khalifa (world's highest) skyscraper as the shining center, the skyline of Dubai is the premium symbol. If you spin five of these on one of the paylines, you can bank 1,000 x the bet.
Prizes at Burj al Arab hotel can amount to $€ 50,000 per night, so if you win the grand prize, you may be able to stay for one night. Will you let us know how it was?
If you spin the emir or his veiled princess five times on an active payline, you win 100 x the total bet.
The low paying prizes consist of the 4 x 4 luxury all-terrain vehicle and three types of golden relics (a dagger, an eastern teapot, and a water pipe), all inlaid with diamonds and gemstones. These all yield 40 x the total bet for five identical ones. That is still impressive.
Finally, we arrive at the palm symbol (the first human-made Palm island was modelled after), the scatter symbols. These start paying 2 x  the total bet with a 3-of-a-kind and are worth 50 x your stake with five the same.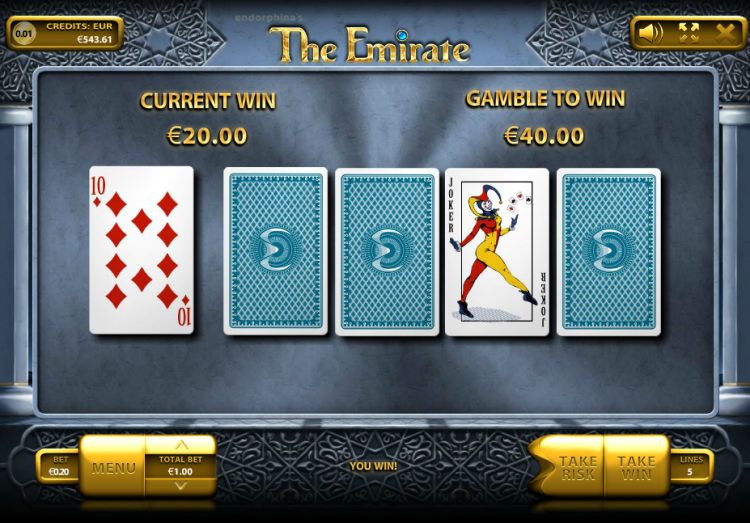 Gamble Feature
If you want to increase your returns even further, choose the gamble feature.
You will see an open card and four closed cards. If you decide to play (it's not mandatory!), click on one of the four closed cards. If this card is the joker or a higher card than your face-up card, you double your money.
Be careful; if you choose a lower card, you will lose everything.
SuperBigWin tip: the lower the card, the higher the odds of winning. Do you really want to gamble risk-free? Then wait until you get an open two card (the lowest card in the game). Worst case scenario, you also pick a two, and it is a draw, but 9 out of 10 times, you will double your money.
Our verdict on the Emirate
The Emirate video slot is an odd one. A video slot without bonus features can never be fun, can it?
At least we didn't expect that we would have so much fun with such a "boring" slot.
It helped, of course, that we had some handsome payouts, including a 200 x win.
Sometimes with reviewing, we lose ourselves in the game (which was not the case today, to put it mildly), but the research into the points of interest of the United Arab Emirates was fascinating.
Anyhow, a great slot to apply the Hit and Run casino strategy: grab a quick win and quit when you are ahead.
3 out of 5 stars.
#1
🍒Thousands of Slot Games
✅Professional Customer Service
⚡️Withdrawal lock option
#2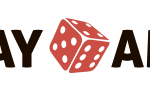 ✅Bitcoin Casino
⚡️Swift Withdrawals
🎰Dynamic Gaming Experience
#3

❤️Animated User Interface
🎁Extra Bonus Options
🍓Hourly Promotions