Temple of Nudges slot review (Netent)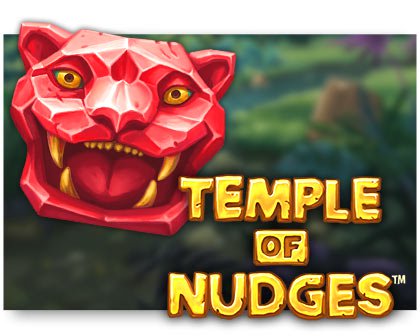 More games = more turnover = more profit. That is the thinking behind it. Our fear, as true game aficionados, is that this may negatively affect the quality. And Netent is already desperately searching to recapture yesteryear's magic when it was recognized as a leader and innovator in the industry. Now there is a real threat that they could be heading in the direction of becoming a slots factory, a path that Microgaming has already gone down with disastrous consequences for the releases' quality.
Play Now
Game Provider:

Table of contents
Best of The Month

100% up to

€500 Bonus

+ 200 Free Spins
Join
Best Bonus
Latest Casino News
Netent has announced that it is going ratchet up production considerably for 2019
Despite these concerns, we always approach our reviews with an open mind, which is no different from Temple of Nudges.
We notice the simplicity of the setup: no free spin bonus, no mystery features, no extra multipliers. Only nudging reels and occasionally an extra respin. This does not bode well.
The payout table is also noticeable, especially how low the payouts are. A full screen of the highest symbol won't even get you 90 x the total bet.
So, a low variance slot in combination with gameplay that has no bonus feature. This sounds like a recipe for a dull as dishwater slot.
We were not far off.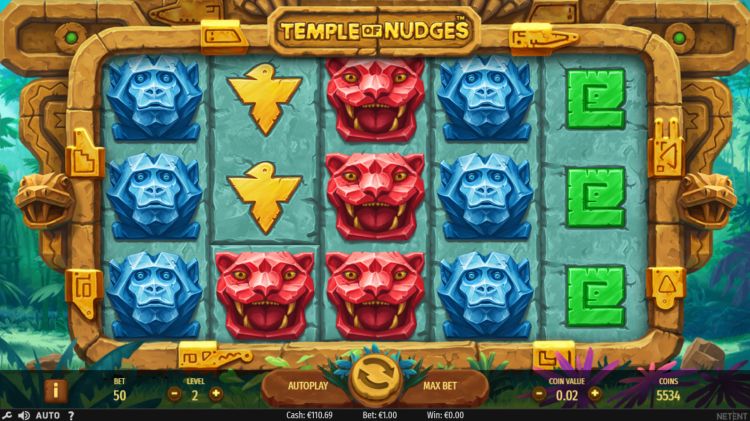 How does the Temple of Nudges slot work?
Temple of Nudges has 5 reels with 3 rows of symbols and operates under the win all ways mechanism. So, no fixed paylines and fixed bets per spin.
The minimum bet is $€ 0.25, and the maximum is $€ 250 per spin.
The theoretical payout rate is 96.03%, and the variance is very low.
With every winning combination, the reels nudge down 1 position until there are no more winning combinations to be made. Sometimes you will have a series of 2-3 winning spins in sequence, and every once in awhile, you might even get up to a run of 6-10 of these.
The graphics in Temple of Nudges do look super-duper. In this aspect, it even reminds us of a Quickspin slot, and that indeed is a huge compliment.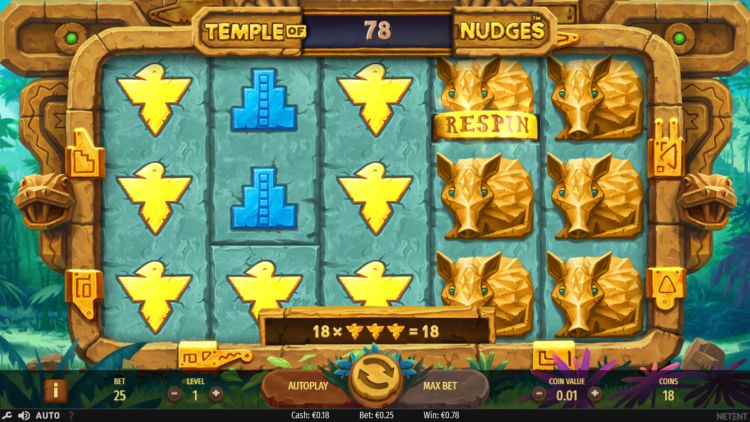 Symbols and payouts
As far as symbols and payouts, Netent has again kept it very simple: there are 4 'premium' symbols and 4 low symbols. All of them are stacked.
The high-value symbols consist of a tiger, an anteater, a leopard and an ape. 5-of-a-kind gets you a prize between 6 and 9 coins. So, the maximum payout is just a fraction of your bet. A screen full of tigers (the highest value symbol) will result in 243 x 9 = 2,187 coins, which amounts to only 87.48 x the total bet.
None of this is awe-inspiring.
With the low-value symbols, it gets worse. These will only pay out 3 coins for every 5-of-a-kind. So, a full house won't even get you 30 x the total bet.
Respin feature
When the respin feature appears on the reels AND you have a winning combination, all winning symbols are held in place, and you get a free respin.
And… that is it. There are no more bonus features in Temple of Nudges. No wilds, no scatters, no free spins, just nothing.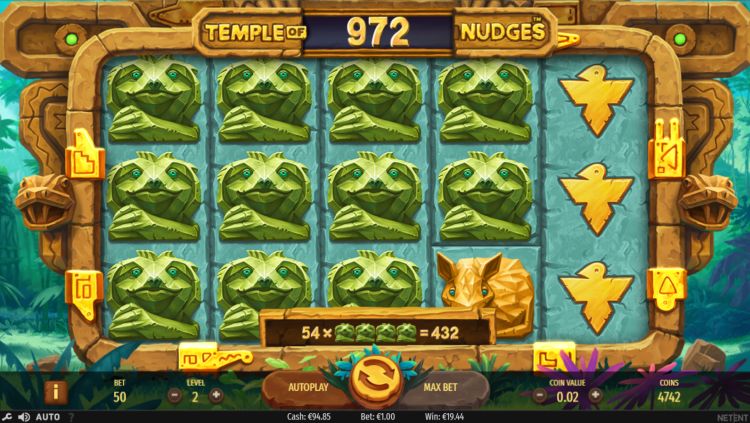 Our verdict on the Temple of Nudges video slot?
We found Temple of Nudges predominantly boring. Visually it looks great, and the theme and the name sound very promising, but the reality is that it is all a bit of a bust.
It is almost impossible to have a win of any significance, and that is when those little bobby prizes get on your nerves in a hurry.
We sincerely hope that this will not be the new standard for Netent slots; if it is, they are heading for some rough waters.
2.5 out of 5 stars
#1
🍒Thousands of Slot Games
✅Professional Customer Service
⚡️Withdrawal lock option
#2

❤️Best Mobile Casino
🎁VIP Bonus Options
🍓Live Casino Bonuses
#3

🔥New Casino
⚡️Quick Banking
🍒Reward Scheme