Super Striker slot review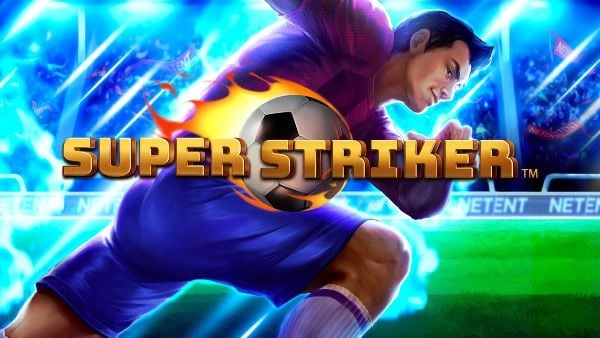 Super Striker is a football slot. There aren't many of those, even though it's the most played sport in the world. There are few slots sports-themed slots anyway, probably because the real sports lovers prefer to bet on real matches at the bookmakers.
Play Now
Game Provider:

Super Striker is a Netent football slot with plenty of action and bonus features
Software: Netent
paylines: 3 x 3 reel setup, 5 fixed paylines
RTP and variance: 96.04% to 96.93%, Medium to High variance
Maximum win: 9,000 x the bet
Betting range: $€0.10 – $€75
Bonus features: Free spins, Betslip
Casino Hipster verdict: Great
---
As a true football-connaisseur, I always appreciate it if a sports slot is released. It's nice for a change.
Besides, sometimes I'm impatient and want to see results straight away, rather than wait for a match to finish.
This slot kind of acts like a bookmaker by letting you place side bets with a bet slip.
Can you win big prizes here? Let me tell you now!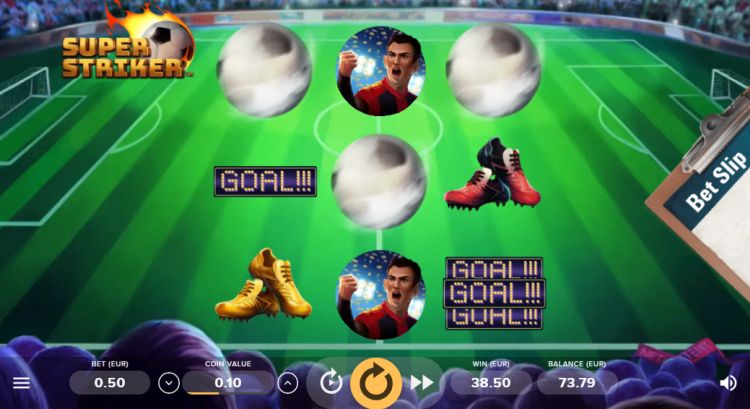 Super Striker slot – Gameplay and Features
The main game has 3 reels with 3 symbols each, and there are 5 fixed winning lines.
It all looks a bit outdated, to be honest. Whether that is a conscious choice, to give players the retro feeling, is not clear.
Here, you have to hope for 3 soccer players on a payline. Those are the most lucrative symbols. 3 golden soccer players yield a win of 100x the bet. 3 soccer players with a red-blue shirt are good for a win of 10x the bet.
If you spin 1 golden ball, you get a mystery prize of 10x or 20x the bet! How nice!
Spin 3 footballs to activate the spree spins.
If you spin 3 footballs (3 black and white balls or 2 black and white and one golden ball), you activate the free spins.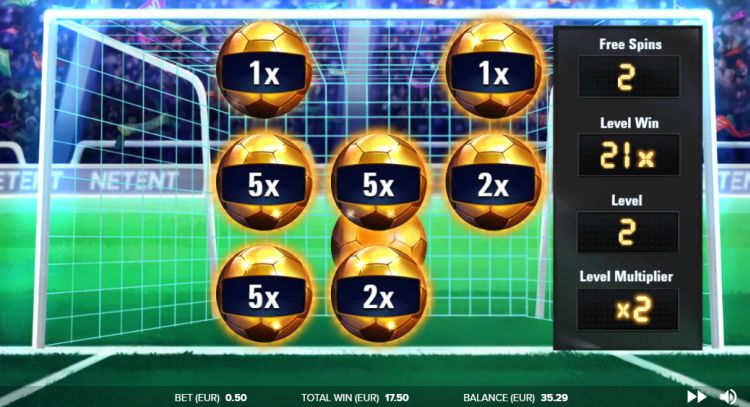 Free spins bonus round – get at least 3 free spins and hope you progress to the next level
You get 3 free spins. There are 9 golden balls shot on target (3 balls per spin). For each ball hit on target, you get a cash prize of 1x to 50x the bet. By the way, you see that those prizes are more likely to be 1x or 2x or 5x rather than 50x.
The cash prizes at the end are added up and paid out. Your total prize is a maximum of 450x the bet.
In case you netted all 9 balls, you can proceed to Level 2 of the free spins. You will again get 3 free spins. Now, however, the cash prizes are multiplied by 2. You can win up to 900 times the bet here.
If you net all 9 balls again, you advance to Level 3. The cash prizes are now multiplied by 3. You can win a maximum of 1,350 times the bet here.
At level 4, the multiplier is 5x, and at level 5 (the last level), the multiplier is 10x. Theoretically, at level 5, you can win a total cash prize of 4,500x the bet.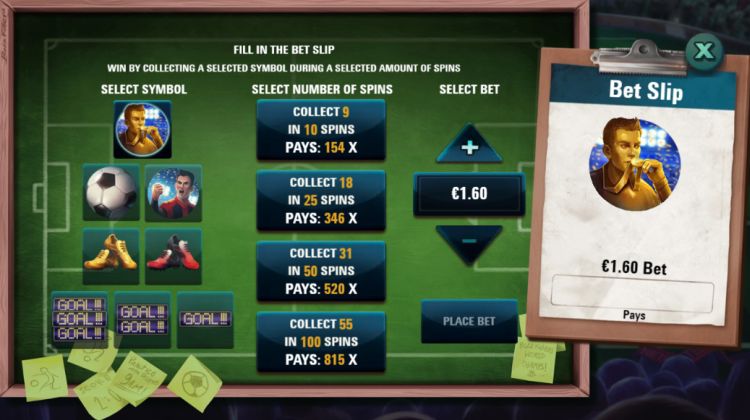 The bet slip
Here you can bet extra money where you estimate how often a certain symbol (which you can choose) will occur after a certain amount of free spins. If you bet on the golden player, and he appears exactly 55 times in 100 spins, you collect a prize of 815x the bet.
Payout percentage (RTP)
The RTP of Super Striker is 96.04%. If you place a bet with a bet slip, the RTP is 96.93%.
Super Striker slot – the variance (volatility) is medium to high
In theory, you can win a prize of 9,000x the bet: if you shoot all balls at all 5 levels in the goal and all balls have a cash prize of 50x the bet. But that's never going to happen here.
I expect that the variance is medium to high. Most top prizes will be between 500x and 1,000x the bet.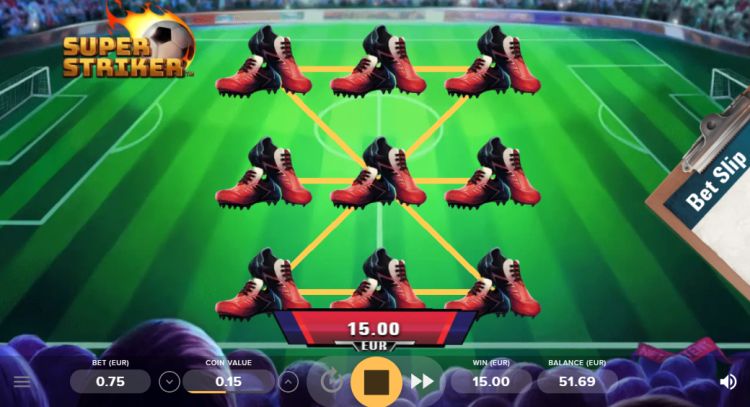 Super Striker slot – pros and cons of this slot
Pros
If you're a football fan and want to gamble without waiting, here is your chance.
The addition of the bet slip is nicely conceived and gives some extra depth.
You can land some pretty big prizes here.
Cons
Graphically a bit dull and outdated
The free spins are kind of boring. If you don't hit all 9 balls in level 1, you're finished within 20 seconds.
The slot's pretty volatile. If you don't win a big prize soon, you'll usually end up losing money.
Super Striker slot – who will like the slot? And who won't?
This slot is made for soccer fans who want something different from the bets offered by the bookies.
Yeah, you can win some pretty decent prizes here.
This slot hasn't got the X-factor to impress the players who enjoy playing the top slots.
You can find Super Striker at all trustworthy Netent casinos, where you can play this entertaining online slot for free or for real money.

🔥New Casino
⚡️Quick Banking
🍒Reward Scheme

❤️Best Mobile Casino
🎁VIP Bonus Options
🍓Live Casino Bonuses
🍒Thousands of Slot Games
✅Professional Customer Service
⚡️Withdrawal lock option