Super Nudge 6000 slot review (Netent)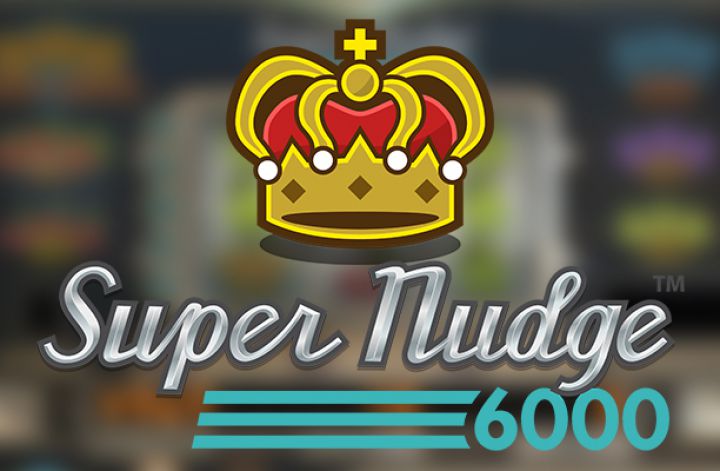 Well, you're absolutely right. That's precisely what it is! Of course, there's a little more to it than the slot machines you know from the café or snack bar. Those fruity rascals provide you with a vitamin C(ash) boost.
Play Now
Game Provider:

Table of contents
Best of The Month

1000€ Bonus

+ 100 Free Spins
Join
Best Bonus
Latest Casino News
When you see the Super Nudge 6000 slot, you probably think, "Oh, just another old-fashioned fruit slot…"
This Netent fruit slot is a game with a little twist to it. Curious, what kind of twist we're talking about?
Quickly read on, then!
High payout rate and high variance
The game has 5 paylines with an excellent return to player of 97.2% and high variance. If this appeals to you, be sure to look at our top 10 best paying video slots.
Due to this high variance, the game is a bit riskier, but at the same time, there is a real chance of winning massive payouts.
On the lower set of reels, winning combinations come frequently. However, to get to the big wins, you must stake your base game winnings in the top reels feature.
This is where you get extra nudges and, as a result, where the Super Nudge 6000 slot's magic happens.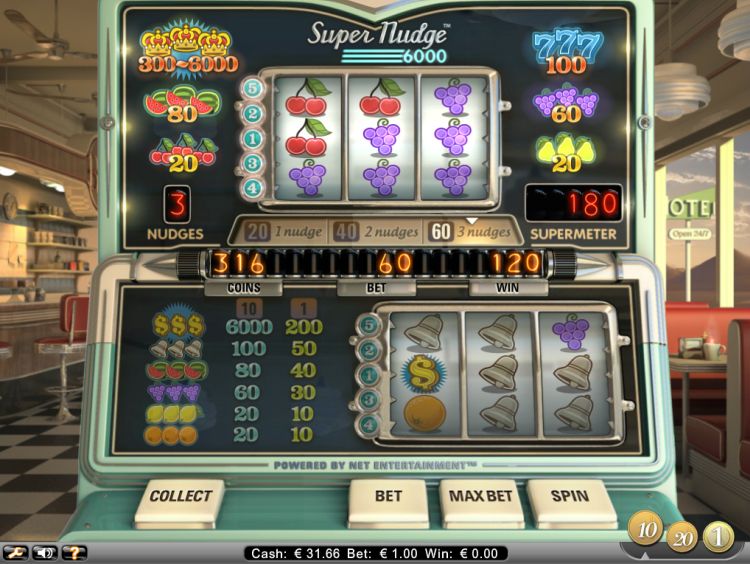 How does the Super Nudge 6000 slot work?
The game has 3 reels and 3 rows, and you can bet from $€ 0.10, up to a maximum of $€ 10, per spin. The number of paylines varies. You can play 1 paylines for a bet of $€ 0.10, $€ 0.20 or $€ 1 and 5 paylines for $€ 1, $€ 2 or $€ 10. For some players, $€ 1 per spin sounds rather high.
But given the variance and RTP of this game, you can quickly make up for any loss. Of course, it's up to you whether or not you take on the extra challenge in the bonus game.
The game's symbols are the dollar sign, bell, watermelon, grapes, lemon, and orange. You've got the symbols crown, watermelon, cherries, 7, grapes and pear on the top reels. If you play all lines for $€ 1 per spin, three identical symbols yield you the following prize:
Dollar sign: 6,000 coins
Crown: between 300 and 6,000 coins
Bell & 7's: 100 coins
Watermelon: 80 coins
Grapes: 60 coins
Lemon, Cherry, Orange, Pear: 20 coins
As a player, you aim to find the dollar sign in the primary game and the crown on the top reels. Three dollar signs in the primary game guarantee you 6,000 coins (for a bet of 10 credits), and the crown awards a mystery prize of something between 300 and 6,000 coins.
Other options: the game involves a Fast Play option. This option accelerates the spins. Moreover, as mentioned above, you can adjust your paylines. There is also a Collect button, with which you can collect your prizes.
Top reels Jackpot Nudge 6000
When you start playing Jackpot Nudge 6000, you always begin on the lower reels and work yourself up.
If you manage to make a winning combination, you will be taken to the top reels. Of course, you can choose to collect the profits you've made, but a real gambler loves a challenge, right?
Especially if there is even more to gain.
On the top reels, namely, there is also the Nudge, which can move one of the reels one reel upwards or downwards to make a winning combination.
For the experts among us, the Nudge is not a new phenomenon. We have seen it in slots such as Stage 888 and Epic Journey. Red Tiger Gaming developed both gems.
However, at Super Nudge 6000, you can decide whether to opt for 1, 2 or 3 nudges if your profits allow it. If you bet 20 coins, one nudge is awarded. You can use two nudges if you bet 40 coins, and three nudges are available if you bet 60 coins.
As long as you have coins, you can continue playing. You can adjust the bet along the way if needed.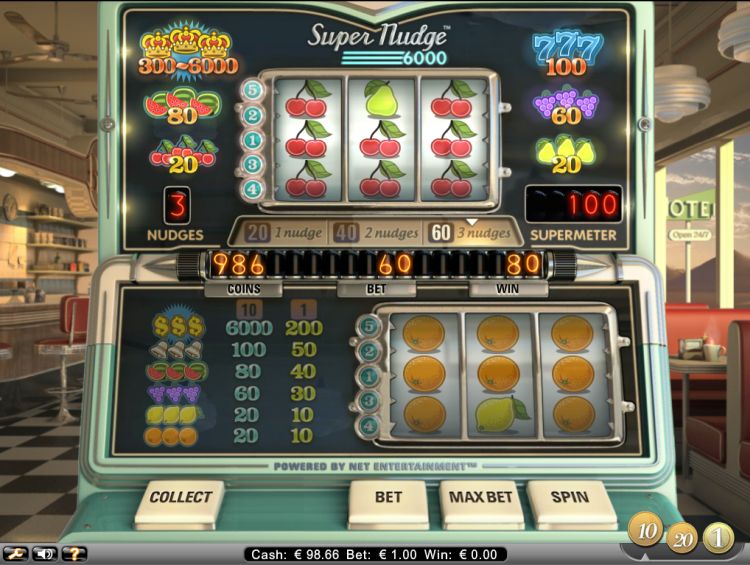 Our verdict on the Super Nudge 6000 slot
Even though it is a simple slot, Netent knows how to capture your attention. In this case, the phrase 'less is more' makes sense. You always feel the urge to return to the top reels to try and win even more. As Gordon Gecko from the movie Wall Street put it: "Greed is good.".
The nudge feature keeps things interesting as seemingly non-winning spins can suddenly turn into winning spins.
Super Nudge 6000 lives up to its name, SUPER!
"When life gives you lemons, make lemonade." In other words: go for it!
4 out of 5 stars
#1
🍒Thousands of Slot Games
✅Professional Customer Service
⚡️Withdrawal lock option
#2

❤️Best Mobile Casino
🎁VIP Bonus Options
🍓Live Casino Bonuses
#3

🔥New Casino
⚡️Quick Banking
🍒Reward Scheme