Random Runner slot review (Stakelogic)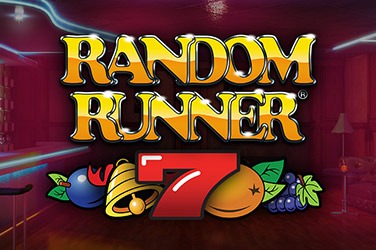 In the '80s and early '90s, the Random Runner was indispensable in the street scene and could usually be found at the local takeaway restaurants or fast-food joints. Arcades or land-based casinos sometimes had ten of the fruit machines in a row, and most of the time, they were all occupied.
Play Now
Game Provider:

Release date:
October 2015
Table of contents
Best of The Month

€150 Bonus Package

+100 Free Spins
Join
Best Bonus
Latest Casino News
The Random Runner is an iconic slot that needs no introduction for most players
The Random Runner was as famous as infamous – also known as a "Peak Vending Machine." Politicians coined this term to indicate slots that could pay off exceptionally well in a short amount of time, i.e. "peaks." In that respect, the Random Runner was one of the first popular high variance slots.
The Random Runner was the slot with the highest payouts
Gamblers soon realized there were only a few slot machines that could win you as much money in such a short time as the Random Runner. If the Random Runner was in the right mood, you might grab yourself a few thousand dollars in one day. If the Random Runner was in the "take" modus, however, it could take endless amounts of your money.
Some Random Runners even had a reset button, implying you could reset the internal program with the push of a button, forcing the Random Runner into payouts.
After a lot of political pressure, the Random Runner disappeared from the casinos and cafeterias. Many smaller snack bars depended financially on their Random Runners income and had to close up shop immediately.
Down the line, many variations of the Random Runner popped up (also with lower variance), but nothing compared to the magic of the original Random Runner. A full screen of symbols in the top game, accompanied by increasingly high-pitched sounds when winning – could get in your head while asleep and dominate your dreams. Of course, the ultimate was the 3 stars, awarding you with no less than 200 points.
Playing Random Runner online
The Random Runner remains a tremendously popular slot, so it's no surprise you can play it online for real money. This offers several significant advantages:
You can get a casino welcome bonus that doubles your first deposit.
The online version of Random Runner pays much more than the offline version.
The slot is available at all times – you never have to wait again!
You can play Random Runner on your mobile device.
Stakelogic designed the official online version of Random Runner. Although not 100% identical to the original version, it will undoubtedly appeal to the many old school fans out there.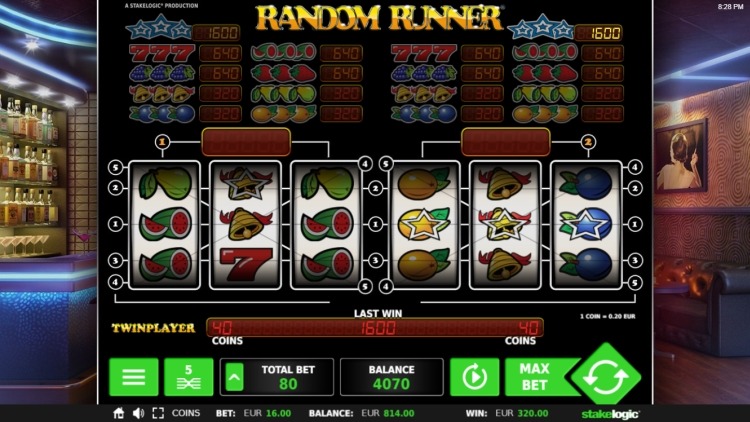 Random Runner gameplay and features
As soon as you start the game, you will recognize the paylines and symbols. There are still 5 paylines, and all the familiar fruit symbols are present: the plums, oranges, pears, sevens, and those desirable stars, of course.
The payouts remained the same as well:
Plums, bells, oranges and pears pay 40 credits.
Grapes, strawberries, melons and sevens pay 80 credits.
The stars award 200 credits
A screen full of plums, therefore, is worth as much as three stars.
The sound effects when winning are also identical. In other words: one big feast of recognition.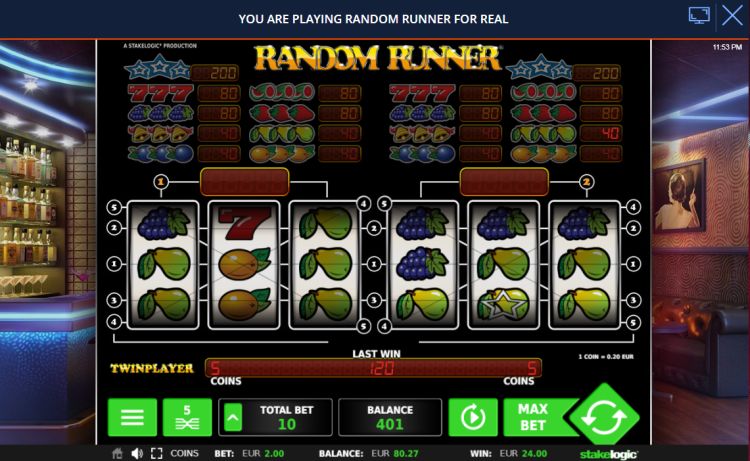 Online Random Runner: the differences
There are a couple of differences compared to the original, land-based, Random Runners as well.
First of all, the payout rate is substantially higher. The online version has an RTP of almost 96%, which is considerably improved compared to the land-based casino and arcade version, which usually paid out around 85%.
Another big difference is the disappearance of the base game, so you directly play the top game. Pretty exciting, because that's where you win the big bucks, of course.
Lastly, you can choose to play two slots at the same time. It's not mandatory, but it certainly adds an extra dimension to this beautiful game. You'll bet twice as much, but you also double your chances of winning.
Betting from $€ 0.20 per spin
The minimum bet is $€ 0.20 per spin on a single slot and $€ 0.40 per spin on both slots. The maximum bet is $€ 100 per spin per slot, so a maximum of $€ 200 in total on both.
There's no limit to your winnings, but a small warning is in place. It remains a high variance slot, so your balance can go up and down quickly. The pace is also high, so to make a profit, it's essential to know when to stop playing.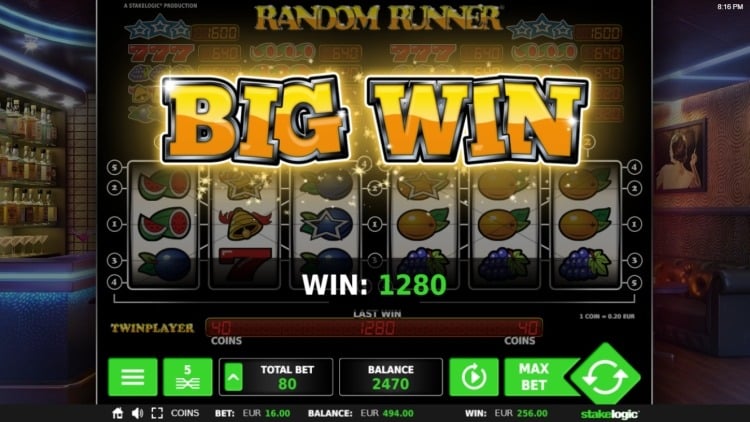 Our verdict on Random Runner
Stakelogic transformed the Random Runner into a splendid online video slot. It has remained faithful to the original while at the same time kept up with modern times.
It comes highly recommended for anyone with nostalgic feelings about this popular, classic slot.
For slot players that have never heard of the Random Runner fruit machine, it may be hard to figure out what the fuss was all about.
4 out of 5 stars.
#1
🍒Thousands of Slot Games
✅Professional Customer Service
⚡️Withdrawal lock option
#2

❤️Best Mobile Casino
🎁VIP Bonus Options
🍓Live Casino Bonuses
#3

🔥New Casino
⚡️Quick Banking
🍒Reward Scheme