Have you ever dreamt about winning a mega jackpot when you play slots? Well, of course, you have.
Do you ever wonder when you will hit a prize of 10,000 times or even a blistering 20,000 times your total bet? Imagine: You stake $10 and get an astonishing $100,000 or even $200,000 in return…
You probably saw your favourite streamers, on YouTube or Twitch, collecting huge win after a huge win. At the same time, you are wondering: "how do they do it?"
Why do they get those massive wins? And, more importantly, why aren't you winning them?
The reason is simple. These streamers play high variance slots.
Do you want to know more about high variance slots? What are the advantages and disadvantages of these slots?
First, we describe in a bit more detail what a high variance slot is and to try to unravel the mystery surrounding these monster payout slots.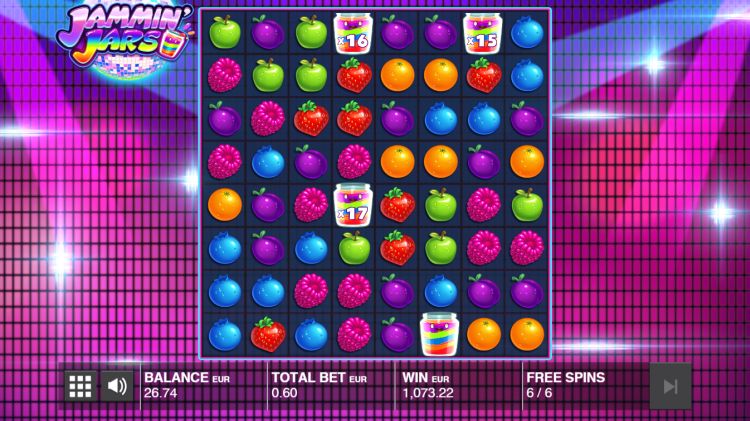 What is a high variance slot?
When it comes down to it, high variance slots offer you an "all or nothing" scenario. Win massive payouts or lose your shirt in a hurry.
Players that love and play the high variance slots don't see this as a problem. They know precisely what they are up against and accept that the variance of a slot can work for them or work against them, depending on how lucky they are that day.
A slot with high variance can payout vastly more money than one with low volatility. When playing low or medium variance slots, you can, on rare occasions, maybe win up to 250 x or 1,000 x your stake.
Compare that to some high variance slots where you can receive winnings of up to 3,000 x, 5,000 x or even a mind-blowing 10,000 x your bet. Some high variance slots, such as Dead or Alive 2 and some of the best-paying Megaways slots, can even pay wins of 50,000 – 100,000 times your stake.
This is precisely what the high variance slot players are playing for. No messing around with all these small or medium little prizes that, in the end, don't amount to much. They want the one amazingly large payout, that record-setting prize.
High variance slots have become extremely popular in the last few years, as players seek more excitement and are triggered by the many YouTube and Twitch streamers.
| | | | |
| --- | --- | --- | --- |
| Variance | Types of wins | Win frequency | Risk-factor |
| Low | Small | High | Low |
| Medium | Small to medium | Medium | Medium |
| High | Large | Low | High |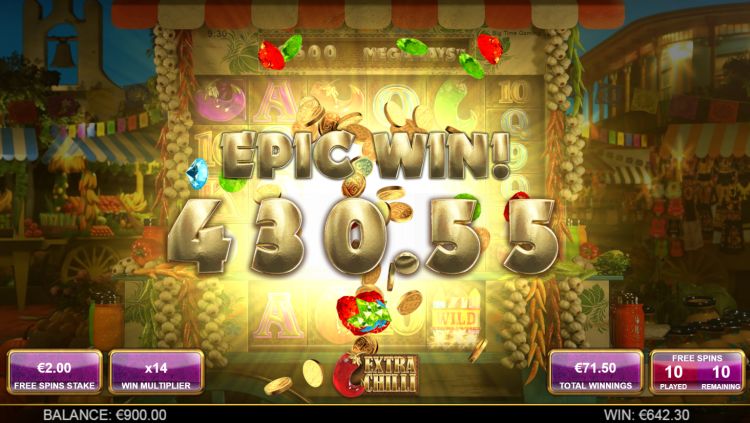 How often do high variance slots pay out these massive prizes?
The table below shows how often the prizes (from low up to mega prizes) are paid out by three top-rated and well-known high variance slots.
Jammin' Jars is the slot with the highest variance of the three. We classify this slot as an extremely high variance slot. It is because it pays out massive prizes more often. Over the longer run, Jammin' Jars pays out a prize between 1,000x and 2,000x the total bet, once every 20,000 spins.
Don't get surprised if, on some of these occasions, the award even tops 5,000x (once every 200,000 spins over the longer run)!
Book of Dead and Reactoonz are two popular high variance slots. Maybe they are not as extreme as Jammin' Jars, but still highly volatile. Mega prizes (exceeding 1,000 times the total bet) are also paid out, once in a while.
Now that we have given you a sweet flavour of what high variance slots do let's list the pros and cons of high variance slots.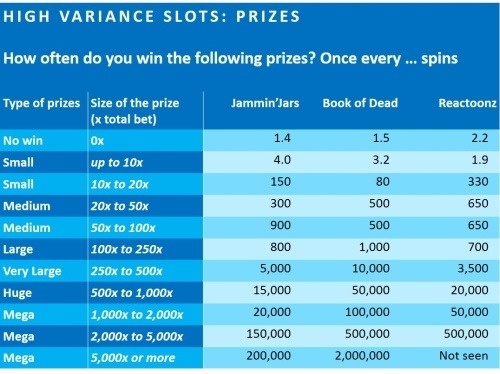 What are the pros of playing high variance slots?
As shown above, high variance slots pay out those awesome massive prizes that can make or break your session. Your odds to win a significant sum of money (for example, make a profit of $10,000 or more out of a bankroll of $100) are realistic, as long as you don't expect to win every time.
These mega prizes are one of the main advantages of playing an (extremely) high variance slot. It can happen in the next spin!
High variance slots are, therefore, much more exciting than your regular, run-of-the-mill low variance slot. The risks are substantial, but so are the possible wins.
You can compare high variance slots to a lottery. Lotteries are also very popular and can pay out huge prizes (although not very often).
The disadvantage of lotteries is that lotteries are organized at set times. You have to wait for days or even weeks before you know if you have won or not. With a high variance slot, you play whenever you want, and more importantly, you know immediately if you have won or not.
Online high variance slots also have a much better theoretical RTP than lotteries. The theoretical RTP is usually between 95% and 97% (on every $100 wagered, you get paid back between $95 to $97 over the longer run), which is pretty good. The Theoretical RTP of most lotteries does not even exceed 50%!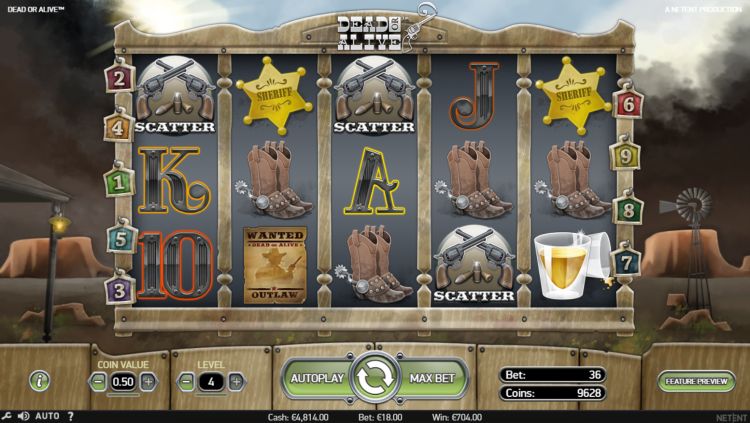 What are the cons of playing high variance slots?
The money needs to come from somewhere to pay the huge prizes.
The result is that the smaller (but still substantial) prizes are paid less regularly. In particular, the awards between 20x to 200x the total bet are not paid out so often.
It is not rare to lose your entire bankroll on a high volatility slot before you have even won one single bonus round.
High variance slots are therefore less suitable if you aim for a more modest profit. For example, if you are comfortable with a modest gain of say 5 times your initial bankroll (example: profit of $500 out of a bankroll of $100), we recommend you play a low or medium variance slot instead.
Only if you aim for a massive win of say 50 times (or more), your bankroll does playing a high variance slot pay off.
Conclusion – high variance slots are exciting if you aim for massive wins. The high potential comes with a risk!
Due to their nature, high-risk slots are less suitable for beginning slots players and should be approached cautiously.
If you fancy trying out some high variance slots yourself but don't know where to start, we have compiled a list of our top 10 favourite high variance slots.
You will find plenty of high-risk slots at these reliable online casinos:

Available in your country