Book of Dead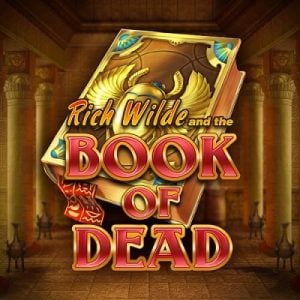 Rich Wilde and the Book of Dead was released in 2016 by Play'n Go as a real Book of Ra killer. Despite that fact, it became apparent early on that Book of Dead was just a clone of Book of Ra (Novomatic). Still, with seriously improved graphics and a tad more play options (1 payline more, a slightly different payout structure), the public at large embraced this slot wholeheartedly.
Play Now
Game Provider:

Release Date:
January 2016
Book of Dead may just be the perfect online slot.
The idea that you can win a lot of money while only putting down a small bet is extremely attractive to most players.
And when an online slot looks great to boot and it has an excellent payout rate of 96.76%, you can safely say you have a winner on your hands.
Book of Dead is loosely based on the Indiana Jones movies, where a cool explorer named Rich Wilde travels to Egypt searching for vast treasures.
You are tasked to find these fortunes and add them to your account.
Book of Dead is a high variance slot: you can win substantial sums of money, but your account can also be depleted very rapidly.
You mainly have to bank on the bonus rounds with Book of Dead, wherein a unique expanding symbol feature is activated.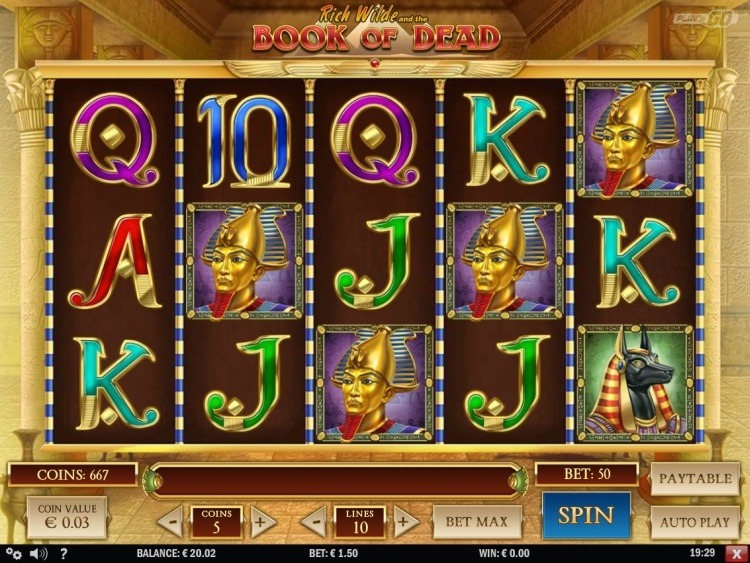 What is the payout percentage of Book of Dead?
The Book of Dead slot has a wonderfully high payout percentage of 96.76%. Admittedly just not quite good enough to land a spot in our top 10 of best paying online slots, but extremely close.
In comparison, the payout rate of the online version of Book of Ra is quite a bit lower: only 94.2 %.
A difference of almost 3%, and we suspect that this was a deciding factor for serious players to embrace Book of Dead in great numbers.
The base game of the Book of Dead slot
Book of Dead has 10 paylines and 5 reels with 3 symbols per reel. This slot allows you to determine the number of paylines yourself and of course, the bet per payline as well.
Although we suspect that most players when making their choice, opt for the maximum allowed number of paylines.
The minimum bet is $€ 0.01, and the maximum bet is a whopping $€ 100 per spin. So, whether you are a small-time player or a high roller, Book of Dead has something for everyone – always nice.
The theme is chock full of references to Ancient Egypt and explorers. Amongst them, we see the pharaoh, the god Ra, and mister Rich Wilde himself.
This last symbol is the highest paying one: 5 Rich Wilde symbols on an active payline give you a brilliant payout of 5,000 x your bet.
The red Book of Dead symbol has a wild symbol as well as a scatter symbol.
When 3 or more scatter symbols appear on the screen, the bonus is activated.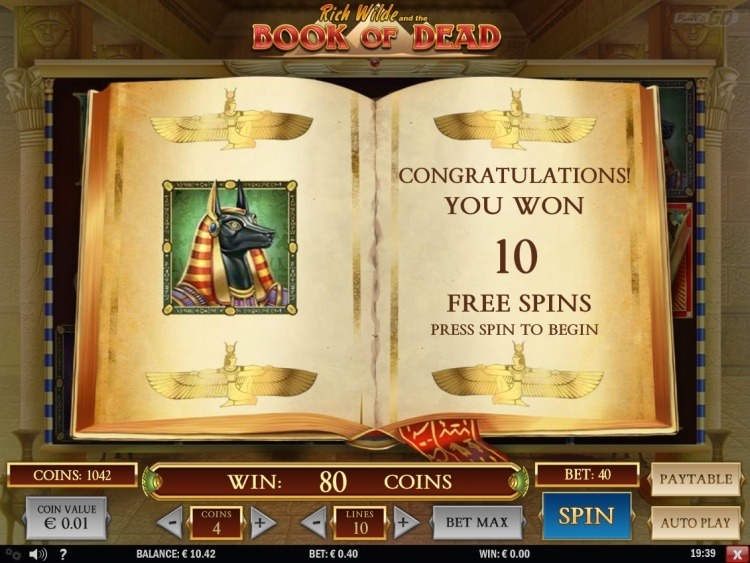 The bonus round of Book of Dead: time to win some serious coin!
The bonus round starts with 10 free spins.
Now perhaps that does not seem that interesting, but Book of Dead has added a very intriguing extra something.
Before the 10 free spins bonus starts, you get allocated a special symbol.
During the free spins, this special symbol acts as an expanding scatter.
What does the expanding scatter do? Wherever this symbol drops on the reels, it always stretches out over the entire reel. And all payouts always pertain to all paylines.
So, if you manage to spin 3, 4, or 5 scatters with this special symbol, you just got your hands on a (very) substantial payout.
So, imagine that the Rich Wilde symbol is the special symbol, and 5 Rich Wilde scatter symbols drop down, then you win 10 x the payout of 5,000 x your bet per line.
A quick calculation tells you that amounts to a payout of 50,000 x your bet per line!
It is also sweet because the bonus can retrigger, which is good for 10 extra free spins. The bonus retriggers not infrequently, and there is no limit on how many times it retriggers.
You now understand that the bonus game of Book of Dead can pay out vast sums – even with the minimum bet per line.
Financial analysis of Book of Dead
We have put together an extensive financial analysis of the Book of Dead slot, including:
Our results of 5,000 real money spins on Book of Dead.
The prize distribution.
Your chances of winning on Book of Dead.
How to successfully apply the "Hit and Run" strategy to Book of Dead.
Our results on 5,000 real money spins on Book of Dead
We played no less than 5,000 real money spins on Book of Dead.
Here are our results, which include some real surprises!
Let's see how well Book of Dead treated us.
What kind of prizes does Book of Dead pay out?
Book of Dead is a medium volatile slot and pays out small to massive prizes.
Book of Dead gives prizes of 50x to 100x and 100x to 250x much more often than most other slots: once every 500 and once every 1,000 spins.
Prizes of 250x to 500x are also awarded often: once every 10,000 spins.
Rewards of 5,000x your total bet or even higher are not realistic with Book of Dead.
Once every 2,000,000 spins is such a prize rewarded.
What are my chances of winning with Book of Dead?
Below, you find your chances of winning (or losing) a certain amount of $€ when you spin 100 x ($€1 per spin) or 500 x ($€0.20 per spin).
For the sake of comparison, the total amount wagered is $€100 in both cases.
For example, you see that your chance of winning 5x to 10x your bankroll ($€500 to $€1,000) is 0.22% if you spin 100 x ($€1 per spin).
Book of Dead is volatile, not highly volatile, though.
The good news is that the chances of leaving your session empty-handed are not so big.
Does the "Hit and Run" strategy work with Book of Dead?
With the Hit and Run slot strategy, you have an initial bankroll of (say) $100.
You start playing $€1, $€5, or $€10 per spin until you, either:
Have reached your target profit: profits of at least $€10, $€20, $€50, $€100, $€200, $€500, $€1000, $€2K, $€5K, $€10K, $€20K or $€50K (the latter is 500x your bankroll).
Have you lost your entire bankroll ($€100 in this example)
The Hit and Run strategy works perfectly with Book of Dead if you aim to make a considerable profit of at least 20x your bankroll ($€2,000 or more with a bankroll of $€100).
For example, the chance of reaching the target of $€5,000 is 0.76% if you stake $€10 per spin. Avoid doing spins of $€1 if you aim for these enormous profits.
If you are happy with a smaller target profit (of 10 x your bankroll or less), you are better off with low or medium variance slots.
Book of Dead is for the medium and massive wins only.
If you want a profit of at least 100 x your bankroll ($€10,000 or more with a bankroll of $€100), you need a more volatile slot, such as Jammin' Jars.
Book of Dead is a slot with lots of high prizes
The Theoretical RTP of Book of Dead is 96.76%, which is more than reasonable.
Book of Dead is outstanding when awarding prizes ranging from 50x to 500x the total bet.
These are paid out often compared to other slots. Book of Dead is not so much the slot for prizes above 1,000x the total bet.
Book of Dead is not an all-or-nothing slot. See this as an advantage: you are not overdoing the amount of risk you are taking.
For the Hit and Run Strategy, Book of Dead works well compared to most other slots if you aim for profits between 20 to 50 x your initial bankroll.
Our verdict on the Rich Wilde Book of Dead slot?
Play'n GO has delivered an irresistibly entertaining slot with Book of Dead. That is if you like high variance slots action.
Don't play Book of Dead for the entertainment factor in the bonus round – it's just not there.
There are no mini-features, no brilliant animations, and no mind-blowing sound effects.
What does Book of Dead offer, then?
The possibility of winning a whole lot of money. And with every free spin, you could hit it again, just like that.
Considering the graphics and the payout rate, Book of Dead is a noticeable improvement compared to Book of Ra, where this slot found its inspiration.
4.5 out of 5 stars.