Platooners slot review (Elk Studios)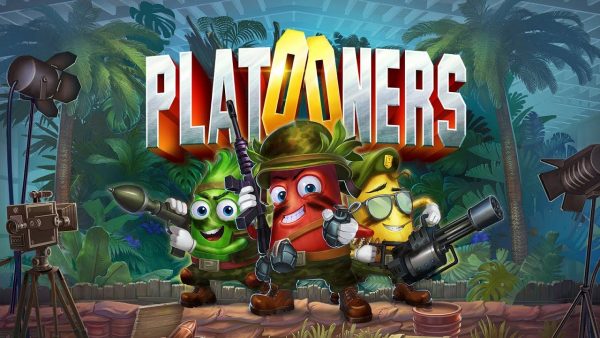 The theme is a jolly crossover of the Vietnam War. It feels just as weird as it sounds. The crazy little men from the Bloopers slot are now running around in camouflaged outfits toting rocket launchers and flame throwers. It is all very light-hearted for such a serious subject.
Play Now
Game Provider:

Platooners is an Elk Studios video slot by Elk Studios, who by now has become one of our favourite casino game producers
Sometimes that works, and sometimes it doesn't.
In this case, Platooners doesn't feel quite right.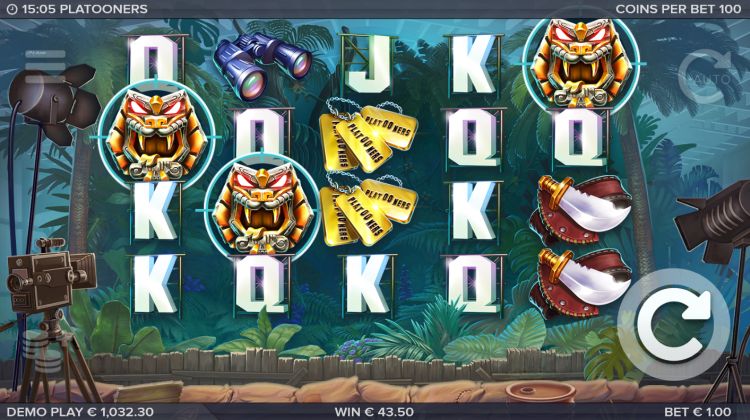 How does the Platooners slot work?
This online slot has five reels with four rows of symbols. There are 178 ways to win. To clarify, there is no Win All Ways mechanism that is used here; the game works with "touching symbols." As long as the symbols touch one another, they form paylines.
The minimum bet is only $€ 0.20, while the maximum bet is $€ 100 per spin. The payout rate is a solid 96.3%, and the variance is medium.
The maximum payout is 250,000 coins, but something tells us that those are somewhat rare.
Symbols and payouts
The premium symbols consist of a medics bag. A pair of binoculars, a knife and dog tags. These pay out between 150 and 1,000 coins with 5-of-a-kind on a valid payline.
All low-value symbols consist of cards (J, Q, K and A), and all are worth 120 coins with five identical ones.
The wild symbol replaces all other symbols.
Betting strategies
A typical quality of all Elk Studios slots is the betting strategy. With this, you choose from 4 different betting strategies, whereby you allow the slot itself to place the bets, according to fixed patterns. You get to determine the risk profile yourself, and for true slot aficionados, that is something new again to enjoy.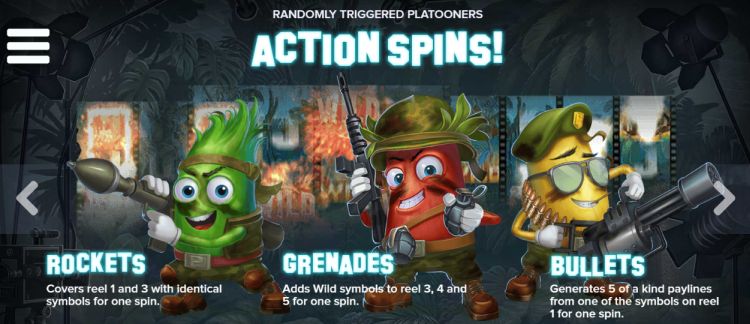 Action Spins
At random times during the primary game, an Action Spin can be awarded.
This will hand you 1 of 3 prizes:
Rockets: reel 1 and reel 3 are filled up with the same symbol
Grenades: extra wilds appear on reels 3, 4 and 5
Bullets: a 5-of-a-kind is fired on to the screen with the machinegun
Platooners vs Snakes of Fortune Bonus
You receive this bonus if you manage to spin 3 or more scatters.
You will now be taken to a new screen, where a special snake is hovering above the ground. Special, because this snake is made up of money prizes and other extra's.
Our three heroes can subsequently attempt to shoot the snake to kingdom come with their impressive arsenal.
For every snake's link that you can shoot to bits, you win money, extra bombs (for more damage) or extra ammo.
When you kill the entire snake, you go up a level in the game, where there are tougher snakes still and even more prizes. All in all, there are three levels that you can reach in the game.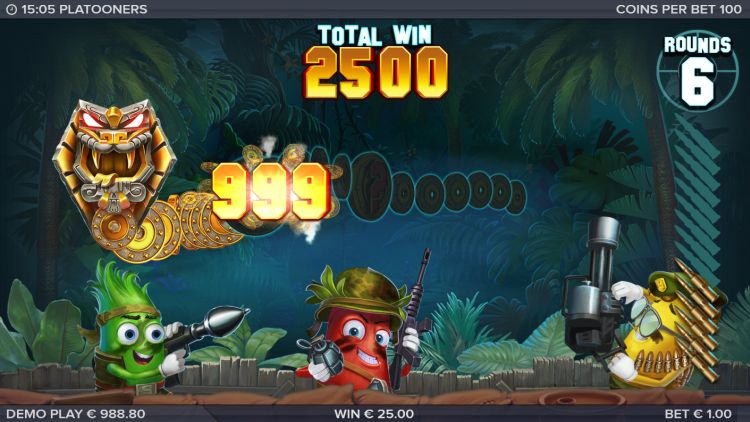 Our verdict on the Platooners video slot
Although the theme doesn't quite work for us, this has become another typical Elk Studios slot.
It looks good, has a great payout rate, and the bonus features are very entertaining.
The Platooners vs Snakes of Fortune Bonus feature can be called truly unique, and it makes a nice change from just another free spin bonus or pick and click bonus.
3.5 out of 5 stars.

😍Daily Promotions
🎁Huge Bonus Package
⚡️Extremely Fast Site

❤️Best Mobile Casino
🎁VIP Bonus Options
🍓Live Casino Bonuses
🍒Thousands of Slot Games
✅Professional Customer Service
⚡️Withdrawal lock option