Lil' Devil slot review (Big Time Gaming)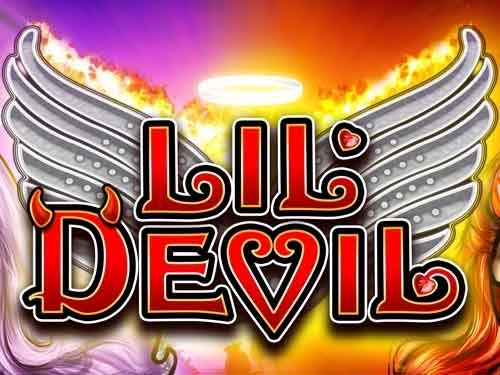 Lil' Devil has all the ingredients to become a true "Cult" classic. It is no coincidence that the title is based on the song of the same name by the British rock band The Cult. The slot theme is all over the place: from hearts to wild animals (crocodiles!), to angels and burning houses. Does it make any sense? No, not at all! Is it as fun as it is strange? Yes, it is. Lil' Devil is fan-friggin'-tas-tic.
Play Now
Game Provider:

Release date:
September 2019
Table of contents
Best of The Month

1000€ Bonus

+ 100 Free Spins
Join
Best Bonus
Latest Casino News
With Lil' Devil, Big Time Gaming continues to prove its status as a unique slots provider
Why? They were the pioneers in making the famed Megaways slots, for starters – what is a success they have been!
Furthermore, they always manage to make slots where it is possible to make those blistering and huge wins.
The Australian slots provider has made the conscious choice not to join the competitors' rat race and only releases 3 or 4 new slots per year, putting quality above quantity.
Music also plays an essential part in Big Time Gaming slots: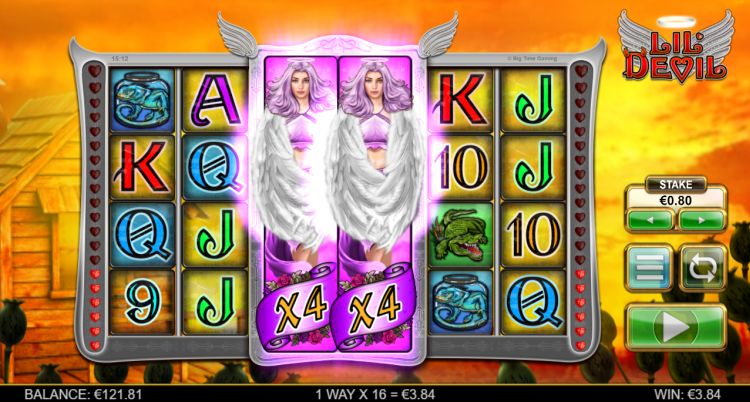 Gameplay and features of the Lil' Devil slot
Lil' Angel is a win all ways slot. It has 6 reels and 4 rows of symbols. This results in 4,096 ways to win.
Bets start at $€0,10 per spin, and the maximum bet is a modest $€20 per spin. The maximum bet is so low because of the monstrous maximum win of 50,000 x the total bet. It is still possible to become a millionaire with one spin!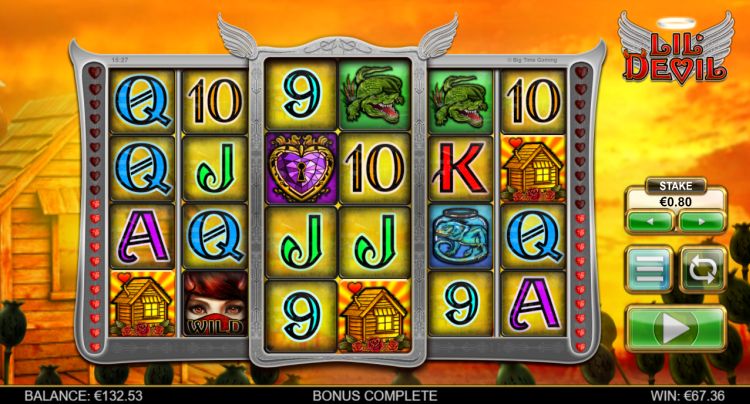 What is the theoretical RTP, variance and maximum win of the Lil' Angel slot?
The Theoretical RTP is 96.31% if you choose to play the "Dynamite Lover" Free Spins. It is 96.43% if you decide to play the "Be My Angel" Free Spins instead. We explain both options of the free spins below.
The variance of the Lil' Angel slot is very high. The prizes you can land can be enormous, thanks to a possible 144x multiplier (which we also explain further below).  Mega prizes above 1,000x or even above 5,000x the total bet are possible with this fantastic slot.
The maximum win can be as high as a mind-blowing 50,000 x the total bet. Even with the minimum bet of $€0.10, we are still talking about a prize of $€5,000.
Symbols and payouts
The symbols are of minor importance in this slot, as you can win in so many ways. Besides, there are also wilds and multipliers in the game.
It is essential to know that the purple heart is the most lucrative symbol. It pays 10 x the bet for a 6-of-a-kind. The other valuable symbols are the scorpion, iguana and crocodile.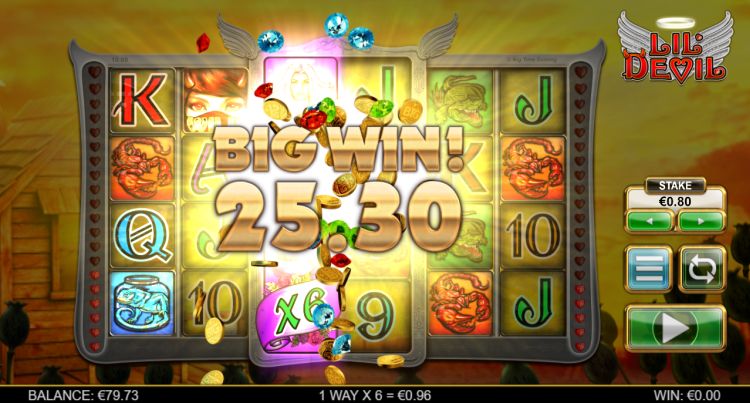 Wilds with multipliers up to 144 x
At any time, Angel Wilds can fall on reels 3 and 4. These wilds contain multipliers of a minimum of 2 x and a maximum of 12 x. They are combined: your total multiplier is the product of the two multipliers.
Combining the two wilds makes it possible to get a total wild multiplier of 144x. Dayum!
Free Spins Bonus: Time for fireworks!
When you spin three or more scattered small yellow houses, you activate the free spins bonus.
As you probably know, it is quite an achievement to trigger the free spins with Big Time Gaming slots.  In that respect, Lil' Devil is no exception. It is typical for high variance slots.
It will take a long time before you get the free spins, and don't be surprised if you are cursing and complaining when your patience is tested.
So you've been warned.
That was the bad news.
The good news is that both free spins bonuses (yes, there are 2) are kickin' hard ass.
Just like with Danger! High Voltage, you can choose which bonus you want to play. Both bonuses can yield some massive payouts, so it's mainly a matter of taste.
The bonuses to choose from are:
Be My Angel. You get 7 free spins here, where one particular symbol becomes a sticky wild (on the middle 4 reels, so reels 2 to 5). If you manage to get one reel completely wild, you get rewarded with more extra free spins. In some cases, even with a multiplier game! In this multiplier game, the multiplier increases by +2 with every spin.
Needless to say, this can result in more than just lucrative combinations.
Dynamite Lover. If you choose this bonus, you get 12 free spins. The spins retrigger if you spin three scatters. It works like a real Megaway's slot, where you have avalanche wins and increasing multipliers.
You get a slightly better RTP (96.43%) if you choose the Be My Angel Free Spins as opposed to the Dynamite Lover Free Spins (96.31%). The difference is minor, though, and you won't notice it anyway due to this slot's high variance.
Heartstopper Free Spins
Each time you spin just two scatters (instead of the three you so desperately need to trigger the free spins bonus), you get a consolation in the form of a red heart.
Collect 40 of those red hearts (you see on the meters to the left and right of the reels how many you have), and you win the Heartstopper Free Spins.
With the Heartstopper Free Spins, you have more than just good chances to get a real massive boost.
Here, if you choose the Be My Angel Free spins, you get an extra sticky wild symbol as a gift during the free spins.
If you choose the Dynamite Lover, you will start with an x 5 multiplier instead of the standard x 1.
It was already possible to win a serious amount of money with both free spins bonus features, but with the Heartstopper Bonus, you can't get closer to those dazzling mega-payments.
You need to work hard, though, to get there and receive the Heartstopper Bonus. Collecting 40 hearts requires a lot of spins.
It is a smart trick of Big Time Gaming. If you already have, say 25 out of 40 hearts, and you have no balance left. What will you do? We bet you will make an additional deposit, as you are not going to give up the 25 hearts you have been working so hard for.
Our verdict on the Lil' Red slot
We guess you already noticed that we are very great fans of the Lil' Red slot.
The theme is as strange as entertaining, you can win massive amounts of money, and the bonus features are excellent.
Add to this the beautiful music of The Cult, and here you are! An absolute winner! Are you ready to crack this nut?
You need patience and a lot of time (and bankroll) if you want to give yourself a real shot!
4.4 out of 5 stars.
#1
🍒Thousands of Slot Games
✅Professional Customer Service
⚡️Withdrawal lock option
#2

❤️Best Mobile Casino
🎁VIP Bonus Options
🍓Live Casino Bonuses
#3

🔥New Casino
⚡️Quick Banking
🍒Reward Scheme