Football Champions slot review (Netent)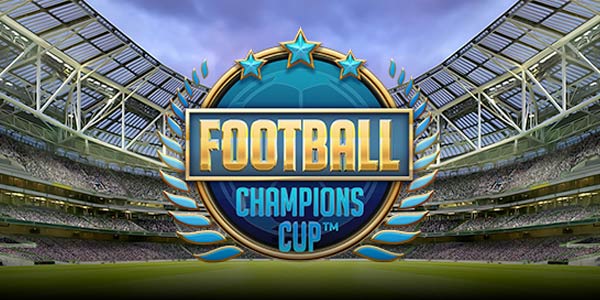 Of course, it is always fun to let yourself be immersed in the madness of the World Cup, and an online slot is part of that hype. So far, we understand Netent's train of thought. We cannot get our heads around how Netent did it. Football Champions Cup looks like it's been cobbled together within a week. Rarely have we come across a slot with such uninspired, downright ugly graphics.
Play Now
Game Provider:

Table of contents
Best of The Month

100% up to

€500 Bonus

+ 200 Free Spins
Join
Best Bonus
Latest Casino News
Football Champions Cup is a 2016 online slot released by Netent to piggyback on the World Cup
It is hard to understand why Netent hasn't invested more money in a better design. The World Cup only happens once every four years, so it's already the event. Furthermore, the whole world is watching and participating. Given the exposure, you surely want to give it your best shot?
We cannot grasp it. It's a pity, too, because, despite those very ugly symbols, boring backgrounds and coarse animations, Football Champions is a very entertaining slot.
How does the Football Champions Cup slot work?
As soon as you start the game, you can pick your favourite country. You then enter the game as this country, of course, trying to win that much sought-after cup. If your country didn't participate in the World Cup 2016? Then you have to pick a different country.
The game has 20 fixed paylines and 5 reels with 3 symbols. The payout rate is excellent: no less than 96.82%. Now, we can work with that.
As far as symbols are concerned, there is not much to report. The premium symbols consist of various football attributes such as football shoes, balls, whistles and football emblems. The red emblem is worth the most: 5 of these rascals on an active payline yield you 1,000 coins. The referee's whistle is the lowest paying of the high-value symbols and awards you 150 coins for five identical ones.
The low-value symbols are 10, J, Q, K and A symbols, and they are worth between 100 and 200 coins.
The football is the Wild symbol, which replaces all other symbols except the scatter symbols.
The Bonus Features: free spins, extra Wilds and… penalties!
This slot is full of striking and original bonus features. Luckily so, because it means that you can have a lot of fun with Football Champions Cup after all.
Extra Wilds
During each spin, 2 to 5 extra Wild symbols may appear on the screen.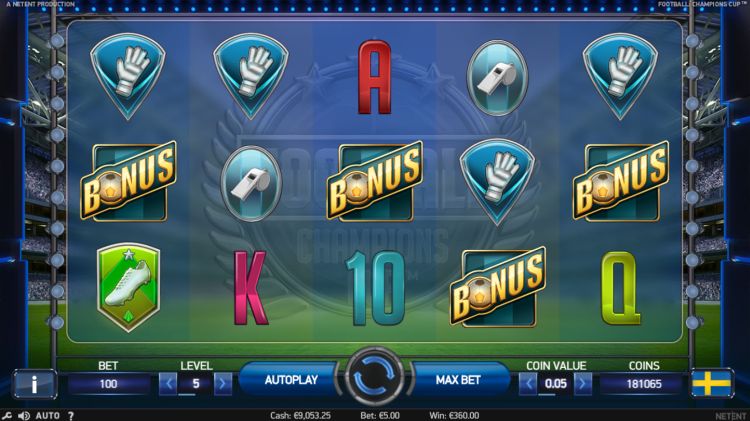 The Penalty Game
A minimum of 3 scattered Bonus symbols on the playing field activates the Penalty Game. You alternate between the roles of player and goalkeeper. Now is the time to prove that you've got nerves of steel. Are you a man or a mouse?
In total, 10 penalties will be taken (5 by yourself, 5 by your opponent). Each penalty, the following can happen:
You take a penalty, and you score: you win credits.
You stop a penalty kick: the multiplier increases.
This bonus awards you medium payouts, but its interaction is great fun.
The Free Spins Bonus
You get this bonus when three scattered Golden Cups drop on the reels. The free spins bonus works according to a knock-out system. The further you proceed, the more you win. Of course, your goal is to make it to the finals and win them, too!
During the 6 free spins, you score goals if a blue symbol appears. But the opponent doesn't laze about either: if a red symbol appears, it means a goal against. If you score the most goals after the 6 free spins? Amazing! Then you move on to the next round.
You play a maximum of 4 rounds so that you can earn 24 free spins in total. This bonus is inventive, too, and the scoring system keeps you in suspense.
Our verdict on the Football Champions Cup slot
As you probably noticed, we are in a bit of a dilemma. On the one hand, this slot has plenty of positive aspects such as a high payout rate, fun bonus features, and interaction. However, on the other hand, this slot looks plain ugly. And by that, we mean really horrible. If you manage to see past this, you can have a great time with this online slot, especially if you're a football fan.
3.5 out of 5 stars
#1
🍒Thousands of Slot Games
✅Professional Customer Service
⚡️Withdrawal lock option
#2

❤️Best Mobile Casino
🎁VIP Bonus Options
🍓Live Casino Bonuses
#3

🔥New Casino
⚡️Quick Banking
🍒Reward Scheme