Wild Worlds slot review (Netent)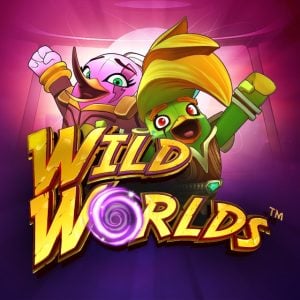 This amazingNetEnt slot is all about superheroes. It kind of reminds us of the videogame Angry Birds, which was very popular back in 2010. Their task? To protect the world against the immense, Godzilla-like monsters that think it necessary to wreak havoc upon the planet. The superheroes, three brightly coloured birds, have a dull office job daily but change into veritable monster-bashers when the situation demands it.
Play Now
Game Provider:

Wild Worlds is a Netent video slot with three wacky superheroes as the main characters.
Our feathered friends join their superpowers to save the world.
Cool!
Wild Worlds gameplay and features
Wild Worlds is played on a 5 x 5 grid setup.
The symbols tumble down from above and winning combinations disappear to make room for new ones.
This can cause chain reactions of winning combinations, a phenomenon that is known as the Avalanche mechanism.
We know it from slots like Reactoonz and Gonzo's Quest.
Winning combinations occur with three of the same symbols on a horizontal or vertical line, regardless of where they are situated on the reels.
Betting starts at $€ 0.20 and goes up from there to a maximum of $€ 400 per spin.
The variance is medium, and the theoretical payout rate of this slot is an excellent 96.47%.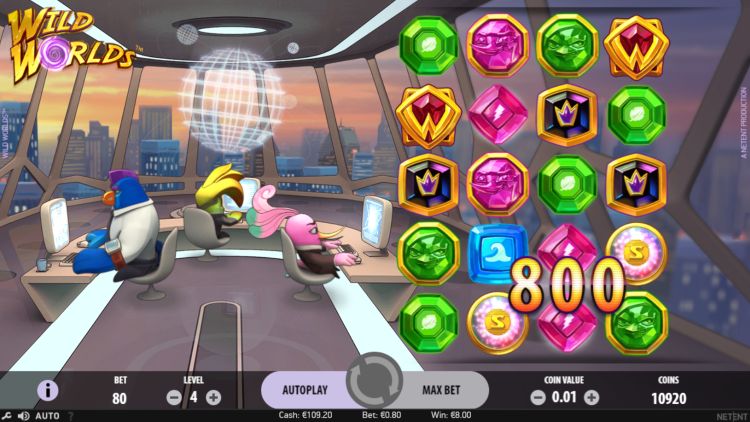 Symbols and payouts
The High Win Symbol is a purple crown set inside a black gemstone. This is worth a prize of 2,000 coins with a 5-of-a-kind amount to 100 x the total bet.
All 3 of the superheroes have their own symbol: blue, purple, and green.
They are equal in value: all pay 300 coins, which equals 15 x the total bet if you get five identical ones.
The low-value symbols consist of blue, green, and purple coloured symbols.
These gemstones have a maximum value of 4 x the total bet; again, you need five identical symbols on a horizontal or vertical line.
And then, last but not least, we arrive at the wild symbol.
This symbol replaces all symbols, except for the scatters.
Five wilds on a horizontal or vertical line are worth a prize of 100 x the total bet.
Hero Wilds and Destroy Feature
Wild Worlds has two mini-features, the Hero Wilds and the Destroy Feature.
The Hero Wilds are wild symbols created when you make a winning combination with a Hero symbol.
Again, we see the same rule applies: the new wilds can generate more new Hero Wild combos, leading to another chain reaction.
That is why these Hero Wilds can be so mighty in this game.
The Destroy Feature may sound tough, but it often leads to a lot of nothing in reality.
It is a kind of Second Chance Feature that you can only win when there is no winning spin.
One of the heroes rises and destroys all the other symbols (except for the scatters). After that event, new symbols come tumbling down from above.
This feature comes in handy when you have already spun two scatters and want to get a new chance to get the coveted 3rd one.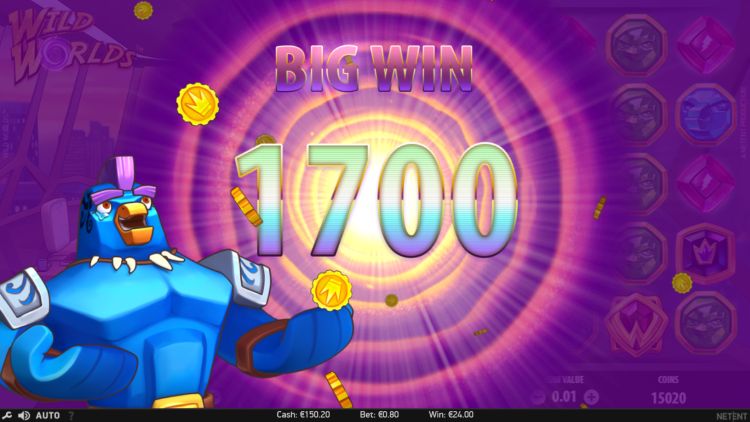 Free spin bonus
Before we go ahead and explain to you all the ins and outs of the main bonus feature, we want to give you a little heads up.
It is certainly not easy to win this bonus.
And even if you manage to win it, there is still no guarantee of success. But it is a crazy fun bonus feature that has tremendous potential.
The free spin bonus consists of 8 free spins, and you activate it by spinning three scatters.
Before you get the free spins, you turn a wheel to determine which world you will be playing the free spins in.
There are three possible worlds:
Ice World: with heavy wilds
Fire Lands: with Random Wilds
Dark Forest: with Spreading Wilds
These extra wilds are not merely given to you right away. To receive them, you first must defeat the particular 'monstrous' Bosses.
To achieve that goal, you must spin winning combinations and weaken the monsters, step by step.
You can try to beat the ultimate boss when you have defeated all monsters.
You have to spin winning combinations yet again to make that happen.
Have you managed to defeat the final foe? Then you have whisked away to a new world, where you get to play another free spin bonus.
So, you can really earn a maximum of 3 bonus rounds.
Our verdict on the Wild Worlds video slot?
With the Wild Worlds video slot, it seems NetEntertainment finally released another hit.
The theme is fleshed out well; it has an old-fashioned beginning and end, complete with an intro clip.
The gameplay is excellent, and the bonus features offer extra depth with the Boss battles and the extra wilds you can win.
The variance is medium: you can win up to 2,500 x the total bet, making this slot even more interesting to try out.
4 out of 5 stars.