Wild Robo Factory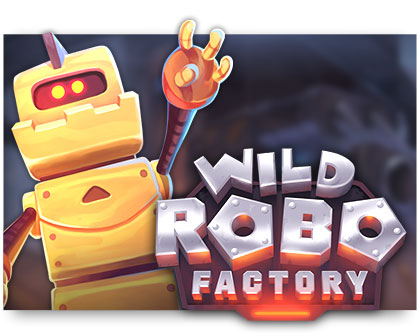 Play Now
Game Provider:
Table of contents
Best of The Month

€150 Bonus Package

+100 Free Spins
Join
Best Bonus
Latest Casino News

The Wild Robo Factory factory is a high-tech factory where extraordinary robots are made
Not only can these robots fly around, on top of that, they are also wild. And there is even more: they come in the most diverse sizes and shapes.
Yggdrasil's Wild Robo Factory is a fun slot with a high entertainment factor. Getting rich quick is going to be a bit difficult. The variance is too low for that (even though the biggest possible prize of 2,900 x the bet is still quite attractive).
This video slot reminds us of the brilliant and under-valued movie "The Iron Giant" as far as style goes. For years now, this has been 1 of our favourite movies.
So, Wild Robo Factory is off to a good start.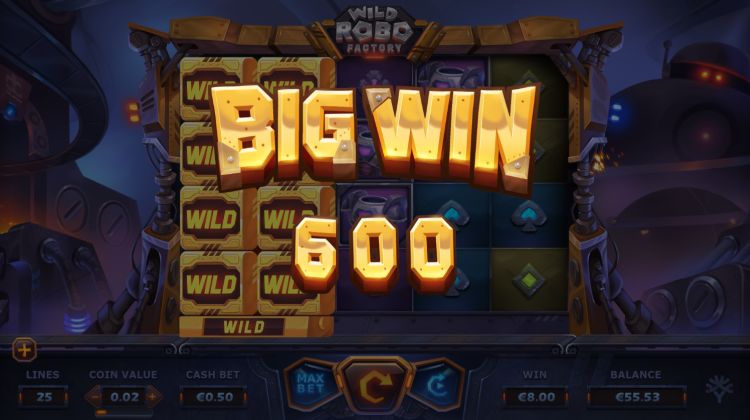 How does Wild Robo Factory work?
They are hard at work in the robot factory, and with great regularity, new robots are coming off the assembly line.
The game is played on 5 reels with 4 rows of symbols, and there are 25 fixed paylines.
If you are a player who likes to make your money last, you will be pleased with the Wild Robo Factory minimum bet: it is just $€ 0.05 per spin. Put $€ 50 down, and you will be entertained for the entire day.
The maximum bet is $€ 100 per spin.
The theoretical payout rate is 96.4%: we find that to be just great. In terms of variance, we rate Wild Robo Factory as a medium.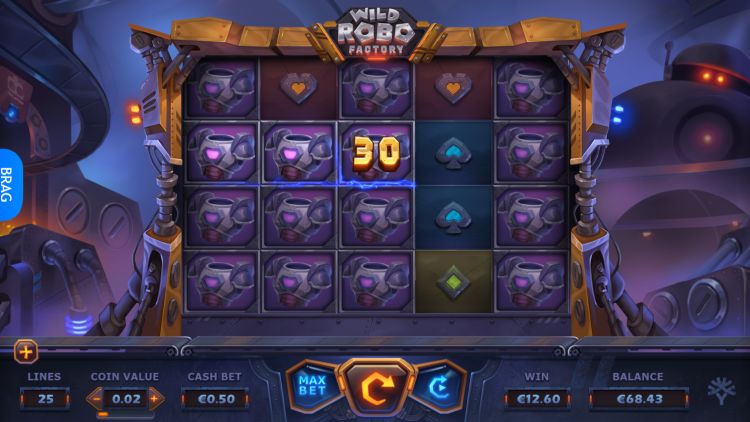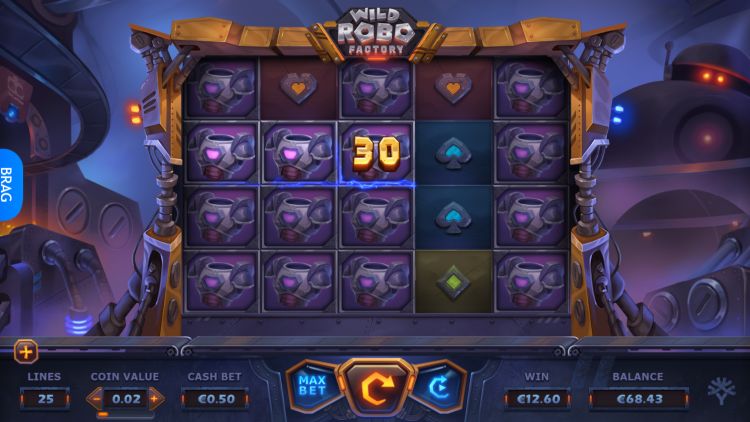 Symbols and payouts
The wild symbol plays the most critical part in this game. Not only does the wild replace all symbols, except for the scatters, it also assumes different shapes. All are in the form of a robot. Small, big, square, rectangle, tilted.
As high-value symbols, Yggdrasil has chosen different parts of a robot body, such as arms, hands, head and torso. These high paying symbols will earn you between 120 and 375 coins with a 5-of-a-kind.
The low-value symbols consist of the four card suits, hearts, spades, clubs and diamonds. Spin 5 of these on an active payline for a prize of 2 x the total bet.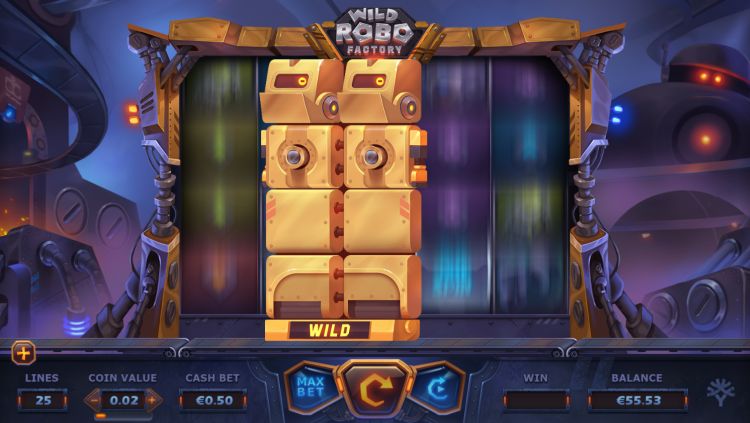 The bonus features of Wild Robo Factory
There are several mini-features in the game that can be activated at random moments. Besides these, there is also the main bonus, with free spins and lots of extra wilds.
Wild Robos
With the Wild Robos feature, a wild robot moves from right to left on the reels. After every spin, you receive a free respin, after which the robot moves a step to the left. As long as the wild robot is (partially) on the reels, you receive free respins. The bigger and taller the robot is, the better for you.
The wild Robos can also contain a 2 x multiplier.
If you have ever played the Netent slot Jack and the Beanstalk, then you will be familiar with the walking wilds feature, which the Wild Robos feature resembles quite closely.
Symbol Swap
With the Symbol Swap, low-value symbols are changed into higher-value ones, which will earn you a juicy payout.
Free Spin Robo
The Free Spin Robo once again gives you free spins. You get 1 Free Spin scatter that flies over the reels. Spin an additional 2, and you win the free spin bonus. This mini-feature appears very attractive, but it turns out to be quite challenging to win the free spins in reality.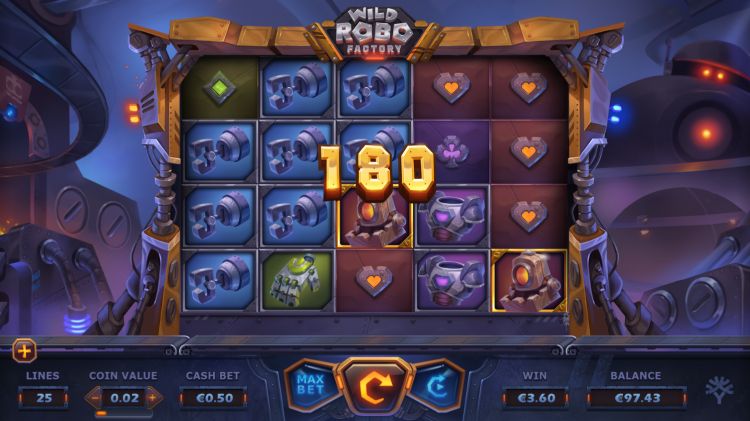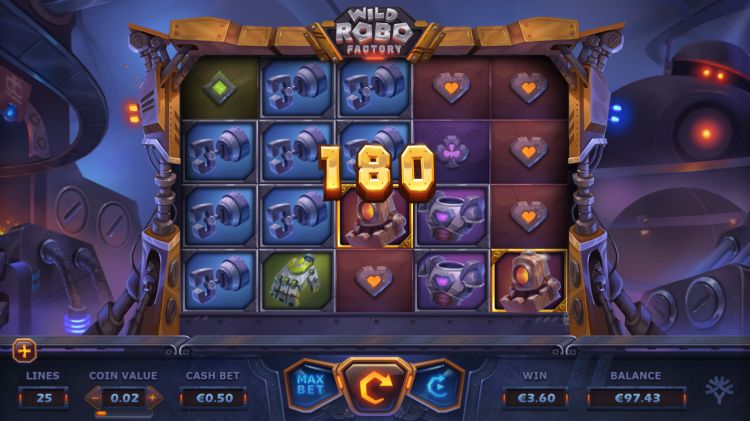 Free spin bonus
Three or more scatters will get you the free spin bonus, with guaranteed Wild Robos.
The more scatters you spin, the more Wild Robos you receive:
3 scatters: 5 Wild Robos
4 scatters: 10 Wild Robos
5 scatters: 15 Wild Robos
We found it already quite challenging to get 3 scatters, so we imagine that 4 or even 5 scatters will be an even bigger rarity.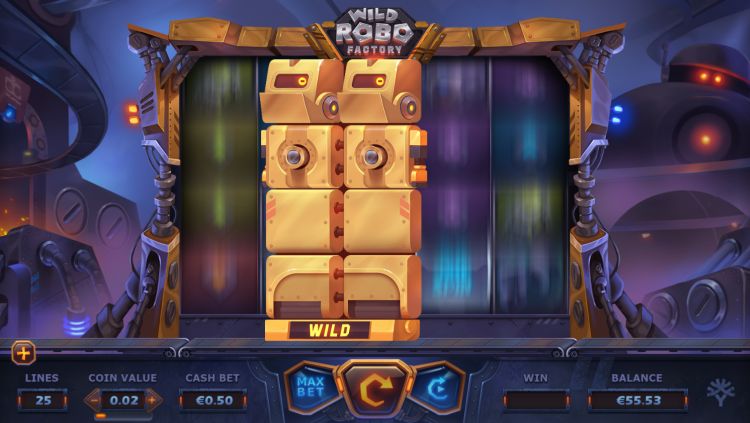 Our verdict on the Wild Robo Factory video slot
Wild Robo Factory is a bit of an odd duck.
Yggdrasil really hit the sweet spot with this slot. Everything feels right (the design, the fun theme, the bonus features), and we had some good fun.
It isn't like we are dying to play it again. The slot is just a bit too ordinary, and it just babbles along without giving you the feeling that the big win is just around the corner.
3.5 out of 5 stars.