Beat the Beast: Quetzalcoatl's Trial (Thunderkick) slot review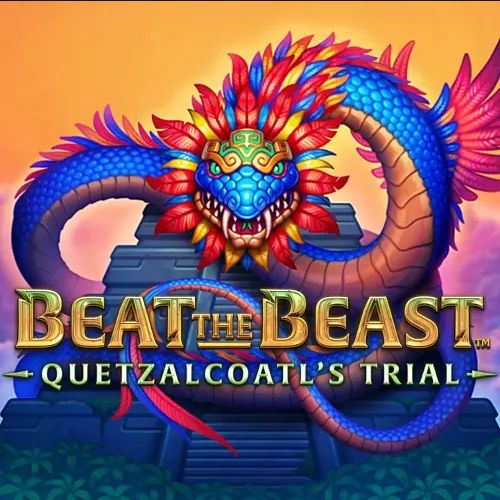 Beat the Beast: Quetzalcoatl's Trial (Thunderkick) is a fantastic slot with an Aztec mythology theme. It's all about the feathered serpent God Quetzalcoatl, and rightfully so. After all, he was one of the most prevalent Gods in Aztec mythology, where he stood for wind, water, air, nature, life, and much more. Quetzal stands for precious, and Coatl stands for twins and snakes.
Play Now
Game Provider:

Release Date:
August 2020
It's already the 4th Beat the Beast Thunderkick slot, but it's (again) one you won't forget easily.
The aim is to stay close friends with Quetzalcoatl. It's indeed a challenge, but also a great honour to take!
On Quetzalcoatl's Trial, you can land wins of up to 5,555x the bet
With the maximum bet of a hundred, you can bring home over half a million. Yes, of course, not everyone will stake a hundred just like that. But even with one $€, you can bag a lovely five grand.
---
Software: Thunderkick
Number of paylines: 5 reels of 5 rows. 9 paylines
RTP and variance: 96.16%, High variance
Maximum win: 5,555x the bet
Betting range: $€0.10 – $€100
Bonus features: Free Spins (Bonus Game) with 5 levels and symbol upgrades
Casino Hipster verdict: Hot!
Beat the Beast: Quetzalcoatl's Trial slot – Gameplay and Features
The game has 5 reels with 3 rows of symbols, and there are 9 fixed paylines.
The highest paying symbol is, what else could it be, Quetzalcoatl itself.
The medium-paying symbols are (from the most to the least lucrative):

a Quetzalcoatl Statuette
a Crown
an Axe
a Cup.

The lower-paying symbols are the usual card symbols: 10, J, Q, K and A.
Furthermore, you have a regular wild symbol that replaces all symbols except the scatter.
The Golden Quetzalcoatl Emblem is a Wild Scatter, and it replaces all symbols.
How do you activate the free spins?
If you spin 3 Golden Quetzalcoatl Emblems (Wild Scatters), you activate 10 free spins, and besides, you get a cash win of 2x the bet.
4 Wild Scatters also gets you 10 free spins, but now the cash prize is 20x. 5 Golden Quetzalcoatl Emblems earns you 10 free spins and a cash win of a fantastic 200x the bet!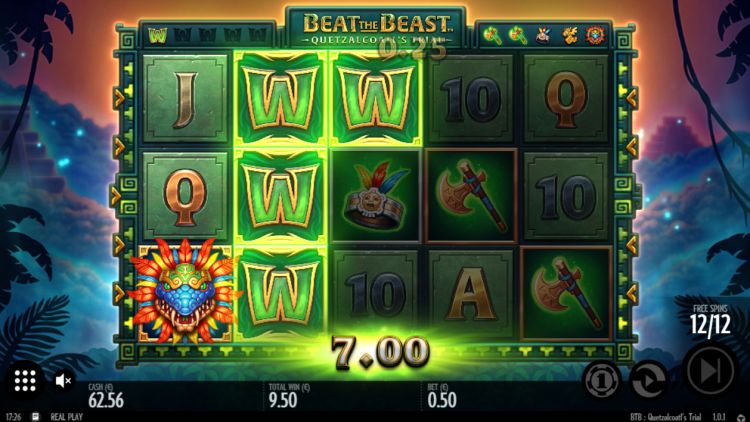 The free spins: the famous symbol upgrades
Now it's a matter of spinning as many Wilds as possible. Besides the fact that it's easier to make winning combos, you get to collect the so-called "Orbs" (bright white balls). 5 Wilds gets you 5 Orbs, which brings you to the next level.
Now you get two additional free spins and the Cup Symbol upgrades to the Axe symbol.
If you spin another 5 Wilds, you progress to the next level again, and the Cup and Axe symbols both upgrade to Crown symbols. And, again, you get two extra free spins.
If you manage to spin 5 Wilds again, the Cup, Axe, and Crown symbols change to Quetzalcoatl Statuette symbols.
After the next 5 Wilds, all medium paying symbols upgrade to the best paying symbol: the Quetzalcoatl symbols.
If you spin many Quetzalcoatl symbols afterward, it can become incredibly lucrative. 5 Quetzalcoatl symbols on a payline yields a 250x win. But as there are 9 paylines and hopefully still some free spins remaining, it can be exhilarating!
Is this thrilling, or is this thrilling?
Payout percentage (RTP)
The RTP is 96.16%. It's okay, but not spectacular. It's in line with the RTP of the other Beat-the-Beast slots.
Beat the Beast: Quetzalcoatl's trial slot – the variance (volatility) is high
According to Thunderkick, it's a high variance slot. Quite similar to the other 3 Beat-the-Beast slots. These all have high volatility.
If we are to believe Thunderkick, we can expect to see top wins exceeding 1,000x the bet.
Pros and Cons

Pros
The slot plays lovely and is not overcomplicated.
It has many similarities with Pink Elephants, with some subtle differences.
Pretty impressive win potential.
The theme is original and certainly not a run of the mill one.

Cons
You're taking a risk here.
The gameplay isn't revolutionary, but most slots aren't, of course.
Who'll like the slot? And who won't?
This slot suits those players who are not into playing overcomplicated, straightforward (fruit) slots.
If you love slots with an original and crazy theme, then you've found it here! That's what Thunderkick is known for best.
4 out of 5 stars.