Las Vegas is unique in the world, and visiting this glittering city in the Nevada Desert is on the bucket list of many people.
If nothing else, you should experience Las Vegas at least once in a lifetime.
Las Vegas is very much alive and is always buzzing and renewing itself. Nowhere else will you find such an exciting mix of the best entertainment, beautiful mega-resorts, magical neon and immensely large casinos.
Our top 10 of Las Vegas must-do's
For everyone who is about to visit Las Vegas or has plans to do so, we have put together a top 10 of must-do things.
And no matter how overwhelming all the impressions in this magnificent city are, these ten things will make your trip unforgettable.
10. Spend the night in a mega-resort on the Las Vegas Strip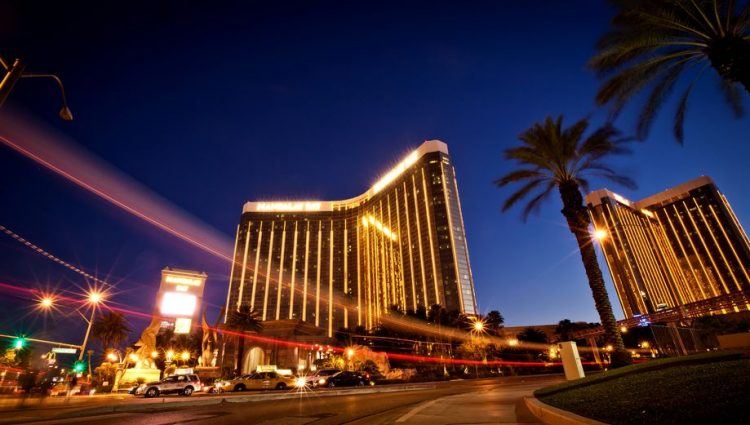 The Las Vegas Strip (Las Vegas Boulevard) is the heart of Las Vegas – this is where it all happens. The Strip is a wide street with a length of almost 4.3 miles / 7 kilometres, with gigantic Hotel-Casino Resorts on both sides.
Las Vegas Boulevard is home to 29 of these Mega Resorts, which can have as many as 5,500 rooms and are equipped with all modern conveniences: swimming pools, entertainment, casinos and restaurants.
The most luxurious Mega Resorts are Wynn, Encore, Venetian, Aria and Cosmopolitan. Superb hotels with lavish, ultra-luxurious rooms and the very best service.
Other iconic hotels include Belaggio (with its world-famous fountains), MGM Grand (the largest hotel on the Strip), Paris (complete with an Eiffel tower at exactly 1/3 scale) and the Luxor, with its Pyramid shape.
9. Take a long walk on the Strip and take in the sights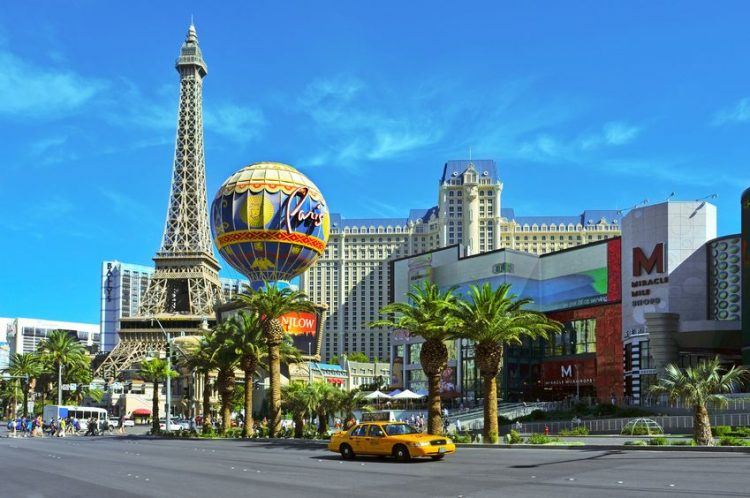 One of the best things to do in Las Vegas is an afternoon of strolling around on the Strip and just enjoying everything around you. The hotels, the abundance, the madness and the people. What a great way to spend the day! You will discover new things over and over again.
Starting with: "Look, the fountains are starting" and "The Mirage Volcano is about to erupt" to "Did an Elvis with a bride really just walk by?" and "Come, let's have a cocktail of 2 feet (over 1/2 a meter) in height in the shape of the Stratosphere Tower".
8. View the Bellagio Fountains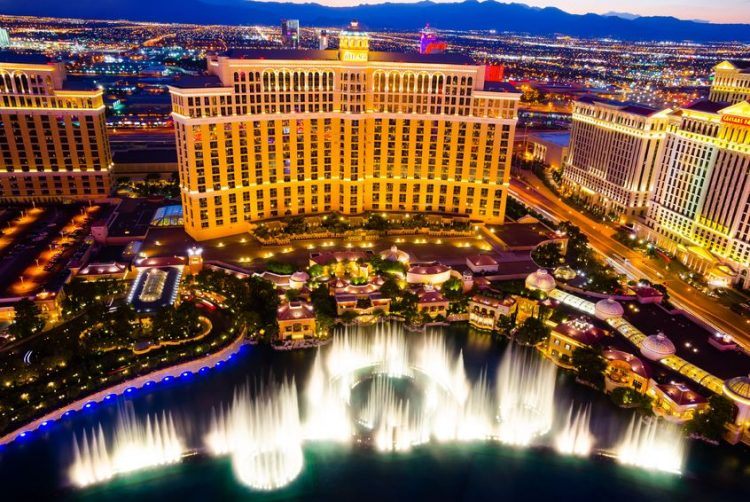 For many years, the Bellagio Hotel was the most beautiful hotel in Las Vegas. Its gorgeous fountain show, which can be seen several times a day, is a unique and quintessential Vegas experience. The dancing fountains, accompanied by the beautiful sounds of Andrea's Bocelli's "Time to Say Goodbye," are a sight to behold.
Enjoy the small explosions that push the water tens of feet/metres into the sky and try not to cry with the beautiful final eruption of each performance.
A must-do in Las Vegas.
The Bellagio Fountains are entirely free to watch, a rarity in Las Vegas. CasinoHipster has visited Las Vegas over 30 times, but he still needs to see this fantastic spectacle at least once, every time he visits.
7. Eat at an All-You-Can-Eat- Buffet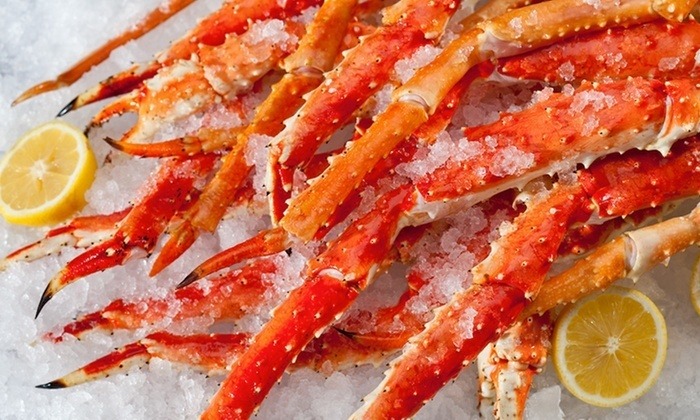 Las Vegas is also known for the enormous diversity and high quality of its restaurants. And what goes more hand in hand with Las Vegas than the famous All-You-Can-Eat-Buffet?
Eat as many delicious culinary delicacies like Crab Legs, Sushi, Luxury Salads, BBQ, Steak, Sliders and desserts as far as the eye can see as you can. The best buffets can be found in Caesar's Palace (Bacchanal Buffet) and Cosmopolitan (Wicked Spoon Buffet).
6. Visit the High Roller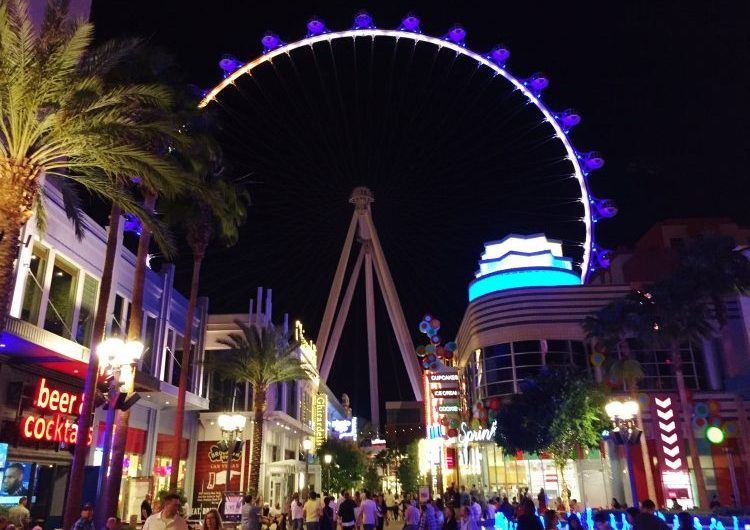 The High Roller is a Ferris wheel located on the LINQ promenade, an area in which you can shop, stroll around and eat. Step into one of the 28 huge pods that will take you up to almost 555 feet / 170 meters in height – enjoy stunning views over the Las Vegas Strip.
In addition to the regular rides, you can also book special experiences in the High Roller: from a Chocolate Tasting Experience and a Yoga Experience (really!) to an Open Bar – drink as many cocktails as you can during the 30-minute ride.
5. Gamble in a real Las Vegas casino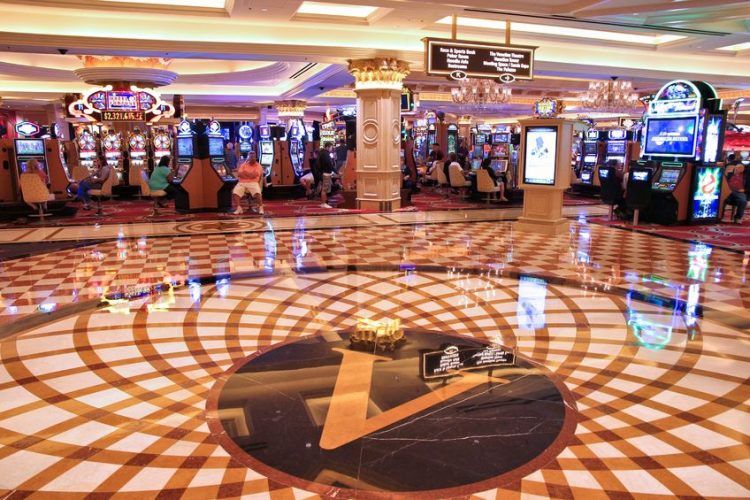 Of course, you can't visit Las Vegas without taking a chance in one of the many casinos. Whether you like slot machines, Blackjack, Roulette or maybe even the dice game Craps, in Las Vegas, you can gamble 24 hours a day, 365 days a year.
The ideal place to try out your best roulette strategy!
In Las Vegas, you'll find the most modern slot machines, with the widest variety of themes. Megabucks and Wheel of Fortune slots with a progressive jackpot remain popular, but Hollywood-themed slots such as The Walking Dead and Game of Thrones are just as much a hit with slots players.
An additional advantage, the cocktails are free while you're gambling. Of course, don't forget to tip the cocktail waitress $€1 to $€2 per drink – if you want her to come back with more free drinks.
4. Visit Downtown Las Vegas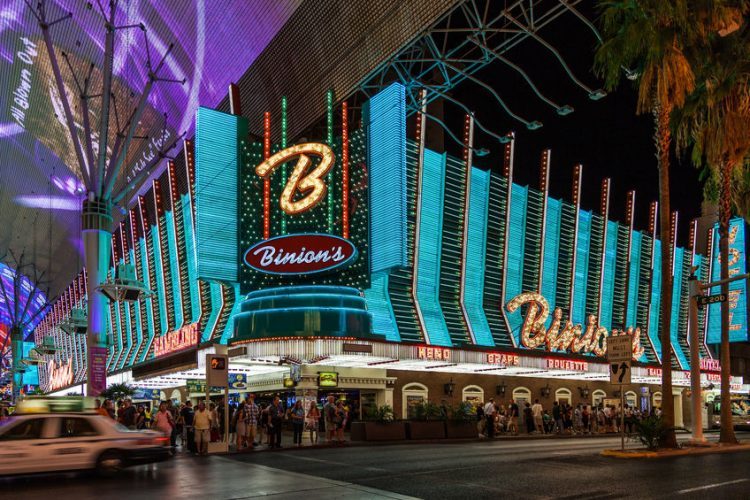 Downtown Las Vegas is about a 10-minute drive from Las Vegas and has an entirely different atmosphere than the Strip. In Downtown Las Vegas, all casinos are within walking distance – a big contrast with the where everything distances between hotels on the Strip. The table limits are lower, the atmosphere is more relaxed, and the rules are a lot more favourable for the player.
You can find the best bars, eateries and restaurants throughout Downtown, such as Pizza Rock (the best Pizza in Las Vegas), Eat (delicious breakfast). If you are feeling romantic, Hugo's Cellar (inside the Four Queens) is an excellent choice. The ladies get an old-fashioned red rose, and salads are prepared "table side" on the spot.
Most casinos are located on Fremont Street, where you'll find unique music and light shows on the ceiling several times a day. But there is even more; Fremont Street regularly features rock bands for free. And these are often superior cover bands or even (fairly well-known) artists like Vince Neil of Motley Crue/Poison.
If you are thinking of booking a luxurious room in a lavish hotel with a decent swimming pool like the ones on The Strip, then you are out of luck in Downtown Las Vegas.
However, a new urban project in the making, Circa Resort & Casino, aimed to change when they open their doors in December of 2020.
3. Ride the tourist attractions on top of the Stratosphere Tower
On top of the Stratosphere Tower, just past the end of the north side of the Strip, at the height of 1250 feet / 350 metres, you will find several attractions for the real daredevils among us. The Big Shot will take you even higher up in the air, at a speed of 43 miles / 70 kilometres per hour. Open your eyes, if you dare, and enjoy breathtaking views of the Las Vegas valley.
Other attractions include the Sky Jump (a controlled freefall alongside the tower), Insanity and the X-Scream. The latter is a kind of roller coaster-like attraction that takes you almost 10 metres over the edge of the tower.
2. Go sky diving from a height of 16,000 feet / 5,000 meters with a view of the city
Just outside Las Vegas, it is possible to make a tandem Sky Dive with an instructor, from a height of 16,000 feet / 5,000 meters, with the Las Vegas Strip in the background. After you jump out of an aeroplane, a 60-second free fall follows before the parachute will be opened, and you will float back to earth as if in a dream.
From our own experience, we can tell you that Sky Diving in Las Vegas is both the scariest and the most fantastic thing we have ever done in our lives and probably will ever do. Fan-tas-tic!
1. Sail through the canals of Venice in a gondola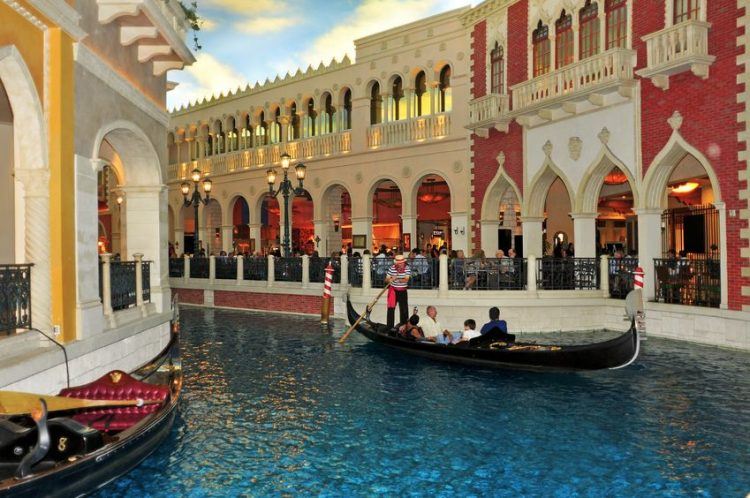 In the Venetian Hotel, you will not only find true to nature copies of the Rialto bridge and the famous San Marco square, but you can also take a Gondola tour through the canals of the hotel, with or without singing Gondolier.
This is all Las Vegas stands for: total madness in the middle of the desert. It's not really possible, but it's possible in Las Vegas.
And most important of all, make sure you have fun
Las Vegas is a city where everything is possible, and everything is allowed. Make sure you enjoy all that this beautiful city has to offer. And don't forget, what happens in Vegas, stays in Vegas. That's the best part: nobody needs to know what adventures you've had when you were half drunk. Be crazy!
Visit a show, a concert or the Craps table. Throw $€20 into the Big Bertha slot machine, where no one ever wins. Wear a crazy outfit. It's all part of the Vegas experience.
Will it take too long before you're in Las Vegas to gamble? Please note that you can also visit a trustworthy online casino to suppress those gambling cravings a bit.