Evolution Gaming is the biggest provider of live casino games
Not only do they have the most extensive range of games, but they also have the largest player base. Evolution Gaming lives up to its name: it is known as the leading innovator in the field of live casino games.
Offering live casino games allows online casinos to bring something entirely new to the table: a vibrant casino experience, with real live dealers and live images. This brings the atmosphere of a land-based casino very close and allows players to play real live versions of their favourite table game online.


High RTP

Live Dream Catcher

High RTP

Crazy Time review (Evolution Gaming)

High RTP

Lightning Dice live review (Evolution Gaming)


Many players who were perfectly comfortable playing at a real casino were concerned about the Random Number Generator of the automated software version. The presence of real dealers and croupiers, real tables and real cards/balls quickly dissolved this suspicion in the live version.
Confidence in the games of Evolution Gaming has grown so much over the years. In 2018 they even successfully combined Live Roulette with the Random Number Generator in the game Lightning Roulette. The computer selects up to 5 extra numbers every spin in this popular roulette variant, which pays out more than usual – up to 500 x.
A year before, they managed to improve the image of Money Wheel by introducing Live Dream Catcher, a great live casino game with a hyperactive show host. At the well-respected G2E fair in Las Vegas, Live Dream Catcher won the Digital Product of the Year award.
From runner up to the absolute market leader
Evolution Gaming was founded in 2006 and went live with Live Roulette in 2007, including the online casinos Gala Coral, PartyGaming and William Hill. In the following years, numerous new games were released, including Live Baccarat, Live Casino Hold'em, Live Blackjack and Live Caribbean Stud Poker.
With groundbreaking games like Lightning Roulette, Live Dream Catcher, Deal or No Deal Live, Lightning Dice and Monopoly Live, the status of Evolution Gaming grew to the stars and beyond.
2010 was an important year: the so-called "Dedicated Tables" were introduced. These live casino tables fully integrate the look and feel of the respective online casino, a perfect selling point for casino brands that want to stand out. Think, for example, of a dedicated LeoVegas table, including logos and the typical LeoVegas colours.
Over 370 online casinos offer Evolution Gaming games, including big names like Betsson, Mr Play Casino, LeoVegas, Cashmio, Spinia and Unibet.
In the Latvian capital Riga, you will find a large live casino studio. In this live casino studio, there are over 100 gaming tables that serve these online casinos. They will also broadcast and play live from land-based casinos such as the prestigious Hippodrome Casino in London (UK) or the Dragonara Casino in Murcia (Malta).
In short: what Netent means for online slots, Evolution Gaming means for live casino software.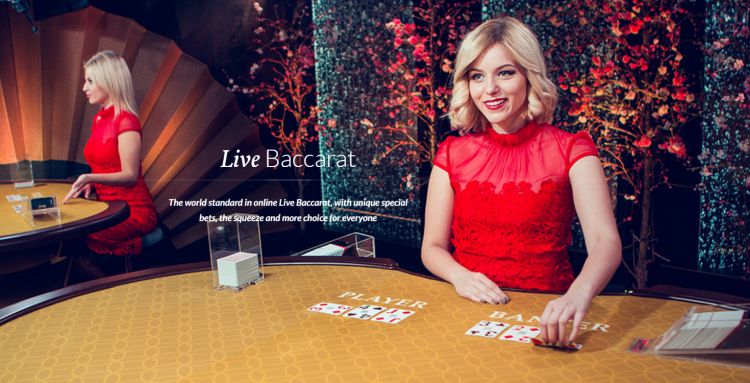 What makes Evolution Gaming so successful?
The massive success of Evolution Gaming did not just happen overnight. To get to the top is difficult enough; to stay, there is a different challenge. You will have to bring a set of distinctive capabilities to the table.
We think there are four reasons why the live casino games of Evolution Gaming are so popular:
The range of games available is huge: almost every table game is listed.
The technology is state-of-the-art: HD/high-resolution images, smooth and stable streams.
Exceptional user-friendliness: players can adopt the entire experience according to their wishes
Continuous innovation: there is a strong internal drive to innovate and improve
Evolution Gaming is continuously working on developing new concepts and investing a lot in improving the current products.
Players have a lot of freedom to customize the games to their preferences. From playing specific fixed patterns to setting camera angles, the options are almost limitless. The amount of extra game information available to players is also second to none, like your past results or your neighbour's stats at the table are available.
Who are the competitors of Evolution Gaming?
Evolution Gaming is currently unrivalled in the live casino segment. The only companies that can put up some fight are Netent Live and Playtech Live.
Besides, other, smaller developers try to take a piece of Live Casino Games pie.
Microgaming tried and hopelessly failed with Live Playboy Casino. Nowadays, they are nowhere to be found, and Microgaming focuses on creating online slots again.
Playtech offers live casino games for its casinos, but compared to the advanced technology and user-friendliness of the Evolution Gaming software, they are a bit lacking.
Pragmatic Play only started with a live casino product in May 2019, and it's still early days, hence its modest market share in the live casino games segment. However, Pragmatic Play is a significant player in video slots and has experienced huge growth in recent years. They perfectly understand what a player wants in a live casino and have a firm financial basis. A competitor that will undoubtedly be closely watched by Evolution Gaming. The live casino games of Pragmatic Play can be played at Slots Million.
Ezugi is the last actor in the live casino domain worth mentioning. This relatively small provider offers quality live casino products and focuses on the lucrative Asian and US markets. Ezugi is also working with major European brands such as LeoVegas and Unibet.
With Evolution Gaming's Lightning Roulette, you can win up to 500 x your bet.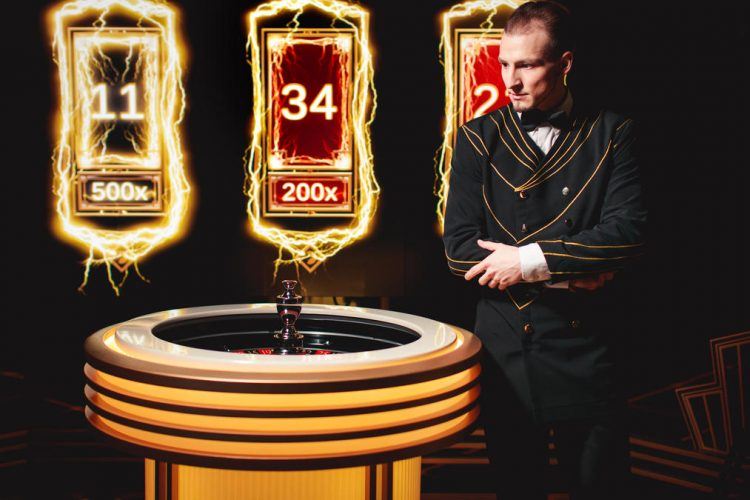 Which live casino games can you play with Evolution Gaming?
The total range of Evolution Gaming's live casino games is enormous. Evolution Gaming offers a live casino variant of all popular table games. Besides, the massive games such as Roulette, Blackjack and Baccarat have different versions as well.
Also, the offer varies from one online casino to another. An easy rule is, the larger the online casino, the more extensive the range of games. If you want to play live casino games, it's smart to choose a reliable online casino with a broad offering of games, like Casumo or Wishmaker.
Live Roulette
Live Roulette uses a real game table, complete with a real roulette wheel and real balls. The dealer is in charge of the game and is also ready to answer questions or to have a chat. You can communicate with the dealer via live chat.
Evolution Gaming offers many different types of live roulette.
There are also roulette tables offered in the country's language where the game is played. There are German, Danish, Swedish and UK-based roulette versions. In this last one, the dealers address you with a real "posh" British accent.
European roulette
European Roulette is the most popular roulette variant and has 1 zero and a house edge of only 2,7%. At Evolution Gaming, you play European Roulette starting at $€ 0,50 per spin. Stakes can go up to as high as $€ 5,000 per spin.
French Roulette la Partage
Strangely enough, French Roulette with the La Partage rule is NOT the most commonly played Roulette variant, even though the house edge is the lowest. With this variant, if you play the single bets (red/black, even/even, high/low) and the ball drops in the 0 pocket, half of your bet will be returned.
American Live Roulette
Experienced roulette players know that they should avoid this variant at all times due to the increased house edge of 5.26%. The extra high house edge is caused by the two 'zeroes' (0,00). Despite these negative rules, there are still players who prefer American Roulette to European or French Roulette.
For us, American Roulette is simply one of the roulette types you should avoid at all costs.
Immersive roulette
This variant was introduced in 2014 and was an instant success. The quality of the video of Immersive Roulette is genuinely phenomenal. There are HD streams of 200 frames per second, slow-motion replays and special cameras that monitor the ball at close range. Every Roulette fanatic must have experienced Immersive Roulette at least once in his life.
Speed Live Roulette
Is regular roulette a little bit too slow for your taste? Then Speed Roulette was created especially for you. This Roulette version is twice as fast as the standard variants of Roulette. There are only 25 seconds between each spin, which means you've got to get your bet in on time! You play Speed Roulette with bets between $€ 0.50 and $€ 5,000 per spin.
Lightning Roulette
Lightning Roulette was introduced in 2018 and managed to attract an instant buzz. In Lightning Roulette, the so-called Lightning Strikes are active before each turn (after the bets have been placed). A Random Number Generator selects between 1 and 5 special numbers. The payouts on these numbers are significantly higher than with regular roulette: between 50 x and 500 x the bet. That's what makes this game so exciting.
The payouts on the other numbers have, of course, been adjusted: a single number where no Lightning Strike is active pays out 30 to 1, instead of the regular 35 to 1.
Dual Play Roulette
As a Dual Play Roulette player, you can play with a game table in a real casino. So, you're playing live at a table with real players from a land-based casino. The most famous casino where a Dual Play Roulette table is located is the Dragonara Casino on Malta.
Double Ball Roulette
As the name suggests, at Double Ball Roulette, you play with two balls instead of one. The main attraction of this variant is the maximum payout of 1,300 x your bet. Well, then both balls must drop on a number you choose.
Auto Roulette
Auto Roulette is a bit odd – there's no croupier involved, and the game is played on an automated table, based on a Random Number Generator.
The big difference with a typical automated table is that you play with other players simultaneously. Besides, Auto Roulette offers a lot of additional information to the player: what the hot numbers are, which sectors have dropped the most, and the hit percentage of specific bets. The bet can be between $€ 0.10 and $€ 500.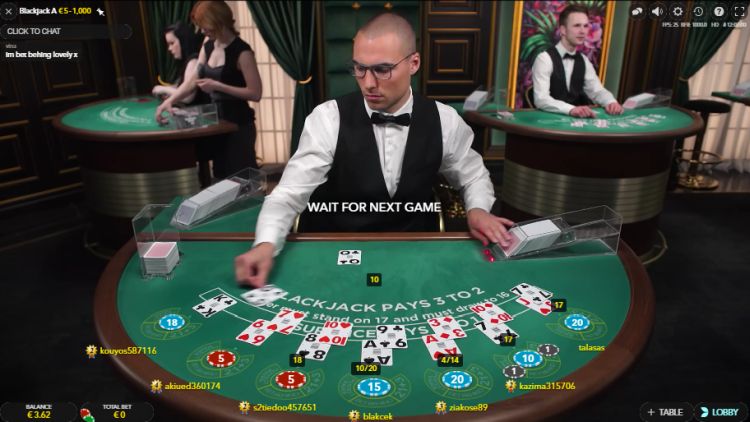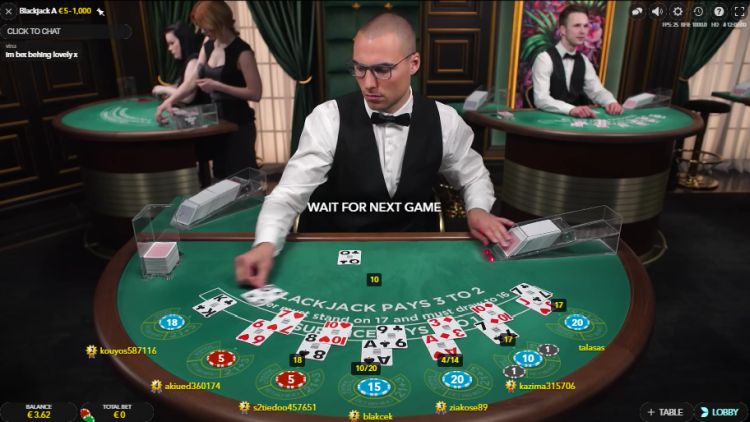 Live Blackjack
Blackjack is the most popular table game after roulette. The game has a very low house edge and is one of the few casino games where you, as a player, can influence the game's outcome.
If you play the perfect optimal Blackjack strategy, the casino's house edge is less than 0.50%. Unfortunately, many players do not use the optimal strategy, which makes that game interesting for online casinos.
How does live Blackjack work?
Live casino Blackjack is identical to playing blackjack at a land-based casino.
You sit at a blackjack table with seven spots (boxes), and the dealer deals each player and himself with two cards. Both players' cards are shown, while you only get to see one of the dealers' cards.
After that, the beautiful game of buying, splitting, doubling and staying, begins.
You can play live Blackjack starting with $€ 5 per game and up to $€ 2,500 per game. These limits may vary from one casino to another, although we never see lower bet limits than this $€ 5 on regular Blackjack.
Bet behind
Evolution Gaming has developed several additional options that online casinos can use. There is the Bet Behind option, where you can bet on other players. You can't interfere with the way the player plays. That's a faux-pass anyway, even if you play with your own box.
Fortunately, you can see how each player has performed in recent times, although we advise you to observe the player's choices. The player with the most winning hands doesn't have to be the best Blackjack player, no matter how contradictory that sounds.
Side Bets
There are also games with side bets, where you can make an extra bet and get extra payouts for certain combinations. These side bets always have a high house edge and should be avoided. Examples of side bets are Perfect Pairs and 21 + 3.
VIP Blackjack
VIP Blackjack are tables for the real high betting players. The minimum bet starts at $€ 250 per box and goes up to thousands of $€ per box. The atmosphere at VIP Blackjack is usually more formal.
Blackjack Party: Lots of fun!
For the partygoers among us, there is the Blackjack Party variant. Exuberant dealers, low minimum bets and a festive vibe will ensure a lot of playing fun. Two of them are at the table, and they do their best to ensure that players have a good time.
These tables are mainly intended for a younger audience, where the casino aims for a flow to tables with higher bets. The game rules are unexpectedly good; in land-based casinos, these kinds of party pits often have unfavourable game rules.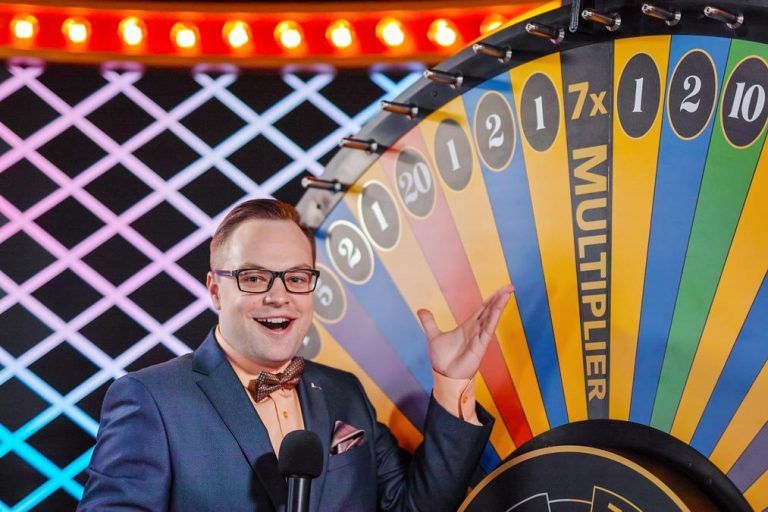 Live Dream Catcher
In 2017, Evolution Gaming released a very interesting Live Dream Catcher. This game is also known as Money Wheel or Big Six in the casinos of Las Vegas. We didn't expect Live Dream Catcher to catch on so well. We sometimes see a lost newcomer standing by the wheel in real casinos, but it's never jam-packed. Despite the simple premise of the game, Dream Catcher is a lot of fun to play.
The flashy show presentation, simple rules, low minimum bets and double multipliers of 7 x on the wheel will be the main reason for this success.
It shows once again that Evolution Gaming is willing to take risks. With a well planned, excellent performance, you can also make a somewhat dull casino game very exciting for many people.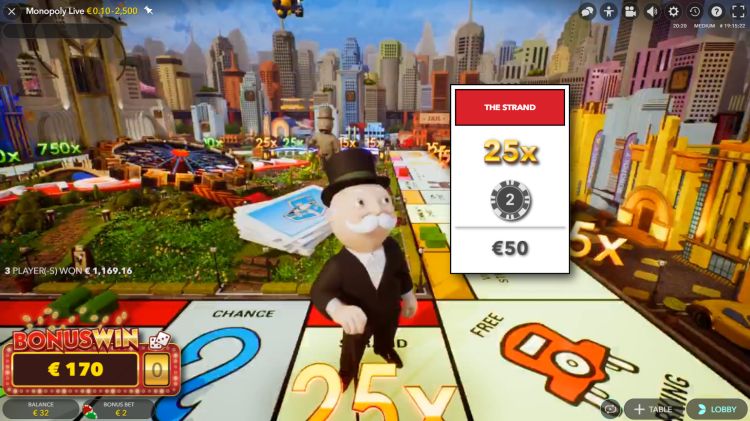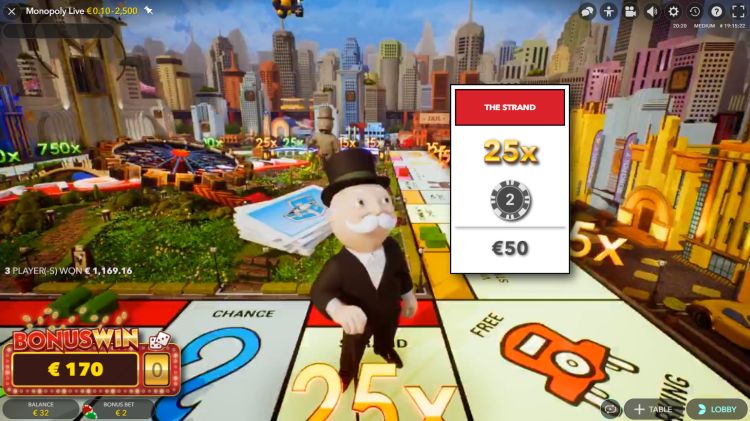 Monopoly Live
Monopoly Live is an entertaining hybrid of the classic Monopoly board game and Dream Catcher.
You can bet on the bonus spaces on the wheel. And if you're lucky enough to see them drop, you'll have a great Monopoly adventure ahead of you. You are taken to a large Monopoly board where you can play dice and try to land on the most expensive streets. Throw a double, and you can do it again. Try to avoid the IRS and the prison!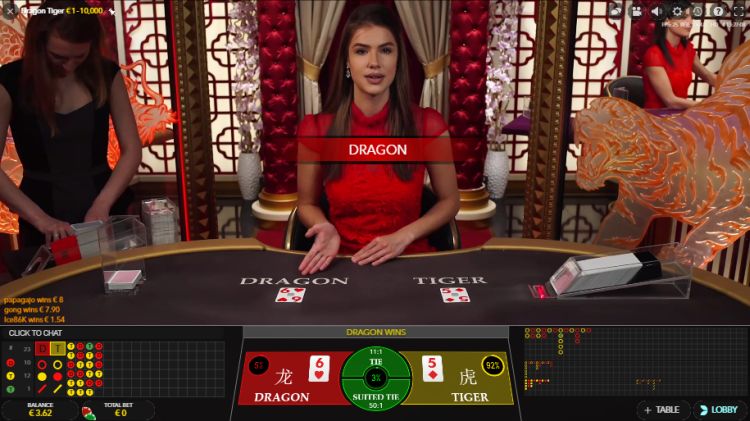 Live Baccarat
While Live Baccarat was traditionally very popular in Asia, this card game is increasingly being played in Europe. To meet this growing demand, Evolution Gaming has released several variants of Baccarat.
Multi-camera Baccarat
Multi-camera Baccarat is an advanced version of Live Baccarat: more cameras, close-up shots and high-quality images.
Speed Baccarat
Some players (including ourselves) like a little more speed in the game. Speed Baccarat has been developed, especially for these players. One round of Speed Baccarat takes about 20 seconds less than a regular round of Baccarat.
Baccarat Squeeze
Baccarat Squeeze and Baccarat Squeeze Control mainly focus on how the cards are laid face up. If there's been more playing on Banco, then the many cameras ensure increased attention for the Banco cards. If the players' preference is for Punto, the focus also shifts to these cards. In the Squeeze Control variant, the player himself gives the order to unfold the cards. A small but essential nuance for many players.
Side Bets
At Baccarat, too, Evolution Gaming allows you to play with side bets. With the Pairs Side Bet, you bet extra money on the appearance of a pair for the Punto or the Banco. If a pair (two cards of the same value) does drop in this spot (the Player or the Banker), you win the side bet.
You win the side bet in the perfect pairs if two identical cards are dealt with both the player and the banker. This bet pays 25-1. If the first four cards are identical, you even win 200 x your bet.
Dragon Tiger
Dragon Tiger is a simplified version of Baccarat, where both the player and the Dragon can place their bets on the Dragon or Tiger.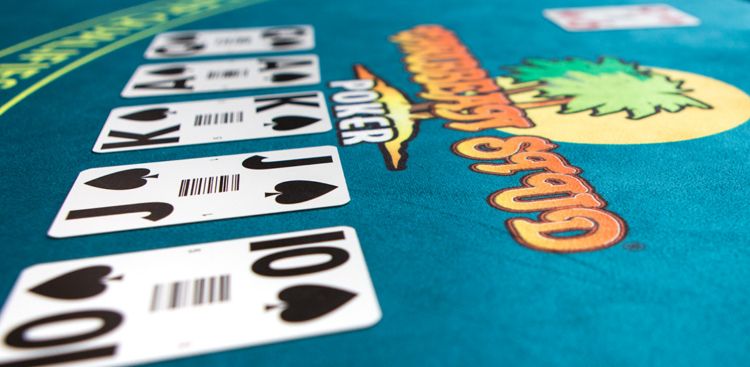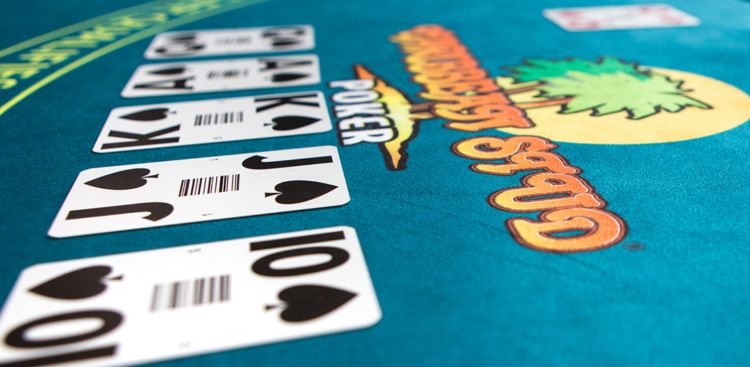 Live Poker
Evolution Gaming has also released several table versions of poker. These are live versions of poker games you play against a live dealer.
Caribbean Stud Poker
Caribbean Stud Poker is also known as Multi Poker. With five cards of his own and four cards in the middle, the player tries to beat the bank with a better combination. First, one card is turned open in the middle. The player must now decide whether to pass (and lose the bet) or continue (double the bet).
There are side bets that pay extra for specific combinations. But you can also play for the progressive jackpot. This will be paid if you have a Royal Flush.
Casino Hold Em
Every poker player has played Texas Hold Em one time. The casino variant is called Casino Hold Em. The rules of the game are short: five cards are dealt in the middle of the table. Both the player and the dealer receive two cards. Those with the best combination win the game. You can choose to play the Jumbo 7 Jackpot side bet. Do you get a 7 Card Straight Flush? This will then award you the progressive Jumbo 7 Jackpot, which can go up to several million.
Other types of Live Poker are Three Card Poker and Ultimate Texas Hold Em.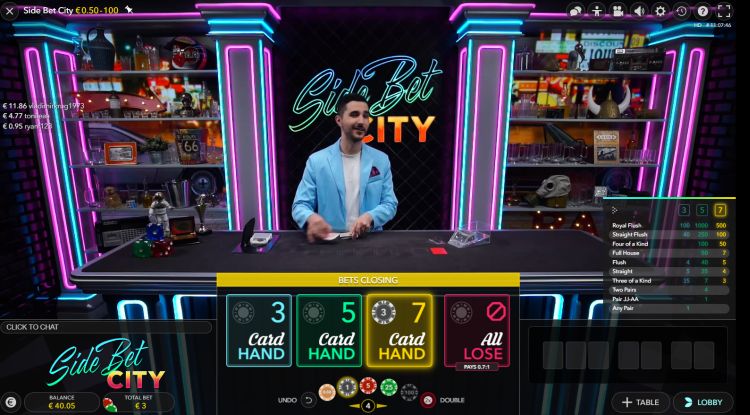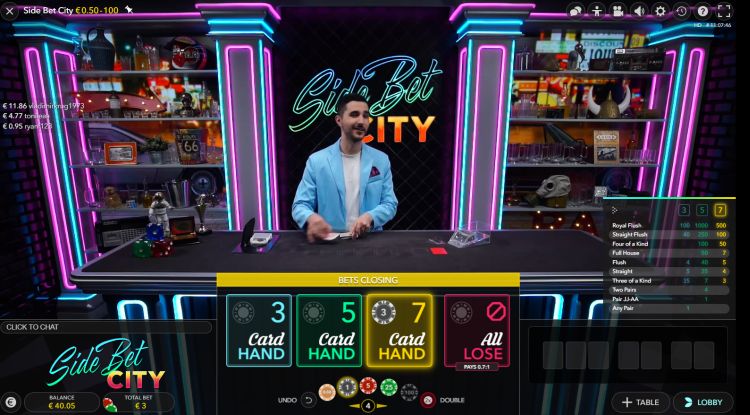 Side Bet City
Side Bet City is a rather strange Live Casino game by Evolution Gaming. You have four betting options where you bet on side bets on the outcome of three, five or seven cards.
By making poker combinations (a straight, 3-of-a-kind, royal flush, etc.), you can create winning combinations. The maximum profit is 1,000 times the bet. That's what you win when you win a Royal Flush with a 5 Card Hand.
You can also place money on the bet that no winning side bet will drop on any of the hands. This bet is called the All Lose bet.
In terms of theme and atmosphere, Side Bet City is a bit of a mess and the house edge, entirely in Side Bet style, is very high.
This is not the most attractive game of Evolution Gaming.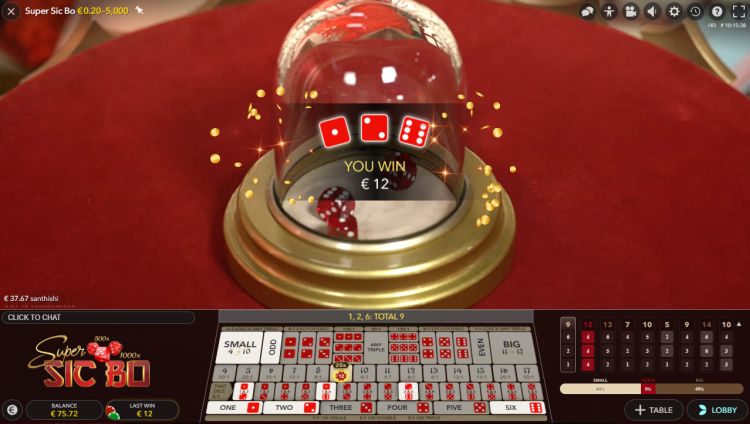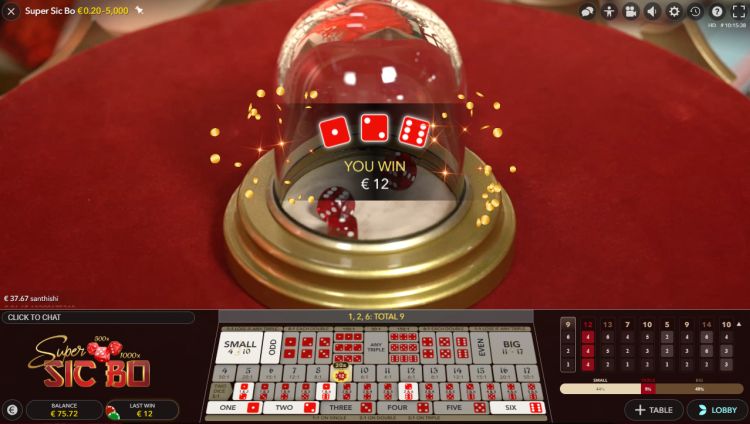 Dice Games
Evolution Gaming has also released several games for fans of live dice games.
Super Sic Bo is a live version of the Sic Bo dice game. However, this is a variant that can win up to 1,000 times your bet.
Lightning Dice is a simple dice game in which you only have to predict the total number of dice to be thrown in a throw of 3 dice. Does that sound a little boring? Hell no! Here, too, Lightning Strikes can drop, giving winning payouts huge boosts, again up to 1,000 times the total bet.
Casinos with Evolution Gaming games
Are you eager to try out the beautiful live casino games of Evolution Gaming?
We have picked four reliable online casinos where you can enjoy this exceptional gaming provider's live games.
Please note that a welcome bonus is generally not available at the Live Casino. Please read the bonus terms carefully before you decide whether or not to use a welcome bonus.