This Netent Blackjack version was developed for beginner and recreational Blackjack players
Let's take a closer look at the Blackjack Pro Low Limit game.
Thanks to the low minimum bets and the favourable game rules, the house advantage is minimal, allowing you to enjoy this beautiful card game without much risk.
Blackjack is one of the few casino games where your choices have a direct impact on the outcome. In Blackjack, the goal is to defeat the dealer (and not, as many people assume, to get as close to 21 as possible without busting).
To have the best possible chance of a positive outcome, you'll need to follow a Blackjack strategy.
In other words: the better you master Blackjack, the more likely you are to win. Besides, Blackjack is a fun game with low variance. Even with a relatively small starting balance, you can often enjoy Blackjack for hours.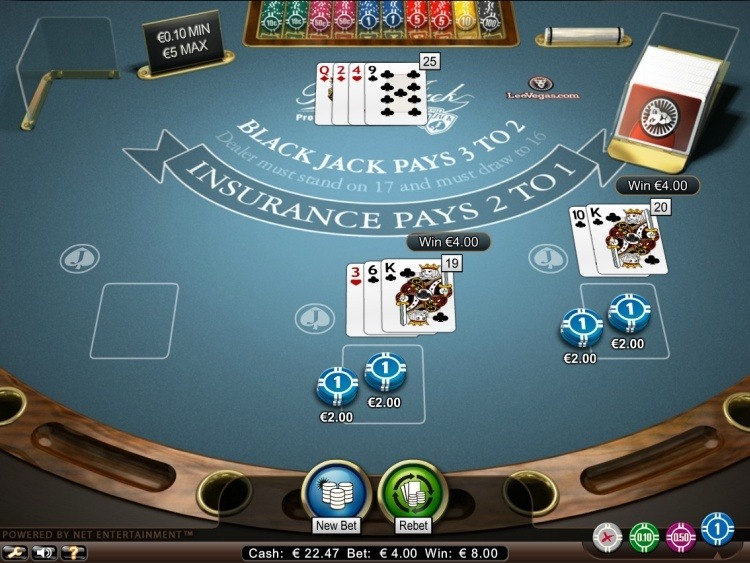 Play Blackjack Pro Low Limit from $€ 0.10
Fun fact: you can play Blackjack from very low bets. You can start playing Blackjack Pro Low Limit from only $€ 0.10 per box. You can bet on three boxes so that you can play all three boxes for $€ 0.30 per turn in total. The maximum starting bet is $€ 5 per box.
The playing rules and the payout rate
At low limit tables, you often come across rules which are very disadvantageous for the player. Lower payouts with Blackjack, for instance, and less favourable rules regarding doubling and splitting. You'd expect Netent to set the Blackjack Pro Low Limit rules in favour of the casino as well, but nothing could be further from the truth.
The rules of this game are excellent:
Blackjack pays out 3:2, Even Money (1:1) if the bank also hits Blackjack.
Double any combination
Buying cards after splitting (does not apply to Aces; after splitting Aces, you will only receive one additional card for each split hand)
The Dealer must stand on a hand with a value of 17 or higher.
If you apply the perfect Blackjack strategy to this game, you'll get a theoretical payout rate of 99.53%. In other words, the house advantage is only 0.47%.
Unprecedented for a casino game! Blackjack scores high in the top 10 of best-paying casino games.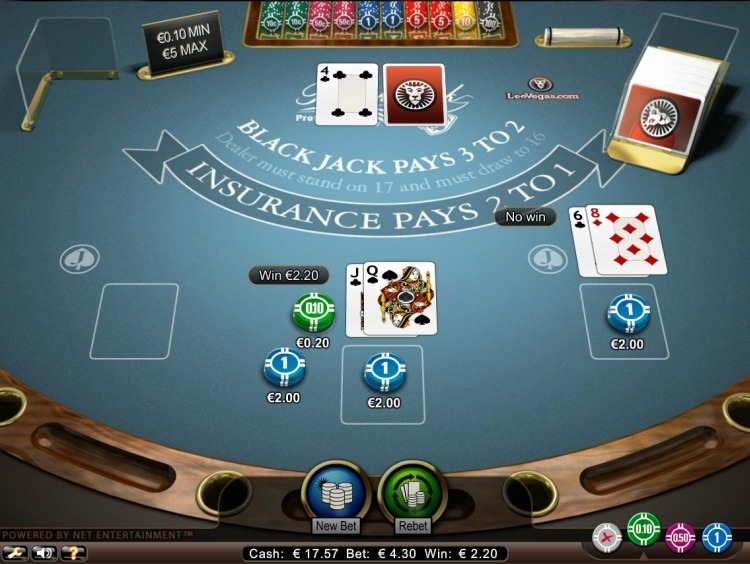 The Double Jack side bet
During each bet, you have the opportunity to place a side bet. This side bet can be lower or as high as your starting bet, and you must place it in the box to the left of your starting bet. With this side bet, the Jack is crucial and can award you extra payouts in specific combinations:
2 Spades Jacks: 100 x the side bet.
A pair of Jacks: 25 x the side bet.
The first card is a Jack: 10 x the side bet.
Any other combination: nothing.
So, is it wise to play this side bet? If you want to play the perfect strategy, then you should NEVER place side bets. The same goes for preventing the dealer from hitting Blackjack by buying insurance. These are bets with a very high house advantage, so you will always lose in the long run.
However, if you like some extra suspense and don't care so much about the perfect strategy, go with the flow. Maybe you will win 100 x your bet.
Our verdict on Netent's Blackjack Pro Low Limit
We love to play Blackjack for an hour now and then, and Netent's Blackjack tables are great fun. They come with favourable rules and fast gameplay. What's also very important: all the buttons are positioned in the right places; so, the chance of pressing the wrong button is minimized. It is all very intuitive; there is nothing more annoying than accidentally taking a card when all you wanted to do, was stand.
The low limits are super convenient if you're not an experienced Blackjack player yet – they enable you to learn how to play this popular table game at minimal risk.
You can always move on to a Blackjack table with higher bet levels once you've got the hang of it and feel ready for more.

Available in your country