These ten casino bonus tips will help you to get the most out of your online casino bonus!
The casino bonus is the most widely used marketing tool by online casinos and the most popular. A lot of players use the casino bonus as a way to find out if they like the gambling site, to extend their bankroll or to increase their playing time.
Casino bonuses come in several forms and are given to both new players (the so-called welcome bonus) and existing customers.
In general, there are five different types of casino bonuses:
No Deposit Bonus: you receive a free casino bonus without making a deposit. You do need to register to be able to claim the bonus;
Match bonus: the casino matches your first deposit(s) with a fixed percentage and adds it to your balance;
Cashback: you get a fixed rate of your losses or deposits back into your account, usually the day after.
Reload bonus: the same as a match bonus, but only for existing customers. Usually, the match percentages are lower than with a welcome bonus;
Loyalty bonus: the casino gives you free spins, free play, gifts or real money based on your play.
Online casinos give away millions of dollars in bonuses to Australian players every year, mainly because they work so well for both parties involved. As a customer, you get extra bankroll and playing time, and the casino gets to show off how good their gambling site is.
NOTE: you can never transfer casino bonus money directly back to your bank account or electronic wallet. The casino wants a fair chance of winning its bonus money back. That is why there are bonus terms and conditions regarding the use of casino bonuses.
These bonus conditions can be found in the FAQ or promotions page of any gambling site. You must understand these bonus terms and conditions before you start playing with bonus money.

Available in your country
10 great casino bonus tips
Whether you are a beginning or a seasoned online casino player, if you follow these ten casino bonus tips, you are guaranteed to get the biggest chance of maximizing your casino bonus winnings.
After reading this article, you will:
know the difference between a great casino bonus and a mediocre or even bad one
know what to look for regarding wagering requirements
know how to avoid being seen as a "bonus abuser" or advantage player
how to make the most of your first deposit
1. Check the bonus percentage and the maximum amount
The first step you want to take is to check the bonus percentage and the maximum bonus amount. Most casinos match the first deposit by 100%. Some casinos even go up to 150% or 200%. The maximum amount varies a lot, from $50 or $150 to even an unlimited bonus amount at some casinos.
If you take both the bonus percentage and the maximum bonus into account, you can now calculate the optimal first deposit amount.
Example:
If the bonus percentage is 150% and the maximum bonus is $150, the optimal deposit amount is $100. You will then get $100 deposit + $150 bonus = $ 250 in your account.
2. Always review the bonus terms and conditions regarding wagering
One of the most important steps that are, sadly, forgotten by a lot of casino players. You must review the bonus terms and conditions regarding the wagering (or playthrough) requirements.
Bonus money always needs to be wagered a certain number of times before it becomes real money that can be withdrawn. Usually, the wagering requirements lie between 25x and 50x the bonus amount.
How to calculate the wagering requirement
Before you make the first deposit and collect the welcome bonus, it is highly recommended that you calculate your wagering requirement first. Why? Because not every welcome bonus is the same, there is a significant advantage for players who do their homework.
Example 1:
Say you get a 200% bonus up to $100 with a wagering requirement of 35x the bonus. You decide to make full use of the offer and deposit $50 for a $100 bonus. Your starting balance is now $50 + $100 = $150. Not bad. You would need to wager 35 x $100 = $3,500 before you can cash out the bonus money.
Example 2:
In our second example, you get a 100% bonus up to $100 with wagering requirements of 60x the bonus. This time, you decide to deposit $75 for a 75$ bonus. Your starting balance is $150, just as in the first example. However, this time, you would need to wager $4,500 before you can cash out the bonus money. And your deposit amount of $75 was higher than the first example.
How do you find out what the bonus wagering requirements are? There are two easy ways to find out:
Read the bonus terms and conditions. A reliable online gambling site will always have clear and concise terms and conditions that are easy to find.
Ask the helpdesk via the chat option. They should be happy to answer this question. If you find the helpdesk unclear or unwilling to share this information, take this as a sign to look for a different casino.
BEWARE: at some online casinos, the wagering requirement can be as high as 100x or even 200x the bonus amount. This would make it almost impossible for you to cash out the bonus money. Our advice is always to avoid casinos with a bonus wagering requirement of more than 40 times the bonus.
3. Find out how games contribute to the wagering requirements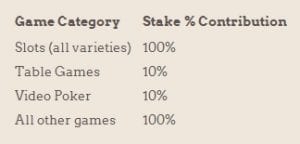 Not all casino games contribute the same percentage to the bonus wagering requirements. Some games even contribute 0% at some online gambling sites.
Most slots contribute the full 100%, but some (usually low variance) slots may contribute a lot less. Games like blackjack, roulette, and video poker always contribute a lower percentage.
That is why it is essential to check, as these contribution percentages differ with each casino. Did you know that roulette contributes 0% to the wagering requirements at some casinos? You could be wagering your bonus money forever and still not be making any progress without even knowing it.
You can find the game contribution percentages in the bonus terms and conditions. If they are not there or unclear, take your money to a better casino.
4. Don't be a "Bonus abuser" or "Advantage Player."
Casinos love new customers and will go to great lengths to please them. They do not love bonus abusers. Casinos want a fair chance of taking back your bonus, just like you want a decent chance of cashing out.
To be able to shake off potential bonus abusers, casinos have implemented additional rules. One of those rules is that you cannot exceed the maximum stake while playing with bonus money.
If you do exceed the maximum stake, the casino could see you as an "Advantage Player" and void all your bonus money and winnings. In most cases, the maximum stake with bonus money is between $6 and $8 per spin. Again, check the bonus terms and conditions if you like to play with more substantial stakes.
Two examples of advantage play:
One way is to play slots with very high stakes with bonus money and wait for a big paying bonus round or line payout. Once that happens, you then lower your stake considerably and ride out the wagering requirements.
Another way is to play a very low house edge game such as roulette and bet on both black and red at the same time to speed up the wagering process.
Our advice: don't try to beat the casino with "smart" tricks. Trust us: they know all the bonus abuser tricks and will ban you from their casino, forfeiting all wins (and probably your deposit as well). Just stick to your regular playing pattern and do not try to outsmart them.
5. Play low to medium variance slots
If you are a slots player, the biggest chance of cashing out casino bonuses is by always choosing low or medium variance slots. You may not get many big wins, but you will a good chance of reaching the playthrough requirement before your balance is zeroed out. Examples of medium variance slots are Aladdin's Treasure, Piggy Riches and Queen of Gold.
Avoid high variances slots such as Raging Rhino and Reactoonz.
6. Know that you can always decline a bonus
Always remember that you are in no way obligated to accept every casino bonus that is offered to you. We (nearly) always take all bonuses as we see bonus boney as added entertainment money. A bonus gives you extra playing time and a real chance to win more money. If you do not want the hassle of going through wagering requirements and want to have the freedom to do with your deposit money as you wish, you might want not to take any bonuses.
Sometimes you can (un) check a box if you do not want to take the bonus when making the deposit. You can also ask the helpdesk to remove any casino bonuses, as long as you do it before you start playing.
7. Check your progress
If you have made a tidy profit and wanted to cash out, check how far you have progressed with your wagering. Most casinos allow you to monitor your progress, so you get a good indication of when to stop and cash out. One way is to go to the withdraw page and see how much money you can withdraw. If the amount is still zero, you have not yet reached wagering requirements. If you are not sure, ask the helpdesk.
8. Play free spins without wagering requirements
Free spins bonuses are always a lot of fun. They are free, giving you a chance to try out new slots and even win you some good money. Except for those pesky wagering requirements. Some casinos offer free spins bonuses that come without any wagering requirements. Anything you win from free spins at these casinos can be cashed out immediately.
Finding a good no deposit bonus can also help to increase your bankroll, of course.
Rule 9. Do not play at a casino just for the bonus
When you make the first deposit and get a casino bonus, there is always a chance that you will hit it big, meet wagering requirements and want to cash out. There is nothing more frustrating than to find out that there is the maximum amount that you can withdraw from bonus winnings. Or even worse, to find out the casino is unreliable and makes you jump through several hoops before they finally pay you, if they ever pay you at all. The casino bonus may be an important factor when choosing an online gambling site, but it should not be the only deciding factor. Selecting a safe and reliable casino is even more critical.
Rule 10. Did you win big? Forfeit the bonus!
Our final tip is the best casino bonus tip. At most online casinos, you play with your own money first and only when that has run out, you start playing with casino bonus money.
If you manage to win a nice amount before touching your bonus money, in some cases, it is possible to withdraw your winnings before making the wagering requirements. That does mean that you will have to forfeit the bonus money. However, if your win is substantial enough, that could be a sage decision. After all, it is better to have a little bit less money in your bank account than to risk it all by trying to meet the wagering requirements.
If you want to forfeit your bonus to make a withdrawal, you must always contact the helpdesk to remove your bonus. Not every casino allows this, but some trustworthy casinos do, and it can be very worthwhile.
Conclusion
You made it! Ten casino bonus tips that will help you to maximize your bonus winnings. You now know how to understand bonus terms and conditions, how to avoid being seen as a bonus abuser and what slots to play in order have the best chance of meeting wagering requirements before your funds run out.
If you decide to try casino bonuses, then you must check our list of recommended casino bonuses. We also recommend looking for casino bonuses on casino.guru website.
Get started now!

Available in your country