Want to try old-school land-based slots without going to a casino? You can! Take a look at the best WMS slots that you can play online while reminiscing about classic slots found in brick-and-mortar casinos.
WMS is an American casino games provider that is especially popular in land-based casinos
If you've ever visited a brick and mortar casino near you, perhaps even a casino in Las Vegas, and played a video slot there, chances are it was a WMS slot.
WMS slots were simply head and shoulders above the rest for years. Their slots had well-thought-out and equally well-executed themes, innovative bonus features and always a high entertainment factor.
In one way or another, WMS slots are almost always unique and extremely entertaining. The company is even responsible for the first video slot with a bonus feature: the classic Reel Em In, released in 1996.
WMS has lagged somewhat in recent years and finds it more challenging to fulfil the absolute trendsetter's role.
WMS is part of the mighty Scientific Games and releases online versions of their best-known titles under the Williams Interactive name.


High RTP

Amazon Queen slot review (WMS)

High RTP

Zeus III slot review (WMS)

High RTP

Buffalo Spirit slot review (WMS)
These are the 10 best WMS slots
Since the release of Reel Em In, WMS has released hundreds of video slots.
Many of these titles can be found at online casinos, although they haven't transferred all of their best slots to their online platform. Case in point, we are still waiting for an online version of our favourite slot of all time: The Princess Bride.
Fortunately, you can find many WMS classics online. Whose heart doesn't start to beat faster with epic WMS titles like Raging Rhino, Bierhaus and Kronos?
We still regularly play the slots of WMS at a reputable online casino.
Are you ready?
These are our ten favourite WMS slots:
---
1. The Princess Bride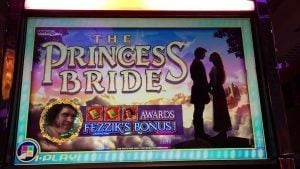 If we could make one wish come true (except for a world without war and hunger), we would opt for an online version of The Princess Bride.
This video slot, based on the fantastic, funny, smart, sweet and brilliant film of the same name (yes, we are fans), is unfortunately almost nowhere to be found anymore.
It has been removed from every land-based casino and can no longer be found in Las Vegas either. Believe us; we've searched every nook and cranny of every Las Vegas casino.
So, we have to make do with the memories. The mystery bonuses with the giant, the infamous poison cup swap bonus, the Swamp bonus with the sticky wilds and other bonus boosters.
This slot was not only a perfect example of how to design a brilliant video slot; it was also a celebration of the film.
So, WMS, we beg you: PLEASE RELEASE ONLINE VERSION OF THE PRINCESS BRIDE SLOT!
---
2. Bier Haus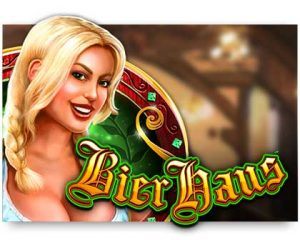 Bier Haus is a hilarious and iconic WMS slot, which revolves around the famous German Oktoberfest.
That means, in this case: oompah music, beautiful blond and well-shaped waitresses, yodelling Gunthers and above all, a lot of beer.
The free spin bonus can generate a lot of money through sticky wilds, extra wilds (the beer mugs), and frequent retriggers. Heidi! Heidi! Wunderbar!
Bier Haus was so successful that many (equally fun) sequels were released by WMS, including Bier Haus 200 and Heidi's Bier Haus. Also, there are many clones of this slot released by other, less talented game developers.
---
3. Raging Rhino
Raging Rhino is what you call a real classic. This video slot has it all: super cool graphics, an equally cool free spin bonus and a high variance.
With win all ways, wild multipliers in the bonus, and unlimited retriggers, Raging Rhino is a slot with which you can win an awful lot of money.
This WMS slot became so popular that dozens of clones have been produced in the interim. It shows once again what a leading role WMS has always had in the casino industry.
---
4. Kronos
Kronos is probably the quintessential WMS slot and certainly one of the best they have ever made.
The tough Kronos looks at you almost contemptuously and makes it clear: Don't mess with me, kid.
Luckily, this high variance top-of-the-line slot regularly gives players huge payouts with the free spin bonus.
Here, with the stacked wilds and stacked Kronos symbols, you can drag in the big prizes from both sides.
Kronos is a very volatile video slot: it can make you or break you, and of course, you have to be able to handle that.
---
5. Wizard of Oz Ruby Slippers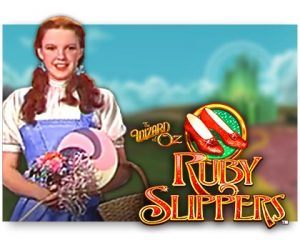 If you were to write a manual on making the perfect video slot, Wizard of Oz Ruby Slippers might be the subject of the first chapter.
Everything about the Wizard of Oz Ruby Slippers is spot-on: the famous movie theme, the super design, the great bonuses and of course, the heel-clicking red shoes.
Win free spins with bonus boosters, an exciting and potentially very lucrative pick and click bonus or grab a mystery prize. Of course, the well-known flying air bubbles, which contain expanding wilds, are present as well.
We have played on this slot for many hours, both online and at land-based casinos. A delightful dreamy slot, which takes you to a strange and wonderful world. The world of Oz.
---
6. Montezuma
Montezuma is also a popular slot by WMS that has already been copied by many other slot providers but has by no means been equalled.
The great strength of this beautifully designed "Aztec" slot is the unique free spin bonus. You can earn extra multipliers up to 10 x and unlimited retriggers with the active multiplier at that moment.
That is how it is possible to suddenly get 20 to 40 free spins with a 10 x multiplier.
And then your balance can ratchet up extremely fast all of a sudden.
Montezuma is a small masterpiece and fortunately gets all the praise it deserves from players: this is one of the most played WMS slots.
As with so many of the classic slots, Montezuma also received the Megaways treatment with Montezuma Megaways.
---
7. Cool Jewels
Cool Jewels might not be known as the other WMS slots on this top 10 list, but certainly one of the most fun ones.
It is a video slot that was produced with the casual game player in mind. It resembles slots like Bejeweled a lot.
You play the game on a 6 x 6 symbols matrix, where you have to make clusters of 3 or more of the same symbols. Winning symbols disappear and make way for new ones so that you can create multiple winning combos in a row.
The more winning combinations in a row, the more the symbols are worth. There are also special symbols that can change into wilds, multipliers, bombs and even sticky wilds.
It is also possible to win free spins, where you play with even more special symbols in the game, which will bring you a lot of extra chances.
---
8. Heidi's Bier Haus
The original Bier Haus's phenomenal success has lead to several sequels. WMS soon released derivative Bier Haus slots such as Heidi 200, Colossal Bier Haus and Heidi's Bier Haus.
The latter, Heidi's Bier Haus, is also in this top 10 of best WMS slots. We think Heidi 200 is just as good, but three Bier Haus slots in a top 10 were just a bit too much for us.
All known ingredients will be present in this slot: Heather, the smiling Gunther, wonderfully catchy singing and lots of bonus features.
This time Heidi is prominently behind the tap and lets the beer flow generously regularly, transforming entire reels into wilds.
The Heidi slots are somewhat similar to what we have with the music (and the ladies!) of ABBA: we love it, and we're not afraid to show it to the world anymore.
Cheers!
---
9. Amazon Queen
Amazon Queen resembles the Kronos slot in many ways: a high variance and free spins with stacked wilds and stacked premium symbols.
It is, however, a slot that can stand on its own. Amazon Queen might have been released even earlier than Kronos.
Anyway: the beautiful jungle theme has been worked out in detail, and the animation of the gorilla pounding on his chest is just superb craftsmanship of the WMS design team. Maybe it's weird, but we can enjoy that kind of thing.
One thing that is still on our slots bucket list is to spin a full screen of gorillas in Amazon Queen. And until that wish is fulfilled, we will continue to play Amazon Queen with great pleasure.
---
10. Fire Queen
For the last spot on this beautiful list, we have chosen Fire Queen.
This is perhaps the least known of all the slots on this top 10 list, and that is precisely why we have put it on.
Fire Queen is an amazingly cool slot with many innovative features, which deserves to be discovered.
You can activate the free spins bonus in 3 different ways; there are transferring wilds, and the wilds in the bonus round expand all over the screen.
And man, what a beautiful sight WMS has made of Fire Queen.
---
Try WMS slots yourself
With Fire Queen, we close this top 10 list with ten great WMS slots.
If there are titles on this list that you don't know yet, it's high time to discover them.
You can try out the WMS slots for free at most of the recommended online casinos on this page. Have fun now!

Available in your country