Raging Rhino slot review (WMS)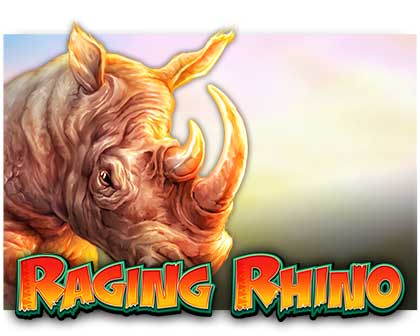 Seldom have we played a slot where one push of a button leads to such enormous wins. The flipside: rarely have we played a slot where there are so few winnings between those big paydays. In the primary game and the bonus game, you can experience long cold stretches, wherein you will spin very few winning combinations. Even multiple retriggers in the bonus game, something that occurs regularly, may not mean a thing.  WMS has delivered a very volatile slot with Raging Rhino, one with a serious 'Love or Hate it' factor.
Play Now
Game Provider:

Release date:
August 2015
Table of contents
Best of The Month

€150 Bonus Package

+100 Free Spins
Join
Best Bonus
Latest Casino News
The Raging Rhino slot by WMS: Run for your life!
One angry rhino is already a challenge; how about a whole herd of angry rhinos? Raging Rhino is one of the most popular high variance slots ever made.
A warning is in order, though, before you play the Raging Rhino online WMS slot. This high volatility slot may not for everyone.
The return to player percentage is 95.91%, which is fine.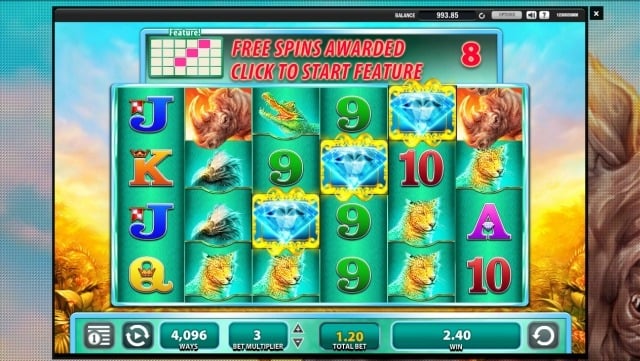 How does the Raging Rhino slot work?
Raging Rhino has a different playing field: no less than 6 reels and 4 symbols per reel. All symbols are also scattered from left to right. This amounts to the astronomical number of paylines or combinations of 4,096. For the mathematicians amongst us 4 x 4 x 4 x 4 x 4 x 4. The theme is the African Savanna, and the symbols reflect this.
Think of wild animals such as Cheetahs, Crocodiles, (displaced) Gorilla's and, of course, the mighty Rhino. The remainder of the field consists of the well-known card symbols, from 9 through to the Ace.
Some symbols are stacked, among them the highest paying symbol, the Rhino. And that is precisely where the great potential of Raging Rhino is at. If you can spin 1 symbol per reel on all 6 reels, things can happen quickly, especially if there are multiple reels with 2 or 3 stacked symbols.
The diamonds can drop very scattered, and 3 diamonds will give you 8 free spins, while 6 diamonds will get you an incredible 50 free spins!  The orange savanna trees are wild and can occur on reels 2 through 5.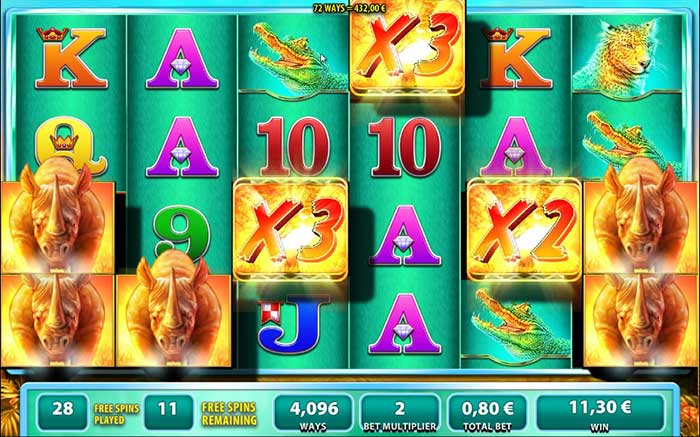 Bonus rounds in Raging Rhino
The bonus rounds in Raging Rhino consist of 8 free spins. Additionally, with every 2 scattered Diamonds in the bonus round, you will obtain another 5 extra free spins. These retriggers are quite common and often occur more than once during a bonus round.
During the bonus round, you will also get multipliers if you spin the African Savanna trees. Besides the fact that these are wild, there are also hidden multipliers of 2 x and 3 x inside these sought-after symbols.
Which explains immediately how, in Raging Rhino, you can acquire truly astronomical payouts: 6 reels x stacked Wilds x multipliers = almost infinitely large gains. But remember that this slot is all or nothing in its true form.
You can end up in the record books with this slot, but you can also strike out completely in 2 consecutive bonus rounds. You have been warned!
3 reasons to love the Raging Rhino slot:
Astronomical payouts are possible in the primary game and the bonus rounds.
As with almost all WMS slots, it looks incredible.
During the bonus round, retriggers drop often, and the multipliers will also ensure your adrenaline will spike.
Our verdict on the Raging Rhino slot
The Raging Rhino slot is truly sublime, although it is not suitable for everyone.
If you like playing a prolonged time with your balance and want to be primarily entertained by a slot, you should steer clear of Raging Rhino.
Raging Rhino by WMS is mainly around the opportunity for you to hit that one super big jackpot.
4.5 out of 5 stars.
#1
🍒Thousands of Slot Games
✅Professional Customer Service
⚡️Withdrawal lock option
#2

❤️Best Mobile Casino
🎁VIP Bonus Options
🍓Live Casino Bonuses
#3

🔥New Casino
⚡️Quick Banking
🍒Reward Scheme