Fire Queen slot review (WMS)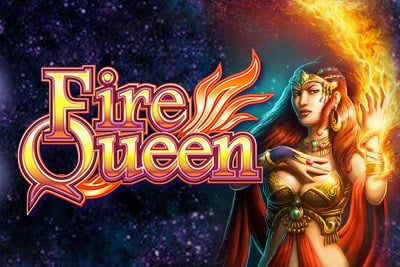 In short, this means that the very popular and successful Money Burst principle is doubled by actually mounting two slots on top of each other. But with a unique twist…
Play Now
Game Provider:

The Fire Queen slot machine from WMS is a Double Money Burst slot machine
WMS has applied the Double Money Burst principle to Elvis: The King Lives slot before, and it worked like a charm.
Double as many chances, double as much tension.
Unique Transferring Wild Feature
But WMS is never merely content with a successful concept. They want to excel and are always looking for ways to make a slot even more fun and exciting, and that is precisely what WMS has done with Fire Queen: by adding an extra transferring wild feature that is both simple and brilliant.
All wilds are copied from one set of reels to another set. This creates a whole new dimension; extra wilds means more winning combinations and a more significant chance of winning a bonus round.
And the result is impressive: an excellent video slot where you are continuously surprised.
WMS, you truly get it, and we thank you for that!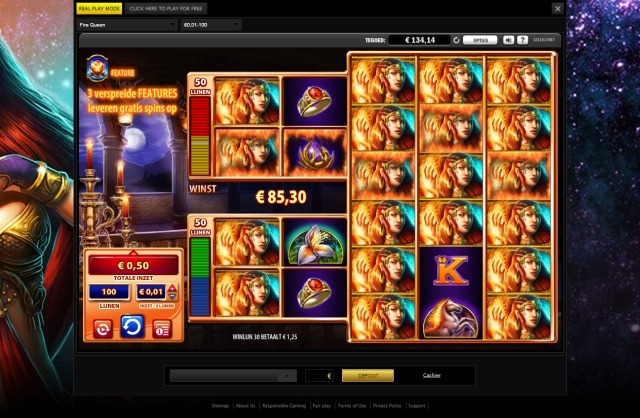 How does the Fire Queen slot machine work?
The Fire Queen slot has 100 paylines. Or better, the Fire Queen slot machine consists of two slots of 50 paylines placed on top of each other. The Fire Queen game looks great, full of magical symbols and strange animals. Also, the music, although not overwhelming, fits well with the mysterious atmosphere that goes well with this online slot. And the Fire Queen oversees, rules and is Wild.
Most symbols are stacked, including the Wild symbol. With so many paylines and stacked symbols, there are plenty of opportunities for big payouts.
But the big difference with other versions is, if Wild symbols appear on reel 1 or 2, they are transported to the "other" slot. And so it can happen that a losing combination on one suddenly wins on the other. A new game element that truly brings a lot of excitement.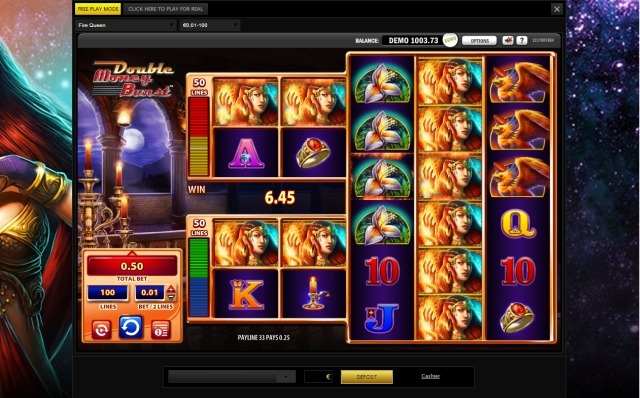 Bonus rounds at Fire Queen
Also, the Fire Queen's bonus game is a bit more out of the ordinary than other Money Burst slots: every Wild symbol on reel 3, 4 or 5 is expanding and covers the entire reel. It is simple math that 100 paylines can lead to huge payouts.
Especially if you know, there are Wild symbols on every reel in the game. Therefore, it is possible to get a full playing field of Wild symbols during the bonus game, with a bet of $€ 1 that amounts to a payout of 100 winning lines x $€ 8 per line = $€ 800 (!). Retriggers are possible in the bonus round.
Activate the bonus in 3 ways: win up to 20 free spins
The Fire Queen's bonus411111 can be triggered in three ways: 4 identical symbols on reel 1 and 2 get you 5 free spins, three scattered symbols on reel 3, 4 and 5 also get you 5 free spins and a combination of both awards you 20 spins.
Three reasons to love the Fire Queen slot machine
A beautifully designed slot machine derived from the successful Money Burst concept.
The addition of the 'transporting Wilds and Expanding Wilds' feature creates exhilaration and adds depth to the game.
Many paylines and stacked symbols can lead to high payouts, even with possible low bets.
Our verdict on the Fire Queen slot
This video slot is an absolute top game by WMS and certainly one of the best in the Money Burst series. The extra Wilds in both the primary and bonus games bring extra excitement and, perhaps more importantly,  even more, winning combinations. Also positive: you have a big chance of playing the bonus round.
It only feels right to reward Fire Queen with an excellent score.
4 out of 5 stars.

🔥New Casino
⚡️Quick Banking
🍒Reward Scheme

❤️Best Mobile Casino
🎁VIP Bonus Options
🍓Live Casino Bonuses
🍒Thousands of Slot Games
✅Professional Customer Service
⚡️Withdrawal lock option