Nolimit City have some breakthrough features
Nolimit City developed registered several trademark mechanics, and many of their slots use these. The most important ones are xNudge, xWays, followed by xBombs and xPays.
According to Nolimit City, these mechanics "raise the potential of any slot game", and I cannot agree less! The features come with some incredible volatile slots and indeed help players to land some blistering wins.
In 2018 they introduced the xNudge feature with their Hot Nudge slot, and in 2019 we got to see both the xNudge and the xWays feature in Pixies vs Pirates.
We saw the xPays feature with Monkey's Gold xPays in 2020 and the xBomb feature with Fire in the Hole xBomb in 2021. And the rest is history!
Below you see an overview of their slots, where each of these uses the features. As you can see, 10 Nolimit City slots use the xNudge feature, five slots the xWays feature, one slot the xBomb feature, and one slot the xPays feature.
| | | | | |
| --- | --- | --- | --- | --- |
| Slot | xWays | xNudge | xBomb | xPays |
| Infectious 5 | √ (*) | | | |
| El Paso Gunfight | | √ | | |
| Bushido Ways | | √ | | |
| Fire In The Hole | | | √ | |
| East Coast vs West Coast | √ (*) | √ | | |
| San Quentin | √ | | | |
| Tomb of Akhenaten | | | | |
| Warrior Graveyard | | √ | | |
| Monkey's Gold | | | | √ |
| Deadwood | | √ | | |
| Harlequin Carnival | | √ | | |
| Gaelic Gold | | √ | | |
| Barbarian Fury | | √ | | |
| Punk Rocker | √ | | | |
| Dragon Tribe | √ | √ | | |
| Pixies vs Pirates | √ | √ | | |
| Tombstone | | √ | | |
| Hot Nudge | | √ | | |
Enough facts for now: let's not wait any longer and find out how these features work!
The xNudge feature – wilds with increasing multipliers
When the xNudge feature triggers, you'll see that Wilds cover the entire reel. In most cases, though, the Wild doesn't fully cover the reel. In that case, it "nudges" till the whole reel is covered, and the Wild is stacked.
For each nudge, the multiplier of the Wild increases by +1.
So if you need 1, 2 or 3 nudges to cover the entire reel, the Wild has an x2, x3 or an x4 multiplier. Indeed a double whammy, as you get a stacked Wild and also an increased multiplier.
Below you see illustrations of this feature for Deadwood xNudge and Harlequin Carnival xNudge.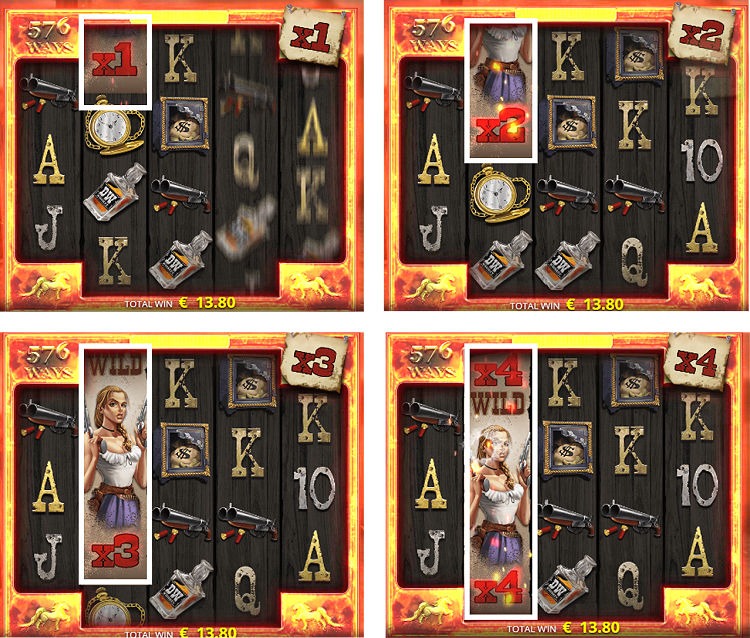 The xNudge Wild for Deadwood: you see that three nudges take place, resulting in an x4 multiplier
The xNudge Wild for Harlequin Carnival: you see that two nudges take place, resulting in an x3 multiplier
The xWays Feature – like a split mystery symbol
The xWays feature is Nolimit City's second most favourite feature. The idea is simple but highly effective.
An xWays symbol transforms into 2 or 3 or 4 other and identical symbols. These can be any other symbol (high or low paying) but not Bonus symbols. For some slots, these can also transform into wilds.
The second advantage is that this increases the number of win ways. Indeed, these slots use the win all ways, mechanic. So you get a double whammy again!
You see how the xWays mechanic works for the fabulous San Quentin xWays and Punk Rocker xWays slots in the illustrations below.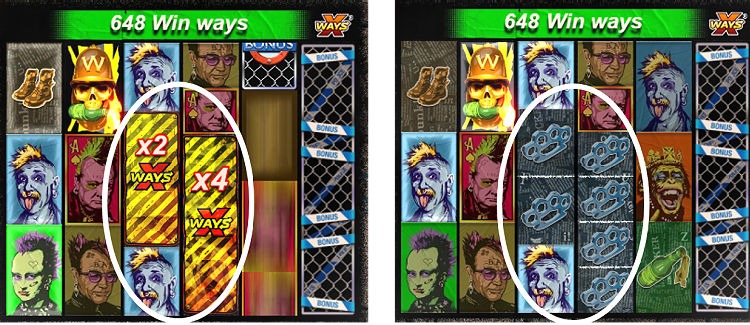 The xWays feature for Punk Rocker: you see two xWays symbols transform into identical symbols, and the number of symbols increases to 2 + 4.
The xWays feature for San Quentin: on the last reel, two xWays symbols transform into 8 Wilds!
The Infectious xWays Feature – the same as the xWays, but with more reels
This feature is even more effective, as the xWays feature can work over more reels. It's best to illustrate this again with an example, from Infectious 5 xWays.
You see that the Golden Symbols on reels 1 and 5 convert into xWays symbols and afterwards transform into a pair of Golden Symbols. At first you had 1280 ways to win (4x4x5x4x4=1280) and that's now 2000 ways to win (5x4x5x4x5=2000).
The xPays feature – like a reverse avalanche mechanic
I must say that I like this feature and I expect that more slots will follow.
Most of you are probably familiar with the Avalanche (or Cascading or Tumbling) mechanic, where you gain a free respin following a win.
Afterwards, you see that the winning symbols disappear, the other symbols drop, and new symbols come into place. Till today at least 100 slots have this feature (also most Megaways slots).
The xPays feature works in a reverse way; as the winning symbols remain and the non-winning symbols disappear, and new symbols come in their place. Isn't that a great find?
The xBomb feature – exploding symbols
The xBomb feature is another brilliant invention where a Wild symbol "explodes" and at the same time removes all adjacent symbols. At the most, nine symbols are removed (including the Wild).
New symbols replace these, and at the same time, the win multiplier increases by +1.
The Wild explodes, adjacent symbols disappear, and new symbols come in their place. The multiplier increases by +1.
Conclusions – I expect Nolimit City will introduce more fantastic features
I believe more exciting features will follow as this is the best way for Nolimit City to make recognisable slots. When you play such a slot, you know, and you feel it's a Nolimit City slot.
Moreover, it looks like more providers like to make use of these exciting features, and game studio Booming Games have just purchased (in March 2021) Nolimit City's xNudge trademark.
Play Nolimit City slots at these online casinos
If you can't wait to play any of these stunning slots like Deadwood, San Quentin or Punk Rocker, you can check out the reliable online casinos in our list below.
These online casinos offer you the chance to play real money casinos or play with practice money.

Available in your country