Punk Rocker slot review (Nolimit City)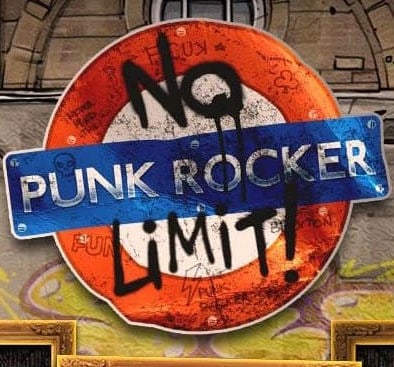 We've played thousands of online slots in our slots reviewer career, but to date, we've never had so much fun with an online slot. The punk theme, the free spins bonuses, the energy, the boosters: this experience is hard to put to words.
Play Now
Game Provider:

Release date:
January 2020
Punk Rocker is an insane Nolimit City video slot full of humour, action, and … cool punkers
We will give it a go anyway, but we are still buzzing with energy, that cool.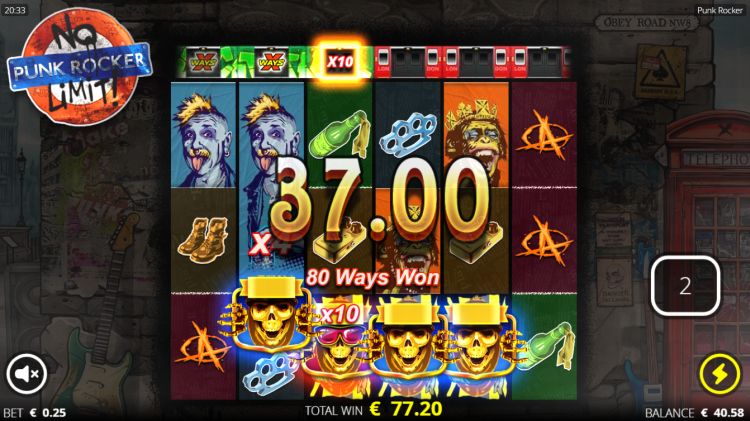 The RTP, Variance (volatility) & Maximum win of No Limit City's Punk Rocker
Punk Rocker's payout rate is 96.01%, which is pretty ok but, of course, not spectacular.  Like most No Limit City slots, the RTP is not very attractive. If you go for slots as  Kitchen Drama, Sushi Mania, Oktoberfest or Tesla Jolt, you get a much better payout percentage.
The maximum win is over 15,000x the bet (based on 10 billion simulations), which is, of course, pretty massive!
Or should we say, rocking? Puck Rocker belongs to the No Limit City slots with the highest maximum win with this maximum win (only Dragon Tribe has a higher max win).
No Limit City has decided to release more thrilling (volatile) slots lately. Also, Punk Rocker has a high variance that perfectly matches the adrenaline rush of a punk lifestyle.
The Punk Rocker gameplay and features
Punk Rocker is a win all-ways slot, where X Ways symbols can drop on the reels. These contain several of the same symbols, so the number of ways to win is increased significantly.
A standard playing field has 243 ways to win, but that can grow to a staggering 46,656 ways to win.
Betting starts at $€ 0.25 per spin, but higher bets are also allowed, of course. The maximum bet is $€ 125 per spin.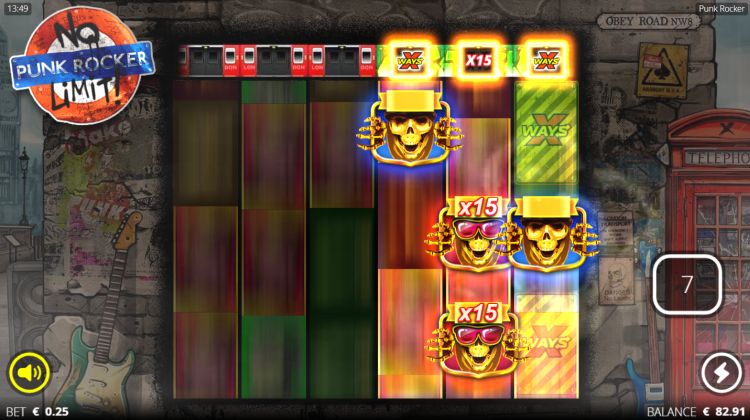 Symbols and payouts
Brilliant. Simply brilliant, no more, no less.
Punk Rocker's premium symbols include punk versions of celebrities like Mono Lisa, Albert Einstein, Sir Winston Churchill, and Elton John.
And to top it all off, the famous chimpanzee who bravely raises his middle finger also makes his appearance.
Above all, Punk was rebelling against the establishment, and that is exactly what these characters stand for.
With a Super Big Win celebration, all these heroes also make their appearance, increasing the festivities even more.
The low-value symbols also consist of things related to the punk era: the Anarchy sign, a guitar pedal, a Molotov cocktail, brass knuckles and high leather shoes.
Because of the win all ways, X Ways, and large multipliers during the free spins, you can make a fortune with each symbol.
We landed our most significant win in one spin (1,800 x the bet) with the Molotov cocktail at the bottom of the payout table.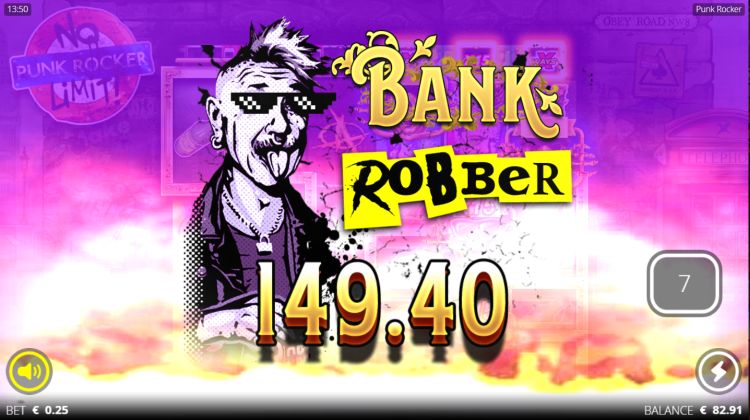 Free spins bonus
You activate the free spins bonus by spinning 3 or 4 scatters (the London Underground symbol).
Three scatters will yield 8 Anarchy Free Spins, and four scatters will earn you 8 Civil War Free Spins. You can also buy these bonuses directly by shelling out 80 x and 238 x the wager, respectively.
This is both considerable, but you can also bank an insane amount of money.
The number of scatters activating the bonus determines how many free-floating wilds (the golden skulls) you enter the free spins bonus.
3 scatters amount to 3 wilds, and 4 scatters, you guessed it, to 4 wilds.
These wilds not only replace all symbols but can also contain mystery prizes.
You can obtain these when the green subway train (that runs from left to right above the regular reels) stops exactly above the wild.
The extra mystery features are:
Extra multipliers up to 25 x
Extra free spins
Extra Jumping Wilds
X Ways mystery symbols
Heightened reels
Of course, the best would be if you spun multiple boosters at the same time, such as 1 or 2 X Ways, in combination with a chunky multiplier.
We've already had a hit of over 1,500 x the wager several times this way during the free spins bonus.
Our verdict on Punk Rocker?
As far as we're concerned, Nolimit City deserves a statue in the middle of London, the heart of the British Punk scene.
Punk Rocker is a fan-friggin-tas-tic video slot!!
The humour, the upbeat tempo, the many bonus features, the monkey with his middle finger and the punk version of Elton John, unbeatable!
We can not imagine a better feeling than to wallow in a lot of wilds. However, to miss a prize by a hair and then very casually have the word "SHIT" appear on the screen? We love this British dry, understated humour.
Nolimit City deserves a deep bow and standing ovation. These designers get what people want.
We will be stupefied if Punk Rocker won't be awarded the best new slot of 2020.
Whether you're still a punk rocker yourself, a regular Joe or a decent housewife, you HAVE to give this Punk Rocker some well-deserved spins.
4.5 out of 5 stars.

🔥New Casino
⚡️Quick Banking
🍒Reward Scheme

❤️Best Mobile Casino
🎁VIP Bonus Options
🍓Live Casino Bonuses
🍒Thousands of Slot Games
✅Professional Customer Service
⚡️Withdrawal lock option