Joker Pro slot review (Netent)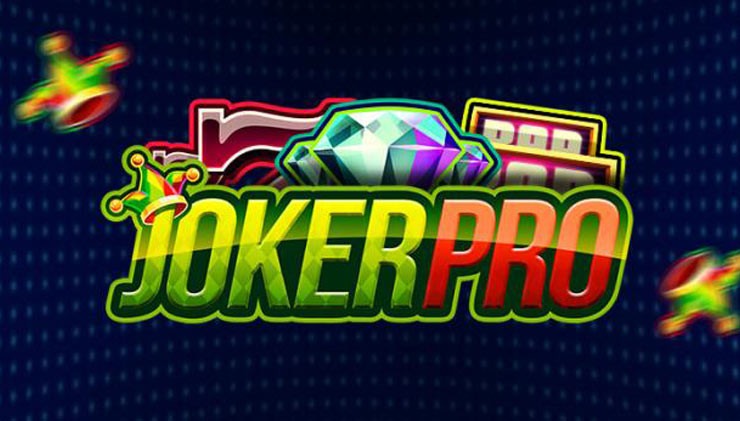 Joker Pro has 10 paylines, a sticky wild with respin function and an exciting Hot Spot Feature: with 3 Wild Symbols in the Hot Spot, you immediately win 1,000 x your bet! So, there is certainly enough to enjoy here, and that is precisely what we did with Joker Pro.
Play Now
Game Provider:

Release date:
February 2017
Table of contents
Best of The Month

€150 Bonus Package

+100 Free Spins
Join
Best Bonus
Latest Casino News
Joker Pro is a high-octane, classic retro style Netent slot
That means lots of bars, bells and sevens, a style we saw coming back earlier in the magnificent Twin Spin slot. But that particular style is really the only resemblance between these two. Joker Pro is definitely a completely different game.
What is the payout rate of Joker Pro?
One of the first things we look at with a slot is the payout rate. This percentage is significant because it indicates what a slot will pay out in the long run to the player. This information is always easy to find with the Netent slots under the info button. The payout rate of Joker Pro is no problem at all, with an excellent 96.80%.
The variance of Joker Pro is on the high side: you have a relatively high number of "dead" spins, but you will also get your hands on a big payout regularly. However, Joker Pro is not a high variance slot; the maximum payouts are not substantial enough for that. It is a medium variance slot.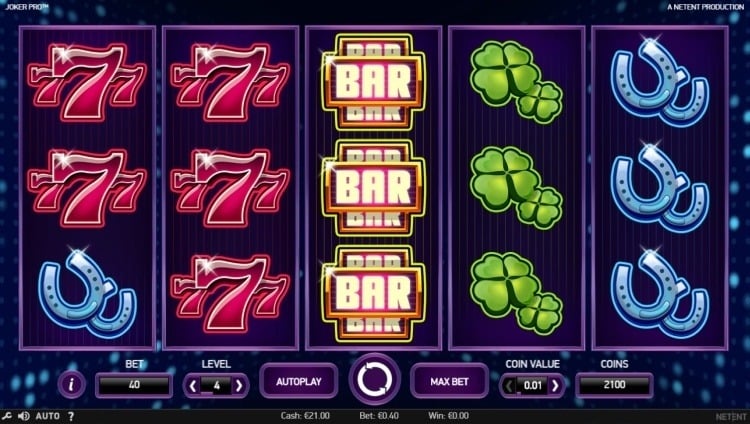 How does the Joker Pro slot work?
The set-up of Joker Pro is pretty simple: the playing field consists of 5 reels with three rows of symbols. There are ten fixed paylines, and there is a minimum bet of $€0.01 per line, which amounts to a minimum bet of $€ 0.10 per spin. By raising coin value and the betting level, it is possible to put more money down to a maximum of $€ 100 per spin.
The symbols consist of a nice mix of retro-style, classic symbols, like the diamond, the seven, the bar and the lucky clover.
We like this style, also because the reels run very smooth and spin fast. The animations and sounds have also been nicely developed and fit perfectly with the ambience.
The diamond pays out the most: 5 of these on an active payline are worth 200 x your bet per line. With five sevens, you only get half: 100 x your bet per line.
Very noticeable is the balance between winning and non-winning spins. There is a very low hit frequency; this makes you sometimes go 10-15 times without any reward. And then suddenly, completely out of nowhere, you hit a big jackpot- the game has considerable fluctuations.
The bonus game of Joker Pro- Wilds and respins!
When one or more of the Fool's caps drop onto reels 2, 3 or 4, the bonus round commences. It can be over in a heartbeat (after one spin), but it can also deliver vast amounts of money:
The bonus of Joker Pro works as follows:
Reels 1 and 5 become completely wild.
Every Fool's cap is a sticky wild during the bonus round.
New Fool's caps during a respin give an extra respin.
So as long as enough respins occur, you can make some serious coin during the bonus game. As mentioned, though, it can also be over in a flash, without so much as one credit gained.
There is also another way to make money: if you collect 3 wilds on the middle reels 2, 3 and 4 (this is the so-called Hot Spot), you win 1,000 x your total bet.
Imagine that you are playing with $€ 0.50 per spin, just got yourself a cool $€ 500.
Financial analysis of Joker Pro
We have put together an extensive financial analysis of the Joker Pro slot, including:
Our results of 5,000 real money spins on Joker Pro.
The prize distribution.
Your chances of winning on Joker Pro.
How to successfully apply the "Hit and Run" strategy to Joker Pro.
Our results on 5,000 real money spins on Joker Pro
We played no less than 5,000 real money spins on Joker Pro.
Here are our results, which include some real surprises!
Our run with Joker Pro left us thrilled. We ended up winning $405 after 5,000 spins. We walked away up because we won the maximum prize of 1,000x the total bet!
Out top 5 prizes were 1,000x, 124x, 89x, 83x and 71x the total bet. Here, the top prize of 1,000x is surprisingly high for medium variance slots.
What kind of prizes does Joker Pro payout?
Joker Pro is a medium variance slot. Quite often do you hit small to large prizes with Joker Pro, from 10x to 100x the total bet.
For example, take prizes of 20x to 50x the total bet: these are paid out once every 120 spins over the longer run.  Compared to other slots, this is often. You could hit these prizes more than once!
Joker Pro stands out for the bonus prize of 1,000x the total bet. Winning this massive reward of 1,000x happens once every 20,000 spins, much more often than most other slots. It even happened to us in our 5,000 spins!
What are my chances of winning with Joker Pro?
Below, you find your chances of winning (or losing) a certain amount of $€ when you spin 100 x ($€1 per spin) or 500 x ($€0.20 per spin).
For the sake of comparison, the total amount wagered is $€100 in both cases.
For example, you see that your chance of winning 1x to 2.5x your bankroll (profits of $€100 to $€250) is 3.6% if you spin 100 times ($€1 per spin).
What we like about Joker Pro is that the chances of losing everything are minimal compared to other slots.
Does the "Hit and Run" strategy work with Joker Pro?
With the Hit and Run strategy, you have an initial bankroll of (say) $100. You start playing $€1, $€5 or $€10 per spin, until you, either:
Have reached your target profit: profits of at least $€10, $€20, $€50, $€100, $€200, $€500, $€1000, $€2K, $€5K, $€10K, $€20K or $€50K (the latter is 500x your bankroll).
Have lost your entire bankroll ($€100 in this example)
The table below shows the chance of meeting the target first:
Joker Pro is a good choice if you aim for a small profit with the Hit and Run strategy. To get a profit of $€10 to $€20 with an initial bankroll of $€100, play with spins of $€1 and avoid doing spins with $€5 or $€10.
For example, the chance of reaching the target of $€20 is 68%. In that case, you need to bet $€1 per spin.
If you aim for a profit of $€200 to $€500 with an initial bankroll of $€100, you need to increase your stake to $€5 or even $€10 per spin.
Do you want better chances of a much higher profit? Choose a more volatile slot, such as Jammin' Jars or Dead or Alive 2.
Joker Pro is a medium variance slot with a seriously good chance of winning a mega prize
The Theoretical RTP of Joker Pro is 96.80%, which is quite good.
If you like winning many small to large prizes in the range of 10x to 100x the total bet, with a realistic chance of winning a mega prize of 1,000x your total bet, Joker Pro is a perfect choice.
The Hit and Run strategy works well with Joker Pro, as long as you do not aim for massive profits.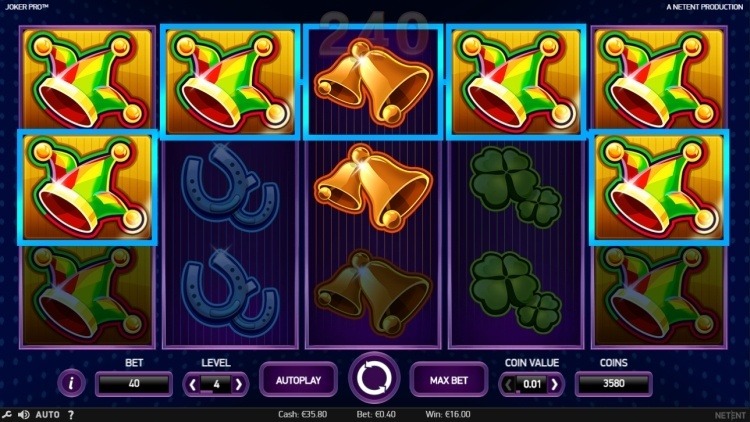 Our verdict on the Joker Pro video slot
We are enthused about Joker Pro, even though it isn't Netent most entertaining fun slot. The theme is beautifully executed, and the bonus feature is original and exciting, but what we have a bit of difficulty with is the balance of the game. Or, more precisely, the lack thereof. Sometimes you can burn through your money very quickly when you have a long series of non-winning spins. Sometimes, you can win it all back in 1 spin (or even a lot more). But it can give you the feeling at times that you are throwing your money away.
A few more payouts in the primary game had improved matters as far as we are concerned. The Hot Spot Feature is clever, and we've been close a couple of times, but we figure it doesn't occur very often.
So, we give it a 'meeting expectations,' but not 'exceeding expectations.' Does that mean you should ignore the Joker Pro slot? Definitely not. But start with small bets to get a bit of a feel of how this Joker Pro works. If you like it, you can always put some more money down.
#1
🍒Thousands of Slot Games
✅Professional Customer Service
⚡️Withdrawal lock option
#2

❤️Best Mobile Casino
🎁VIP Bonus Options
🍓Live Casino Bonuses
#3

🔥New Casino
⚡️Quick Banking
🍒Reward Scheme