Jammin' Jars 2 slot review (Push Gaming)
And last but not least. The win potential. The max win is a blasting 50.000x the bet and is even more volatile than Jammin' Jars (max win of 20.000x). Again, a slot with a win potential of 50.000x or more. We keep on counting!
Play Now
Game Provider:

Table of contents
Best of The Month

100% up to

€500 Bonus

+ 200 Free Spins
Join
Best Bonus
Latest Casino News
Jammin' Jars 2 – Indeed even better than the excellent Jammin' Jars slot
When we get to see a follow-up slot of a famous slot, it is in some cases even better than its predecessor. The most notable examples are:
And now we have Jammin' Jars 2, which is the follow-up of the excellent Jammin' Jars grid slot. The latter was probably the most famous Push Gaming slot, till today and put Push Gaming on the map. Yes, some other Push Gaming slots are excellent as well, but not so widely played.
Will that change with Jammin'Jars 2?
It could very well be! It is more extreme and has more gameplay. There are more features, which I'll tell you all about, below.
SLOT: Jammin' Jars 2 | SOFTWARE: PUSH GAMING
Number of paylines: 8×8 grid slot, cluster pays
RTP and variance: 96.4%, Extremely High variance
Maximum win: 50,000 x the bet or  $€5.0 million
Betting range: $€0.20 – $€100
Bonus features: Free Spins feature, Giga Jar feature
Casino Hipster verdict: HOT and TASTY! Blistering grid slot, amazing gameplay with some excellent features and an enormous win potential!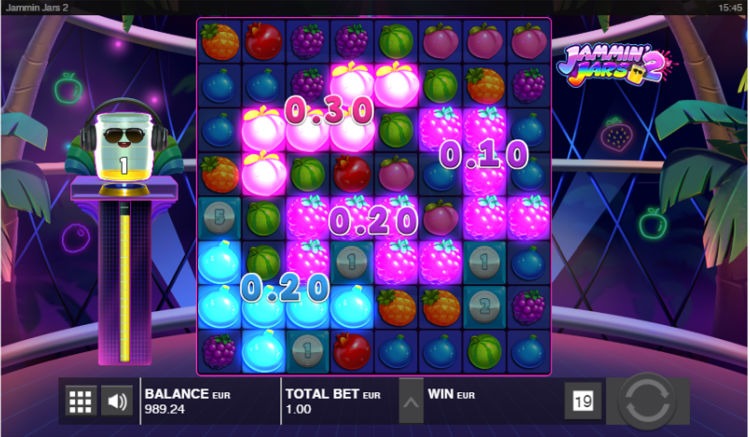 Gameplay and Features
Jammin' Jars 2 has an 8×8 grid, and it works, like all grid slots, with a cluster pays mechanic. It also relies on the avalanche (cascading) feature, where you gain a free re-spin following a win and where winning symbols disappear and are replaced by new symbols.
We have 6 brightly coloured fruit symbols. The Wild Jar Symbols are the Wilds as well as the Scatters.
In the main game, you need to spin clusters of at least 5 adjacent symbols to win.
You'll recognize the Wild Jar Symbols if you've played Jammin' Jars. Once they are part of a win, you'll see the multiplier increase by +1 after each win. Afterwards, the Wild Jar Symbol moves to an adjacent and vacant position. The multiplier resets once you fail to win.
Instant Prize Symbols
New (compared to Jammin' Jars) are the Instant Prize Symbols. If you spin a cluster of 5 or more of these Prize Symbols, you get a cash win, equal to the sum of these Prize Symbols.
These symbols have values from 1x to 1000x.
Fruit Blast Feature
The Fruit Blast Feature triggers randomly, after which you'll get one or more "blasted"  fruit symbols. These convert all positions that they cover with the same fruit symbols and therefore clusters.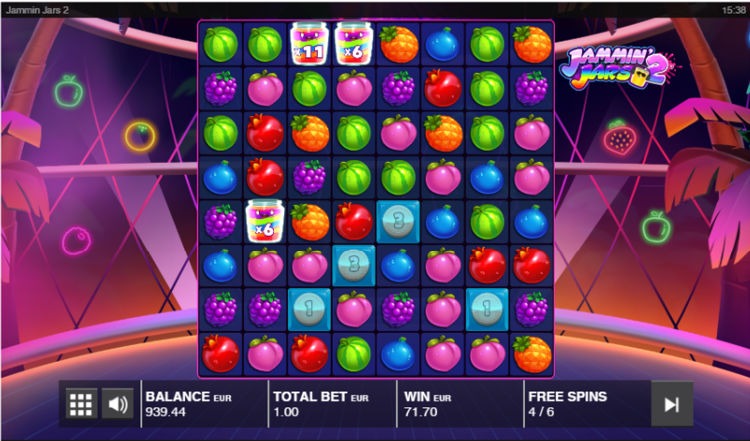 Free Spins feature
You trigger 6 free spins if you manage to spin 3 or more Wild Jar Symbols.
As with Jammin' Jars, the main advantage is that the multipliers of the Wilds do not reset. Indeed the multipliers of the Wilds (and there are at least 3 of them!) can snowball, thereby getting you some massive wins!
It helps if the Wilds go hand-in-hand. Imagine getting three adjacent Wilds with each a 10x multiplier. In that case, the total multiplier is an astounding 1000x.
Collectable Gold Vinyl
Indeed, we also have our DJ (on the left) who collects the golden grammy's.
You need 20 Gold Vinyl Symbols to get to Level 2. If you land another 25 Vinyl Symbols, you reached Level 3. Another 30 Vinyl Symbols brings you to level 4. And the last 35 Vinyl Symbols gets you to the MAX Level. 
Giga Jar Feature
Once you've reached the MAX level, it's possible that the Giga Jar Feature triggers and that 8 Giga Jar Free Spins are awaiting you.
The grid empties, and in return, you'll get 3 to 4 Wild Jar symbols. In addition, the Giga Jar enters on the grid and converts into a 2×2, 3×3 or 4×4 "block" of Instant Prize Symbols.
For the free spins, you'll only see empty positions or Instant Prize Symbols.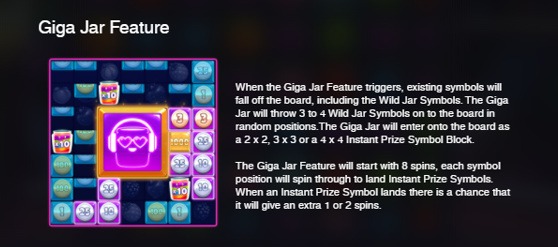 Jammin' Jars 2 slot: the payout rate (RTP) is 96.40%
The RTP of Jammin' Jars 2 starts with 96.10% (Level 1), to 96.20% (Level 2), to 96.30% (Level 3) to 96.40% (Level 4) and 96.60% at the MAX Level.
Push Gaming calculated the "average" RTP to be 96.40%, but it really depends on your willingness to play to the end and up to the MAX Level.
Jammin' Jars 2 slot: the variance (volatility) is very high
Jammin' Jars 2 is an extremely volatile slot, and that should not come as a surprise with the 50.000x max win.
Jammin' Jars is already exceptionally volatile, with a max win of 20.000x.
Pros en Cons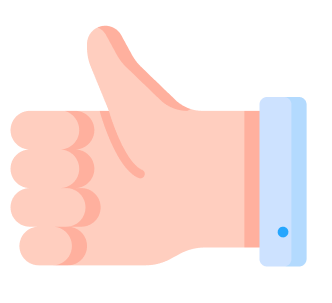 Pros
Lot's of exciting features
Colourful and graphically excellent grid slot
 Tremendous winning potential
Cons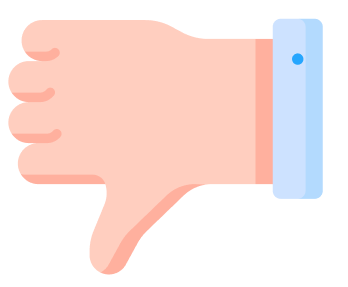 You need patience—a lot. Getting to the MAX Level requires thousands and thousands of spins. So bring money and a lot of time before you play.
Available in your country
#1

♠️Great Poker Room
⚽️Sports Betting
⚡️Fast Withdrawals