Jammin' Jars slot review (Push Gaming)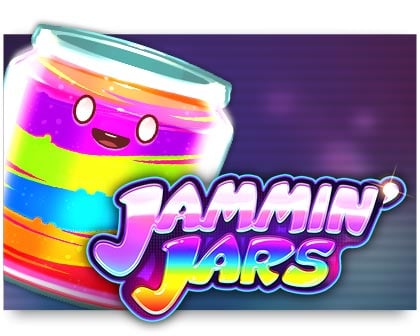 Play Now
Game Provider:

Release date:
September 2018
Table of contents
Best of The Month

1000€ Bonus

+ 100 Free Spins
Join
Best Bonus
Latest Casino News
With Jammin' Jars, Push Gaming delivers world-class, high variance action
Not only is there a whole lot of fun to be had, but there is also a whole lot of money to be won.
The very first time you open Jammin' Jars, you might get the idea that you have ended up in some Candy Crush like game.
But this is mainly an illusion because, under the surface, Jammin' Jars is a cool high variance slot with wilds, cascading symbols, increasing multipliers and free spins.
Push Gaming is developing rapidly and has grown to become one of the most popular game providers in a matter of years.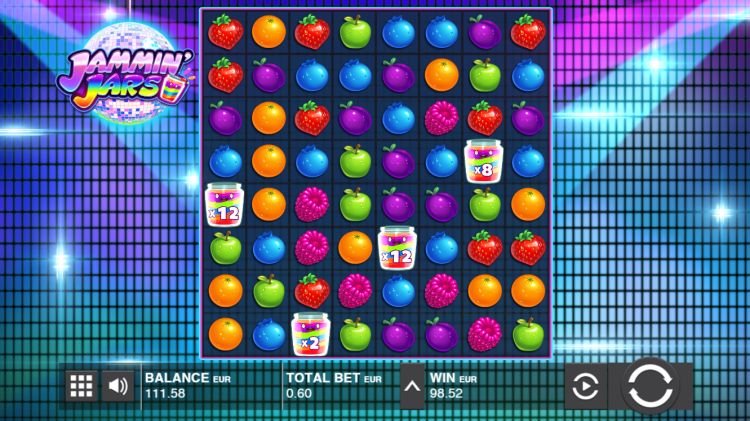 How does the Jammin' Jars slot work?
The game is played on a matrix of 8 x 8 symbols, and all symbols consist of fruit. There are no paylines, but winning combinations originate through clusters of 5 or more of the same symbols. Winning combinations disappear and make room for new symbols that tumble down from above.
Betting starts at $€ 0.20, and you can go all the way up to a maximum of $€ 100 per spin.
The theoretical payout rate of Jammin' Jars is an impressive 96.81%.  You can take that to the bank.
The variance of this slot is high.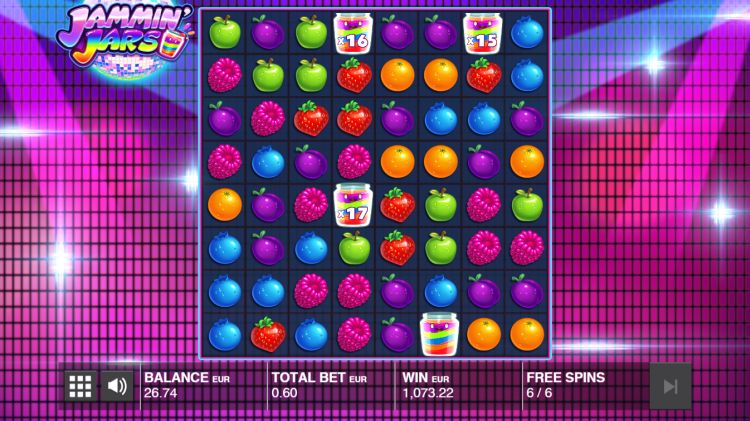 Symbols and payouts
Everything in this slot is about delicious, juicy and fresh fruit.
You already win with a cluster of 5 the same fruits, but it goes without saying that the bigger the group of identical symbols, the bigger the rewards.
The strawberries are worth the most: a cluster of 25 + strawberries has a value of 100 x the bet.
Oranges and the always welcome raspberries pay 62.5 x and 32.5 x the bet, respectively, again with a cluster of 25 or more of the same symbols.
The lower value symbols (apples, plums and blueberries) will net you anywhere between 10 x and 25 x the total bet with… you guessed it, 25 or more identical ones.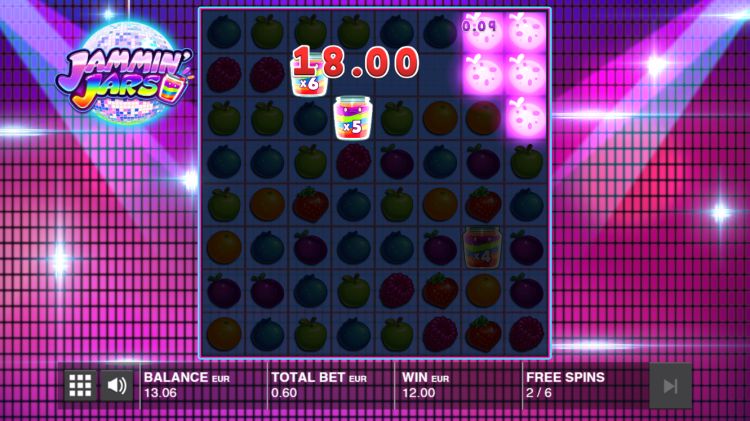 Wild Symbol: increasing multipliers
The wild symbol is a jam jar, and it goes to find fruit. The moment it finds fruit and is a part of a winning combination, its multiplier goes up by 1+. There is no limit to the maximum achievable multiplier.
If you create combos with 2 or more multipliers, then those are multiplied with each other. And that can result in very, very big gains.
For example, if you have a wild with an 11 x multiplier and that wild make a winning combination with a 10 x multiplier, your win multiplies by 110 x.
After every combination with a wild, it will move one space.
Rainbow Feature
The Rainbow Feature can drop at random times after a no-win spin. The feature can only be activated in the primary game.
1 or 2 mega symbols will appear on the screen for bigger payouts.
Free spin bonus
The real fireworks can ignite in Jammin' Jars with the free spin bonus.
If you succeed in getting 3 or more scatters on the screen, you win 6 free spins.
The wilds and their individual multipliers are taken into the bonus round and remain on the screen for every spin.
The best scenario is when the wilds stay close to one another as much as possible. That increases the chances for winning combinations, and because multipliers are increased by +1 after every winning combination, your balance can soar very quickly.
Financial analysis of Jammin' Jars
We have put together an extensive financial analysis of the Jammin' Jars slot, including:
Our results of 5,000 real money spins on Jammin' Jars.
The prize distribution.
Your chances of winning on Jammin' Jars.
How to successfully apply the "Hit and Run" strategy to Jammin' Jars.
Our results on 5,000 real money spins on Jammin' Jars
We played no less than 5,000 real money spins on Jammin' Jars.
Here are our results, which include some real surprises!
Let's see how well our slot Jammin's Jars treated us.
What kind of prizes does Jammin' Jars payout?
Jammin' Jars is one of the most volatile slots for a reason. Jammin' Jars pays out huge and mega prizes:  much more often than most of the other slots.
Look, for example, at the prizes of 1,000x to 2,500x your total bet. These prizes are paid out once every 20,000 spins. Jammin' Jars stands out for these types of prizes: huge prizes and awarded pretty often!
Rewards of 5,000x your total bet or even higher are also realistic with Jammin' Jars. Once every 200,000 spins, you can expect such a massive prize.
What are my chances of winning with Jammin' Jars?
Below, you find your chances of winning (or losing) a certain amount of $€, when you spin 100 x ($€1 per spin) or 500 x ($€0.20 per spin).
For the sake of comparison, the total amount wagered is $€100 in both cases.
You see that your chance of winning at least 10x your bankroll ($€1,000) is 0.63% if you spin 100 times ($€1 per spin).
There are real chances to win really big with this slot. In some cases, wins in the range of $€2,000 to $€10,000 are possible after 100 spins of $€1 per spin.
The downside is that these big winners need to be paid: chances of losing $€60 or more are higher than most other (less volatile) slots.
Does the "Hit and Run" strategy work with Jammin' Jars?
With the Hit and Run strategy, you have an initial bankroll of (say) $100. You start playing $€1, $€5 or $€10 per spin, until you, either:
Have reached your target profit: profits of at least $€10, $€20, $€50, $€100, $€200, $€500, $€1000, $€2K, $€5K, $€10K, $€20K or $€50K (the latter is 500x your bankroll).
Have lost your entire bankroll ($€100 in this example)
The table below shows the chance of meeting the target first:
The Hit and Run strategy works perfectly with Jammin' Jars if you aim to make a massive profit of at least 50x your bankroll ($5,000 or more with a bankroll of $100).
For example, the chance of reaching the target of an astonishing $20K is 0.182% if you stake $10 per spin. Avoid doing spins of $1 if you aim for these enormous profits.
If you are happy with a smaller target profit (of say 10 times your bankroll or less), you are better off with low or medium variance slots.
Jammin' Jars is for the enormous wins only.
Jammin' Jars is an extremely high variance slot, ideal for "all or nothing" players
Jammin' Jars is the perfect slot for real risk takers and thrill seekers: it has enormous upwards potential.
The Theoretical RTP of Jammin' Jars is 96.8% is slightly better than average.
Jammin' Jars is THE slot if you are looking for an extremely high variance slot.
Jammin Jars pays out spectacular prizes: over the longer run, you get a prize of at least 1,000 times your total bet, once every 16,000 spins.
Jammin' Jars pays not only huge wins but also MEGA wins. Don't get surprised if, after 100 spins, you have lost more than half of your bankroll — slots with such variance cause rollercoaster-style high and lows in your balance.
It is the perfect slot for the Hit and Run Strategy, only if you aim for profits of at least 50 times your initial bankroll.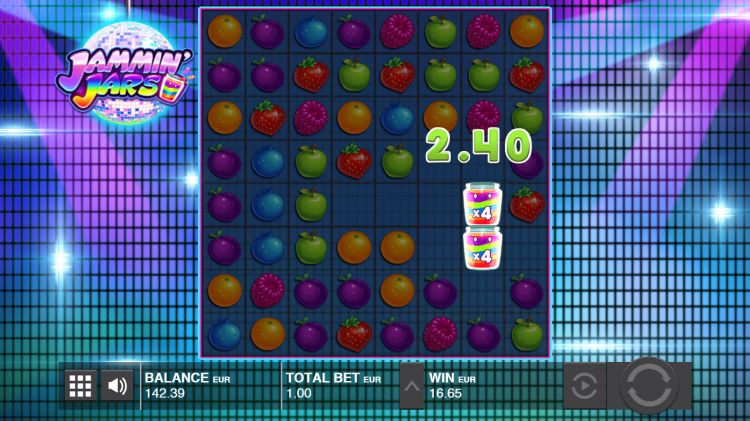 Our verdict on the Jammin' Jars video slot?
This is an absolute stunner by Push Gaming.
Jammin' Jars maybe appears at first sight to be a bit simple and childish, but don't let this keep you from playing this slot.
Especially during the free spin bonus, crazy things can happen with the moving wilds and increasing multipliers, with sky-high profits as a result.
4.2 out of 5 stars
#1
🍒Thousands of Slot Games
✅Professional Customer Service
⚡️Withdrawal lock option
#2

❤️Best Mobile Casino
🎁VIP Bonus Options
🍓Live Casino Bonuses
#3

🔥New Casino
⚡️Quick Banking
🍒Reward Scheme