Money Train 2 (Relax Gaming) slot review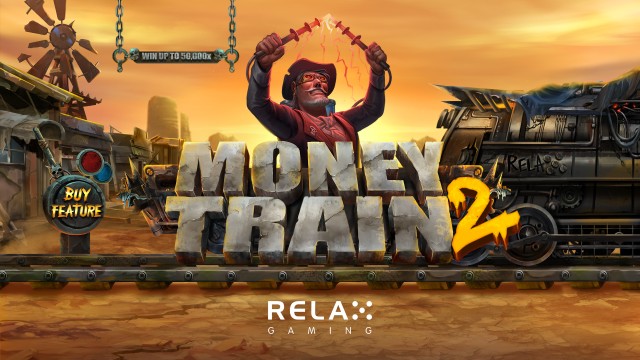 If you haven't played Money Train, you missed something. Offering a brilliant theme, thrilling gameplay and the potential to hit insane wins. It proved to be a highly addictive game. Over 100 years ago, many trains rode through the USA. Ideal for transporting goods, but there were always risks. Train robberies, among other things. And there were plenty of them. 
Play Now
Game Provider:

Release Date:
September 2020
Money Train 2 (Relax Gaming) – Money Train was already insanely good. This one is even better and more brutal!
Money Train featured all that and more.
Money Train 2 has the same theme and set-up, but it's even better!
Money Train 2 offers a top loot of 50.000x your bet
The maximum bet is a twenty. That's for a reason, given the enormous win potential. With the twenty, it's still possible to land the million!
---
Software: Relax Gaming
Number of paylines: 5 reels with 4 rows. 40 paylines
RTP and variance: 96.40% (main game) to 98.00% (Buy Feature), Extremely High variance
Maximum win: 50,000x the bet
Betting range: $€0.20 – $€20
Bonus features: Free spins, Buy a Bonus, various boosters in the Free Spins
Casino Hipster verdict: Outstanding and one of the best slots I've seen!
[review]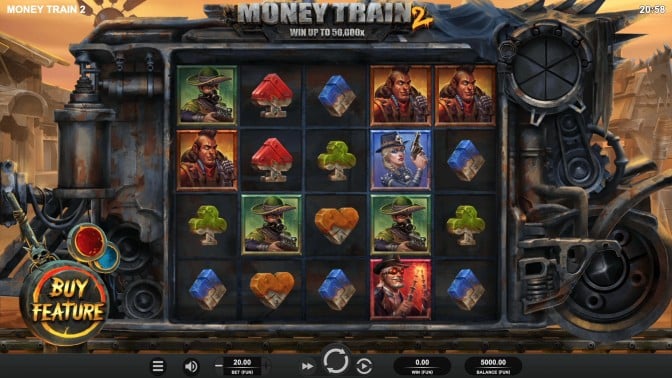 Money Train 2 slot – Gameplay and Features
As in Money Train, the main game has 5 reels with 4 rows of symbols, and there are 40 paylines.
Furthermore, you have the respins feature, where you get free respins until you make a winning combo. This feature is activated when you spin two (instead of the so wanted three) scatters.
The main game is slightly better than in the original Money Train slot (thanks to the respin feature), but still, it's peanuts compared to the blasting free spins.
How do you activate the free spins?
Spin at least 3 scatters, and you get the so wanted free spins. Your patience is tested, though, and it is very well possible that you haven't succeeded, even after several hundreds of spins.
Fortunately, you can also use the Buy a Bonus Feature ("Feature Buy"). The cost is 100x the original bet. As the minimum bet is 20 cents, you'll need a twenty, which might be an issue for some players.
But if you can miss the money, you should have a go at this one. The free spins are more than SPECTACULAR!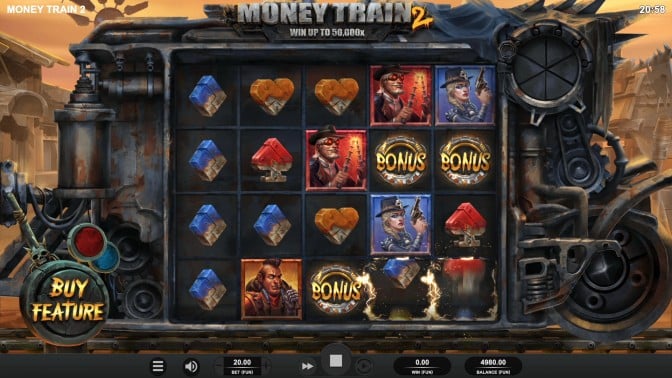 The free spins – let the great train robbery begin!
A wagon with 20 boxes (cabins) appears on your screen—5 reels with 4 rows. At least 3 boxes have bonus symbols or golden bonus symbols.
You'll get 3 or 4 free spins to start with.
The reels spin, and you can get more bonus or golden bonus symbols with wins (the win is expressed as 1x, 2x, 3x and so on). 3x implies that the win is 3 times the bet.
Now, you may or may not get more bonus symbols with another win. When you land a win, the counter of the number of free spins resets back to 3. The free spins only end if you've failed to land a new win for 3 consecutive times.
It's quite interesting all this, but it gets way more spectacular. Just like in Money Train, you get the help of several boosters.
Please allow me to take some time to tell you all about these.
The Collector: This booster (actually a kind of multiplier) collects all outstanding amounts of wins. If, for example, there are a total of 40x outstanding wins, the collecter takes the 40x in wins and adds these to his winnings. The outstanding wins remain on their spots, but he also has 40x in wins. So, it gets you twice as many wins (80x in this example). Yes, it's very, but exciting if you manage to land the Collector several times.
The Payer: This booster pays out its own value to all other outstanding symbols. For example, if the Payer has a value of 3x and 10 outstanding symbols, then the total increase is 30x.
The Payer/Collector: This booster acts as a collector as well as a payer. Therefore, twice as enjoyable! You didn't have this in the original Money Train.
The Sniper: The value of 3 to 8 symbols doubles. Also, this booster was not available in the Money Train version.
The Necromancer: It brings 1 to 6 outstanding boosters back to life. That can be incredibly lucrative, in particular towards the end of the free spins. The Necromancer is also new, compared to Money Train.
There were 2 symbols in Money Train, which made you go through the roof!
The Persistent Payer: It has the same function as the Payer, but for all remaining free spins! Now you know that your win will suddenly come out in the hundreds, especially if you land this symbol at the beginning! If you get 2 of these, you're talking about wins of thousands of times the bet.
The Persistent Collector: This symbol hardly ever appears, but if it does, you'll go mad! This one is the same as the Collector, but also for all remaining free spins. You'll end up in the thousands. With each free spin, you double all the wins you have!
Now there's also the Persistent Sniper. Such a multiplier, doing its job for the remaining free spins, is way more than nice to have!
The Miner (which expanded the wagon with a reel) is no longer there, but the cart can still grow with one reel on the left and one reel on the right if the leftmost reel or rightmost reel gets 4 symbols.
Yes, and now you hope for fireworks! For example, if you've got 2 or 3 Persistent Payers or Collectors, you know your winnings will quickly get into the thousands of times the bet!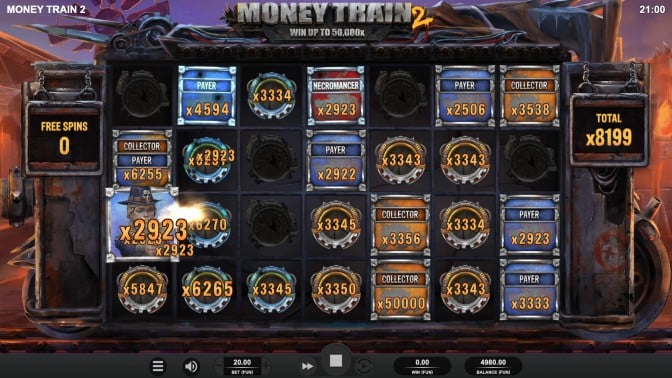 Payout Rate (RTP)
The RTP is 96.40% if you play the main game, but a magnificent 98% if you go for the Bonus Buy!
The variance (volatility) of Money Train 2 is extremely high
The maximum win is an insane 50,000x. I've already seen wins of 5.000x and 10.000x the bet at Money Train. I'm convinced that we'll see wins exceeding 10.000x the bet!
It's for the reason that the maximum bet is limited to a twenty. We are talking about an extremely high variance slot.
Pros and cons

Pros
Money Train was already fantastic, but this one is even better!
Spectacular boosters.
Animations are spot-on.
Thrilling until the end.
Enormous win potential.
RTP of no less than 98% if you use the Buy a Bonus option.

Cons
Be careful. You're taking a lot of risks.
The game is very addictive.
The minimum bet is 20 cents, and if you want to buy the Bonus Buy, you have to put a twenty on the table.
So, who'll like the slot? And who won't?
Players who love a thrill and risk! The slot is like a magnet. And you can become filthy rich here! Will you take enough money with you (that you can spare)?
100% up to €200
🍒Thousands of Slot Games
✅Professional Customer Service
⚡️Withdrawal lock option