Money Train slot review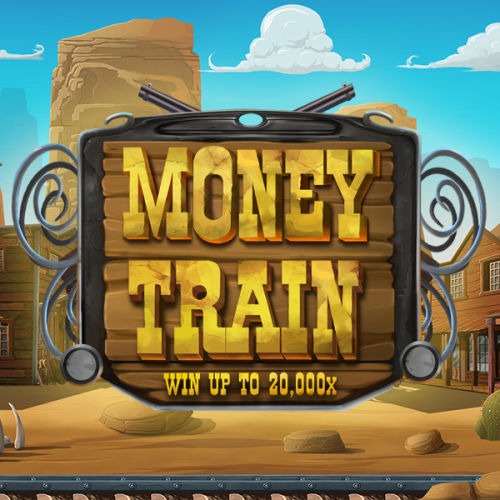 Who is up for a bit of a Wild West adventure? Train robberies were very common back in the day, and you can relive it all over again. Prizes go up to 20,000x your stake which is surely worth the risk! So, if you are already interested in this, keep reading this Money Train slot review and learn how to open the Money Train safes!
Play Now
Game Provider:

Release Date:
August 2019
Money Train is an amazing Relax Gaming slot, where the apotheosis is the train robbery in the free spins
Over 100 years ago, many trains ran through the USA; it was the fastest means of transport.
Ideal for transporting goods, but there were always risks. Train robberies, among other things, and there were plenty of them.
Even as early as 1903, a movie came out: "The Great Train Robbery."
And that's what's so appealing about Relax Gaming slots: they come up with original well-designed themes. The recently released Hellcatraz, for example, immediately reminds us of the famous island of Alcatraz.
Oh yes, not unimportantly. Money Train is a brutal slot when it comes to volatility. You can expect the same with a theme like that.
You can rob a grand prize of 20,000x the bet on Money Train!
The maximum bet is a fifty, which means you can rob a flat million.
That's what we do it for!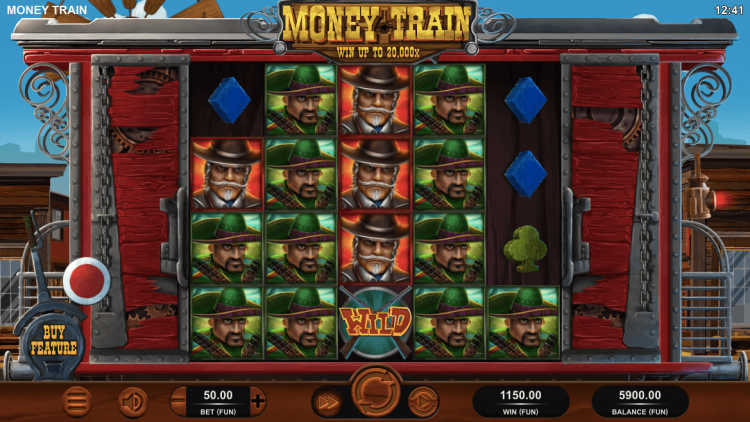 Money Train slot – Gameplay and Features
The main game has 5 reels with 4 rows of symbols and 40 paylines. There's not much more to say: the four premium symbols are four train robbers (3 men and one woman).
Money Train's objective is clearly to get to the free spins bonus as quickly as possible; the main game has nothing to offer.
How do you get access to the free spins?
You can choose the longer route via the main game. In that case, you have to spin Bonus symbols on reels 1, 3, and 5.
Fortunately, you can also choose the shorter route and buy the bonus free spins with the Buy a Bonus Feature ("Feature Buy"). For 80x, the original wager. I bet you will choose this option!
There where the main game is so dull, the free spins are AWESOME!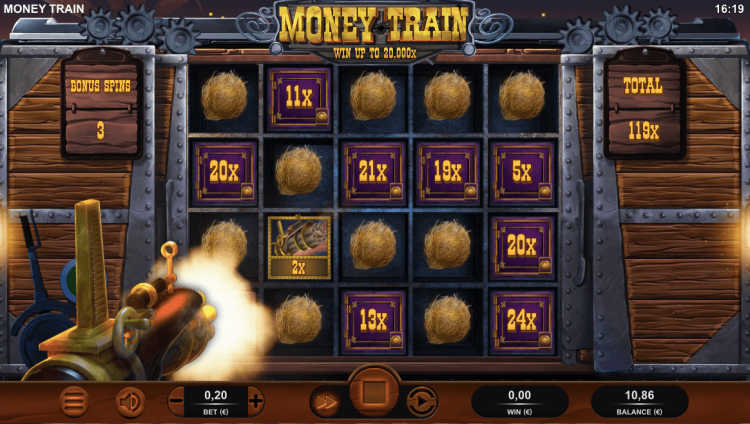 The free spins – robbing the wagon with the help of fantastic boosters.
A wagon with tumbleweeds appears on your screen – 5 reels with 4 rows.
Three positions are already opened with bonus amounts. Now you get three free spins.
As soon as the reels spin, you either spin tumbleweeds (no prize) or bonus symbols (with prizes).
The prize is expressed as 1x, 2x, 3x, and so on). 3x means the prize is 3 times the bet.
Now, you hope that more tumbleweeds open with a prize. When you get a prize, the number of free spins is "reset" back to 3. So the free spins only end if you haven't received an award for three spins in a row.
Now, you may think: "How nice to win all those prizes, but what is so special about that?". WELL, THERE'S A LOT MORE.
Win 5 powerful boosters
We'll take a moment to tell you a little bit more about this.
The Collector: This is an Indian robber who collects all the money. If, for example, there are a total of 30x in prizes, he will gather the 30x in prizes as an extra reward. So, basically, you have doubled your rewards in one scoop. Get the Collector a few times, and you'll be a happy player!
The Payer: A female robber. She adds extra value to all collected rewards. For example, if you have 8 accumulated rewards and the Payer is worth 5 x, the total increase is 40x.
The Widener: A miner who uses sticks of dynamite to crack open extra reels. He can do that twice (right and then left). The screen expands from a 5×4 setup to a 7×4. Crucial if you want to enjoy the free spins for a more extended time.
Two boosters turn everything completely upside down
The Persistent Payer: A kind of golden machine gun. It has the same function as the Payer, but for all remaining free spins! Now you know that your total win will probably be at least in the hundreds of times your stake, especially when combined with plenty of free spins resets.
The Persistent Collector: it is a golden hat with dollar bills. You will hardly see this symbol, but if you do, you will go through the roof! This symbol is the same as the Collector, but also for all remaining free spins. Your win will go to the 1,000x the bet, or even above that when you get this symbol. With each free spin, you double all the prizes you have!
Payout Rate (RTP)
The RTP is 96.20% if you play the main game, but an astounding 98% if you go for the Feature Buy!
The variance (volatility) of Money Train is high
The maximum prize is 20,000x the bet, and I have seen prizes from 5,000x to 20,000x the bet on the internet.
There is no doubt that this is a high-variance slot.
Money Train slot – pros and cons

Pros
Extraordinarily original theme and fantastic features
Animations are spot-on
Thrilling till the very end
Enormous potential
RTP of no less than 98% if you use the Buy a Bonus

Cons
The main game is boring and offers little excitement.
You take a lot of risk with this slot, and your balance can dry up very quickly, especially given that the game is so addictive.
Money Train slot – who will like the slot? And who won't?
Players who love variety and risk! Original and game fun guaranteed.
Players who find it difficult to control themselves shouldn't start with this. The slot works like a magnet on you.