Thunderstruck II slot review (MicroGaming)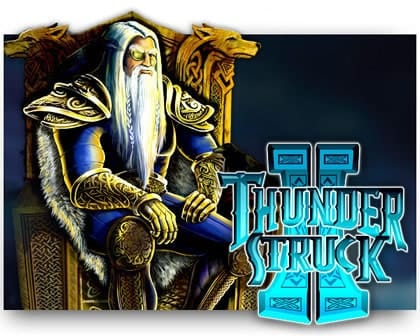 And fortunately, just like the namesake song, this slot does indeed rock. Thunderstruck II is a Microgaming slot that's an evolution of the original slot that was released in 2004 to great success, and this 2010 title features better graphics and fun bonus games.
Play Now
Game Provider:

Table of contents
Best of The Month

100% up to

€500 Bonus

+ 200 Free Spins
Join
Best Bonus
Latest Casino News
Sadly, this Microgaming slot is not based on AC/DC's classic rock anthem, but that is probably the only negative we could find
In particular, the bonus rounds consist of a Microgaming innovation of a progressive free spins game with 4 different levels, each with their unique powers and variance.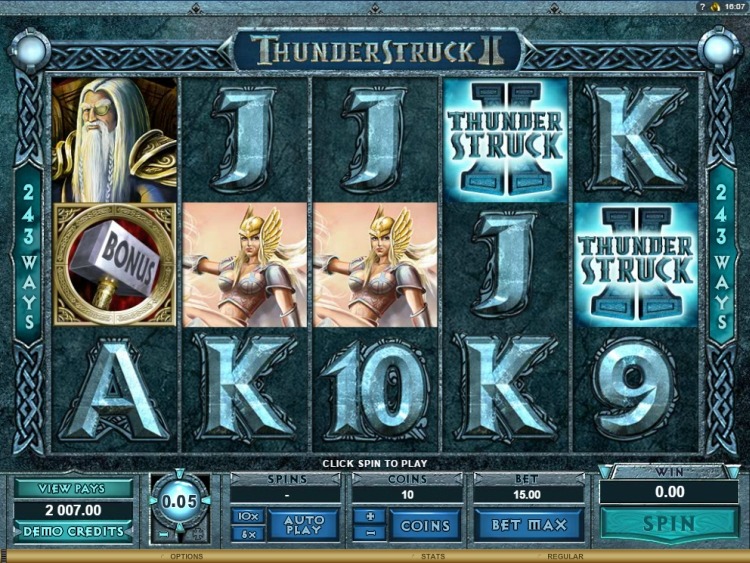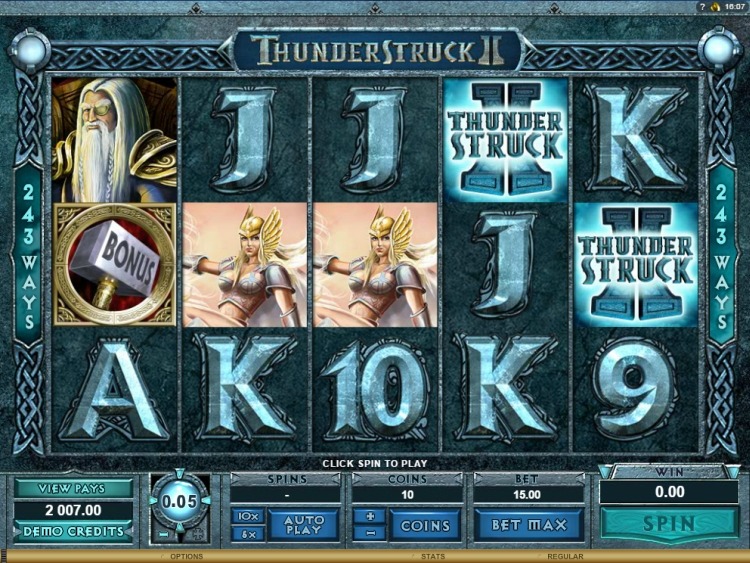 Gameplay and features
Thunderstruck II is a 243 way to win slot game, with bets ranging from $0.30 to $15.
While the original Thunderstruck slot has outdated graphics and looks more like a classic slot machine, and Thunderstruck II improves on this significantly by finally giving this popular title the visuals that it deserves. You'll see some Nordic mythology heroes here, such as Loki, Odin, Valkyrie and, of course, the god of thunder, Thor.
There are two more symbols: artwork, a Galleon, and the city behind the rainbow bridge, Asgard. Six more symbols are just your usual card symbols, but they still pay. There isn't that much of a difference between the best- and worst-paying symbol.
The Thunderstruck II logo is the Wild, and it doubles all wins it helps create, which is always a good thing in a slot game.
There is a special Wild feature in Thunderstruck II that activates randomly: the Wildstorm Feature. Up to all five reels can become Wild. Of course, this feature will often be responsible for some significant wins.
Great Hall of Spins Bonus Game
The Great Hall of Spins is the bonus game in Thunderstruck II, and it's built on one of Microgaming's most popular features, providing four levels of free spins game, each having a different number of free spins and a unique feature to go with them.
As usual, there are four options: 10 free spins with a 5x multiplier, 15 free spins with a Wild Magic feature, 20 free spins with a Wild Raven feature, and 25 free spins with the Rolling Reels feature.
You progress through these levels by triggering the Great Hall of Spins.
You will need to enter the bonus game 15 times to reach the Thor level, where you'll get those 25 free spins with Rolling Reels. This bonus feature will keep you playing for a long time, as it doesn't pay off to leave the game just when you're about to hit that next level in free spins.
Financial analysis of Thunderstruck II
We have put together an extensive financial analysis of the Thunderstruck II slot, including:
Our results of 5,000 real money spins on Thunderstruck II.
The prize distribution.
Your chances of winning on Thunderstruck II.
How to successfully apply the "Hit and Run" strategy to Thunderstruck II.
Our results on 5,000 real money spins on Thunderstruck II
We played no less than 5,000 real money spins on Thunderstruck II.
Here are our results, which include some real surprises!
Unfortunately, we were unlucky with Thunderstruck II. We lost quite a bit of cash: $1,235, to be precise. Looking more closely, you see that we only got one prize above 100x the total bet, which is unusual.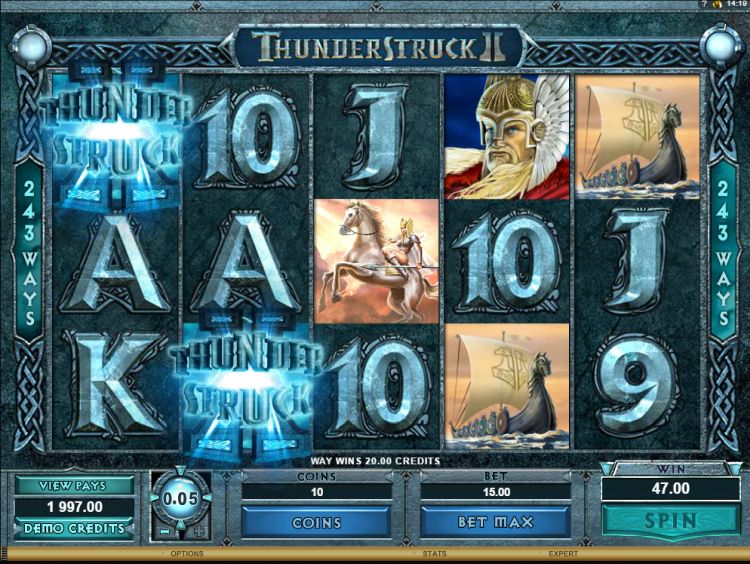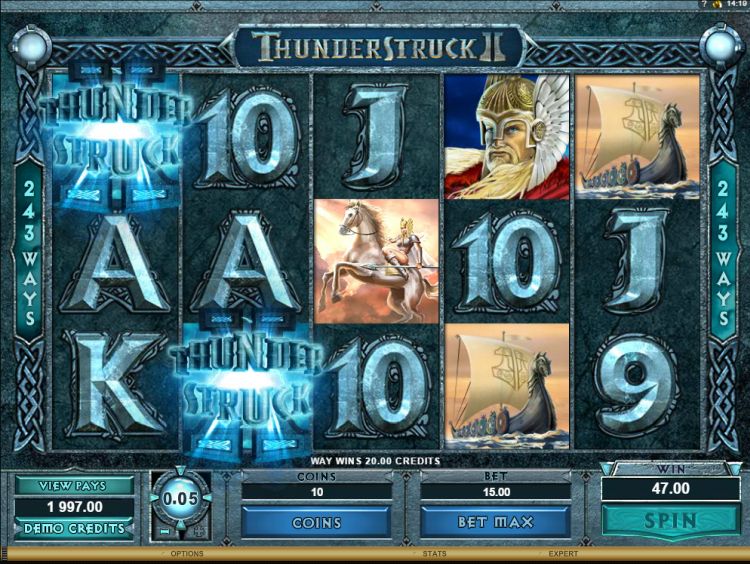 What kind of prizes does Thunderstruck II payout?
Thunderstruck II is a low to medium variance slot which pays out large and huge prizes. Don't expect mega prizes of at least 1,000x the total bet.
Thunderstruck II gives prizes of 20x to 50x and 50x to 100x much more often than most other slots: once every 240 and once every 300 spins.
Prizes of 100x to 250x the bet are awarded pretty often as well: once every 1,500 spins.
You should consider yourself extremely lucky if you get a reward higher than 500x your total bet. If you prefer more massive prizes, you need more volatile and high variance slots.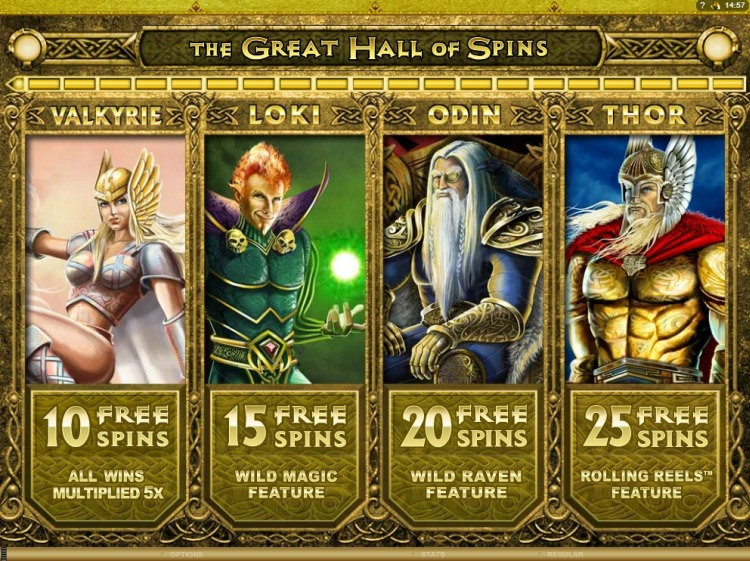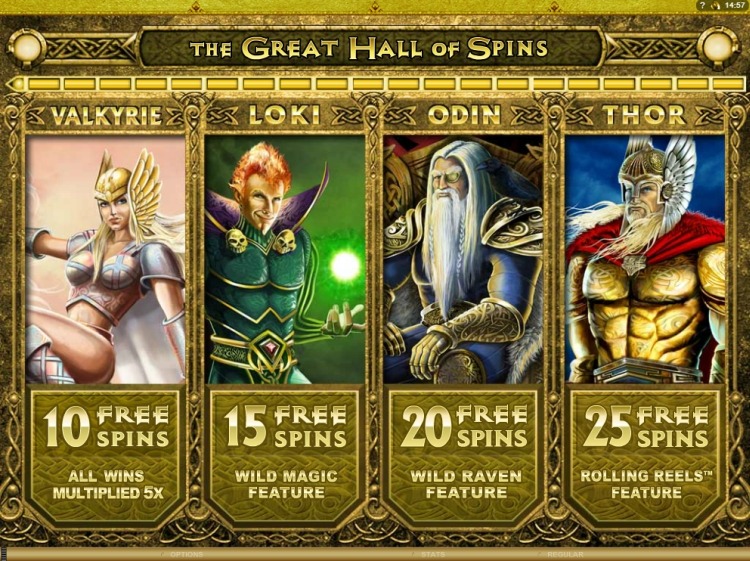 What are my chances of winning with Thunderstruck II?
Below, you find your chances of winning (or losing) a certain amount of $€, when you spin 100 x ($€1 per spin) or 500 x ($€0.20 per spin).
For the sake of comparison, the total amount wagered is $€100 in both cases.
For example, you see that your chance of winning 1x to 2.5x your bankroll (profits of $€100 to $€250) is 7.0% if you spin 100 times ($€1 per spin). The chances of winning more than five times your bankroll are slim.
Thunderstruck II is not so volatile. The good news is that the chances of leaving your session empty-handed are minimal.
Does the "Hit and Run" strategy work with Thunderstruck II?
With the Hit and Run strategy, you have an initial bankroll of (say) $100. You start playing $€1, $€5 or $€10 per spin, until you, either:
Have reached your target profit: profits of at least $€10, $€20, $€50, $€100, $€200, $€500, $€1000, $€2K, $€5K, $€10K, $€20K or $€50K (the latter is 500x your bankroll).
Have lost your entire bankroll ($€100 in this example)
The table below shows the chance of meeting the target first:
Is Thunderstruck II a suitable slot when you choose to play the Hit and Run strategy? Thunderstruck II is a good slot if you aim to make a modest (but realistic) profit of a maximum of 2x your bankroll ($€200 profit with a bankroll of $€100).
For example, the chance of reaching the target of $€200 is 24% if you stake $€1 per spin.
If you want a more significant profit of at least $€5K, you need a more volatile slot.
Thunderstruck II is a slot for players who like long playing time and prefer to limit the risk of losing it all.
The Theoretical RTP of Thunderstruck II is 96.6%, which is pretty good.
If you are not eager to take too much risk and are happy with smaller (but still good) wins, Thunderstruck II is the perfect slot for you. Thunderstruck II often pays out prizes from 20x to 100x the total bet and does so more often than most other slots.
Thunderstruck II can be used if you like the Hit and Run Strategy. Do so for a target profit up to 2x your initial bankroll.
Thunderstruck II is ideal for recreational players who seek longer playing time and some great prizes. You are not taking too much risk and still have great upwards potential.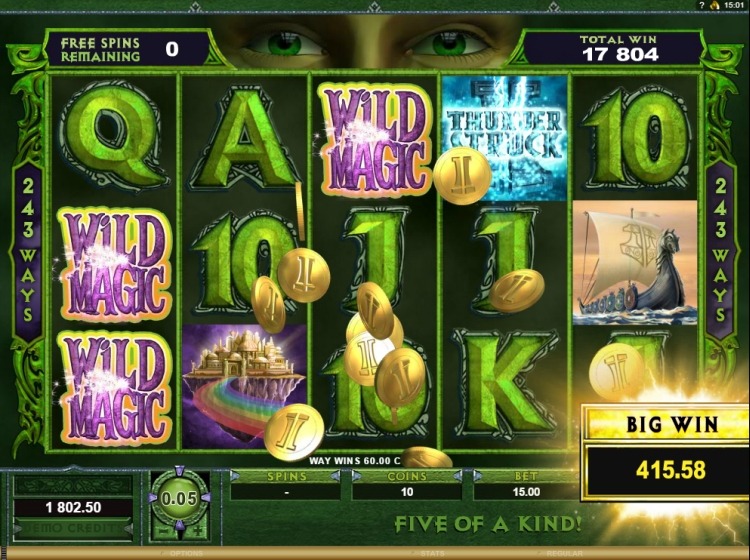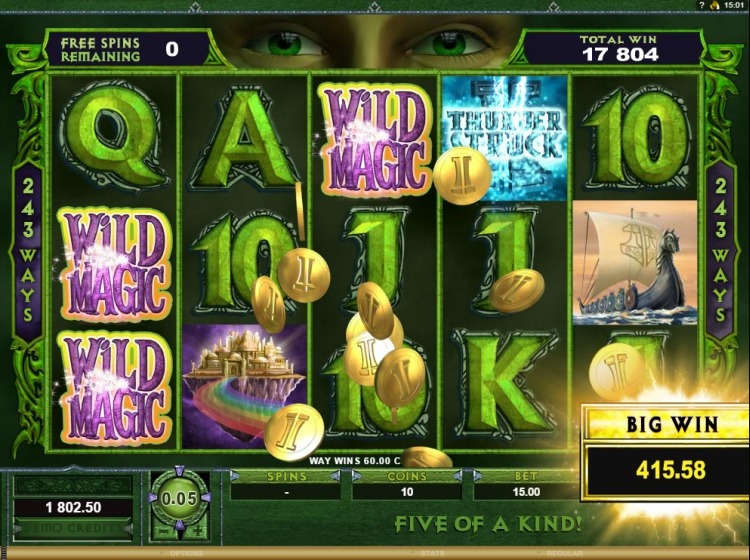 Our verdict on the Thunderstruck II slot
The theoretical return to player (RTP) is 96.65%, which isn't bad at all, though you can change the odds in your favour by playing for a long time and making progress in the bonus feature. Of course, you'll also hit the Wildstorm Feature many times if you play for a longer time. The game lets you do that; it doesn't eat away your money too quickly.
Thunderstruck II has a loyal following, and it remains one of the most popular slots and a title that carried Microgaming to new heights.