Many newbies still wonder what progressive jackpots really are. And I get it – it can be hard to grasp. But, worry not – I will explain everything so simply that it becomes impossible not to understand. Read on!
Casino players love progressive slots because of their exciting progressive jackpot, that can run into millions
Unlike a fixed jackpot, which has a fixed value, a progressive jackpot keeps increasing in size till a lucky player wins it. Some progressive jackpots are worth millions of dollars when won, which means that progressive slots can transform players into millionaires with just a few clicks of the mouse.
Progressive Jackpot Sizes
If players want to know the progressive jackpot size, they need to check the jackpot meter on the gaming screen. They can see how the jackpot gets bigger and bigger every second. Usually, the progressive slot will have several progressive jackpots.
The higher the jackpot, the more difficult it will be to hit it. When a jackpot reaches record heights, more players are drawn to play that progressive slot, significantly increasing the chance that it will hit.
The biggest online progressive prize ever won was an astonishing €17.8 million. A Finnish player won it in January 2013 on the Netent progressive slot Mega Fortune.
How Progressive Jackpots Work
Casino players, especially the newer ones, feel that the concept of progressive jackpots is too good to be true. But progressive jackpots are real, and they work. Each progressive jackpot comprises a seed value that is contributed by the casino and the total of fractions of all bets placed on the game.
Hundreds and thousands of players contribute to the progressive jackpot whenever they bet real money on the slot to which it is attached. This is how progressive jackpots can grow to such incredible sizes, capable of making players rich with just a few clicks of their mouse.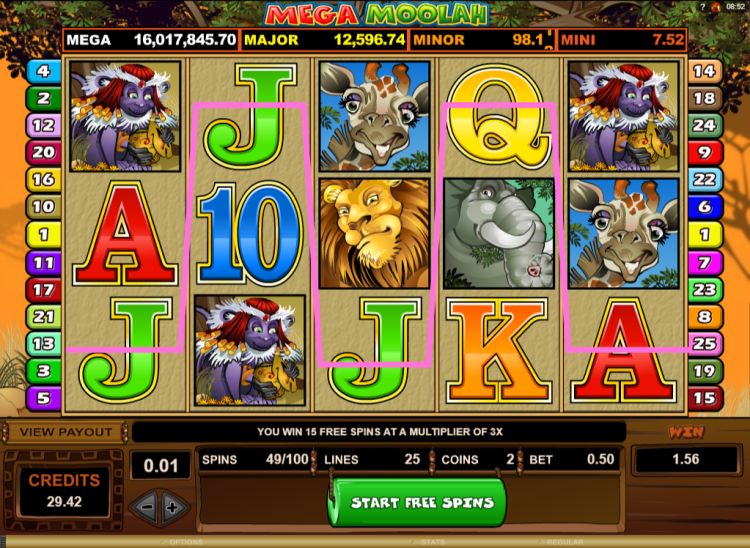 How to play progressive jackpot slots
Progressive jackpot slots are played the same way as fixed jackpot slots.
Players have to place a bet by selecting several pay lines, a number of coins, and coin size. Once they have placed their bets, they need to click on the Spin button to set the reels spinning. If a winning combination of symbols appears on the reels at the end of one spin, players will get paid according to the game's paytable.
To win the progressive jackpot, players either have to spin the specified winning combination of symbols or unlock a bonus game that will help them win it.
For example, players need to land five King icons along the ninth line to win the progressive jackpot of King Cashalot.
In the three-reel version of Major Millions, players can win the progressive jackpot if they land three Major Million Game Logo icons along the third line.
To win the Hall of Gods progressive jackpot, players need to win the bonus game and pick out the three correct progressive jackpot symbols to win the big prize.
Do you need to bet the maximum to win a progressive jackpot?
Most jackpot slots do not require you to play the max bet to win the jackpot. However, bigger stakes do increase your chances of winning the jackpot.
Sometimes, the progressive jackpot gets activated at random. In the case of Real Time Gaming's (RTG) Real Series of Slots, players do not have to spin any symbol combination to win the progressive jackpot as it can get activated during any spin.
Progressive slots also have special features such as free spins, wilds, scatters, bonus games, gamble features, and large fixed prizes.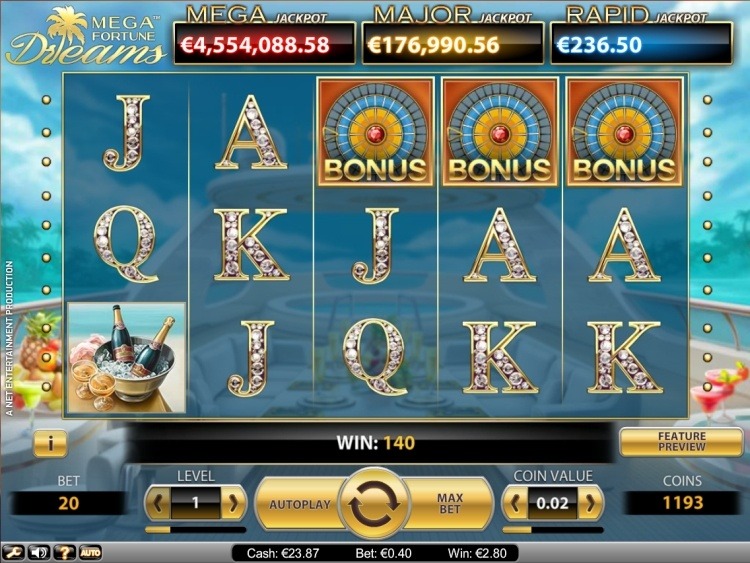 Progressive slots strategy
How can you improve your chances of winning a progressive slot?
Since progressive slots are games of pure chance, there isn't much that players can do to increase their odds of winning. Only when the Random Number Generator (RNG) of the slot decides that you have won, you have won.
However, some pointers and tips can help you to land that life-changing jackpot:
Although you can win a progressive jackpot with a minimum bet, betting max will give you a much bigger chance.
Progressives that have not been hit for a long time will attract a lot of fortune-seeking players. Check jackpot sizes of several slots regularly and decide when you want to step in before someone else wins it.
Always check the game rules to determine what you need to bet to be eligible to win the top progressive.
Sometimes you need to play max bet. Other times it is not required.
Find a progressive slot that is fun to play. If you are going to play a jackpot slot, make sure that you enjoy the ride, whatever the outcome.
When the progressive jackpot is at an all-time high, some players will put the slot on autoplay on the minimum bet – while playing another slot in a different window.
Multi-million dollar progressives are nearly impossible to win. Smaller progressives with tens of thousands of dollars hit a lot more often. Bigger is not always better.
Where to play progressive slots
Progressive slots can be found at nearly every online casino, usually under the "Jackpots" tab or page. Casinos that offer Microgaming, Netent or Betsoft slots will always have several of the most popular progressives slots on offer.
Progressives such as Hall of Gods, Mega Fortune, Mega Moolah, King Cashalot and The Dark Knight all offer jackpots that are sometimes worth millions of dollars.
Play progressive slots at these fine casinos:

Available in your country