Big Time Gaming, the company that brought us the Megaways slot, has come up with a new mechanism: Megaquads
Is there anyone who's not familiar with Megaways slots? Anyone?
Slots provider Big Time Gaming has released eleven Megaways slots to date. It has also sold its license to providers such as Blueprint Gaming, Pragmatic Play, iSoftbet, Red Tiger Gaming, Fantasma Gaming and many others.
The Megaquads mechanism has the potential to go down the same road and become a huge success.
Recently, BTG introduced the equally revolutionary concept for Grid slots: Megaclusters. The Star Clusters Megaclusters has only just arrived, and already the Australian slots provider has managed to come up with yet another killer way to play slots.
Whenever Big Time Gaming comes up with something, it is sure to get everyone's full attention.
The same goes for CasinoHipster. I can't wait to tell you all about Megaquads slots.
What does a Megaquad mean?
A quad is an abbreviation for a quadrangle (not necessarily a square).
But in most cases, it is a square and so also in this concept. The idea is that four quads team up to form 1 large quad (a Megaquad).
How does a Megaquads slot work: extensive explanation
Below, I will explain how a Megaquads slot works, with detailed pictures. I've based everything on the Slot Vegas Megaquads, which is released in the fall of 2020.
Megaquads: the base game
Below you see how the game starts. You see 4 "sets of reels" (or "sets"), each with 4 reels and 4 rows. These sets are indeed four quadrangles or four quads.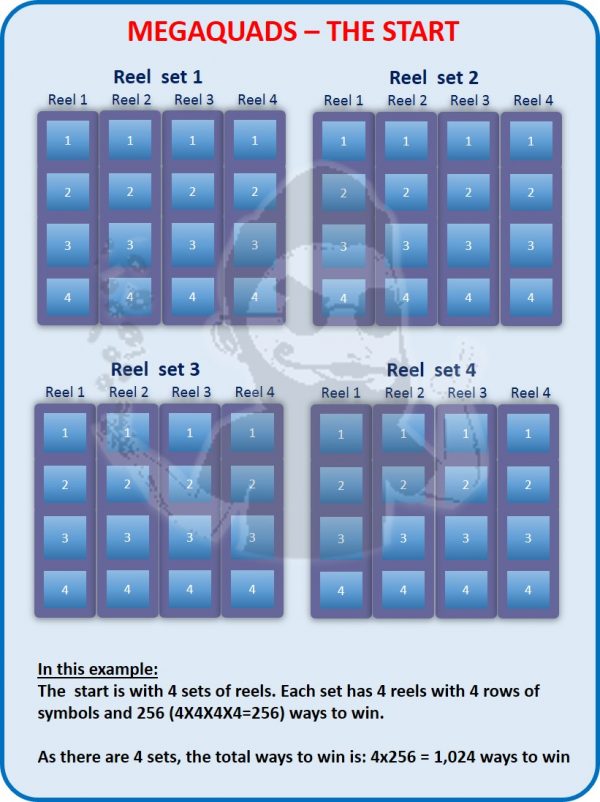 One set has 256 ways to win (4x4x4x4=256). As there are four sets, you have a total of 1,024 ways to win, according to the win-all-ways principle.
In itself, it's not unique, as there are many more slots with multiple sets of reels.
What is innovative, however, is that two sets can merge. These are connected (linked) horizontally.
You see that by combining the two top sets, you have a whole set with no less than 8 reels of 4 rows. That leads to 65,536 ways to win (4x4x4x4x4x4x4x4=65,536).
Of course, it's also possible that the two bottom sets connect.
It can become even more interesting if the two top sets and the bottom two sets merge.
It gets you two sets with both 65,536 ways to win. Or a total of 131,072 ways to win. That's pretty hefty.
How are quads linked?
The idea is that something needs to happen to trigger the aggregation of sets of reels. For example, when certain symbols (wilds or scatters) appear.
In Slot Vegas Megaquads, sets connect if a Rainbow Wild appears on both sets.
Megaquads: the free spins
In the example above, you saw that the two top sets AND/OR the two bottom sets connect.
It is also possible that the two most left sets or the two most right sets connect.
In Slot Vegas Megaquads, this happens when you trigger the free spins bonus.
For both combined sets, you have 4,096 ways to win.
When both enlarged sets connect again (in Slot Vegas Megaquads, it happens when you get Rainbow Wilds on both sets), you get the Megaquad of 8×8 symbols and a stunning 16,777,216 ways to win.
Conclusions Megaquads – lots of fireworks and massive win potential
The main advantage is that you have so many ways to win: up to almost 17 million.
More and more players seek the extreme, and this is what you get.
FAQ's MEGAQUADS
Will there be more Megaquads slots?
Yes, I expect so, as it must have been quite an investment to develop this. Moreover, it's for the reason that this concept is trademarked.
Will Big Time Gaming sell licenses again like they did with the Megaways slots?
The first thing that comes to mind is, why wouldn't they do it? As long as they make more money (and they surely did with Megaways), it's more than plausible.
Are Megaquads slots always the same in the future?
The principle that several quads link together and become one big quad stays the same. But a quad can also be 3x3 or 5x5 in size and eventually become 6x6 or 10x10 in size.
What are the advantages of Megaquads slots?
It's different and a bit more complicated. The experienced slot players are always in the hunt for new concepts. And last but not least, the fantastic number of ways to win. The Sky's The Limit.
What are the disadvantages of Megaquads slots?
It's overwhelming, especially at the beginning. But once you've played one, you'll soon get used to it.