Grid slots become more popular, and we see much more diversity as a result of this.
Grid slots (or cluster-pays slots) are becoming more and more popular.
Players seek more diversity and like to play something different from the classical slots with five reels and three rows of symbols.
Sinds 2018, Big Time Gaming introduced the brilliant Megaways mechanic. It is still (in most cases) with 5 or 6 reels, but the reels have a random number of symbols (usually between 2 and 7).
But by then, we had already seen a few grid slots.
The mighty Play'n GO introduced slots like Reactoonz, Moon Princess, and Rise of Olympus.
Play'n GO put themselves on the map, thanks to these lovely slots (and don't forget Book of Dead!).
And now, Play'n GO is indeed the market leader of slot providers.
High RTP
Reactoonz 2 slot review (Play'n GO)
High RTP
Moon Princess Slot
High RTP
Rise of Olympus slot review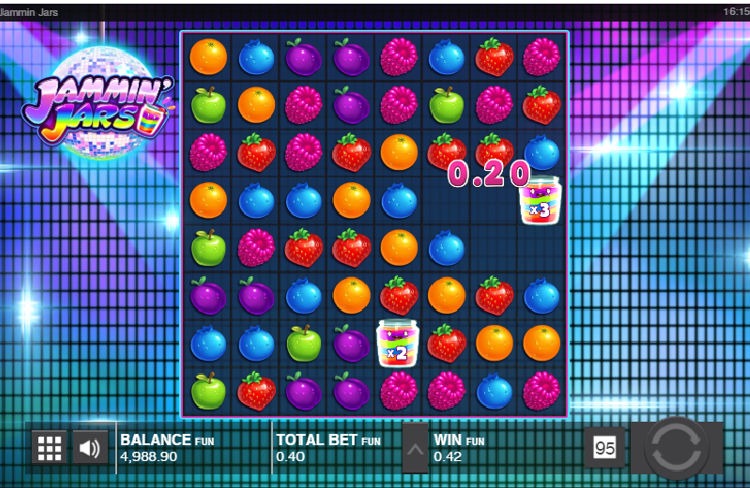 How does a grid slot work?
Grid slots have a playing field (or a "grid") of an x-number of symbols. Usually (but not always) is the grid squared. We have, for example:
Jammin' Jars (Push Gaming) with an 8×8 grid (and therefore 64 symbols)
Reactoonz (Play'n GO) with a 7×7 grid (49 symbols)
Moon Princess and also Rise of Olympus each have a 5×5 grid (25 symbols)
But there are also slots with other shaped grids:
Sweet Bonanza is rectangular and has a 6×5 grid (30 symbols)
Play'n GO's Honey Rush and Diamond Vortex is hexagonal-shaped, and the playing field is 4+5+6+7+6+5+4 in size (37 symbols)
Play'n GO's Gold Volcano is volcano-shaped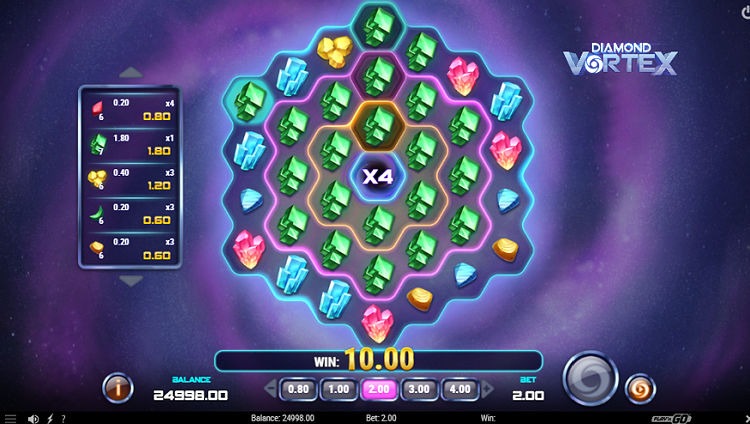 You win if you spin clusters of identical and adjacent symbols.
As with the "normal" slots, you get symbols on the playing field. If you spin a cluster, you win (the cluster-pays principle).
To win, you usually need clusters of at least 4 or 5 or 6 symbols.
All symbols in the cluster need to be identical (and Wilds are also valid). Besides, the symbols need to be adjacent. Hence, symbols need to "touch" each other, either horizontally or vertically (but not diagonally).
Below is an example: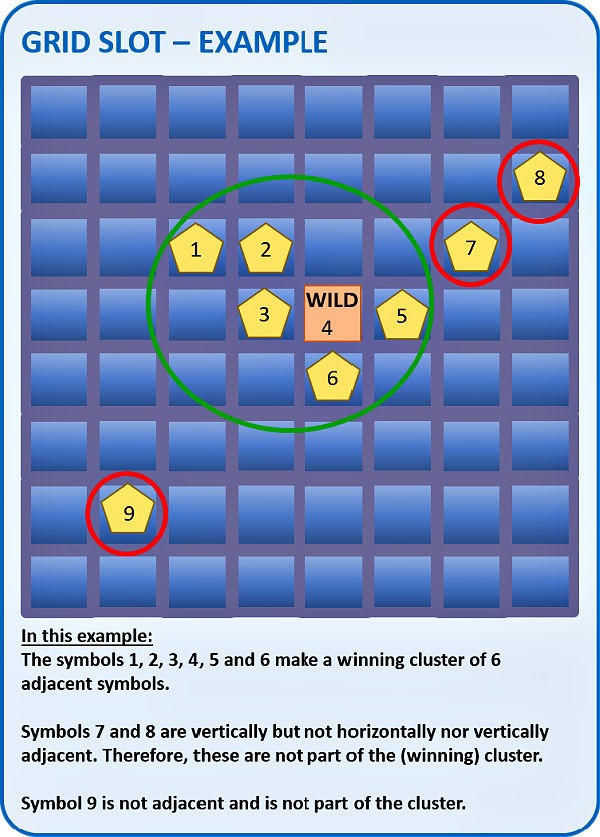 The example illustrates that the symbols 1 to 6 are all adjacent and identical, and therefore, these make up a 6-symbol cluster.
Symbol 4 is a Wild symbol, but as these replace all symbols, it is indeed valid.
Symbols 7 and 8 are adjacent but only diagonally. As these are not horizontally or vertically adjacent, these do not form part of the cluster.
Symbol 9 is not adjacent and, therefore, also not part of the winning cluster.
The larger the cluster, the bigger the win.
It speaks for itself that large clusters yield bigger wins compared to smaller clusters. Below, we've got the paytable of Diamond Vortex.
You see that a cluster of 6 red-coloured gems is good for a 1x-win. But, the win increases rapidly once the cluster expands in size. In the best case, you can bag a 100x-win if you manage to spin a 35-red-gems-cluster.
The Avalanche (Cascading of Tumbling) mechanism
Most (but not all) grid slots work with the Avalanche (Cascading of Tumbling) mechanic. In that case, you win a free respin, and following that, you see that the winning symbols disappear and make way for new symbols.
With some of these slots, you get access to the free spins once you manage to (say) 4, 5, 6 or more consecutive respins.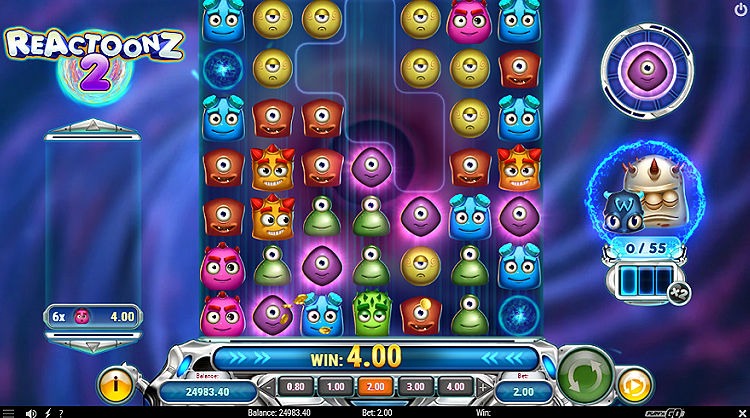 Sometimes the aim is to empty the grid.
For some grid slots (Moon Princess or Honey Rush), you aim to empty the grid to trigger the free spins.
With these slots, you won't get new symbols for the next respin. Therefore, the number of symbols decreases, following winning respins.
Usually, you'll also benefit from several boosters (that are random) that give you a helping hand. Examples of such boosters are:
Extra wilds which appear out of the blue
Several symbols change into another symbol. That way, you get new chances to make winning clusters.
Symbols "move" to another position on the grid
Symbols are removed (or "killed")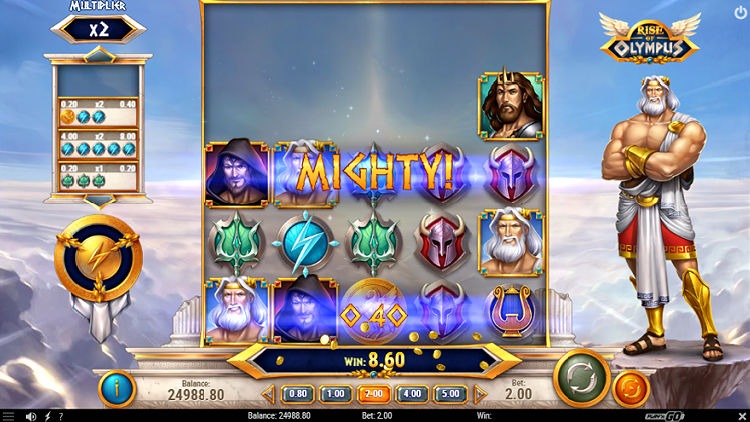 Q&A's Grid slots
Below you get some answers to the most frequent asked questions.
Q1: Will we see many more Grid slots?
No doubt! The (more advanced) players seek more diversity and excitement, and grid slots have a lot to offer in those respects.
And remember that these slots have helped Play'n GO and Push Gaming position themselves in the gambling world.
Q2: What about the Big Time Gaming's Megaclusters?
Big Time Gaming (also the inventor of the extremely popular Megaways) added an extra dimension to grid slots by making it possible for a symbol to split into four mini-symbols.
That way, an 8×8 playing field becomes a 16×16 playing field (and therefore a grid of a massive 256 symbols)!
Big Time Gaming trademarked this concept, and Relax Gaming has co-operated and released Kluster Krystals Megaclusters.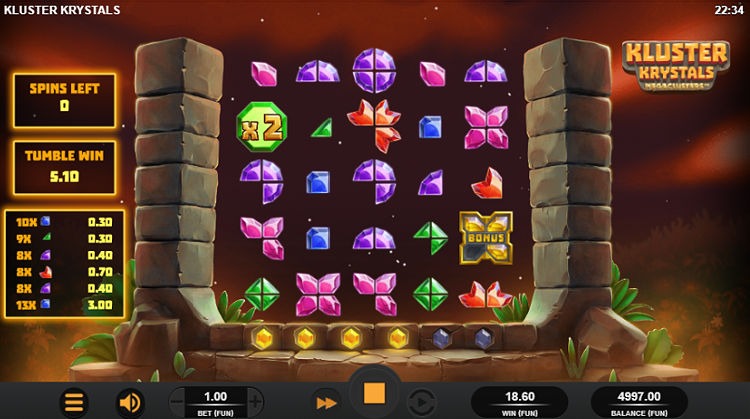 Q3: What are the main advantages of Grid slots?
They offer a lot of variety, and the number of ways to differentiate is countless!
Q4: What are the disadvantages of Grid slots?
Getting acquainted takes time, and with grid slots, it's no different.
At first, these slots appear a bit overwhelming and sometimes (especially those slots with the avalanche mechanic), it's challenging to see what's going on.
Q5: Is it possible to win big with Grid slots.
Yes.
Grid slots provide countless possibilities and, therefore, also more room to get bigger wins.
Most grid slots are also volatile (high variance), and therefore it's indeed possible to win big!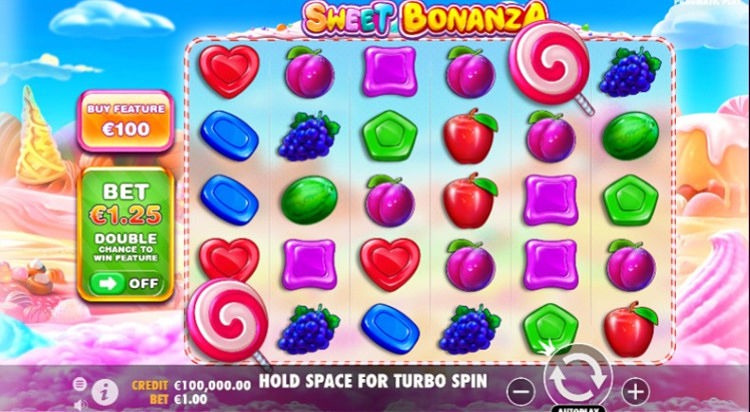 Conclusions: Grid slots offer lots of variety
That's the main advantage of grid slots. You have an infinite number of ways to win, and these are way more complex than a classical 5×3 slot with 20 paylines.
We expect to see much more of these in the coming years.
Play grid slots at these online casinos
If you can't wait to play any of these stunning cluster pays slots, you can check out the reliable online casinos in our list below.
These online casinos offer you the chance to play real money casinos or play with practice money.

Available in your country