Moon Princess Slot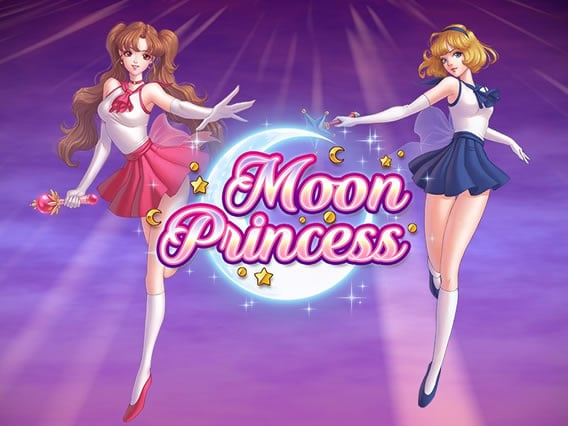 Everything in this beautiful slot revolves around the equally gorgeous Moon Princesses, 3 young women who possess magical powers which they will use to help you garner handsome profits. Play'n Go is a Swedish slot developer that keeps releasing better and better games. To date, we feel that Moon Princess is amongst their best yet.
Play Now
Game Provider:

Moon Princess is an online Play'n Go slot that was released in July 2017
And we will kick it up a notch: perhaps Moon Princess is the best new slot of 2017. That is how much we enjoyed playing this game. And we still love it; ever since its release, we have played Moon Princess almost non-stop.
This Fantasy slot is filled to the brim with extra features, brilliant animations and multi-layered game mechanisms. All this means that there is always something happening on the screen, without it getting tiresome. And that is the hallmark of very smart design work.
And if we may add that you can win some very sizeable amounts, especially in the free spin bonus, it has to be abundantly clear that Moon Princess is a top of the line online slot.
Release date: 2017
Details: reels 5, rows 3, 20 paylines
Bet levels: €0.20 – €100
Maximum win: 500,000
Special features: Free Spins, Multiplier, Special Characters
Return to player: 96.00%
Volatility: High Volatility
What is the payout rate and the variance In Moon Princess?
The variance of Moon Princess we are putting at medium to high. There can be some excellent payouts generated, especially with the maximum multiplier of 20 x in the bonus round.
The theoretical payout rate stands at 96.5%. What this means is that in the long run, this slot will return almost $€ 97 out of every $€ 100 played, back to the player.
How does the Moon Princess slot work?
Moon Princess uses a playing field that consists of 5 x 5 symbols. There are no fixed paylines: you win a prize as soon as 3 or more of the same symbols drop onto a horizontal or vertical line.
With a winning combination of 3 symbols, the middle symbol will become wild and remain for a minimum of 1 additional spin. The other winning symbols disappear to make room for the symbols that are above them. This way new, winning combinations can be created. With every winning combination, the multiplier will be increased by +1.
The bets can range from $€ 0.20 minimum to $€100 maximum per spin.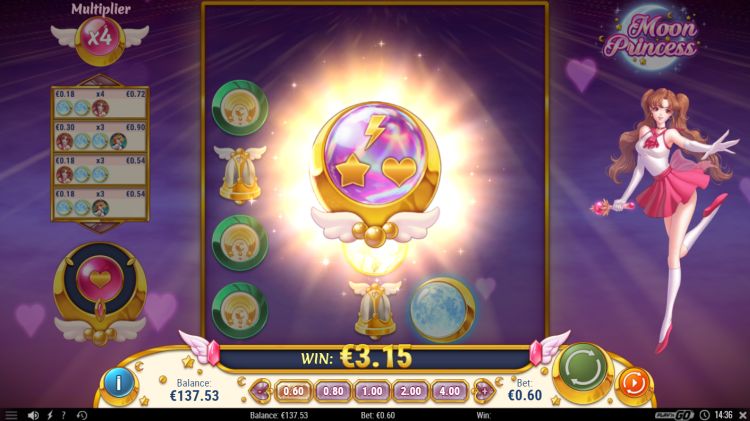 The Special Powers of the Moon Princesses
On the right-hand side of your screen, you can see 1 of the 3 Moon Princesses in the game. It is possible that after a non-winning spin, she will decide to use her special powers. This way she can help you and make it into a winner after all.
These are the 3 different Princesses and their special powers:
Love Princess
The Love Princess is very handy: she changes 1 set of symbols into another set of symbols.
Star Princess
The Star Princess randomly adds 1 or 2 wild symbols to the screen- more chances to make winning combinations appear.
Storm Princess
This princess is especially useful in the Trinity Feature where she helps you clear the field. She always destroys 2 sets of symbols.
The Princess Trinity Feature: All Powers Combined
The Princess Trinity gauge is situated on the left-hand side of the screen, and it plays an essential part in the game. Once the gauge indicates it is filled, the all-important Princess Trinity Feature is activated.
To get to this point, you have to make combinations with the Princesses. A winning combination with 5 Princesses fills the gauge by 3 squares, 4 Princesses translates into 2 squares and a winning combination of 3 Princesses will get you 1 square.
As soon as you reach the full level, the Trinity Feature stars up. You will receive a new playing field with symbols, and subsequently, the Princesses will come around, one by one to weave their magic.
This feature often leads to high payouts.
The Free Spin Bonus: receive up to 20 free spins and multipliers as high as 20 X
You win the free spin bonus with Moon Princess, as soon as you manage to empty the playing field. This can happen in the primary game as well as in the Princess Trinity Feature. And that is precisely what makes this slot so much fun to play.
The unpredictability of wilds and extra features pretty much make it impossible to predict how a spin is going to end up and what prizes will be coming your way.
The "chain reaction" principle at work here can hand you a free bonus spin entirely out of left field, and those are the little things in life that put a big smile on your face!
You get to choose how many free spins you want to wager, with a minimum of 4 required, up to a maximum of 8. Your appetite for risk-taking will play a key role here in determining the number of spins you choose. Fewer spins mean higher risk, but also an increased chance to get the bigger payouts coming your way.
Extra multipliers up to 20 x!
Even during the free spins, the multiplier increases by +1 with every winning combination you obtain. The highest level the multiplier can reach is a massive 20 x, and that can add to your winnings fast, especially if you are fortunate enough to get 5-of-a kind with that maxed out multiplier.
During the free spins, 1 of the Princesses is always active, and she will intervene, just like in the primary game, when you are at risk of ending up with a non-winning spin.
Another nice thing is that you will retrigger the free spins if you manage to fill up your Princess gauge during the bonus round. The maximum amount of free spins is 20.
Then there is the proverbial cherry on top. If you succeed in clearing the entire playing field during the free spin bonus, you will receive 100 x your total bet gifted to you, in addition to all other gains.
Financial analysis of Moon Princess
We have put together an extensive financial analysis of the Moon Princess slot, including:
Our results of 5,000 real money spins on Moon Princess
The prize distribution
Your chances of winning on Moon Princess
How to successfully apply the "Hit and Run" strategy to Moon Princess
Our results on 5,000 real money spins on Moon Princess
We played no less than 5,000 real money spins on Moon Princess.
Here are our results, which include some real surprises!
Our run with Moon Princess was not what we hoped for. Overall, we were paid $3,446 only. We lost a pretty hefty $€1,554 after 5,000 spins. Looking more closely, we concluded that we did not get too many large wins. The 5 top prizes we won were 326x, 162x, 122x, 122x and 80x the total bet.
What kind of prizes does Moon Princess payout?
Moon Princess is a medium to high variance slot. Quite often do you hit high prizes with Moon Princess, from 100x to 500x the total bet. Unfortunately, not to be in our run of 5,000 spins!
Take, for example, prizes of 250x to 500x the total bet: these are paid out once every 2,000 spins over the longer run.  That is quite impressive, to say the least.
Also, prizes between 100x and 250x the total bet occur often: once every 900 spins.
Win a reward of 1,000x (or more) of your total bet is unique: don't expect these prizes to hit often. We qualify Moon Princess as a medium to high variance slot. For it to be a high variance slot, more mega prizes should be hit.
What are my chances of winning with Moon Princess?
Below, you find your chances of winning (or losing) a certain amount of $€, when you spin 100 x ($€1 per spin) or 500 x ($€0.20 per spin).
For the sake of comparison, the total amount wagered is $€100 in both cases.
You see, for example, that your chance of winning 2.5x to 5x your bankroll (profits of $€250 to $€500) is 4.1% if you spin 100 times ($€1 per spin).
With Moon Princess, chances of winning anything over $€500 are very slim.
Does the "Hit and Run" strategy work with Moon Princess?
With the Hit and Run strategy, you have an initial bankroll of (say) $100. You start playing $€1, $€5 or $€10 per spin, until you, either:
Have reached your target profit: profits of at least $€10, $€20, $€50, $€100, $€200, $€500, $€1000, $€2K, $€5K, $€10K, $€20K or $€50K (the latter is 500x your bankroll).
Have lost your entire bankroll ($€100 in this example)
The table below shows the chance of meeting the target first:
You can definitely use this slot if you like to do the Hit and Run strategy. The results are very similar to the results of Rise of Olympus (another great slot of Play 'n GO).
Moon Princess is best if you aim to make a high (but realistic) profit of 2x to 5x your bankroll (in the example of a bankroll of $€100: profits of $€200 to $€500).
For example, the chance of reaching the target of $€200 is 21% if you stake $€1 per spin.
This strategy also works well with Moon Princess if you are eager to make profits of 10x to 20x your bankroll. In that case, you need to increase the spin size to $€5.
For a target profit of 50x your bankroll ($€5,000 in this example), you need to stake $€10 per spin. Your chance of getting your massive profit is 1.3%. Pretty good compared to other slots.
Do you want an even higher profit? In that case choose an even more volatile slot, such as Jammin' Jars.
Moon Princess is a medium to high variance slot with lots of high prizes
The Theoretical RTP of Moon Princess is 96.5%, which is pretty attractive.
If you like to win lots of prizes in the range of 250x to 500x the total bet, Moon Princess is your favourite slot.
For the Hit and Run Strategy, Moon Princess is an excellent slot as well. Don't expect anything crazy such as profits of 100x your bankroll.
Our verdict of the Moon Princess Slot?
Moon Princess is an incredible slot by PLAY'nGO®, and we just can't get enough of it. There is continuous action, and the surprises come at you fast and often.
The buildup to the bonus game creates extra drama and will get your heart pumping with the extra adrenaline.
Furthermore, we find the balance in this game between primary and bonus game is just about perfect. You can win extremely generous prizes in the bonus game, but that is not to say that the primary game never hands you a nice payout.
4.7 out of 5 stars

🔥New Casino
⚡️Quick Banking
🍒Reward Scheme

❤️Best Mobile Casino
🎁VIP Bonus Options
🍓Live Casino Bonuses
🍒Thousands of Slot Games
✅Professional Customer Service
⚡️Withdrawal lock option