Moon Princess Slot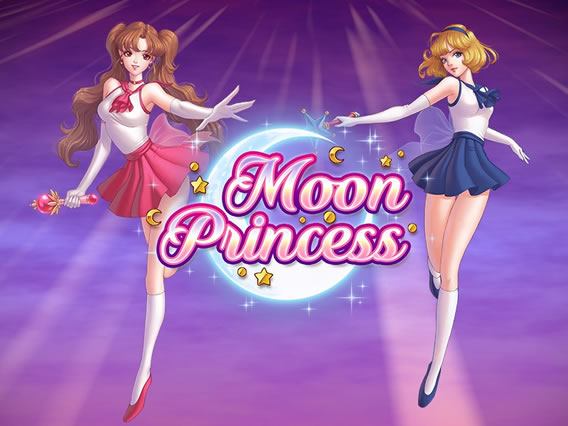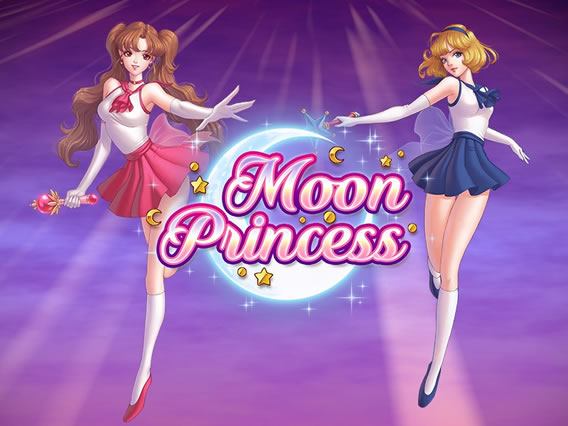 If you suspect Moon Princess is one of the best slots you are yet to play by Play'n Go, your sixth sense is right.
Based on the popular Sailor Moon anime series, this slot successfully captures the spirit of the show, and then some. But far more importantly, you will get to experience a slot with unique gameplay with great RTP and volatility that will appeal to anyone who is looking for bigger winnings off a single spin. 
The game sports a great atmosphere and offers many individualized bonus levels with the help of each main character. There are three, and we are going to talk about them in a jiffy. But first, have a look at some of the key characteristics of this slot.
Release date

: 2017

Details

: reels 5, rows 3, 20 paylines

Bet levels

: €0.20 – €100

Maximum win

: 500,000

Special features

: Free Spins, Multiplier, Special Characters 

Return to playe

r: 96.00%

Volatility

: High Volatility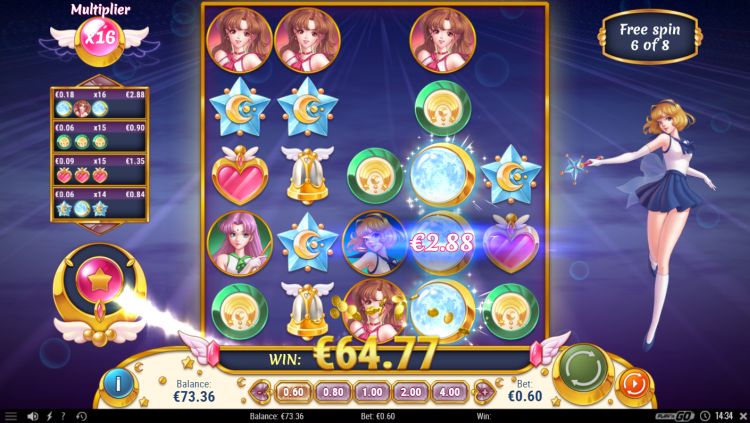 Moon Princess Slot Sites                                                                                      
There are many great Play'n GO casino websites you can pick to trust when it comes to Moon Princess online slots. However, I have singled out those that would add the most value to your gameplay. Plus, there are some bonuses to pick in most of these casinos, so make sure you at least give them a quick look-through. 
Moon Princess Free Spins and Gameplay
Released in 2017 to celebrate the 25th anniversary of the show, Moon Princess goes some way to pay homage to the original show. Maybe I am jumping the gun here, but there are three characters based on the original protagonists.
And so, you get to play the Love, Star and Storm Princess. Each of them will bring you a different experience, making for great overall excitement. Depending on which Princess you are affiliated with, the potential bonus features you may get will vary.
Love will transform a whole set of symbols into a completely different one. Star will bring one or two wild symbols on the reels, and as to Storm, she will quickly destroy two sets of symbols and add in extra ones to make sure your chances to win are slightly better overall. 
Moreover, there is the unique Girl Power feature, which will grant you a varying number of free spins. The Storm will hook you up with 8 freebies and Love will grant you 4 followed by Star with 5 free spins.
But hold on, because if you get consecutive wins, you are in for a real treat and can get a 20x multiplier. Not to mention that you can have a total of 20 free spins thanks to the metre once again. 
Thanks to all these delightful twists and turns, the gameplay feels genuinely unique. There is nothing you are likely to not appreciate in this slot. Thanks to the generous maximum payout, reaching some 5,000 times of your stake, you definitely can look forward to solid wins.
If you are ever not sure if you want to play with real money, check out the free play mode.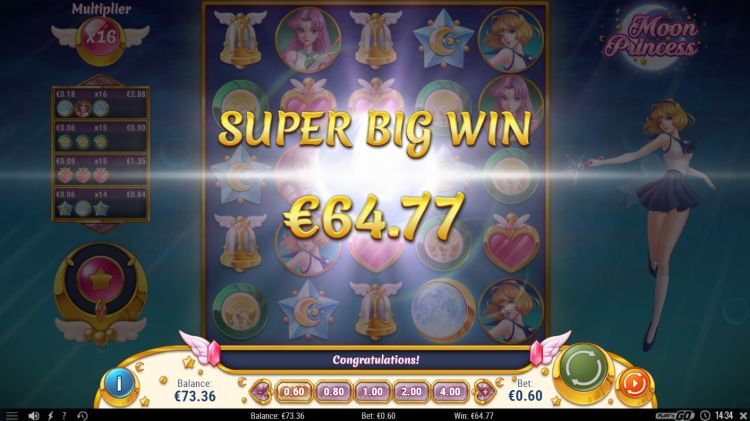 Moon Princess RTP and variance
In terms of RTP, the game is doing a pretty decent job. You have a 96.00% base payout, which is fantastic. The variance is high, though, with maximum wins of 5,000 times the stake.
Budget players may not appreciate the game as much as payouts would occur less often.
Yet, the betting limits are perfectly suited for anyone who wants to play and enjoy themselves. You can stake as little as 0.20 units, which is excellent. All in all, it's up to you to decide what bet is reasonable, but do keep an eye on your bankroll. 
Tips
And speaking of bankrolls, I have arrived at our final point of business. Some advice to make this experience more worthwhile. Now, the best thing you can always do playing Moon Princess, or another slot, is to keep an eye on your bankroll.
The goal here is to extend your stay and have fun, so why go off with big wagers? Focus on playing incrementally – step-by-step. And who knows, perhaps you will hit that sultry 5,000x multiplier? 
Of course, as a seasoned slot player yourself, you already know – it's all pure chance, and there are no strategies. But stay prudent nevertheless and remember to have fun – lots of it!
Relevant news