Gemix slot review (Play'n GO)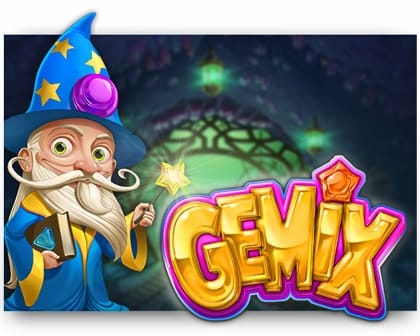 It is a very successful mix of a casual app game and an online slot. Instead of paylines, Gemix works with clusters of symbols. Here we find worlds to discover, missions to complete and extra features to free up as you progress further into the game.
Play Now
Game Provider:

Release date:
October 2014
Table of contents
Best of The Month

€150 Bonus Package

+100 Free Spins
Join
Best Bonus
Latest Casino News
Gemix is the slot with which Play 'n GO definitively put itself on the map
It all perfectly fits the "gamification" trend that we are witnessing the last few years in the online slots – elements of casual gaming are being incorporated into online casinos and online slots.
In this case, it works like a charm. Gemix is fun, entertaining and can also payout a lot of cash. So, a perfect recipe for success, and Gemix is definitively successful.
Together with Book of Dead, Gemix is the most played slot by Play 'n GO of all time.
Plenty of reasons to take a close look at this extremely popular slot and give you a thorough review.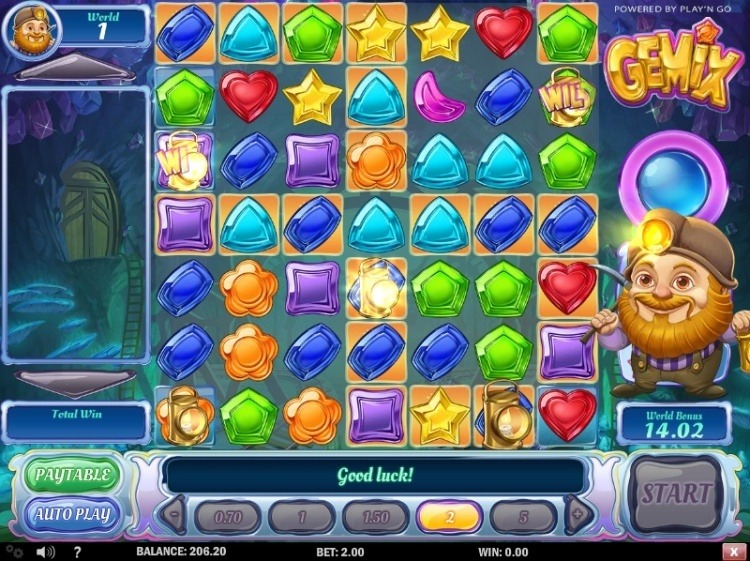 How does the Gemix slot work?
This slot has no paylines and no reels. The game is played on a matrix of 7 x 7 symbols. These symbols come tumbling down, and payouts are generated as soon as you have a cluster of 5 or more symbols. Winning combinations disappear and make way for new symbols.
This way, multiple winning combinations can be generated in one 'spin'. The spread between minimum and maximum bet can vary. Sometimes you play Gemix from a low bet of  $€ 0.10 per spin, while at other online casinos, the minimum is pegged at $€0.50 per turn. The maximum bet per spin is $€ 100.
Of all the symbols, the stars give you the biggest payout: 15 or more of these symbols are worth 1,000 x your bet. If you started with a bet of  $€ 0.50, we are talking about $€ 500 in winnings. With the maximum allowable bet of $€ 100, that will climb all the way up to 100,000! One more thing, you also have a chance to have a 3 x multiplier added to your game.
Gemix offers up a very decent 96.75% payout to its players and low variance. This means you can play quite a long time for your money, and that is what Gemix is designed for: long playing time, lots of fun and small losses.
Grab Super Charges and Crystal Charges for more winnings
During your spins, you can earn all sorts of extras. The general rule is the more winning combinations, and the more symbols you get, the more extra's will be coming your way.
When you reach 20 or more symbols, you win the Crystal Charge, whereby you win 1 out of 4 extra features: exploding symbols and symbols that can change into other symbols in various ways.
Do you have 40 or more symbols? Then you have doubled your luck because you win a 3 x multiplier that applies to all your gains.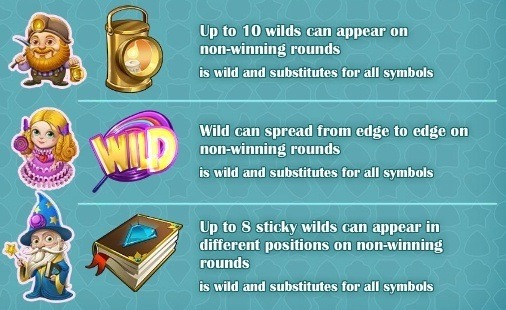 Gemix: play to free up more extra features
By freeing up specific patterns (you know the principle from Candy Crush), you also free up extra features. These extra features provide you with extra wilds during your play in various ways.
This gives the Gemix slot even more variation and makes sure that you are rewarded for playing on and freeing up new worlds.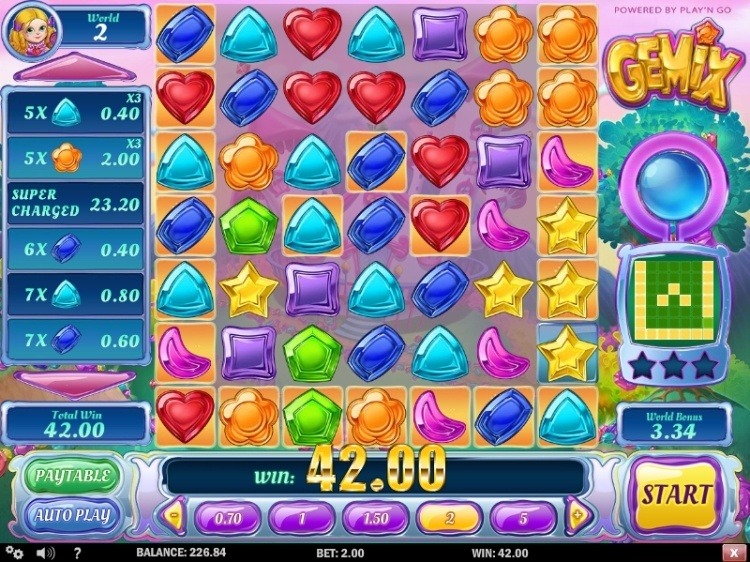 Our verdict on the Gemix video slot?
Play 'n GO has with Gemix brought out a fantastic slot that gives you lots and lots of enjoyment. With a very satisfactory 96.75% payout rate and the different upgrades you can reach in the game, it keeps up very nicely.
The low variance makes it difficult to win big often, but it is certainly possible to get away with the main prize on occasion. If you don't, it is not the end of the world. Gemix guarantees you a whole lot of entertainment and fun surprises.
A top-notch release by Play 'n GO!
4 out of 5 stars
#1
🍒Thousands of Slot Games
✅Professional Customer Service
⚡️Withdrawal lock option
#2

❤️Best Mobile Casino
🎁VIP Bonus Options
🍓Live Casino Bonuses
#3

🔥New Casino
⚡️Quick Banking
🍒Reward Scheme