Double Exposure Blackjack has been around for some time, but is it worth your time and money? To find the answer to that question, and many more, keep reading this article.
Double Exposure is a reasonably popular variation of the well-known Blackjack game
With Double Exposure Blackjack, not just one, but both of the dealer's cards are shown.
This rule changes the entire hit and stand strategy, giving this classic blackjack game a whole new twist.
As a player, you'll get a significant advantage when you also get to see the dealer's second card before you have to decide to hit, stand, double or split.
To eliminate this advantage, a few adjustments regarding the rules and payouts of Double Exposure have been made:
Both of the dealer's cards are open.
The dealer always wins in a tie, unless you got dealt a natural blackjack.
If the player has Blackjack, a 1:1 payout is awarded.
The player may only split once.
Note: small variations are possible, but in most cases, these are the rules.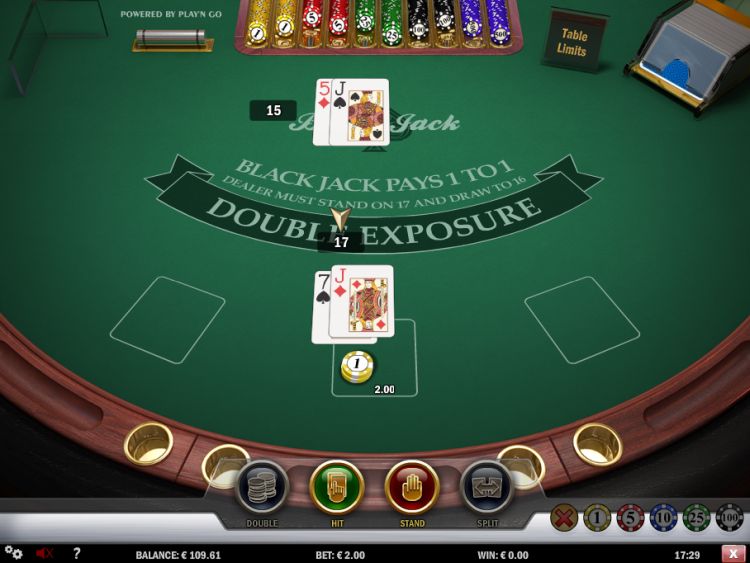 House advantage slightly higher than regular Blackjack
Although Double Exposure's house advantage is somewhat higher than with regular Blackjack, it's still one of the best casino games to play. The house advantage of Double Exposure, depending on the casino rules, lies between 1.47% and 0.66%.
Of course, Double Exposure also requires the perfect Blackjack strategy to achieve these favourable percentages. If you take the wrong approach, your theoretical return to player drops the percentage points.
A great site to learn the perfect strategy for Double Exposure is Wizard of Odds.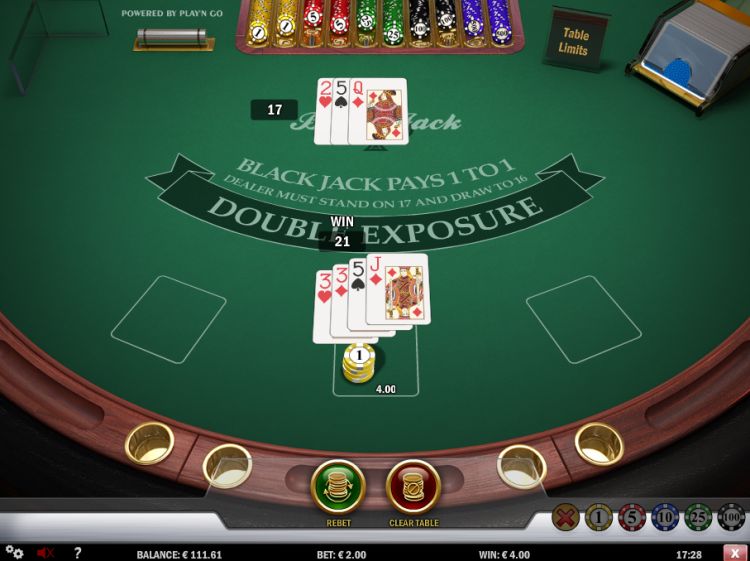 Want to play Double Exposure with real money?
Most online casinos featuring Netent or Play'n Go games offer Double Exposure.
Beware – Limitations on betting with bonus money may apply!
Always make sure you are allowed to play Double Exposure with bonus money. This varies per casino. It's also advisable to inquire about doubling. If there's a limit of $€ 6 bonus money per spin at an online casino, don't bet $€ 5 per spin.
Say you accidentally double, you've then wagered $€ 10, and you could very well be in breach of the bonus rules. In turn, this could result in both the bonus and any winnings being forfeited.
CasinoHipster top tip: if you're going to play Double Exposure with real money, cancel the welcome bonus. This way, you don't have to worry whether to split or double – a mistake is easily made.

Available in your country