Club 2000 Deluxe slot review (Stakelogic)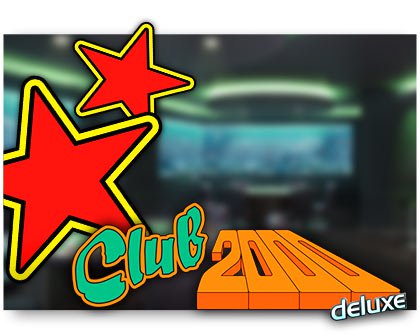 There was no snack bar, Chinese takeaway or arcade in the whole country without the Club 2000 fruit slot machine; sometimes, they even had several in a row or even brotherly next to the Random Runner slot machine. For many slot fans, Club 2000 has been the first introduction to a slot machine, and for that reason alone, it surely has conquered a place in many hearts and mine.
Play Now
Game Provider:

Release date:
August 2000
Table of contents
Best of The Month

1000€ Bonus

+ 100 Free Spins
Join
Best Bonus
Latest Casino News
Together with Random Runner, Club 2000 is probably the most iconic 80s and early 90s fruit slot
Stakelogic has turned many of these classic slot machines into an online version, with more modern features, a higher payout rate and more betting options.
By now, you can also play Club 2000 online, with the classy Club 2000 Deluxe name.
When you start the game, you'll recognize your old love straight away. But a few things are different from the slot machine you used to know, like the back of your hand.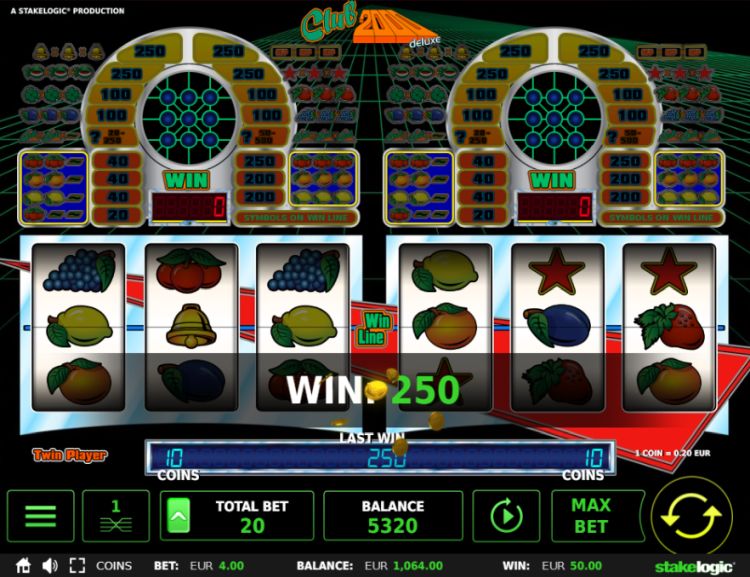 Club 2000 Deluxe gameplay and features
First of all, you will notice two slots next to each other. You can choose to play the 1st slot, the 2nd slot or both.
The playing field consists of 3 reels with 3 rows of symbols.
The base game has been deleted, too, so you immediately enter the bonus game. Consequently, the cherries, lemons and oranges must drop on the 1st payline, and all other symbols may hit the reels in a scattered way.
Bets start at $€ 0.20 per spin. You then play one slot for the lowest bet. If you play with two slots, you pay twice as much.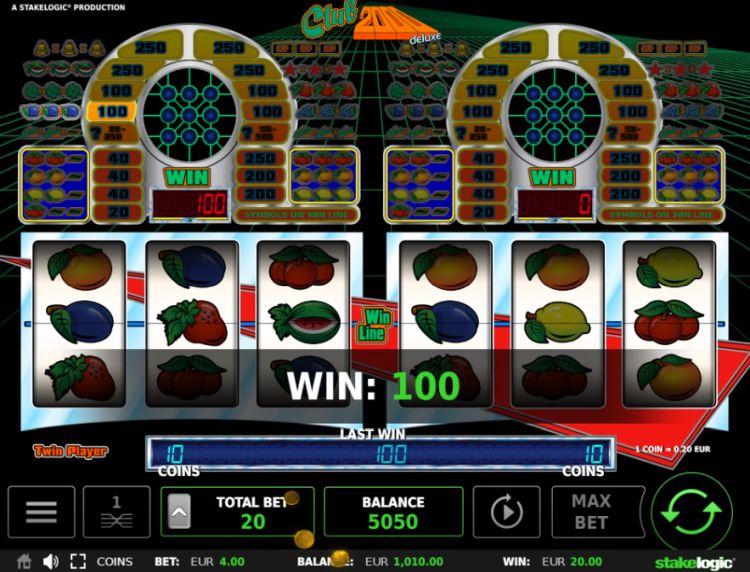 Club 2000 Deluxe payout and variance
Club 2000 Deluxe's variance is low to medium. The maximum payout per slot is 500 coins.
The theoretical payout rate is precisely 95%. If you compare this percentage with the 80% – 88% the land-based Club 2000 versions award you, then it's an excellent RTP indeed. Compared to the average slots we review, it is below par, and it certainly won't make our top 10 best paying slots either. Then again, it still is a golden oldie.
Symbols & payouts
The SLP symbol (the BAR) is worth 250 coins with three of the same scattered symbols.
The same goes for three clocks, melons or stars.
Three scattered grapes, four-leave clovers, strawberries or plums yield you 100 coins.
The cherries, oranges and lemons need to drop on 1 line.
The cherry already awards you a small prize starting from one symbol (on the 1st reel), and the oranges and lemons make you money starting from two symbols.
But for the big prizes, you need three identical ones: between 100 and 125 coins.
Mystery win
The famous Club 2000 symbols reward you with a mystery prize starting from 2 consecutive symbols. It does not matter where these symbols hit the reels.
The maximum mystery prize is 500 coins for you to win in the case of 3 scattered Club 2000 symbols.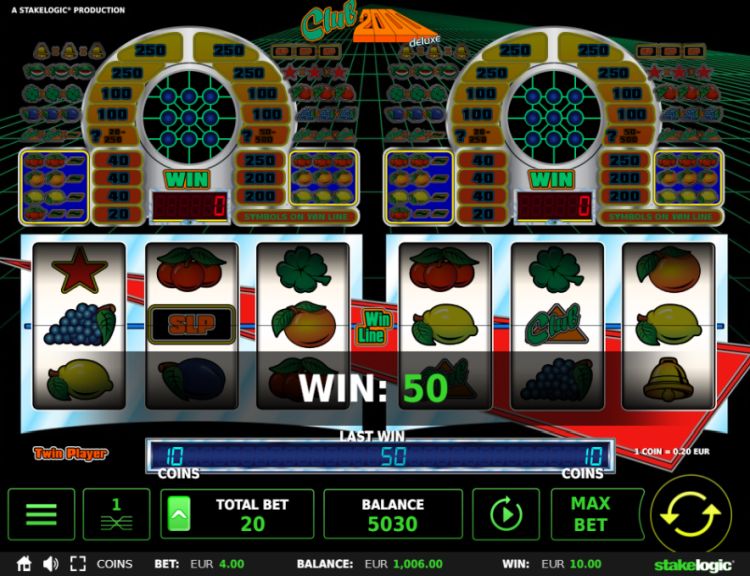 Our verdict on the Club 2000 Deluxe slot
We have spent many hours behind the Club 2000 slot machine as well, and that is why we are super excited about the online version of this iconic game.
Stakelogic has managed to keep all the familiar elements (the mystery prize, the "top game"), and at the same time, they added some new features.
Since you can now play on two slots simultaneously, the pace has increased considerably, and the payout rate has also increased significantly.
We happily award this well-executed slot some well-deserved stars.
3.5 out of 5 stars.
#1
🍒Thousands of Slot Games
✅Professional Customer Service
⚡️Withdrawal lock option
#2

❤️Best Mobile Casino
🎁VIP Bonus Options
🍓Live Casino Bonuses
#3

🔥New Casino
⚡️Quick Banking
🍒Reward Scheme