Visitors slot review (Elk Studios)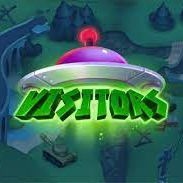 You have a peaceful and quiet life in the countryside, with your cows and pigs. Your life is far from exciting, and not much is going on. Then your village wakes up. And not because of a thunderstorm, but because of spaceships flying above your head. Will they land on your (or the neighbours') backyard? It reminds me of ET.
Play Now
Game Provider:

Release Date:
October 2020
Visitors slot (ELK Studios) – Watch out, the aliens are coming.
What happens next? Are these aliens evil or friendly?
You'll find out when you read my review below.
But I can already reveal that the more spaceships you hit, the better it is for your balance.
Hold on, my friend! With the free spins, it's possible to win multipliers up to a dazzling 4.096x!
If all goes your way, you can land the top win of 10,000x!
Elk Studios seems to have taken a new direction, as Visitors is the second high variance slot in a row after their previous release, The Grand Galore.
It's unprecedented for Elk Studios!
If you bet the maximum of a hundred, it's indeed possible to grab the cool million. Holy cow!
Visitors slot – Gameplay and Features
You start with 5 reels, each with 5 symbols, and you have 3.125 (5x5x5x5=3.125) ways to win.
The high-paying symbols are the countryside houses, of which the Red one is the highest-paying one, followed by a Yellow, Purple, Green and Blue house.
The five low-paying symbols are the A, K, Q, J and 10.
You also have Wild symbols, Bonus Scatter symbols and the Respin symbols (the aliens themselves).
Respins with three features
If you manage to spin two respin symbols (space aliens), you get a free respin.
Besides, you activate 2 of the 3 Respin Features.
Which ones you get depends on the colour of the aliens' eyes.
An alien with green eyes gets you the Big o Beam feature, where a symbol expands to a 2×2 or even 3×3 symbol.
Does the alien have yellow eyes? In that case, you activate the Abduction feature. It gets you a win multiplier up to x15.
A purple-eyed alien activates the Alien Attack feature. Now you're rewarded with several sticky wilds.
The Bonus Game – the alien invasion
If you spin 3 Bonus Scatter symbols, you activate the Alien Invasion. It yields 5 free spins.
Now the real display begins. Gold and silver (or pink) spaceships fly above the screen.
If a silver spaceship lands on the screen and you manage to hit it with a missile, you get a cash win AND an extra free spin.
At the same time, you have the so-called "wall multipliers." These are a kind of fenced fields.
These wall multipliers have an x2 multiplier.
If a silver spaceship lands on a wall multiplier and you hit it, the cash win multiplies by x2, thanks to the x2 multiplier.
But the good news is that the wall multiplier doubles every time a golden spaceship lands on the screen and is fired successfully.
This way, the multipliers of the wall multipliers double each time.
From x2 to x4 to x8 up to a ferocious 4.096x!
When, afterwards, a silver spaceship lands on a wall multiplier and you hit it, I bet, you'll go through the roof. And that's an understatement!
Payout percentage (RTP)
The payout percentage of Visitors is 96.1%.
Not exceptionally high, but it exceeds the critical 96% limit.
The variance (volatility) of Visitors is medium to high.
Elk Studios gives a score of 8 out of 10 for volatility. In other words, the variance is medium to high.
Understandably, massive wins are possible with these monstrous multipliers.
Other ELK Studios slots with similar volatility are The Grand Galore, Diablo Reels or Io.
Pros and Cons

Pros
Surpassingly original: both in terms of gameplay and theme
Potential for some very hefty wins
Animations are on-target

Cons
It's not easy to come up with any!
So, who'll like the slot? And who won't?
Players looking for something different from a standard 5×3 or Megaways slot have come to the right place.
The theme is prolonged, and the gameplay is innovative.
It would be best if you like to take a risk.
Even though the theme seems to be more focused on recreational (low risk) players, it remains a pretty volatile slot.