Ultimate Dream Team slot review (Push Gaming)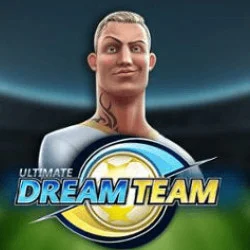 This Push Gaming slot is all about football, when ou start this slot nothing else matters anymore except football. Playtech has the Top Trump Football Legends slot, even with the real images of top players. But Playtech slots are just not that popular with Western European and Scandinavian players, so hardly anyone knows this otherwise lovely slot.
Play Now
Game Provider:

Football and slots, it has always been a rather unhappy union.
As far as we know, there are very few successful football slots.
Netent tried with the historically weak Football: Champions Cup. Yggdrasil also attempted to make a football slot with Bicicleta, which was just a clone of Vikings Go Wild. Yeah, we could do it that way as well.
It's about time for a new attempt to produce a successful football slot; Push Gaming must have figured.
This relatively new casino game developer has managed to surprise us in a very positive way with several titles like Gems of the Gods and Peter and the Lost Boys.
So, naturally, we were intrigued to see what this Ultimate Dream Team would be like.
What are the payout rate and the variance of Ultimate Dream Team?
The Ultimate Dream Team slot certainly has a fabulous payout rate of 96.76%.
The variance is on the low side.
That way, you play much longer with your money, and the prizes will be mainly small, and every once in a while, there will be something medium-sized coming your way.
How does the Ultimate Dream Team slot work?
The game is played on a field of 5 reels, with 3 symbols per reel.
There are 25 fixed paylines, and the betting range is between $€ 0.25 and $€ 100 per spin.
The graphics look good, with cartoon versions of top footballers.
These have been doctored just enough not to be sued for portrait infringement, but we certainly recognize Ronaldo and Ronaldhino.
And maybe that player with the short hair and thick neck is a likeness of Wayne Rooney, perhaps?
Other symbols are a ball, signed football shirts, and the J, Q, K, and A symbols.

Ronaldo has the highest value
The Ronaldo symbol is, of course, worth the most: 5-of-a-kind on an active payline pays out 20 x your total bet.
The same goes for 5 balls, and those also function as the Wild symbol.
The Ronaldo symbol is the only one that occurs in stacked form – there has to be a difference that goes without saying.
After that, there is a steep decline in the payouts.
Wayne Rooney does 12 x your bet with 5 of the same, and the goalie, always at the bottom of the heap, only brings you 4 x your stake.
The card symbols will make you between 1.2 x and 2 x your bet (with 5 identical ones).
As you can see, it is pretty tricky to get your hands on some serious money in the primary game.
Would it get better in the bonus games?
The Bonus Features: free spins with multipliers and a pick 'em bonus
There are two bonus features that you can win, and both are activated by three scatter symbols.
Free spin bonus
Three scattered Shirts activate the free spin bonus on reels 1, 3, and 5.
You win a paltry 5 free spins with this.
During the free spins, you can win multipliers of 2 x or 3 x.
These can also be combined for even larger multipliers to appear.
The Manager Bonus
The Manager Bonus can pleasantly surprise big wins and is activated when three scattered managers appear on reels 2, 3, and 4.
You will now be taken to a screen where a team's lineup is pictured and 12 shirts.
You click on the shirts one by one to reveal the name of the player and their position.
There is also a credit prize hidden behind the player.
There are also extra prizes stashed:
The prize booster increases the value of all players – try to find it as soon as possible!
The Star Player: this multiplies the value of that particular player by 3 x.
Play the field entirely and receive the value of the player x 10.
But! There are also players with yellow cards in the game.
One yellow card is not the end of the world, but a second one is an automatic red, and it will terminate the bonus feature.
This bonus can pay out handsomely and is very exciting to boot, especially when you are on "high alert" with a first yellow.
Our verdict on the Ultimate Dream Team video slot
Unfortunate, this slot also did not emerge as a fantastic football slot, although there are fun aspects to it.
The payout rate is excellent, the artwork is nicely presented, and the manager bonus is original and can pay out very nicely.
The biggest problem for us is the low variance and the free spin bonus.
When all you get is 5 free spins in the bonus, then it should be something.
Sticky wilds, fixed multipliers, mystery wilds, you name it.
But in this case, the free spin bonus all too often pays out hardly anything, which does drag this slot down somewhat.
This slot deserves a solid and decent score, but certainly no more.
3 out of 5 stars