Queen of Riches slot review (Big Time Gaming)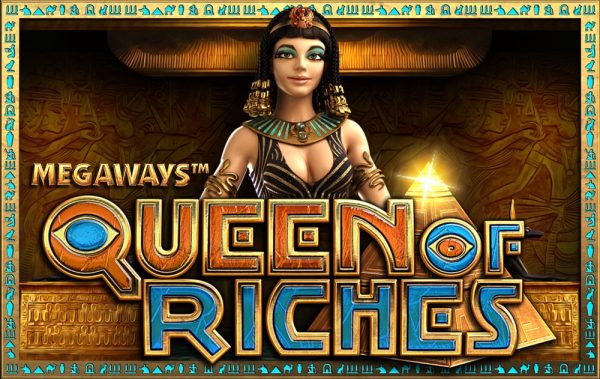 If Big Time Gaming were a country, it would be the U.S. of A. Of course, we know Big Time Gaming is an Australian online casino slots provider, but you know what we mean. This Queen of Riches is also a title that typifies Big Time Gaming.
Play Now
Game Provider:

Queen of Riches is a slot by Big Time Gaming, a game provider that thinks big, bigger, biggest
There are 7 reels with up to 7 symbols per reel. Per spin, you can get a maximum of 117,649 Megaways to win, and there are stacked wilds with multipliers up to 7 x. Also, there are between 2 and 6 identical reels on every spin.
An experienced gambler understands that you can win massive amounts of money on this slot. Even the payout rate is significant: Queen of Riches has a whopping RTP of 96.9%. That is hefty!
How does the Queen of Riches slot work?
The theme of this high variance slot is Egyptian mythology. So, it follows that the symbols are all types of things linked to Ancient Egypt: pyramids, scarabs, eyes of Ra, and Cleopatra.
Big Time Gaming has 7 reels with a variable number of symbols per reel. There are no fixed paylines; the game uses the win all ways mechanism.
The minimum bet is $€ 0.20, and the maximum is $€ 40 per spin. This maximum bet is on the low side, and that has everything to do with the gigantic payouts this slot can generate. Online casinos love to take your money off you, for sure but what they don't like is to be cleaned out entirely in 1 spin.
Up to 117,649 ways to win
Every spin changes the reel's size, which makes it impossible to predict in advance how many possible combinations will drop down. If there are 7 symbols on every reel, you will have 117,649 to win, which means you reached the maximum.
Besides that, there all sorts of things that can happen with Queen of Riches:
Between 2 and 7 symbols per spin
Between 2 and 6 reels made identical
There are stacked wilds with mystery multipliers up to 7 x
Especially at the start, it seems to be just chaos. There is so much happening that it makes you dizzy.  Just let the game come to you and wait till the penny drops: Queen of Riches is just an oversized version of Twin Spin. On a combination of steroids and speed, that is.
No bonus features
There are no separate bonus features in this video slot. That might have taken it completely over the top, considering how much is already happening on the reels. The excitement comes from the fact that you could be winning your total bet thousands of times every spin.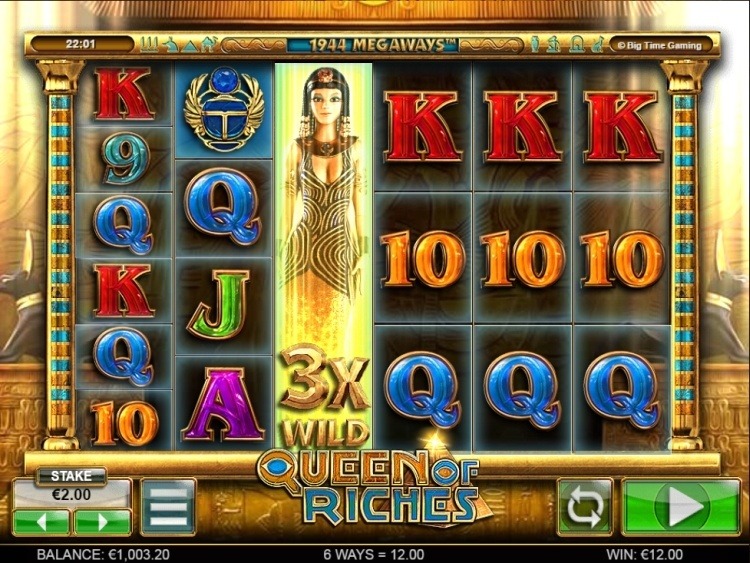 Who is Queen of Riches meant for?
Queen of Riches is aimed at the slot player that enjoys taking serious risks, that is abundantly clear. This is a true high variance slot, where long periods of drought are alternated with sky-high jackpots. It is a real all-or-nothing video slot. Either you go broke, or you win big; there is no in-between area. Like we said: all or nothing.
Are you a novice slots player? Then this particular game is most likely a bridge too far. We recommend you start with these slots for beginners, instead.
Are you a seasoned online casino player that likes a challenge? Queen of Riches may very well be precisely what you are looking for.
Our verdict on the Queen of Riches video slot?
We are truly ardent fans of the slots by Big Time Gaming. Online games like Bonanza, Danger! High Voltage and Extra Chilli are just amazing, and we have spent many hours playing exactly these slots.
Queen of Riches is not as great as the above titles, but that does not imply it is not good.
The tempo is high, the potential winnings are enormous, and the gaming mechanics with synchronized reels and stacked wilds with multipliers is unique.
3.5 out of 5 stars.

😍Daily Promotions
🎁Huge Bonus Package
⚡️Extremely Fast Site

❤️Best Mobile Casino
🎁VIP Bonus Options
🍓Live Casino Bonuses
🍒Thousands of Slot Games
✅Professional Customer Service
⚡️Withdrawal lock option