Medusa II slot review (Nextgen)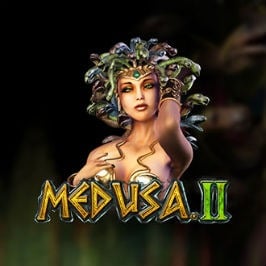 And we are very excited about it. The original Medusa slot is one of our favourite online slots. Does that also apply to its sequel? NextGen has decided to continue the atmosphere and style of the first title in Medusa II.
Play Now
Game Provider:

Table of contents
Best of The Month

100% up to

€500 Bonus

+ 200 Free Spins
Join
Best Bonus
Latest Casino News
Medusa II by NextGen Gaming is the follow-up of the immensely popular Medusa slot.
So, here too, there are lots of snakes, Roman soldiers, and of course, the gorgeous yet deadly Medusa herself. In terms of gameplay and bonuses, however, Medusa II has become a completely different game.
And that's a good thing.
Who'd be better off with just more of the same?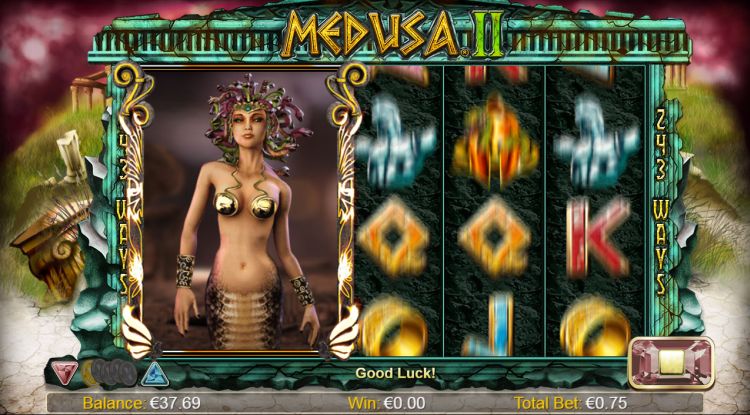 How does the Medusa II slot work?
Medusa II has 243 paylines. There are random mini bonuses in the primary game, and 3 or more scatters activate the main bonus. Medusa is both stacked and wild, and in combination with the 243 paylines, this can result in enormous payouts.
Bets start at $€ 0.25, and the maximum bet is $€ 50, per spin. The theoretical payout rate is a more than excellent 97.07%. This is unprecedentedly high for a Nextgen slot, which usually pays out around 95.5% on average.
The mini bonus games, which are randomly activated, consist of the following bonuses:
Medusa's Locked Reels: identical symbols hit between 2 to 5 (!) reels. Of course, having 1 or more Wild symbols on a reel is highly desirable! Netent's Twin Spin has a similar setup: occasionally extremely high payouts, and sometimes nothing at all. This is how the game keeps you in suspense.
Turned To Stone Stacked Wilds: If a soldier symbol hits a reel, he will (foolishly!) try to attack Medusa. Medusa is not amused, to say the least. As notorious as it is deadly, her look makes the poor soldier petrify and turn into stacked Wilds.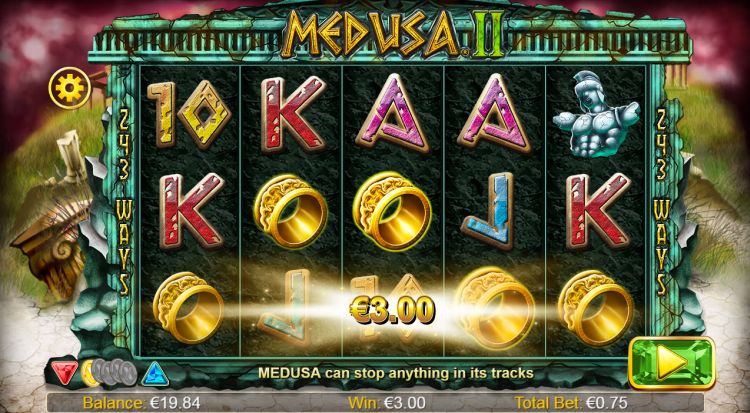 Free Spins Bonus in Medusa II: linked reels during every spin.
Three or more scattered Bonus symbols get you 10 free spins. For the rest, the main bonus is identical to the Medusa's Locked Reels mini bonus. So again, if you have several spins with 3, 4 or 5 identical reels and high symbols (preferably Wilds, of course), you are going strong.
If you don't, however, it can be challenging to get some hefty wins. Fortunately, there are retriggers these reward you 5 extra free spins.
A pity about Medusa II: the power spins, which made the bonus game of the original such a great success, are nowhere to be seen. So this is a missed opportunity for Medusa II.
How cool would it have been had Nextgen been able to integrate some kind of Power spins-plus in Medusa II?
Call them Mega-spins. Super-Turbo-Power spins. Super-Mega-Double-Triple-Power spins. Whatever. We want Power Spins!
Unfortunately, none of that in Medusa II.
Too bad. Still, the bonus is very entertaining and exciting.
Three good reasons why we love Medusa II:
Medusa's gaze turns anyone who bothers her into stone. This is already enough reason for us to become a fan.
Exciting bonus with between 2 to 5 identical reels during every spin. Superb animations of the sexy yet deadly Medusa
Entertaining primary game with lots of minigames and stacked Wilds
Our verdict on the Medusa II video slot?
The big question is, of course: is Medusa II as good as (or even better than) the original Medusa? We can be concise and clear about this: no. But that would have been an almost impossible task anyway. After all, the first Medusa game was and is the perfect slot.
But Medusa II turns out to be an extremely entertaining slot with its very own uniqueness. The times we played Medusa II, not only did we finish plenty of lucrative sessions, but we also had a lot of fun. And ultimately, that is what is most important.
Nextgen's Medusa II deserves a high score and comes highly recommended.
4 out of 5 stars.
#1
🍒Thousands of Slot Games
✅Professional Customer Service
⚡️Withdrawal lock option
#2

❤️Best Mobile Casino
🎁VIP Bonus Options
🍓Live Casino Bonuses
#3

🔥New Casino
⚡️Quick Banking
🍒Reward Scheme