It's a Joker Slot Review (Felix Gaming)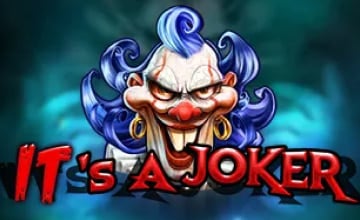 If you like a splash of horror in your classic fruit machine, then Felix Gaming's It's a Joker slot could have you screaming. It's set on a classic 3 reel slot, but there's some added clowning around to make things more exhilarating. To see if this horror-themed slot is scary enough for you, keep reading for my full review.
Play Now
Game Provider:

Release Date:
October 2018
It's a Joker Slot Review
Today I'll be tentatively stepping into the terrific world of It's a Joker, the latest mid-range slot from Felix Gaming! This slot sticks to the classic slot format with 3 reels and 3 rows and has some very recognisable symbols on the reels. The gameplay certainly won't scare you away; it's simple enough even for brand-new players to grasp.
However, the clownish Joker is what brings a fright to this game! Acting as the Wild Symbol, although he might alarm you, he's what you'll be watching out for to trigger more winning combinations. As well as the wild feature, you can also expect free spins and multipliers to add even more excitement.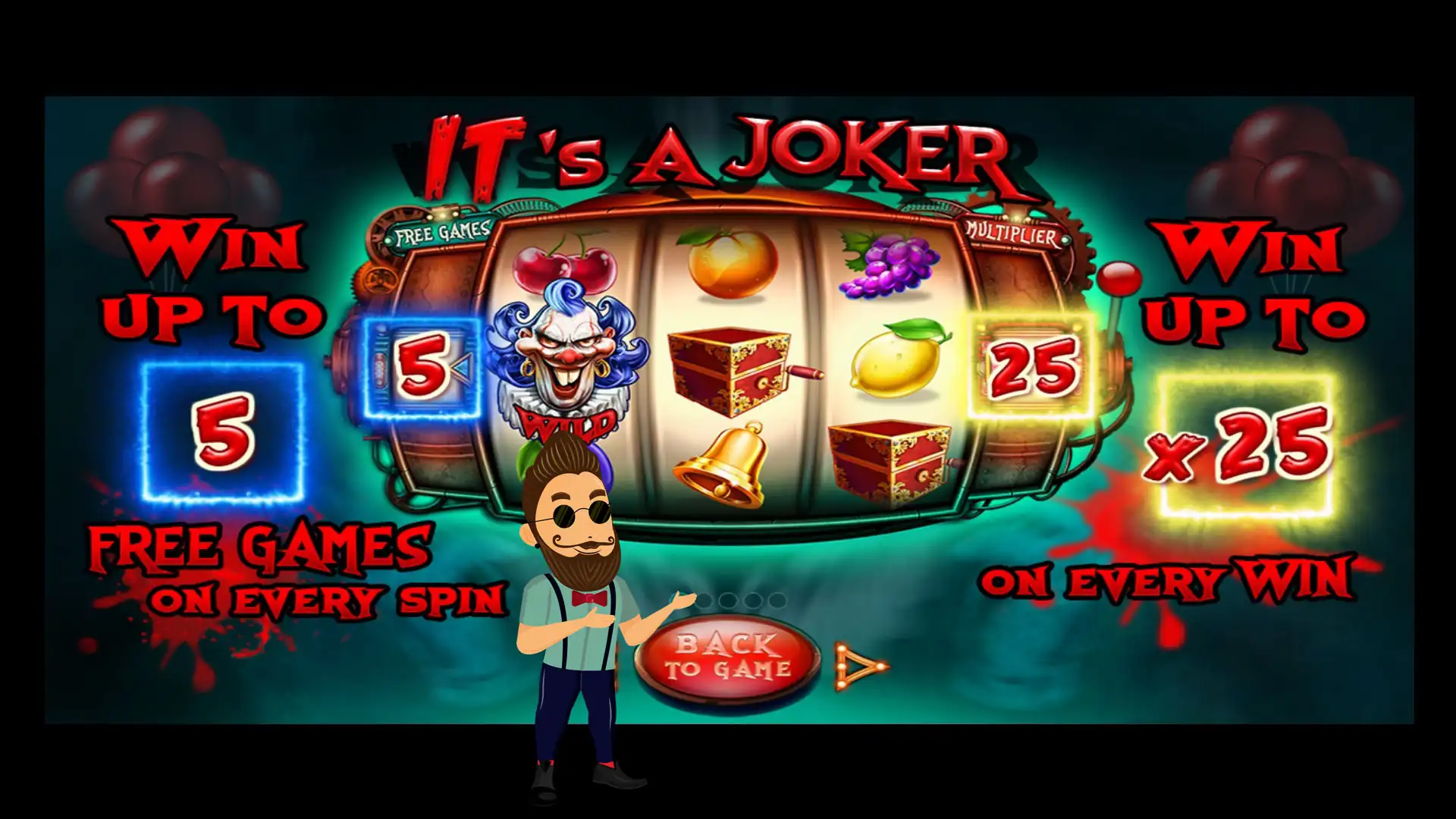 The Sinister Jester's Delight: It's a Joker Features
This slot sticks mostly to the classic slot format, with the traditional fruit symbols and 3×3 grid. But, it injects just enough terror and excitement for players who need that bit more. Opportunities for free spins and multipliers on every single spin of the reel are one thing that I enjoyed about this slot too.
Free Spins & Multipliers with It's a Joker
Unlike many other slot games, which reward free spins and multipliers when special symbols land on the reels, Felix Gaming has added special reels on the much-loved 3×3 grid. Meaning that you have the chance to win some free spins and multipliers on every single spin.
You can get between 1-5 free spins awarded each time and on the multiplier side, your winning combinations can be multiplied by up to 25x. When you are awarded free spins, the multiplier will remain in place, giving you the chance for a big boost.
Classic yet Creepy: It's a Joker Symbols
The majority of the symbols on this slot will be extremely familiar, as they are straight out the classic fruit machine dynamic. However, there are a few extra hidden tricks up the Joker's sleeve with the hopes that he will give you a fright.
The Joker Wild can appear on the reels themself, or as a random bonus feature where he will pop out of nowhere and land in the centre of the reels. He might be the creepiest symbol in the slot, but the Joker substitutes for all other symbols. And not only that, but he's the highest-paying symbol on the board. So, he's definitely one you'll be keeping an eye out for!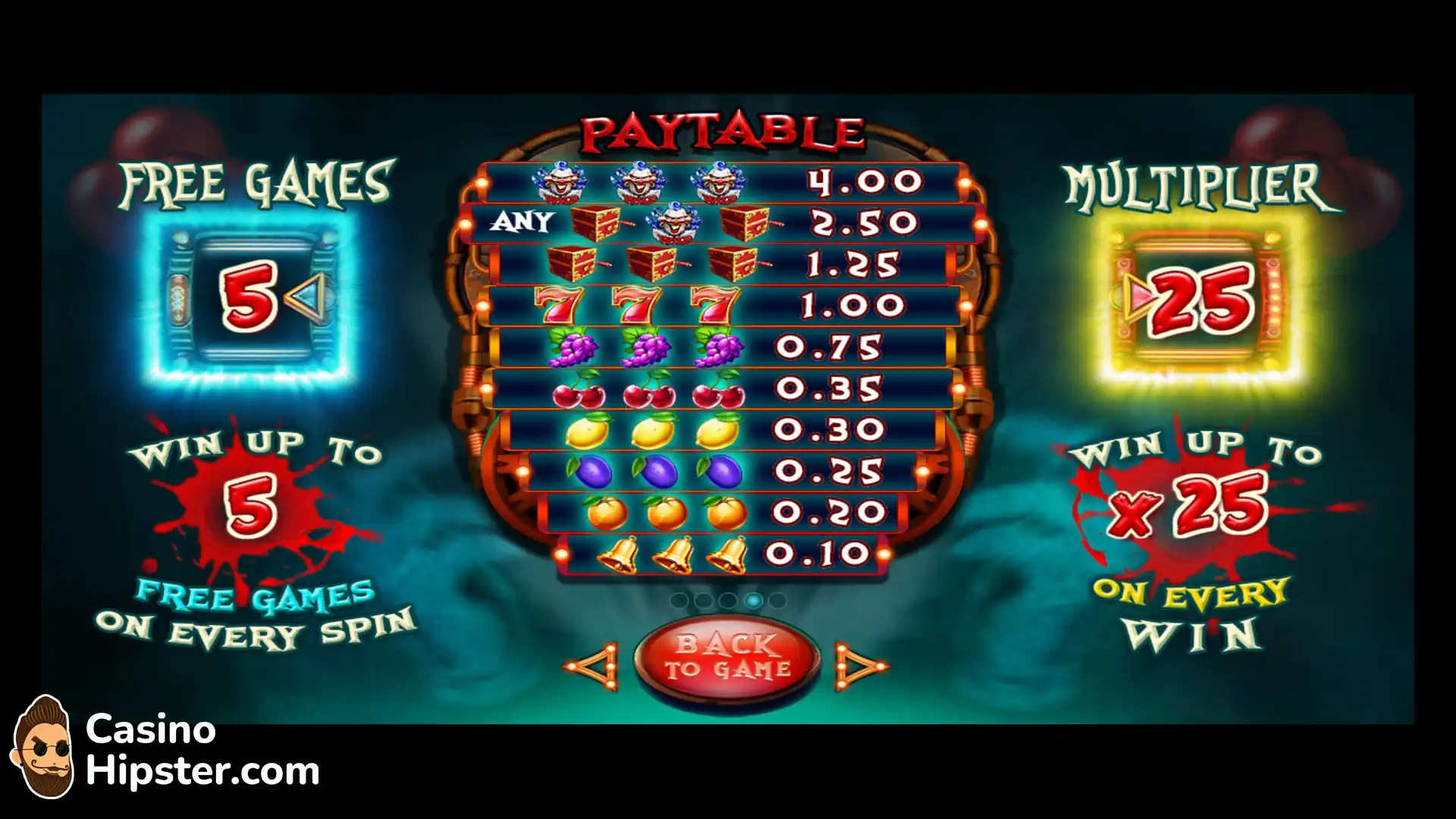 | Symbol | Payout |
| --- | --- |
| Joker Wild | 80 |
| Boxes + Joker Wild Combo | 50 |
| Jack in a Box | 25 |
| Lucky 7 | 20 |
| Grapes | 15 |
| Cherries | 7 |
| Lemons | 6 |
| Plums | 5 |
| Oranges | 4 |
| Bells | 2 |
It's a Joke Max Win Rates
The It's a Joker slot has a stated maximum win of 700x, which isn't high compared to many of the high maximum win slots you can find. However, it's still possible to get a lucrative sum from the game.
It's a Joker RTP & Volatility
Shooting above the average return to player (RTP), It's a Joker offers a very reputable 96.98% RTP. Felix Gaming has also rated it with medium-high volatility, which means you might have to keep your calm with the Joker and ride it out for the big wins.
Bonuses with It's a Joker Slot
He might be the ultimate trickster, but the Joker doesn't have any bonus tricks up his sleeve for you in this slot. It doesn't have any special bonus symbols aside from the wild and bonus rounds are absent too. What he does have though are some free spins to keep those reels rolling.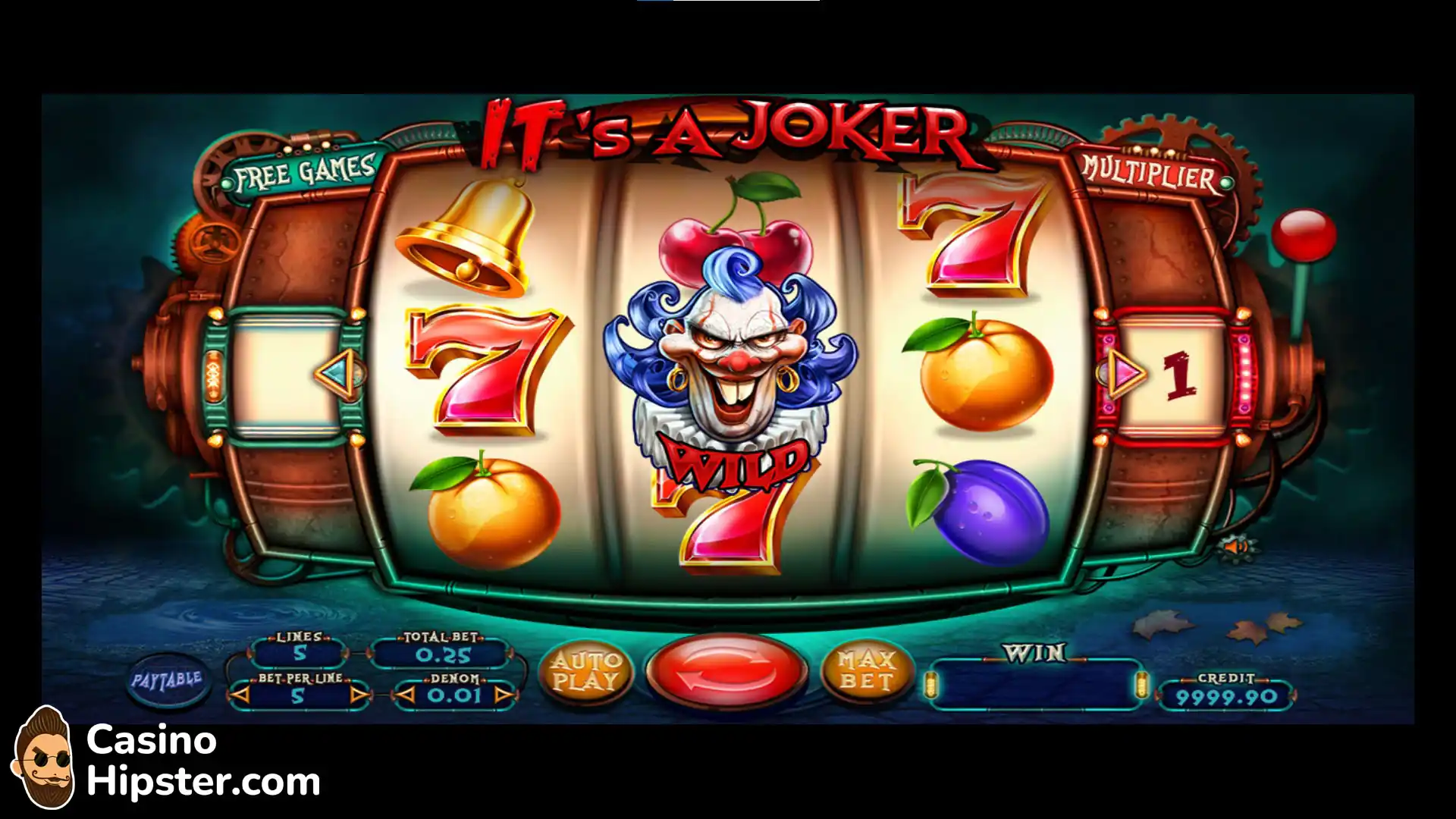 It's a Joker Free Spins
The free spins round is triggered by the extra reel on the left-hand side and it's possible to win bonus spins every single round. Your free spins will lock in under the Joker's blue charm, as well as keep the multiplier value in place too. During the free spins round, you'll be able to rack up some extra wins for your bankroll.
Best It's a Joker Slot Casinos by Category
For the best experience, you should play It's a Joker Slot at Casino Hipster's recommended top real money online casinos. Here are the casinos by category:
Pros & Cons of It's a Joker
The scary atmosphere of this slot is definitely a huge draw for lovers of the macabre. For others, it might just be too frightening. Of course, aside from the theme, the slot has pros and cons that you should consider.

Pros
Free spins available on every spin

Great multiplier potential

High RTP of 96.98%

Well-themed twist on a classic slot

Cons
Lack special symbols

Not feature rich

No bonus games or buy-in
Reasons to Jest with the Joker
This slot might not be the most feature-packed casino game, but it does have some great aspects that are worth checking out. Here are a few of the main benefits I picked out when playing.
Having the possibility to not only create winning combinations but also get free spins on every spin is a huge bonus. Players then have even more chances to win during the bonus spins.
From 2x your win to up to 25x, you'll be able to multiply your winning combinations on every single spin. This has the potential to skyrocket your casino bankroll, especially if you line up some of the high-paying symbols.
It's a Joker is definitely a contender for high RTP slot games as it boasts a 96.98% RTP. This means that technically, if you played 100 credits on the game you should retain 96.98 of those credits. Of course, RTP is calculated over a much larger gameplay though.
While the base of the game is technically a traditional fruit machine, Felix Gaming has done enough to bring it over to the dark side. The theme and sinister Joker add all of the character to the game and make it more exciting.
Scary Smiles, Spins and Big Wins: My Experience with It's a Joker
This slot certainly caught my eye as soon as I hopped on; the graphics and the spine-chilling Joker. Although I was disappointed to find there weren't more features in the slot, I was pleasantly surprised to find that it didn't matter as I enjoyed the gameplay.
The wins came in slow and steady, although I didn't really see the benefits until I upped the ante and opted for the max bet. With the combination of the highest-paying Joker symbol and multipliers I was able to bank a lovely sum.
Alternatives to It's a Joker
High RTP
Aztec Coins Slot Review (Platipus Gaming)
High RTP
Fruityliner 40 Slot Review (Mancala Gaming)
High RTP
Hot Fruits 100 slot review (Amatic)
Conclusion
While it might have been released at Halloween, this slot from Felix Gaming has a year-round appeal and continues to rank as a favourite among players, for good reason. The fruit slot has some nice added twists to keep it fresh and terrifying (in a good way), such as the free spins and multipliers available on every spin. As well as the Wild jests that the Joker brings to the table too.
It's a Joker FAQ
Who developed It's a Joker Slot?
The It's a Joker slot was developed by Felix Gaming.
Can I play It's a Joker for free?
Of course! You'll find on plenty of It's a Joker casinos, you can give the game a try in demo mode first. This puts you a step ahead as you can acquaint yourself with the gameplay before betting real money.
Does It's a Joker have a jackpot?
There is no progressive jackpot available for the It's a Joker slot. But, players can play for up to 700x their bet.