Evolution is set to dominate the online casino world
They have already conquered the live casino market, and the way they have done so is impressive.
Evolution Gaming's rock-solid method ensures that every live casino player gets excited when the name Evolution Gaming appears on the screen.
In short, this is the way Evolution Gaming goes about their business:
Existing, classic games are perfected.
New versions of existing games are developed.
Entirely new concepts are invented.
The technique of the games is flawless.
There's something for everyone.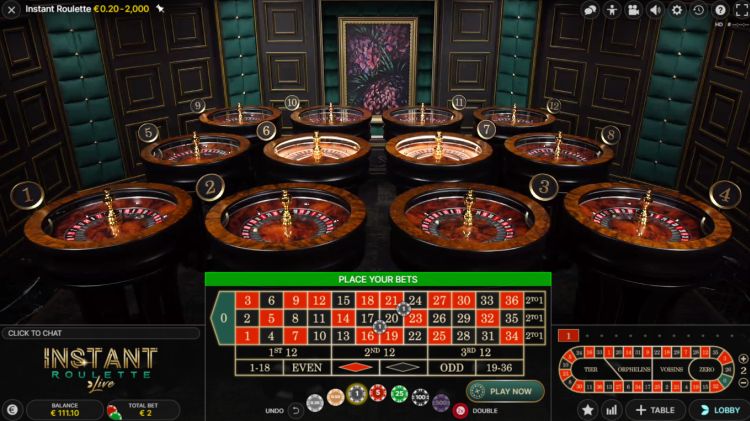 Instant Roulette Live is European roulette on steroids
They have chosen to give a twist to an existing game, European roulette with Instant Roulette Live.
Instead of working with just one roulette wheel, 12 roulette wheels are spinning continuously.
Only when you place your bet and indicate that you're ready to bet, it's decided which of the 12 wheels you're going to play on.
The waiting time between rounds is halved with Instant Roulette Live.
The effect is that there's no more waiting time, and with that, they eliminate a common complaint with regular Live roulette: there's so much time between rounds, or better yet, the game is so slow. On average, a round in regular Live roulette takes about 45 seconds.
With Instant Roulette Live, the time between rounds is considerably reduced. Depending on how fast you bet and press the play button, you can wager every 22 seconds per spin.
The time between spins on the wheel is thus halved.
So, the word "Instant" may be a bit of an overstatement, but the game has become a lot faster nonetheless.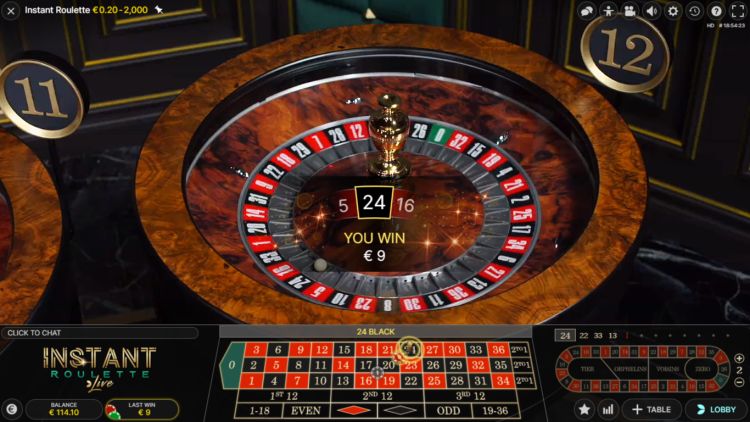 Instant Roulette gameplay and features
Instant Roulette Live is a regular European roulette version.
There are a total of 37 numbers (1 to 36 plus zero), and all known betting options are offered: Square, dozen, even odds, columns, and so on.
Also, all payouts are similar to regular roulette. Therefore, the house edge is equal to regular roulette: 2.7% – which boils down to a payout rate of 97.3%.
Betting starts at 20 cents per spin and goes up to a hefty $€ 2,000 per spin.
The game is fast and convenient. You determine your stake. Place your desired bets and press the "PLAY NOW" button.
The game determines which of the 12 roulette wheels is closest to the end cycle, and that's the wheel you directly play on.
After the round is finished, you can repeat or double your previous bets using "Rebet" or "Double Up."
These are handy options if you're playing with fixed numbers or want to double because you're playing with a roulette strategy.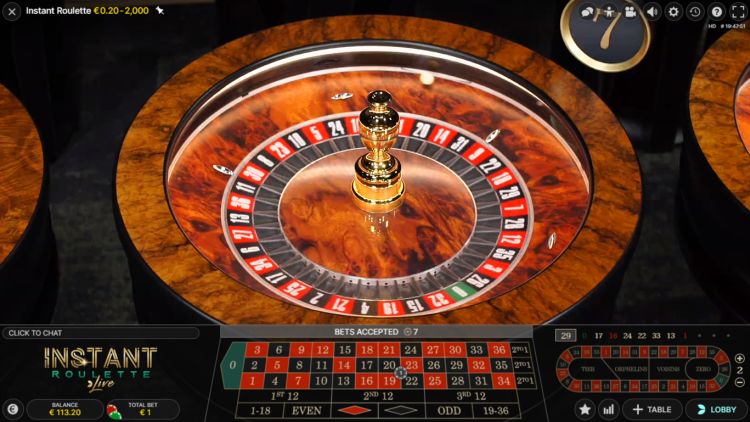 Our verdict on Instant Roulette Live?
Instant Roulette Live is, especially for Evolution Gaming terms, not very revolutionary. And yet, the game is definitely a very clever move by Evolution Gaming.
It is "just" roulette, but with the added notion that there are always 12 roulette wheels active.
So there is always a wheel where the ball has already been fired and is about to drop. One push on the button and you are immediately taken to a wheel, and less than 15 seconds later, the result of your spin is clear.
This game is ideal for the fast player, who likes to set his own pace without sitting through the usual, relatively long time between turns.
We expect that Instant Roulette Live, as with all other games of Evolution Gaming, will be a success.
The technology works very well, and it's another way to accommodate the lover of live roulette.
Players who like a slow pace may not immediately see the added value of Instant Live Roulette. Players who want a bit more speed and wiggle room will embrace Instant Live Roulette.
Where can you find Instant Roulette Live?
The Instant Roulette Live slot is found at all reliable Evolution Gaming casinos.

Available in your country