Hercules and Pegasus slot review (Pragmatic Play)
Hercules and Pegasus is another high variance slot with a cartoon-like theme. There are three types of free spins bonuses, which in theory can last forever. Add some extra wilds and extra multipliers or even a combination of those to the mix, and you have every reason to expect some massive (or should we say mythical?) wins.
Play Now
Game Provider:

Release date:
November 2019
Pragmatic Play seems to be releasing more volatile slots lately – is this a new trend?
Whenever Pragmatic Play releases a slot, we automatically find ourselves sitting up straight on our chair, ready for a lot of fun and entertainment.
Hercules and Pegasus do not disappoint, even despite our high expectations!
Before we get back to our slot review in more detail, let's get back to ancient Greek mythology, you know, with the famous Gods like Zeus, Aphrodite and Hermes (we can't wait to see the release of Greek Gods on December 12th, 2019).
Hercules (or Heracles) was the son of Zeus (from his Mistress Alcmene). He is known as a hero, also because of his enormous strength. He wasn't afraid of the devil either: in his cradle, as a newly born hummel, he managed to kill two snakes (sent by Zeus's jealous wife) with his bare hands.
Pegasus is also a well-known character of Greek mythology and was a white flying horse. A kind of love baby of Medusa and Poseidon. Cool shizzle, those ancient Greek stories.
Now, back to the slot review.
The minimum bet is $€0.20, and the maximum bet is capped at $€s 100 per spin.
What are the theoretical RTP, the variance and the maximum win of the Hercules and Pegasus Slot?
The theoretical payout percentage is an excellent 96.50%, like almost all Pragmatic Play's slots — no reason to complain here.
There is no limit to what you can win, but the maximum win per spin is a huge 2,500x the total bet. Below we explain how you can win it.
Pragmatic Play gives 4.5 bolts of lightning (out of 5) for the volatility. This is equivalent to a medium to high variance slot, comparable to Aladdin and the Sorcerer released two weeks earlier by Pragmatic Play.  Wins of 1,000x the bet or more than that are possible. Perhaps not the wins above 2,500x the stake.
As said in our introduction, it looks like Pragmatic Play is moving towards developing more high variance slots.
Gameplay and features of the Hercules and Pegasus slot
Hercules and Pegasus has 5 reels with 3 rows of symbols. There are 20 fixed paylines. The symbols are a mixture of Greek symbols and card symbols.
The wild (Pegasus and Hercules together) replaces all symbols except for the scatters. If you manage to get five wilds on an active payline, you get a win of 25 x the bet.
As there are 20 paylines, simple maths tells you that a full screen of wilds (it is possible during free spins) yields you a massive 500 x the total bet. That is without multipliers! With multipliers (you can get a multiplier of maximum x5 at the free spins), it can reach 2,500x the total bet.
The second highest paying symbol is the Hercules and Pegasus logo: a 5-of-a-kind yields you a win of 20 x the total bet.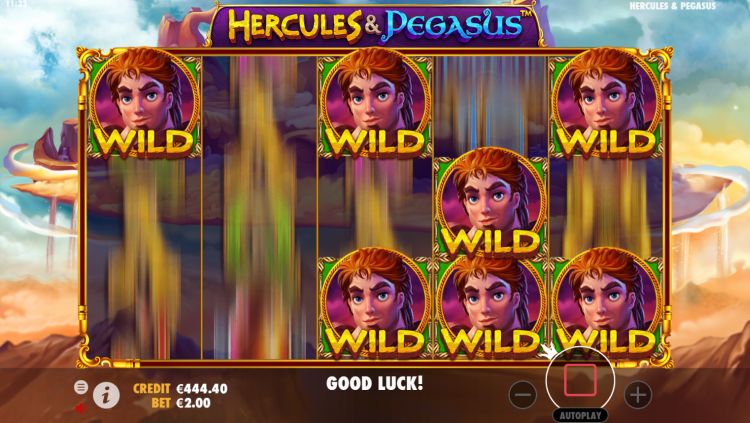 Mystery bonus
Once in a while, Pegasus comes flying by and brings you good news.
You get to pick a mystery feature. You can either get:
Hercules Wilds: You'll get extra wilds and the chance to win a free re-spin.
Pegasus Wilds: Extra wilds are placed on the reels.
The bolt of Zeus: Zeus comes to have a look and see if his son Hercules is alright. He leaves behind some stacked mystery symbols.
Bonus: you are guaranteed to win a free spins bonus
The most attractive of the four features is the Bonus, as it is (usually) the most lucrative one.
Free spins bonus
The free spins bonus (3 variants) can also be triggered by:
Two scatters (on reels 1 and 3) plus the Pegasus symbol on reel 5
Two scatters (on reels 1 and 3) plus the Hercules symbol on reel 5
Two scatters (on reels 1 and 3) plus the Pegasus and the Hercules symbol on reel 5
In all cases, you start with an unlimited number of free spins. Each time a magic bottle appears on reel 5, you go up one level.
With the Pegasus free spins, you get an extra x1 multiplier each time you get up a level (up to x 5). With the Hercules free spins, you get up to 50 extra wilds.
If you have managed to get the combined free spins (Pegagus + Hercules), you will get the extra wilds and the additional multipliers. If this is the case (it will be rare, though), your balance will go up pretty fast.
When you inevitably reach "collect," the bonus free spins have come to an end, and you can start to count your winnings…or begin to cry out of frustration.
This is a very volatile slot, with a thin line between success and disappointment.
Our verdict on the Hercules and Pegasus slot
Hercules and Pegasus do everything right:
The game looks fantastic.
There are many different bonus features as a result of this giving the game enough substance (without overdoing it)
You have the potential to land some real serious wins.
With this release, Pragmatic Play undoubtedly has a big hit in their hands.
Beware, though, that you have enough balance (or lower your bets) as your bankroll can be gone before you know it.
4 out of 5 stars

🔥New Casino
⚡️Quick Banking
🍒Reward Scheme

❤️Best Mobile Casino
🎁VIP Bonus Options
🍓Live Casino Bonuses
🍒Thousands of Slot Games
✅Professional Customer Service
⚡️Withdrawal lock option