Should you try Evolution Gaming's Free Bet Blackjack? I got all the answers right here – from how to play to whether you should give it a shot.
Evolution Gaming continues to develop thrilling table games. In November 2019, they launched a new variant of Live blackjack, Free Bet Blackjack
We have seen this exciting variant of the traditional blackjack game before. This variant was introduced in Las Vegas as early as 2012, by Casino games creator Geoff Hall. Geoff Hall was also responsible for the game Blackjack Switch.
Free Bet Blackjack is precisely what the name implies: it's a blackjack game where you get free bets. More specific: you can Double down for free and Split for free.
It makes blackjack much simpler. You don't have to think about whether you have to split or not — also, no need to think about whether you have to double or not.
In Free Bet Blackjack, it is free of charge, which makes it a no-brainer.
If the dealer has 22 points, it is a push
Of course, there is a "catch". Otherwise, this game with all those free bets would pay out more than 100%.
What's the catch? Well, the game ends in a tie if the dealer ends up with 22 points. In the traditional blackjack, you win when the dealer has 22 points? Here, it's a push.
Despite this disadvantage, Free Bet Blackjack is not a bad game. Far from that. The house edge is still a more than acceptable 1.55% (as long as you apply the right blackjack strategy of course).
The house edge is only slightly higher (worse) than it is in regular blackjack. But if you compare it to online roulette (2.7% house edge if you play European Roulette) or online slots (around 3% – 4%), this game is pretty good value.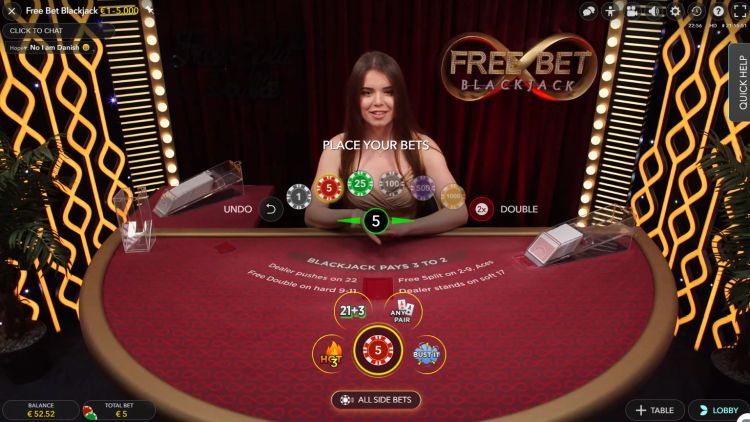 How does Free Bet Blackjack from Evolution Gaming work?
Live Free Bet Blackjack is played according to the Common Draw Blackjack mechanism: together with dozens of other players, you play the same hand.
Of course, you can make your own choices (whether you want to stand or hit). The advantage is that the game is much faster than when you play with multiple boxes.
As a result, lots more players can play simultaneously, which is a lot more interesting from a cost point of view (for the online casino).
You play the game just like regular blackjack. For the best results, you should always apply the basic blackjack strategy.
There are three main differences though (we already just mentioned):
Splitting is always free of charge (unless have received two tens).
Doubling down on a "hard" 9, 10 and 11 is also always free of charge.
If the dealer ends with 22 points, it is a "push" (tie), whereas, in regular blackjack, the player would have won.
The following payouts apply, when you double down (for free):
If the dealer wins, the player only loses the original stake.
If it is a tie, then the player only gets back the original stake.
If the player wins, then the player gets his original stake plus the winnings (in total twice the original stake)
As in regular blackjack, a blackjack pays 3:2.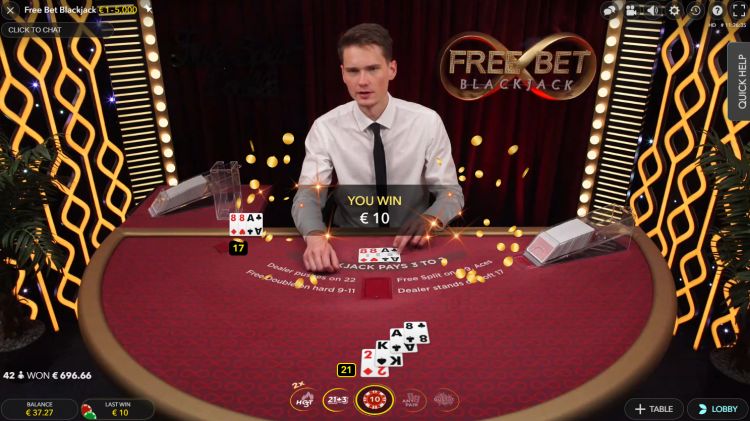 Side Bets at Free Bet Blackjack from Evolution Gaming
There are no less than four different side bets available at Free Bet Blackjack.
Usually, side bets are bets with a very high house edge, so they are often called "sucker bets". Is the same true here?
Side bet – Hot 3: You add both your two starting cards' values and the dealer's open card. Is the sum in total 19, 20 or 21? In that case, your win is a dazzling 100 x your stake. It sounds great, but chances are minimal. Casinos love it when you play this bet; the house edge is 5.40%.
Side bet – 21 + 3: If you can make some sweet combinations with your two starting cards and the dealer's open card, you can win up to 100 x your stake. House advantage is 3.70%.
Side bet – Any Pair: You win if your first two cards are a pair. Depending on the type of pair, you win up to 25 x the bet. House edge is 4.10%
Side bet – Bust It: with this side bet you bet on a loss of the dealer (Note! For this side bet, the dealer also loses if he has 22 points). The more cards the dealer needs to get bust, the more you earn: up to 250 x the bet. The house edge on this side bet is the highest: 5.88%.
It is possible to bet on all the four side bets at once, by pressing the "all side bets" button. You can understand why it is made so easy for you by Evolution Gaming.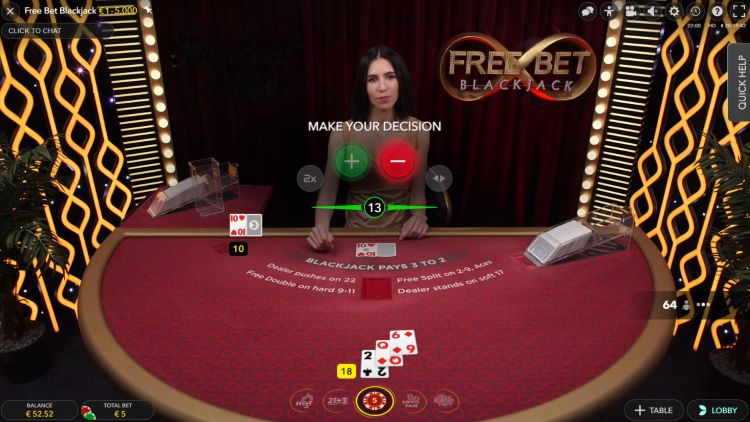 Our verdict on Free Bet Blackjack
These "exotic" versions of a well-known game are often developed for casinos to make more and faster money. Players are trapped in something that looks attractive. The enormous potential wins the side bets offer do not always help things. Who does not want to win a bet where you get 100x or 250x the original stake?
Nevertheless, Free Bet Blackjack is a very nice and different way of playing blackjack.
Also, with a 98.45% payout rate (house edge of 1.55%), this variant is more than acceptable. Make sure, though, that you stay away from the side bets, as appealing as they may seem.
You can Free Bet Blackjack at all Evolution Gaming casinos, including this excellent selection:

Available in your country