Fortress Charge slot review (MicroGaming)
You play with five different warriors, who all have their specific strengths and weaknesses. The goal is to reach the other side of the reels, where the fortress awaits. That sounds easier than it is: along the way, our heroes are attacked, among others, by monsters, falling rocks, sharp spears, but in general by 'villain' symbols.
Play Now
Game Provider:

Table of contents
Best of The Month

1000€ Bonus

+ 100 Free Spins
Join
Best Bonus
Latest Casino News
Fortress Charge is an online slot like no other: it is more a role-playing game than a video slot
To compensate for all these risks, we have to say; the possible reward makes up for a lot: you can win as much as 16,000 x the total stake on Fortress Charge.
Fortress Charge was created by Crazy Tooth Studio, one of the many game developers that exclusively designs Microgaming online slots.
Their previous releases (including Arctic Valor, The Incredible Balloon Machine) didn't impress us that much, but with Fortress Charge, they hit the nail on its head – it is just a lot of fun.
Anyway, we love it when a slot game developer dares to venture off the beaten track. Especially when it leads to an entertaining video slot, we can only admire that.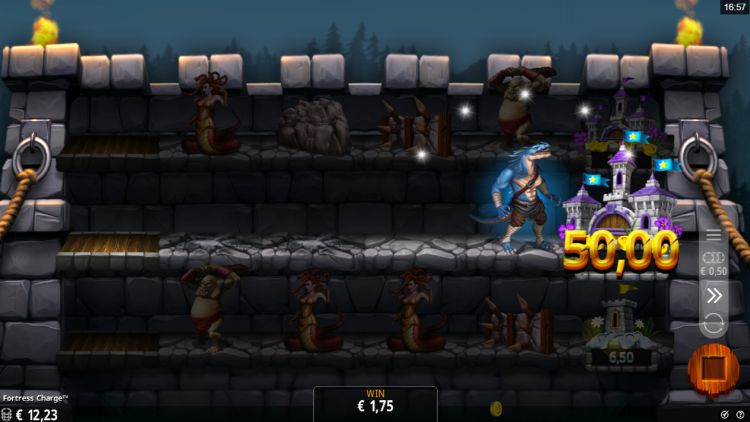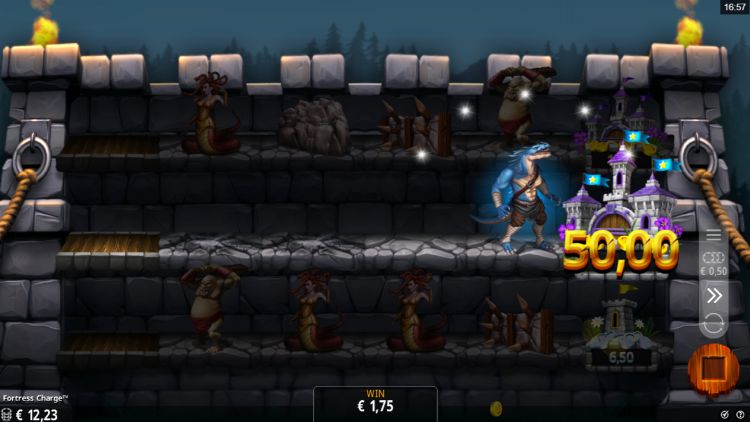 Fortress Charge gameplay and features
Fortress Charge is played with three reels of symbols: three horizontal lines with five positions, plus a fortress, containing the loot.
A fortress can be quite basic, more elaborate or a top-of-the-line castle with the works. The more beautiful the fort, the higher, the more money you bring home.
At the beginning of the reels, sometimes a warrior is placed. When that is the case, often get a warrior on one, sometimes on two and, on a rare occasion, on all three reels. As soon as one or more warriors appear, the Reel Quest Feature is started.
Stakes start at 20 cents and run up to $€ 15 per spin.
The theoretical payout rate is 96.45%: excellent.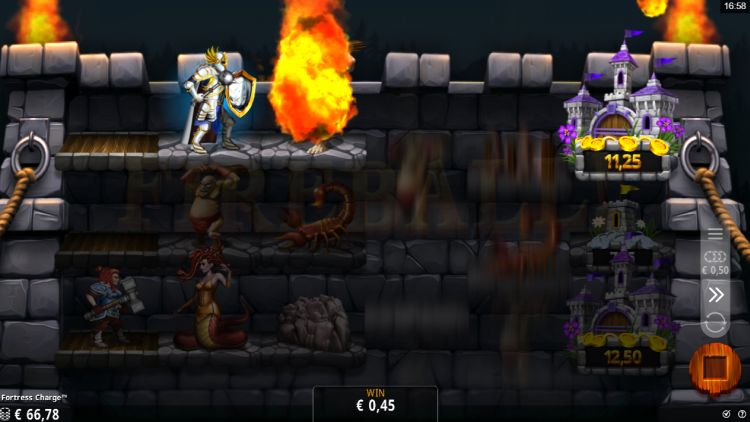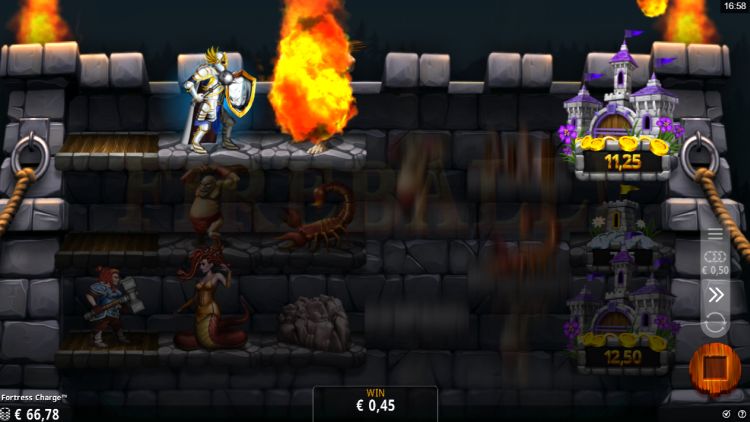 What is the Reel Quest Feature about?
The Reel Quest bonus is an adventure ride across the reels.
Your warrior starts in the 1st position and has to make it over to position 6.
Along the way, he may encounter all kinds of obstacles, tools, and prizes (to name a few):
Monsters
Falling rocks
Deadly Spikes
2 x multipliers
Treasure chests with mystery prizes
Protection, such as extra shields and fireballs
Will your warrior make it to the finish line? Then you win the credit prize the fort is worth, possibly increased by multipliers and mystery prizes.
In any case, it is always exciting, sometimes extremely frustrating and possibly extremely lucrative.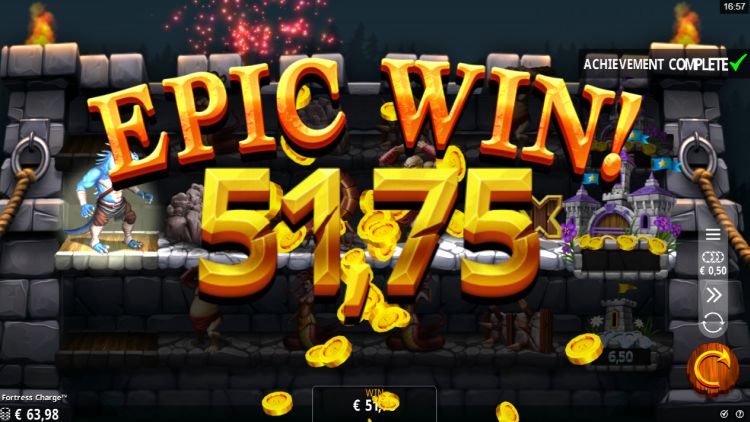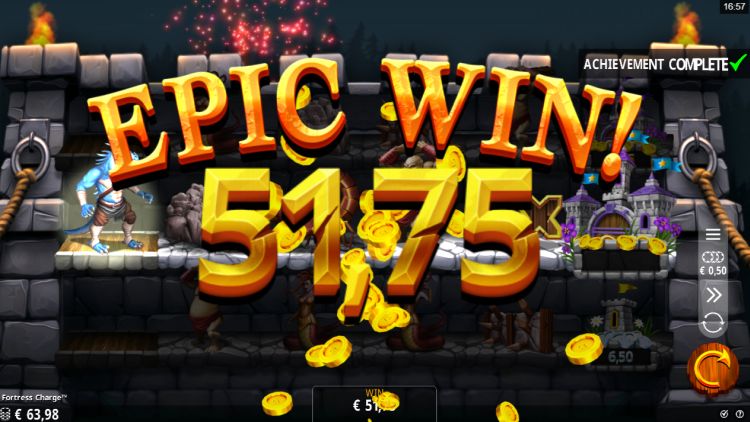 Which warriors are there?
There are five possible warriors:
Beast Hero: This one beats the Ogre Villain. All other dangers ('villain' symbols) mean instant death for Beast Hero.
Dragon Hero is stronger: he defeats not only the Ogre Villain but also the "Spikes."
Elf Hero can only win from the scorpion.
Dwarf Hero can pulverize the boulders (Boulder Villain).
Knight Hero defeats the scorpion and the snake.
What tools can you get?
No one in this harsh world can do without help, and so our friends can use some help too.
Several ('accessory') symbols eliminate enemies and obstacles in front of you:
Shields (defeat scorpion and snakes).
Molotov cocktails (destroy the spikes).
Spears (eliminate Ogre Villains).
Wooden (fend off the scorpions).
Magic Wands (make sure you defeat all dangers).
Fireballs (random fireballs take out any encountered opponents).
Our verdict on Fortress Charge
The Fortress Charge slot game is very cleverly designed, and Microgaming knows how to incorporate video game elements into an online slot correctly.
Graphically it looks all a bit clunky- think generation Playstation 2.
This slot can also drive you mad. Sometimes you're almost at the end of the reel and just one step away from a nice prize. And all of a sudden, a wild animal crosses your path and destroys your entire mission.
And then there are these moments you have to take hold of yourself not to damage your pc, smartphone or some other innocent object because you missed a prize of over 100 x the total bet by a nose.
Just when you are completely done with this game, out of thin air, drops another prize of 100 x the bet.
So we can conclude Fortress Charge certainly isn't for the faint of heart, but we had a lot of fun with it nonetheless.
4 out of 5 stars
#1
🍒Thousands of Slot Games
✅Professional Customer Service
⚡️Withdrawal lock option
#2

❤️Best Mobile Casino
🎁VIP Bonus Options
🍓Live Casino Bonuses
#3

🔥New Casino
⚡️Quick Banking
🍒Reward Scheme