Crazy Time review (Evolution Gaming)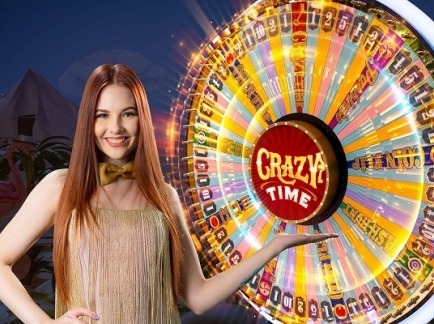 There's a Money Wheel; there are four different bonus features you can wager on and a cheerful, hyperactive presenter, entertaining everybody like an experienced quizmaster. Another strong point is the mystery multiplier, which can drop on the regular numbers and the bonus features.
Play Now
Game Provider:

Min/Max Bet:
€0.10/€500.000
Evolution Gaming's Crazy Time is a frantic and insanely fun Live Casino game
After the epic, and even to some extent, the unexpected major success of Live Dream Catcher, Evolution Gaming is further expanding their rock-solid formula.
The first cornerstone to deliver on that ambition was the release of Monopoly Live, and now it's Crazy Time's turn to extend their lead.
A lot happens, the pace is high, and no matter what, you won't get bored for a second.
So brace yourself for THE live casino experience called Crazy Time by Evolution Gaming!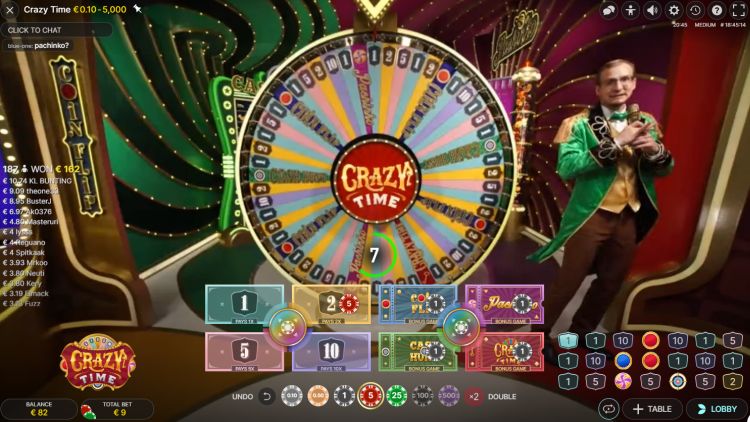 Crazy Time gameplay and features
This game is all about a great wheel of fortune. On this wheel, there are 54 segments/slots containing numbers and four bonus features.
You are free to choose what to bet on: one number, multiple numbers, one bonus feature, numerous bonus features or all bonus features.
It is the ultimate mix and match. Wagering can be done from as little as 10 cents and runs up to a hefty $€ 5,000. Of course, Evolution Gaming makes it easy and comfortable for you as possible.
There are several keyboard shortcuts (for example, bet on all bonuses) and repeat buttons.
If the wheel stops on a number you've chosen, you win your bet times that number and your stake is returned.
The possible numbers can bet on are 1, 2, 5 and 10. If you bet a tenner/$€ 10 on the "5" and that number drops, you win 5 x 10 plus your bet of 10 = $€ 60.
When you bet on a bonus feature and the wheel stops on that bonus, you are up for the good stuff: the bonus feature.
The bonus features are:
Coin Flip
Pachinko
Cash Hunt
Crazy Time
The distribution of the numbers and bonus features on the wheel is as follows:
| | |
| --- | --- |
| Bet  |  Hit frequency? |
| 1 (1:1) |  21 |
| 2 (2:1) |  13 |
| 5 (5:1) |  7 |
| 10 (10:1) |  4 |
| Pachinko (up to €500,000) |  2 |
| Cash Hunt (up to €500,000) |  2 |
| Coin Flip (up to €500,000) |  4 |
| Crazy Time (up to €500,000) |  1 |
|  Total |  54 |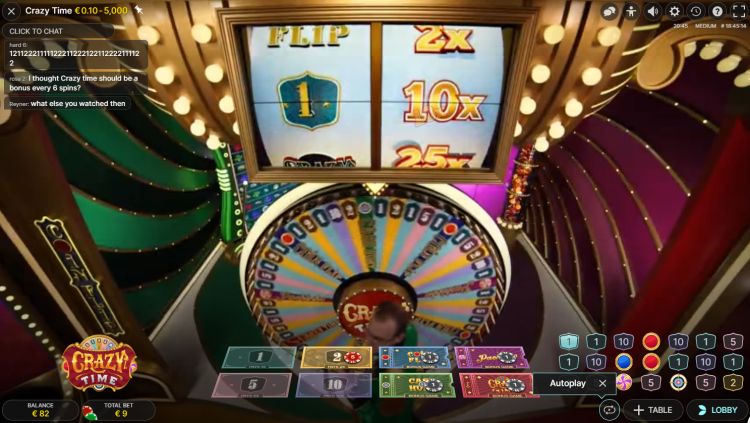 Win multipliers up to 50 x
But there's more, much more.
Before every turn of the wheel, the multiplier reel is spun. You can win a multiplier of up to x 50.
The multiplier does have to drop on a line with a number or a bonus feature, so sometimes, you are lucky. Other times, there is no extra multiplier, and the live casino is fortunate.
Of course, the best thing is when you hit a massive multiplier with a bonus feature, and subsequently, the wheel stopping on exactly that bonus feature.
But, not guts, no glory, you did have to wager on it.
Nothing is more annoying than watching other players take off with a monster payout because you just didn't bet on that specific bonus feature.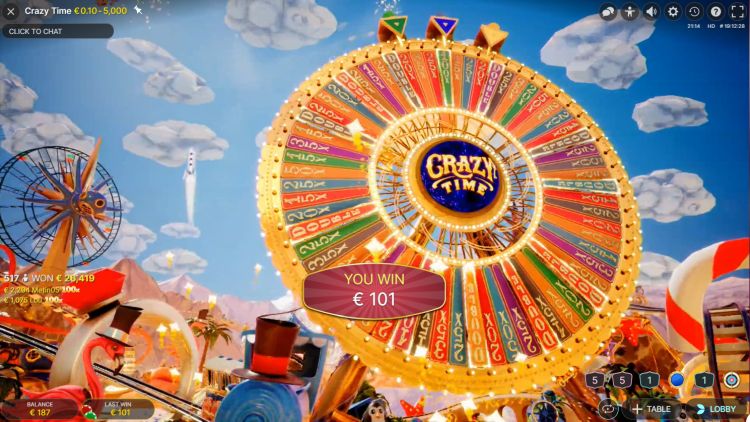 The four bonus features of Crazy Time
Okay, a Money Wheel can be quite profitable, and also, by playing 'only' separate numbers, you can bring home the bacon or veggies (for the vegans and vegetarians among us). Left or right, those lucky numbers can translate into hefty payouts.
But let's face it: this game comes to life when you win one of the four bonuses.
There are 54 slots (segments) on the wheel, of which a total of 9 slots comprise a bonus round.
Suppose you have wagered on all bonuses every twist of the wheel, then you will hit one, on average, every six rounds.
Keep in mind that this is an average: we have had three bonuses drop in a row, but sometimes 15 turns of the wheel leave you empty-handed.
The (theoretical) maximum win with a bonus feature is 20,000 x your total bet.
Pachinko
The Pachinko bonus looks like a Plinko board. This board usually has a nails grid with a ball that drops down into a prize slot at the bottom. In this live casino game, a coin hits 'pins', it changes direction all the time, only to end up in a prize slot. Your coin can also drop on the Double (not only once, but even several times), after which your prizes double (possibly multiple times).
Coin Flip
This bonus dropped the most and was, to us, the least fun. There are two prizes: a red award and a blue award. Then a coin is flipped with a blue and a red side. You guessed it: the top colour determines how much money you made.
Cash Hunt
The Cash Hunt Bonus is an excellent old shooting game in the fairground shooting gallery. You see dozens of targets passing by, and you get to pick one. These targets have prizes on them, running up to hundreds of times your bet. Or even more, when a multiplier is active.
Crazy Time
The Crazy Time Bonus is the game's most desirable bonus and only occurs once on the wheel. If you win it, a bizarre prize bonanza awaits you, reminding us of a cross between Alice in Wonderland, Willy Wonka and Dream Catcher.
The presenter opens the door, and what awaits you is a large, colourful wheel of fortune with extra high prizes. Again, you may bring home a paycheck worth thousands of times your bet, up to a maximum of 20,000 x.
What is the best betting strategy for Crazy Time?
Using a strategy with Crazy Time, are you crazy? This is not a game for complicated strategies or betting systems.
You can make a lot of money, the bonus features are super cool, and there are many actions thanks to the presenter. That's what you pay for: the house edge is considerable.
However, there are specific bets that you should avoid, purely because the payout rates are a lot less than with the other wagers.
| | |
| --- | --- |
| Bet type | Payout rate |
| 1 | 96.08% |
| 2 | 95.95% |
| 5 | 95.78% |
| 10 | 95.73% |
| Pachinko | 94.33% |
| Cash Hunt | 95.27% |
| Coin Flip | 95.70% |
| Crazy Time | 94.41% |
You can see that the best bonuses, the Crazy Time Bonus, together with the Pachinko Bonus, have the lowest payout percentage.
Coincidence? NO.
Especially since they're so fun (and potentially lucrative), no one will skip these bonuses.
And the dullest bet (the "1" slot) has the highest payout rate. Again, no coincidence, no one bets on it.
Conclusion: Forget about the best bets in this game and enjoy all the craziness Evolution Gaming presents you.
We highly recommend this live casino game!
Crazy Time can be found at all reliable Evolution Gaming casinos.

🔥New Casino
⚡️Quick Banking
🍒Reward Scheme

❤️Best Mobile Casino
🎁VIP Bonus Options
🍓Live Casino Bonuses
🍒Thousands of Slot Games
✅Professional Customer Service
⚡️Withdrawal lock option