Witchcraft Academy slot review (Netent)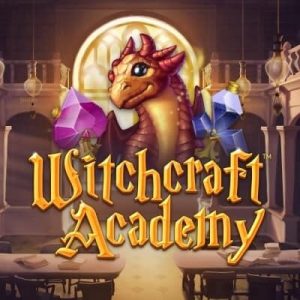 Witchcraft Academy is a Netent video slot that was released in January 2018. What is Witchcraft Academy about? The Witchcraft Academy is a magic school, like Netent's version of Hogwarts. Anyone who wants to learn how to practice magic like the greatest should sign up at the Witchcraft Academy. It's an engaging starting point for a video slot, leaving the casino game creator with many creative options. 
Play Now
Game Provider:

Release Date:
December 2017
Visually, Witchcraft Academy is a snoozefest.
Unfortunately, Netent didn't fully take advantage of this opportunity.
The graphics of Witchcraft Academy are very disappointing, making it look like it was made ten years earlier. Furthermore, the animations are very poor.
This theme had so much potential: witches flying around, magic spells, students transforming into frogs, you name it. However, there's no trace of any of that in this video slot.
Even the sound effects are limited to some silly victory sounds when you hit a small prize.
It almost seems as if Netent has deliberately chosen a minimalist approach, but to us, that seems to be a massive mistake for a video slot with such a grand theme.
Fortunately, Witchcraft Academy has some positive aspects as well. The free spins bonus is quite enjoyable and allows players to win all kinds of extra boosters. That's something we love at CasinoHipster.com.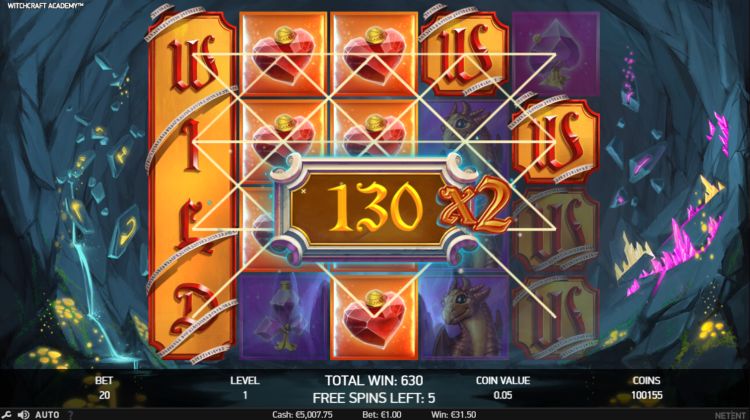 Witchcraft Academy gameplay and features
The game is played on 5 reels with 4 symbols per reel. Surprisingly, there are only 20 fixed paylines. We would have expected at least 40 paylines with this many symbols per reel.
Winning combinations from left to right, right to left, and on the middle reels. In other words, you get three chances for the price of one.
At 96.38%, the payout rate of this slot is also a bit disappointing. Netent can do better than that. The variance is a low medium.
Symbols and Payouts
All symbols are stacked. The four premium symbols are Earthan (400 coins at 5-of-a-kind), Efora (200 coins), the dragon (100 coins), and the owl (80 coins). The card symbols: hearts, spades, diamonds, and clover, are the low-value symbols that all payout 40 coins with a 5-of-a-kind on an active payline.
The "W" symbol is wild and replaces all other symbols except for the scatter symbol.
The free spins bonus
The bonus round is activated when you spin three or more scatter symbols. You don't automatically get free spins. You have to earn them by having Efora and Earthan summon elements that destroy vases and guards. Sometimes you only receive credits; other times, you win free spins or extra boosters. These boosters consist of multipliers and extra wilds.
You can earn extra free spins by spinning more scatters during the free spins. As little as two scatter symbols can award you 5 extra free spins. More scatters result in more free spins, up to an additional 20 spins.
Witchcraft Academy's bonus round is cleverly designed and exciting to boot.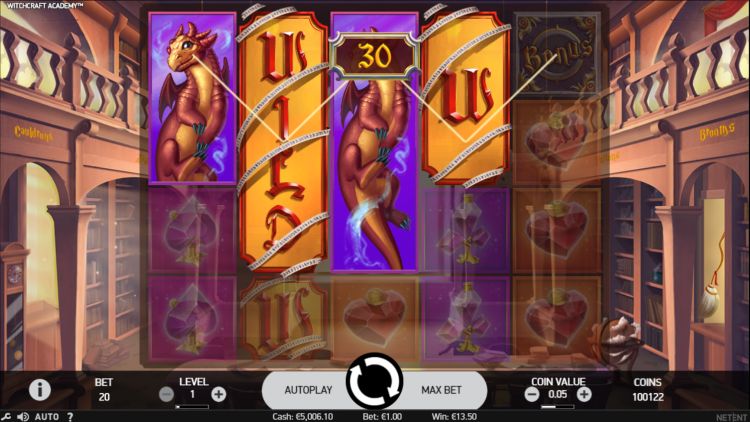 Our verdict on Witchcraft Academy
We're a bit torn between two ideas regarding this Netent slot. The gameplay is well designed, and especially the free spins bonus is original and entertaining.
However, Witchcraft Academy failed on a visual and sound technical level. It isn't enjoyable in that regard.
Such a pity. With some flashier graphics and some kick-ass sound effects, this slot would have received a rating of well over 4 stars.
Now it's stuck at 3.5 out of 5 stars