Willy's Hot Chillies slot review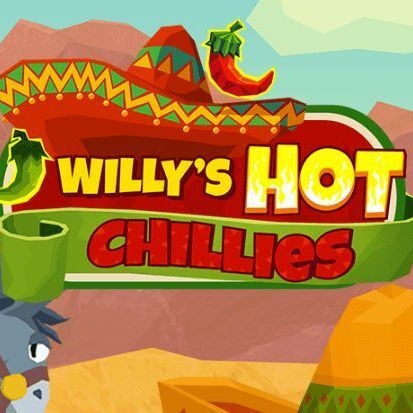 Netent's Willy's Hot Chillies online slot offers a cheerful Mexican party vibe, with great food and lots of red chillis. Are you ready for some spicy wins? Summer is coming, and that's the perfect time to come up with a Mexican theme. This is the perfect slot to play if you like hot flaming chilis.
Play Now
Game Provider:

Summer always brings out the best in CasinoHipster.
The warm breeze in his stylish beard, the outside get-togethers with friends and family, the taco and burrito cook-outs.
CasinoHipster loves Mexican food, which cannot be spicy enough for him.
Bring on the chilies, we say!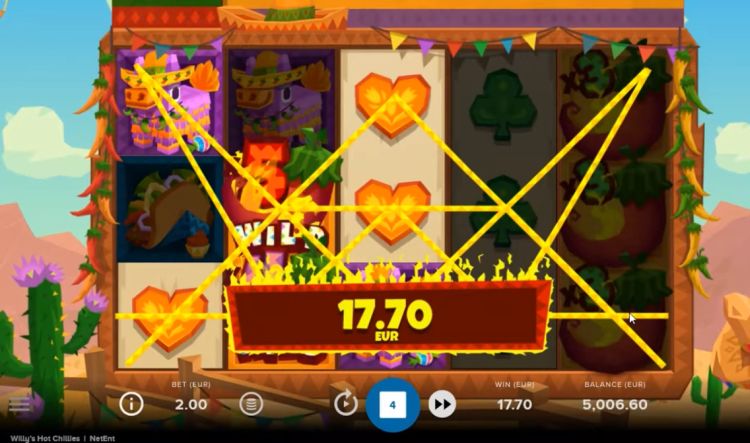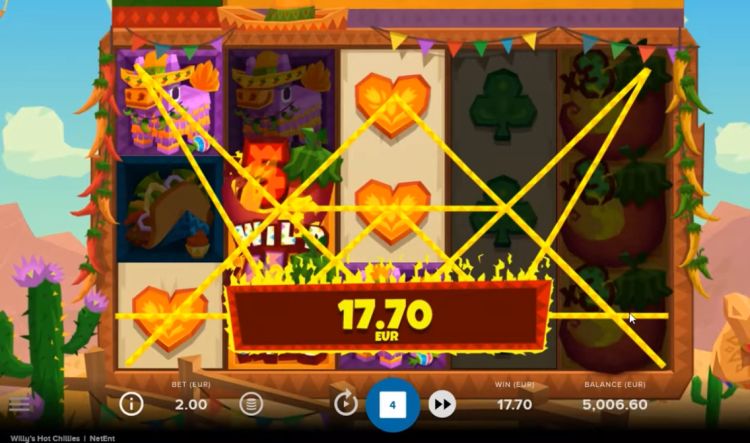 Willys Hot Chillies slot – Gameplay and Features
The main game has 5 reels with 3 symbols each and 20 fixed paylines.
It's anything but standard. First of all, you get distracted by the Mexican atmosphere. Moreover, the way the free spins are triggered is very innovative.
You have four premium symbols, and four lower-tier symbols, The most lucrative symbol is a box of gold coins.
Strange, as it's not typically Mexican.
The other symbols fit the theme better: a hot salsa sauce bottle, tacos, and a sombrero-wearing donkey.
The main game has plenty of fireworks, thanks to the hot peppers acting wild.
What's great is that they have multipliers of x2, x3, x4, and even x5.
If you have a winning combo with these wilds, things get hot.
In particular, if you have these wilds on multiple reels.
The multipliers add up, so you have an even higher total multiplier.
But, as is often the case, the party really gets going once you trigger the free spins.
How do you activate the free spins?
You get access to the free spins if you spin a bonus symbol on reel 1 AND have one or more wild reels.
The way the number of free spins is determined is easiest to explain with an example.
Suppose you have two full reels of wilds (combined with the bonus symbol on reel 1).
One reel has three wilds of x2 (6 in total), and the other reel has two wilds of x3 and one wild of x4 (10 in total).
You now get two so-called Fire Pointers.
These are flame-shaped arrows that play a crucial role in the bonus round. In our example, the first Fire Pointer has a starting value of six free spins, and the second Fire Pointer awards ten free spins.
You get at least one Fire Pointer and, at the most, four.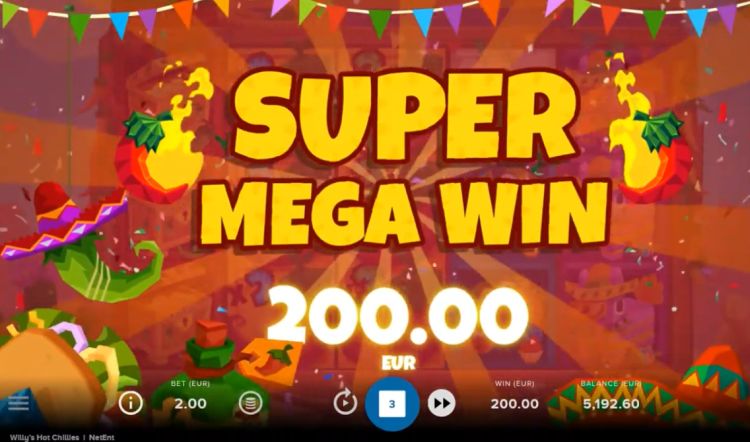 Free spins bonus round – a carousel with lovely prizes
Now it gets even better; it's time to win some money!
At the top, you see a kind of conveyor belt with:
Cash prizes from x1 to x30
+3 spins symbols
Hot chilies.
If we continue with the same example, you have 2 Fire Pointers.
When the belt stops, the Fire Pointers can point towards the cash prizes, the +3 spins symbols, or hot chilies.
If the Fire Pointer points to a hot pepper, the total multiplier will increase by +1. There is no limit to this.
If the Fire points to a cash prize, you can add that cash prize to your balance.
If you're lucky, the cash prize increases with the multiplier (which you build up with the hot peppers).
And if a Fire Pointer points to the +3 free spins symbol, you get +3 free spins for that Fire Pointer.
It's all four times as lucrative if you have four active Fire Pointers.
And even more, as the multiplier is increasing much and much faster.
Payout Rate (RTP)
The standard payout percentage of Willy's Hot Chillies is 96%.
Willys Hot Chillies slot – the variance (volatility) is medium to high
We estimate the variance by medium, but we are still waiting for Netent's final call. The top prizes will be around 250x to 500x the stakes.
Pros and cons

Pros
Lovely atmosphere, and who doesn't like Mexican food on a hot summer night?
Original gameplay, especially the free spins
The prizes may not be sky-high, but odds for some reasonable wins are better.

Cons
You're not going to win the exceptionally high prizes here.
The free spins only become lucrative if you have 3 or 4 Fire Pointers. Otherwise, it's a lot of fuss for (almost) nothing.
The RTP is, especially for Netent standards, a bit mediocre.
So, who will like the slot? And who won't?
This slot is great for players looking for fun and entertainment.
The prizes are reasonable but will not put your life upside down.